Education City is located in Al Rayyan, Qatar, which is just about 5 miles from Doha. The community was established in 1997 and is just over 4.5 square miles in area. The city is home to numerous universities, including some satellite campuses for students from the United States, France, and Great Britain.
Initially it was only going to be an area designated for higher education schools and research facilities, however over time a demand for housing opportunities grew. Now, over the course of about 5 years, Education City has grown into an actual full-fledge community with hotels, a golf course, the Qatar National Library, Oxygen Park, and more.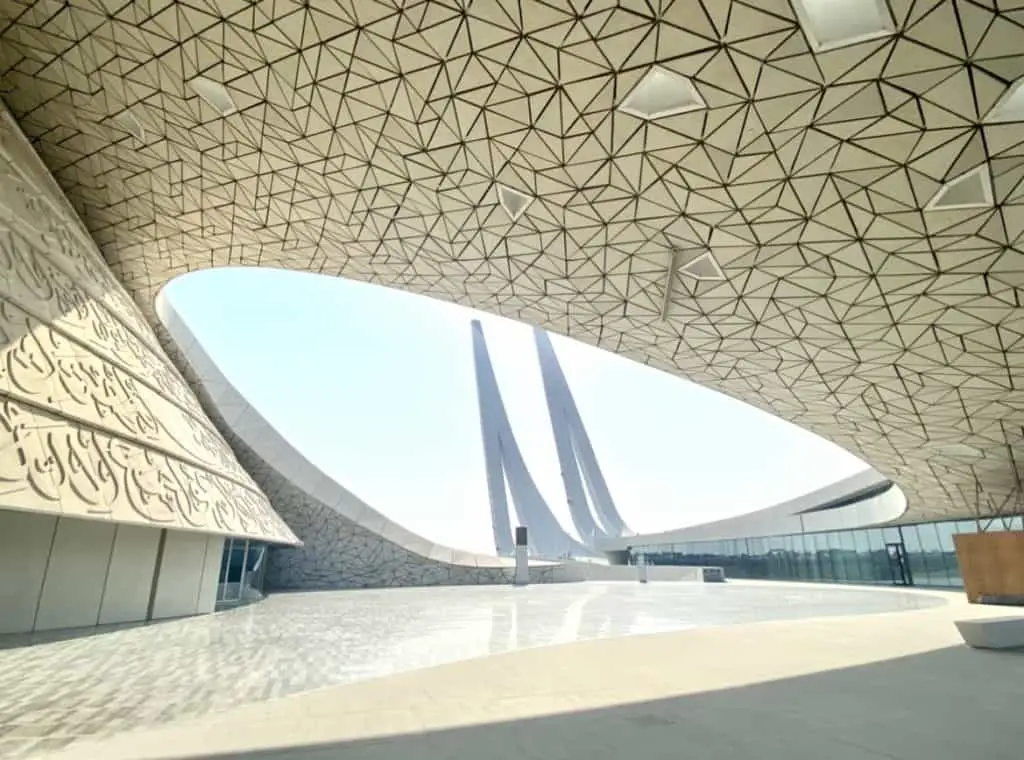 For tourists visiting Doha and looking for a unique experience, I would have to say that a visit to Education City is in order. While this part of Doha may not be the first locale to pop into mind when thinking of all the fun things to do in the area, it's not to be missed. Even just a couple hours spent exploring here can give you some eye-opening adventures.
Top Attractions In Education City Doha, Qatar
Mathaf: Arab Museum of Modern Art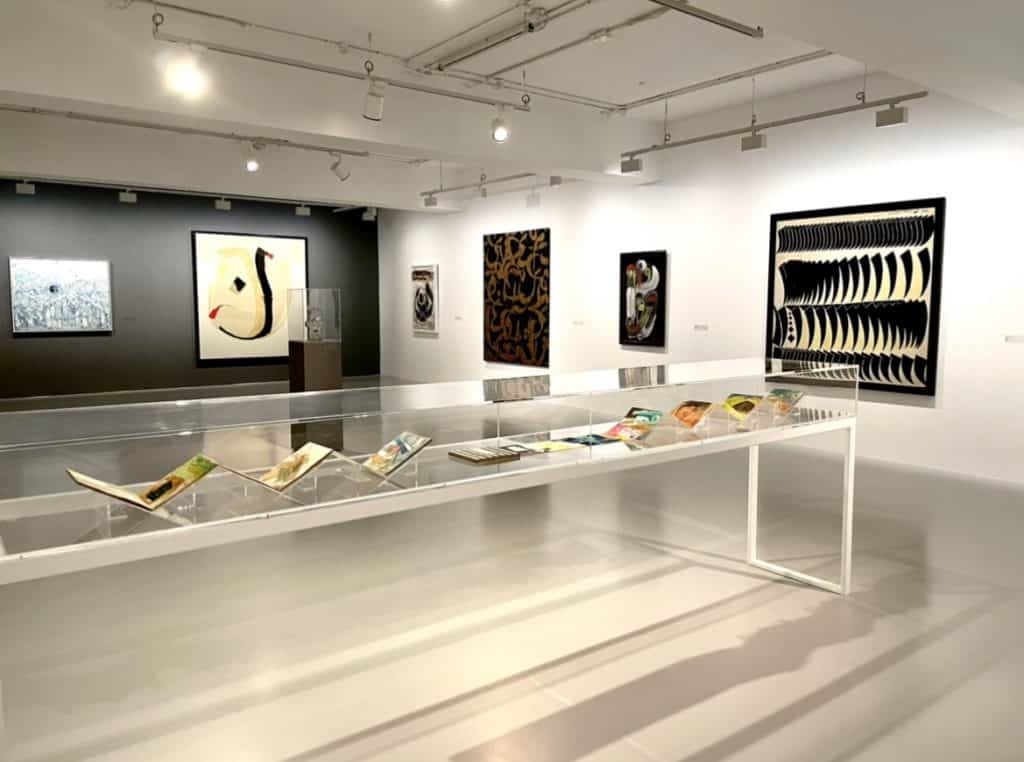 You will be able to see lots of different attractions and venues in this area. The first, and probably most popular attraction in the area would be the Mathaf: Arab Museum of Modern Art. You will be able to see tons of unique pieces that you won't be able to see anywhere else. What's cool about this museum is that they feature both permanent and temporary exhibits, so even if you've been here before you're not likely to see the same thing again.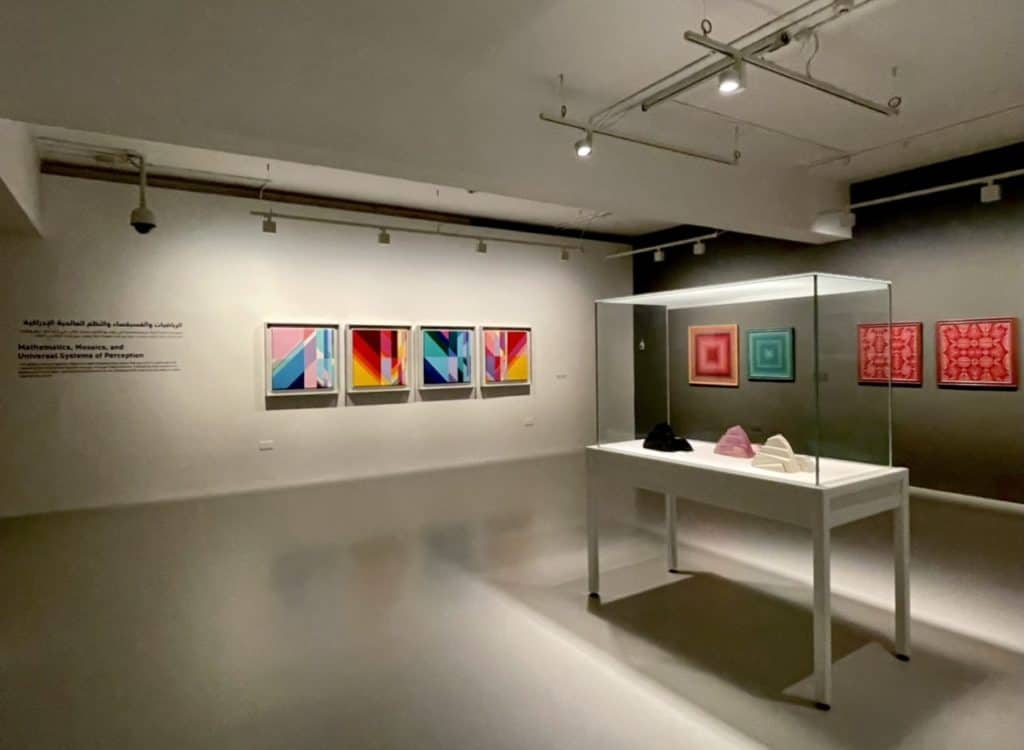 Prior to visiting you can check out their site to see what's currently on display. The tickets must be purchased in advance online and coast 50 QAR (just under $15) for a non-resident adult. Kids 16 and under get in for free. Their hours are Saturday through Thursday 9AM to 7PM and Friday 1:30PM to 7PM.
Tribe Bookstore:
If you find yourself getting the urge to make something artsy you can also pay a visit to the Tribe Bookstore. They are located inside the student center and have all sorts of arts and crafts supplies, electronics, and of course plenty of books. If you have any artsy friends to cross off your souvenir list, this is a good place to start shopping.
The store is bright yellow, so it shouldn't be too difficult to find. They are typically open Saturday through Thursday from 8AM until 9PM and even host various events and classes throughout the month.
Qatar National Library: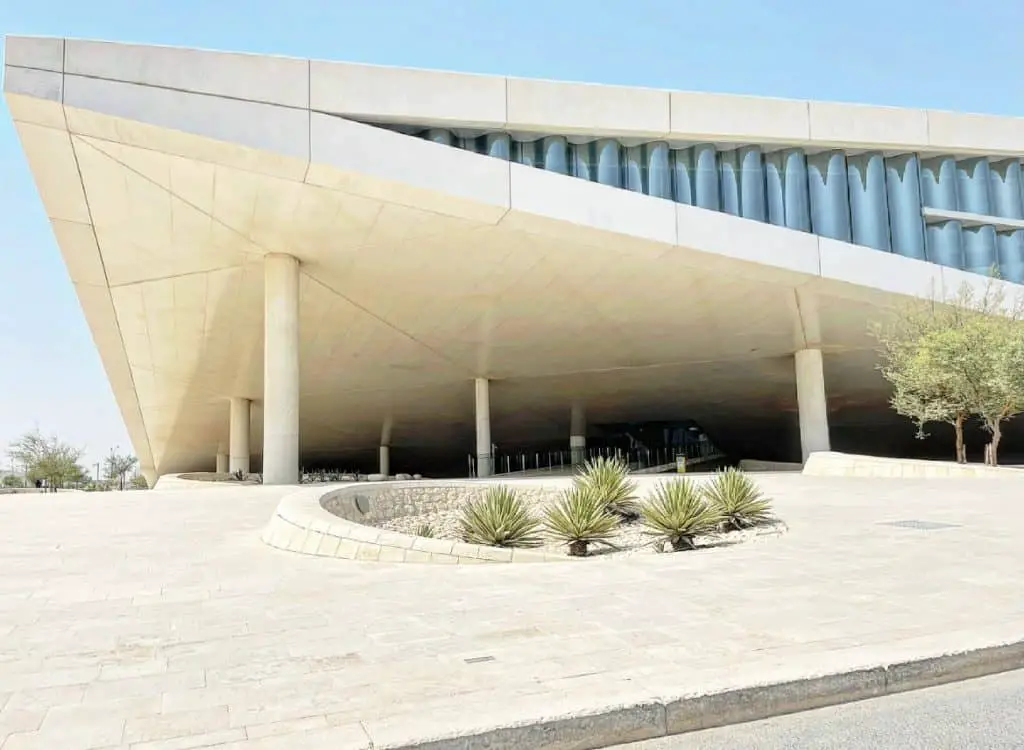 Speaking of books, you have to pay a visit to the Qatar National Library while in Education City. Besides being home to hundreds of thousands of books, including audio books and magazines, the building, inside and out, is a work of art.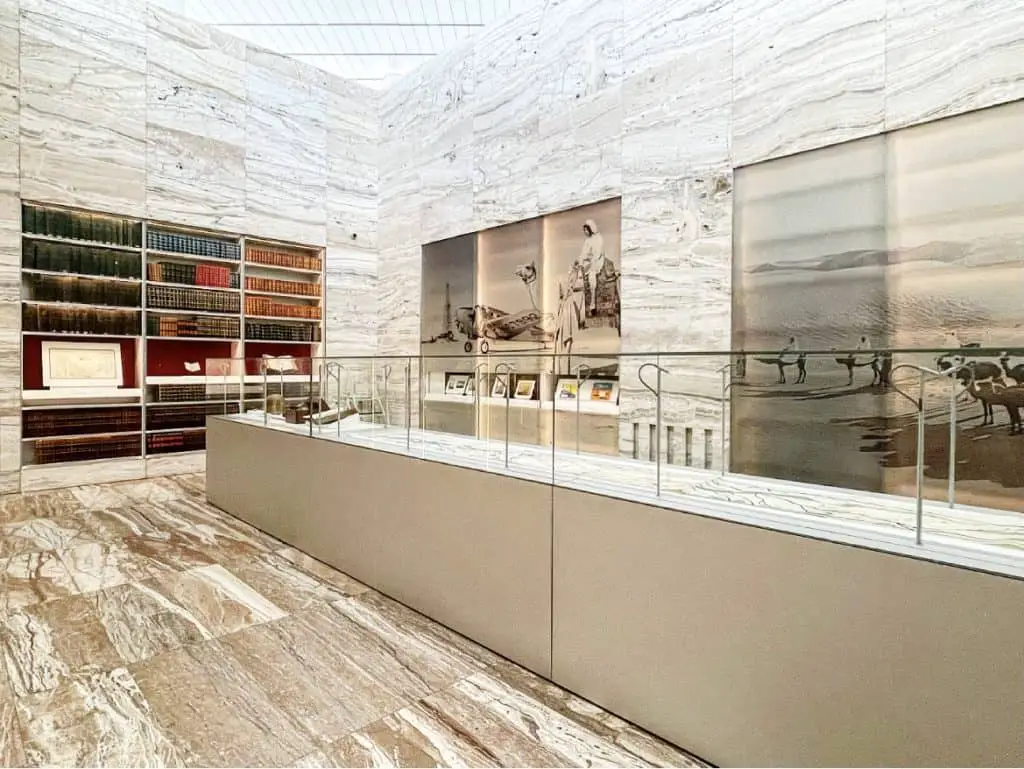 Besides modern titles, they also house all sorts of historical documents and archives inside the Heritage Library. They have preserved many documents dating back centuries and it's amazing to see, even if you're not a history buff. Best of all, it's free to roam around and leaf through some of the titles throughout the sections. Grab a coffee from the cafe and relax for a quick read.
Oxygen Park:
If you're up for it, why not take a stroll around Oxygen Park? There are lots of hills, trails, and trees all around. They even have a water plaza where you can lounge and enjoy some shade. Head here either early in the morning or after dark, when it's not too hot.
Al Shaqab Riding Club:
This venue focuses on the education, history, and welfare of horses. They offer tours that give a bit of insight as to what goes on behind the scenes of horse racing. They also have scheduled races for the horses from time to time.
The Ceremonial Court: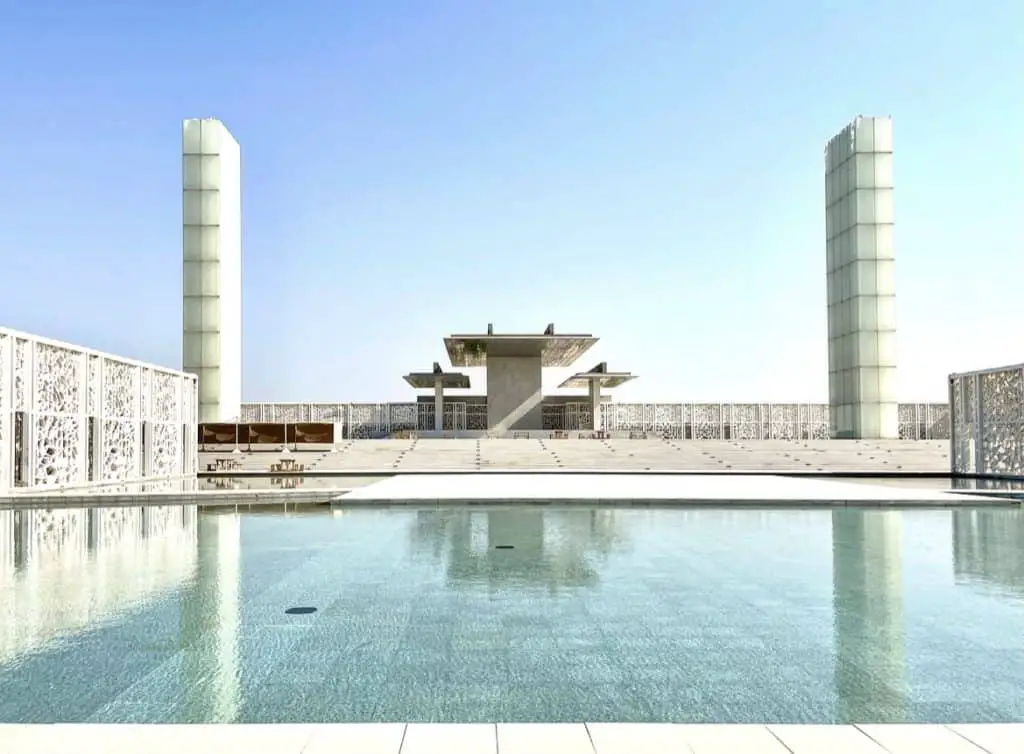 This is a part of the venue that is well-known for its aesthetics. There is a bright blue pool and two towers that glow at night. Not many people know this, but it's rumored that Kanye West shot some of his exclusive 35-minute "Runaway" video here. It's breathtaking here, and deserves the quick detour to find it. Trust me, your Facebook and Instagram buddies will be envious.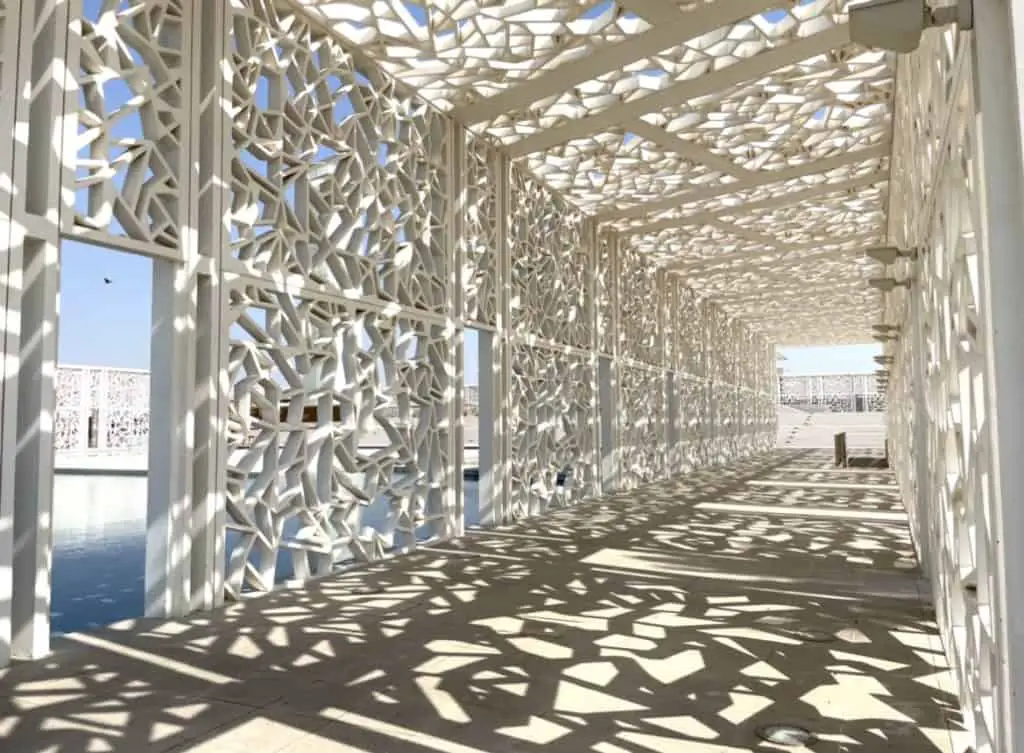 Where To Eat In Education City
Chef's Garden
This is a cafe onsite that focuses on using fresh produce from the local farms and gardens. The food and fresh-squeezed juices are exquisite and the prices are very affordable. This is a great spot if you're craving something organic.
Bake & Take
This is one for the Keto-dieters for sure and it's a great option for picking something up quick or to-go. They have dishes ranging from Keto Pie to Cheesy Fried Chicken and other amazing options. You can expect to pay anywhere from 8 QAR to 75 QAR (around $2-$20) depending on your selection.
Joja Barbecue
If you are in the mood for something a little more filling you can head over to Joja's. They have a full menu including appetizers, soups, side dishes, pastas, salads and lots of other amazing main courses including Egyptian and Arabian cuisines. This place can get a little pricey, up to 150 QAR (around $40), but here you really get what you pay for.
Barrio Fiesta
This Filipino restaurant is truly one of a kind. They have many options as to what to eat and the portions are huge! The best part is (besides the taste of the food of course) is the amount you get for the low prices you pay.
There are lots of other attractions in Doha. The Corniche, the Pearl, the Museum of Islamic Art and many more, but don't forget Education City. As you can see this area offers a lot more than just some boring schools. There is plenty to do here if you know where to look.
The city of Doha really has something to offer every visitor that comes into this amazing country. Being able to enjoy some of the lesser-known attractions, like those in Education City, is one of the things that keeps Doha's tourism industry going. These educational venues are also great for providing some fun learning for little ones. A visit to the Qatar National Library will not only give you guys a reprieve from the hot sun, but will also allow your little ones to explore a bit of the Qatari culture.