There is no doubt that Qatar has become a hotspot for travelers. Not only do they offer some exhilarating attractions, but for many it's the culture and history that draws them in. This country is definitely one that comes with quite a story to tell. From humble beginnings to becoming an oil empire, it's definitely one for the (history) books.
For any Doha visitor that enjoys spending an interesting and educational day out, a stop at the National Museum of Qatar (NMoQ) is an absolute must. Qatari heritage is a fascinating one with a history that deserves a much closer look. Just the building's design, which takes the form of a desert rose, has a story.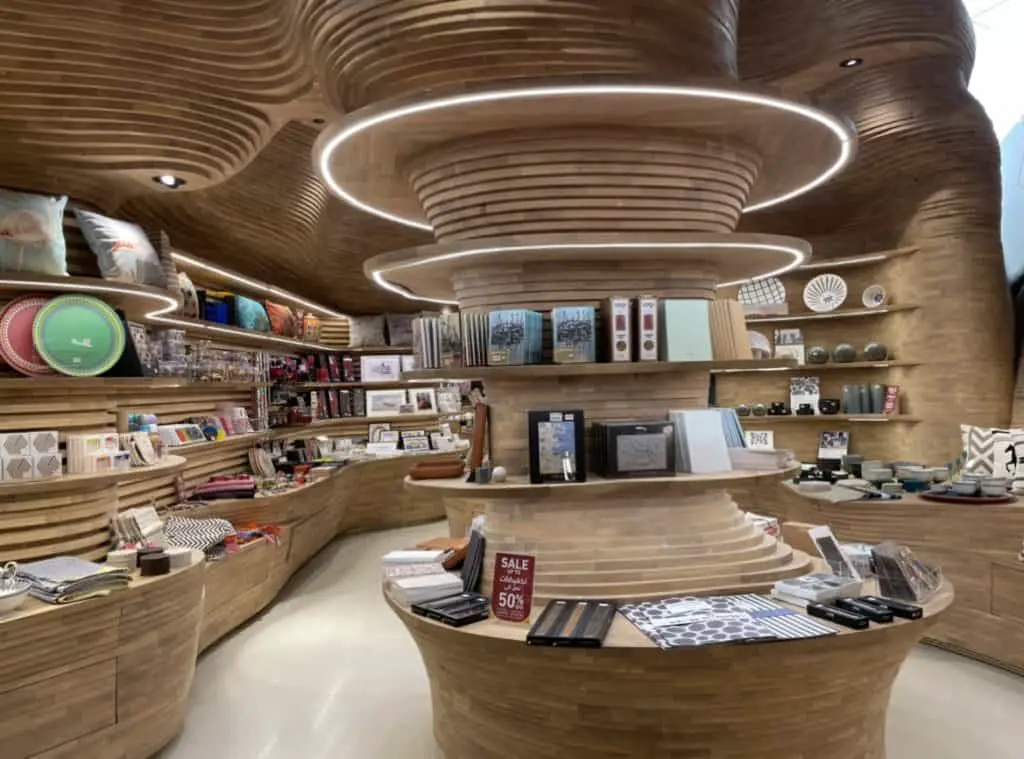 This relatively new museum made its public debut in March of 2019. The inside is just as impressive as the outside design, if not more. Just the walls of the gift shop will have you believing that you are walking through a cave full of light. It is based on the Dahl Al Misfir, an underground cave full of fibrous crystals that put out an ethereal glow, after all.
The building's construction involved over 40,000 pieces of wood, 3-D printed in Italy, that were painstakingly put together by hand. Think of it as the 3-D puzzle of all 3-D puzzles. It's obvious, by its immaculate design and beauty, that a lot of love and pride went into creating this epic masterpiece.
The Exhibits Of The NMoQ
The exhibits located inside the museum are what attracts most visitors. You will be able to walk along a total of 11 galleries. The lighting and placement of each item has been carefully planned out to ensure the optimal experience. It's immersive, including changes in lights, sounds, and even fragrances you will encounter throughout the journey. Along the way you will encounter lots of information regarding the country's history from many different perspectives.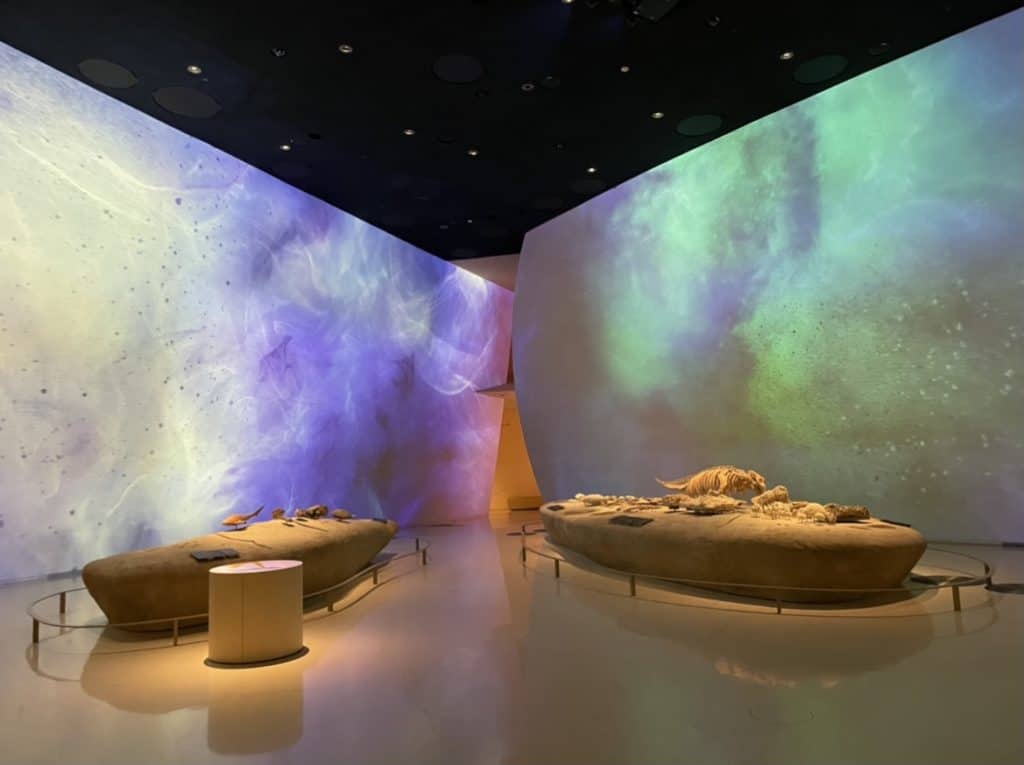 Some of the galleries you will come across will include The Formation of Qatar, The Archaeology of Qatar, The People of Qatar, Life In The Desert, Pearls and Celebrations, and Qatar Today. These all feature different items like paintings, manuscripts, clothing, statues, and more.
You will want to take time and make sure that you read the information plaques that come with each of the pieces. This will allow you to put together the full story as you meander through the museum. Almost every nook and cranny is full of artwork and more. Don't forget to look up when you're walking around. Some of the exhibits are even hanging from the rafters. 
Outside Exhibits
One mistake some visitors make is to forget to check out the exhibits on display out and around the museum. The National Museum of Qatar is owned and operated by the government of Qatar and the chairperson of Qatar Museums (currently Her Excellency Sheikha Al-Mayassa bint Hamad bin Khalifa Al-Thani) has hand selected a few iconic pieces.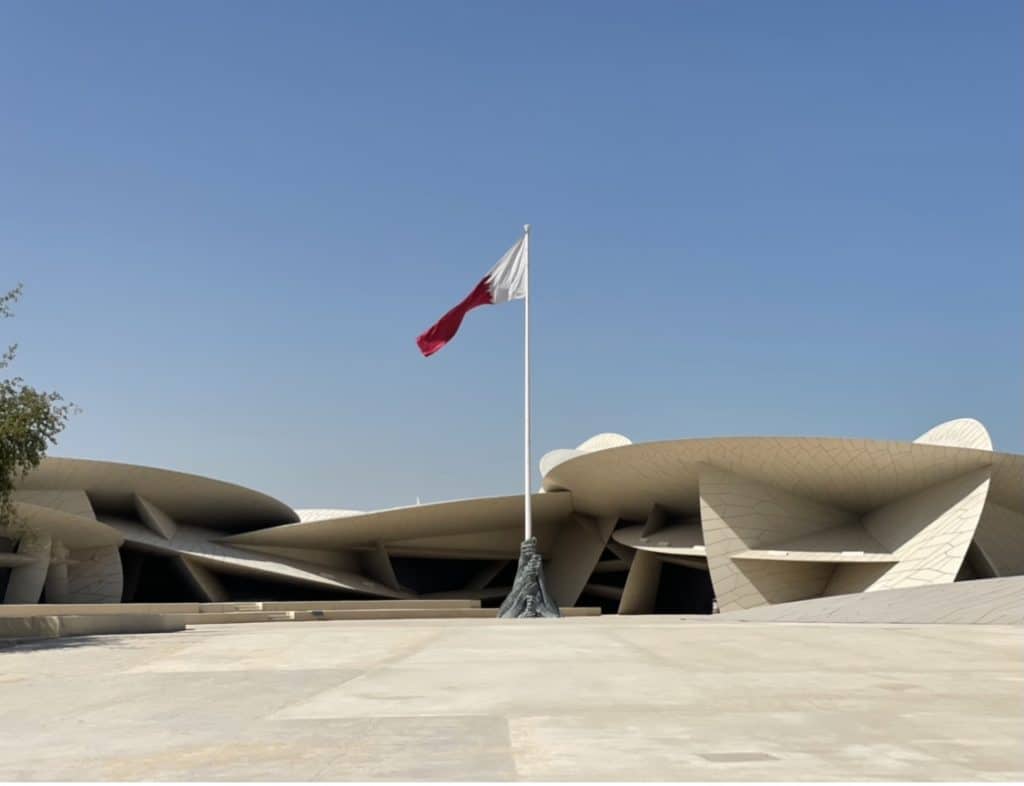 Flag of Glory by Ahmed Al Bahrani, an Iraqi artist, shows a bunch of hands all grasping a Qatar flag. This is to help tell the story behind one of Qatar's biggest annual celebrations, National Day. There is also a set of camel statues, right by the historic palace, titled On Their Way by Roch Vandromme, a French artist. This one represents the life and history of a Qatari nomad.
Another fun one is by Jean-Michel Othoniel. It's called ALFA and includes over 100 fountains inside the lagoon. Surprisingly, the flow of the water throughout the fountain is to represent the fluid flow of Arabic calligraphy.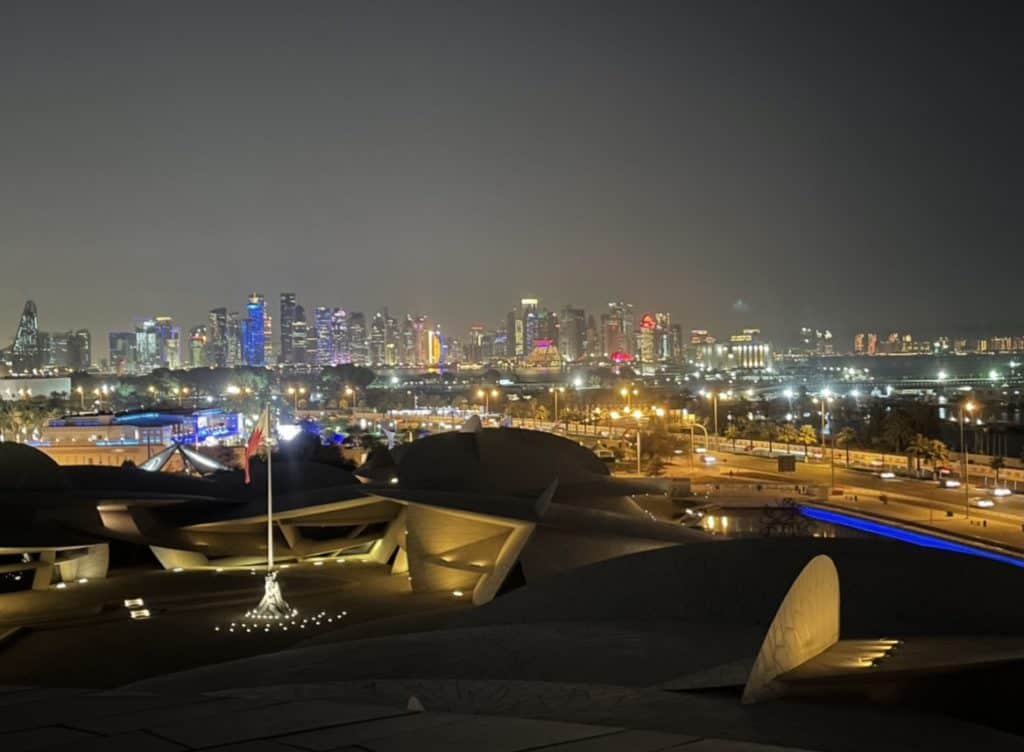 It's even more beautiful at night. Everything at this museum has a meaning and a purpose, and if you remember that while you're walking through it, you're sure to come out with a lot more information on Qatari history and profound respect for the culture.
Eateries Inside The NMoQ
There are currently 3 places to eat inside this amazing museum. They all offer their own unique setting and dishes. Also, they all deserve a visit, even if you don't plan to sit and dine you should still take a look around and snap a few photos.
Cafe 875, located on the main floor, allows its diners to experience a traditional Majlis. That's a setting style from nomadic Qatari culture that has survived through centuries. It's a unique opportunity for sure. The 875 is a reference to the purity of gold that you can only find in the Arab world.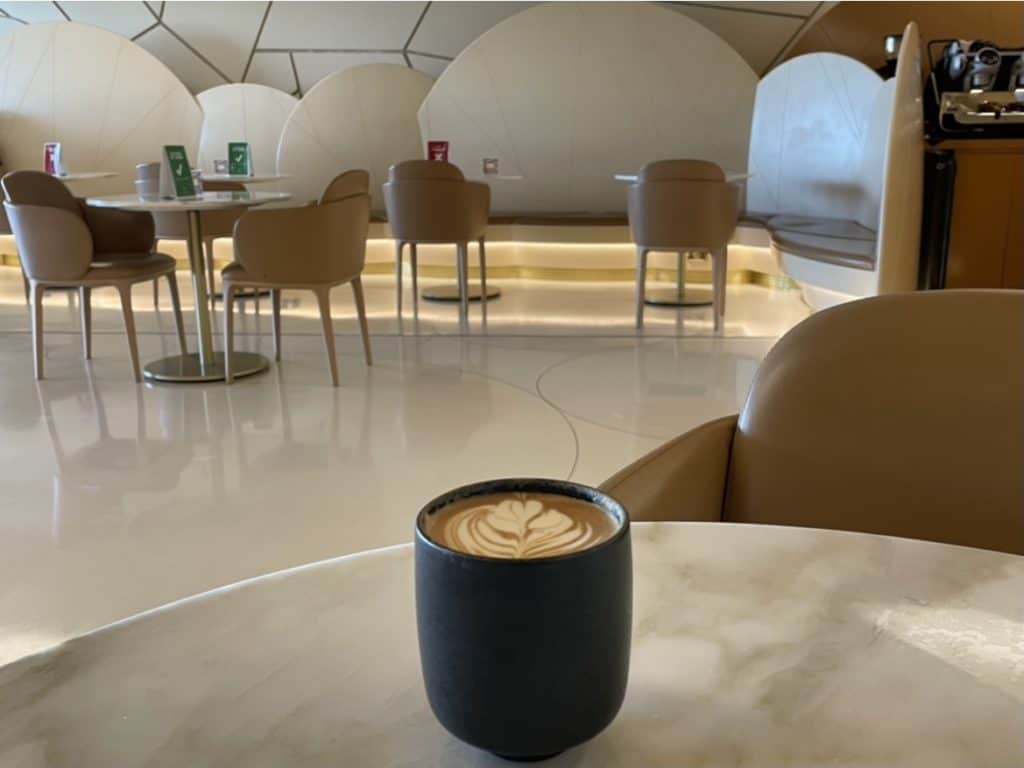 Desert Rose Cafe is another option, also located on the ground floor, which offers indoor and outdoor dining. Here you can sip a coffee out on the terrace while looking out at the beautiful waters of the Corniche.
Lastly, Jiwan Restaurant, which is located up on the fourth floor, offers great panoramic views of the Doha Bay. You can also get an excellent view of the Palace of Sheikh Abdullah bin Jassim Al-Thani, which has recently been restored. It's recommended to witness a sunset here, if possible.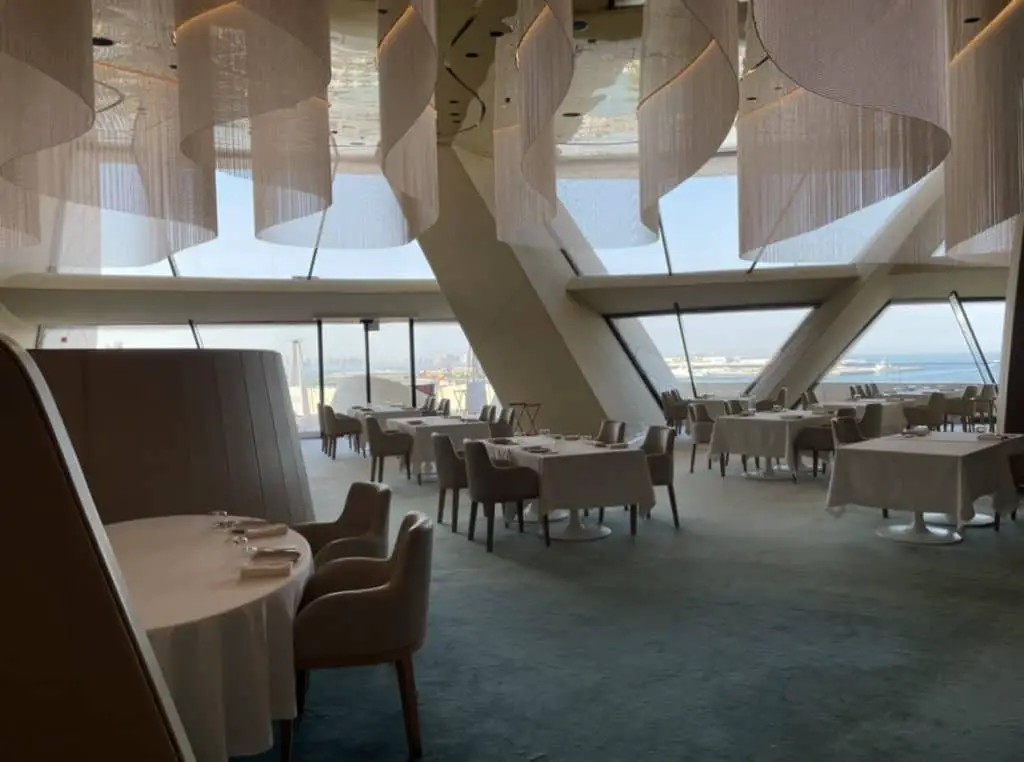 The Park Of NMoQ
Even the park of this museum sets out to instill even more of the Qatari culture and history. There are gardens and multiple playgrounds for the kids to enjoy. Every shrub and tree there seems to represent a part of tradition. You're free to roam about this area and take in all the sights that it has to offer.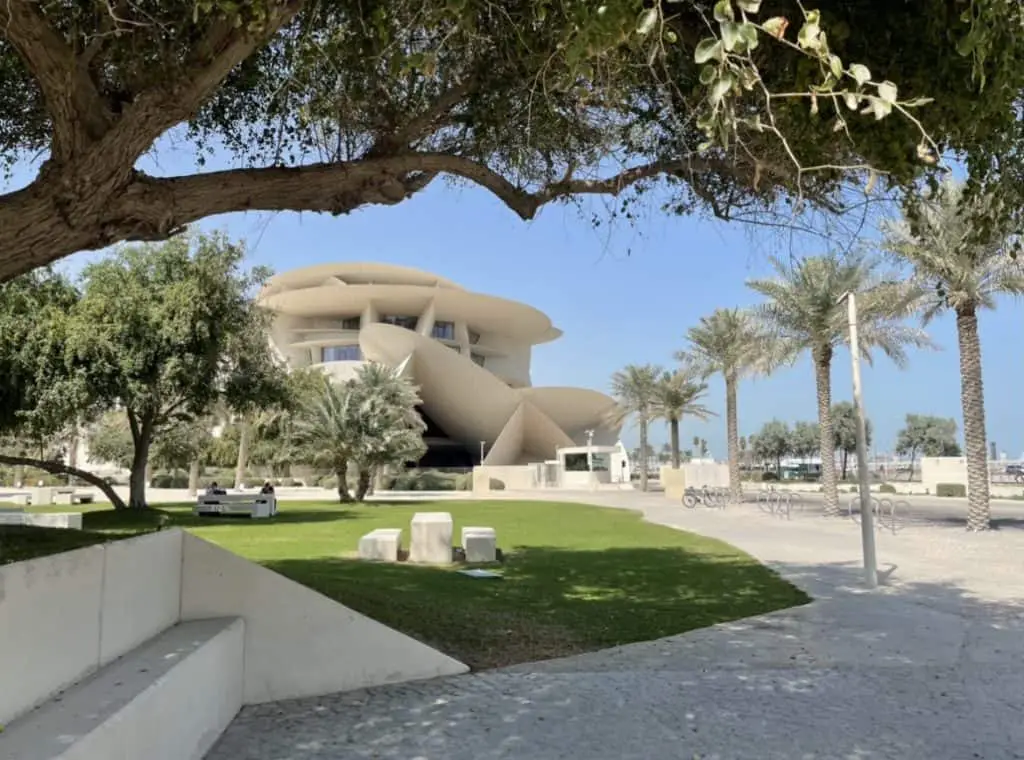 I would have to say the best time to go to the park would be right at dusk. It will still be light enough to see everything, but it won't be nearly as hot as midday. Also, the park has lights that come on once it gets dark.
This museum is an absolute joy. It's a welcome addition to the other amazing Doha attractions and definitely one that should be on the bucket list of any traveler venturing to Qatar. The hours are Saturday through Thursday from 9AM to 7PM, Friday from 1:30PM to 7PM, and they are closed on Sundays.
Tickets are free for Qatari residents. For non-Qatari residents, anyone over 16 will have to pay 50 QAR (roughly $15). If you are a student it'll only set you back 25 QAR (about $7.50), just make sure to bring proper ID showing you are a student. It's best to purchase your tickets ahead of your visit and have at least a half a day (if not more) set aside to fully enjoy this activity.