Qatar has invested a lot in its tourism industry and I believe they have done an awesome job in that department. I've been to Qatar a few times and there are always new and upcoming shops and attractions to enjoy. You'll see fun activities all over, but especially in Doha.
I have been fortunate enough to visit some of the best spots in Doha and nearby places. Those that have not been may not know, but Doha is a great fusion of the old Qatar tradition and the modern world. Everywhere you look there is an exciting sight to enjoy.
I have listed the top ten attractions in Doha based on my own personal experience. This is in no particular order as they all hold a special place in my heart. 
Persian Gulf
This body of water is the main border of Qatar, the other border being Saudi Arabia. A visit to Qatar would not be complete without a trip to the beach. Not being able to walk to the beach and take a quick swim is a big no-no to me, especially in a hot, arid country like Qatar. Luckily, a lot of the hotels in Doha are right by the sea.
I have been fortunate enough to be able to stay on the beach every time I have visited Qatar. Besides just swimming and enjoying the sun many hotels also offer lots of other watersports and other aquatic activities. You can enjoy jet-skiing, kayaking, paddle boarding, and more, if you know where to look.
Desert Safari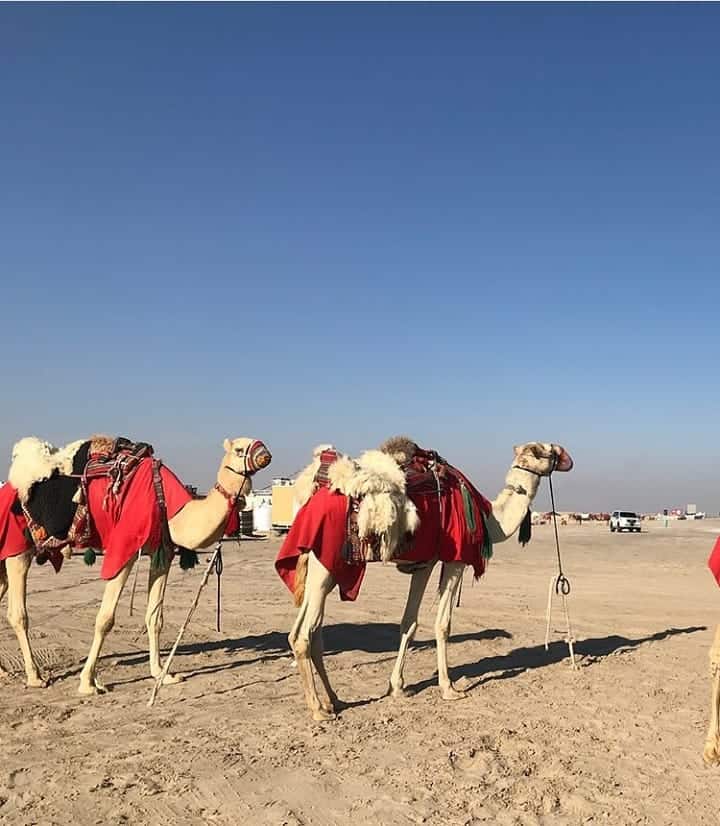 The Desert Safari is a signature attraction for Qatar. If you haven't been to the country, make sure to pencil one of these in and get ready to experience a once-in-a-lifetime activity. Honestly a desert safari is probably one of the most exciting things to do in Doha.
A lot of hotels allow you to add a tour to your stay as a part of a package or you can book it separately. Most offer free pickup and drop off and a 4X4 SUV with an English speaking guide that will take you through the desert.
Depending on the adventure you select, they will have several stopovers along the way at various attractions and different cities. If you want something a little more thrilling try picking one that includes dune bashing or a camel ride. These tours are a great way to immerse yourself in the Qatari culture and really see what the city of Doha and the nearby areas have to offer.
The Pearl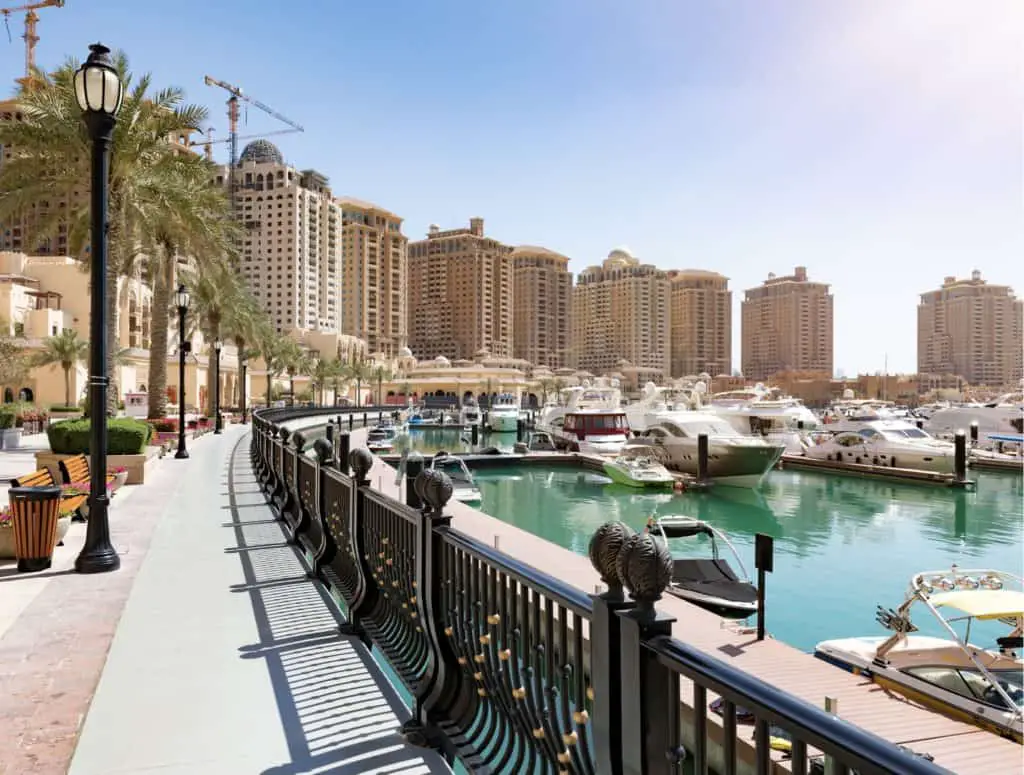 This man-made island has a wide array of great attractions. This island is appropriately named after the pearling industry that the country is known for and the various dive sites used to find pearls. It is located in the northern part of Doha. The Pearl-Qatar is definitely worth a wander.
The Pearl is home to a lot of luxury shops, apartments, colorful houses, and lots of restaurants and cafes. You could easily spend a good 3 to 4 hours here, but if you like to shop, you might find yourself spending even longer than that!
Katara Cultural Village
This was actually one of my favorite finds in Doha and it is another staple in the rich Qatari culture. The village is actually named after Qatar's ancient name (Catara/Katara from way back in the 18th century). This mini-city has a wide selection of things to do and places to see.
It is sprawling with shops, an amphitheater, a cinema, planetarium, souqs, beaches and lots of world-class restaurants. Not to mention all the different venues and activities it hosts throughout the year. If you're looking for a chance to really get to know the locals and learn about the Qatari civilization, this is the place to be. 
Doha Festival City Mall
Ok, this is an absolute must for anyone visiting Doha. Also, be sure to set aside an entire day for this Doha attraction. This mall has a great lineup of stores including mainstays that you'd find at your own local mall, like Tommy Hilfiger and Bath & Body Works, and other not-so-familiar stores. There's no shortage of clothes, shoes, jewelry, electronics, and whatever else might tickle your fancy here.
This mall also has a huge food court (two actually) full of restaurants offering sweets, hot and cold beverages, and of course full-fledged meals. Now, what makes this mall unlike any other mall I've ever been to are their other attractions.
They have a snow park. Yes, you read that right. There is a snow park inside this mall and it's called Snow Dunes. They also have Angry Birds World theme park. I'm not young anymore, by any means, but just because I'm in my 40s doesn't mean I've forgotten how to have fun. This mall really has it all.
Al-Thakira Beach And Mangrove Forests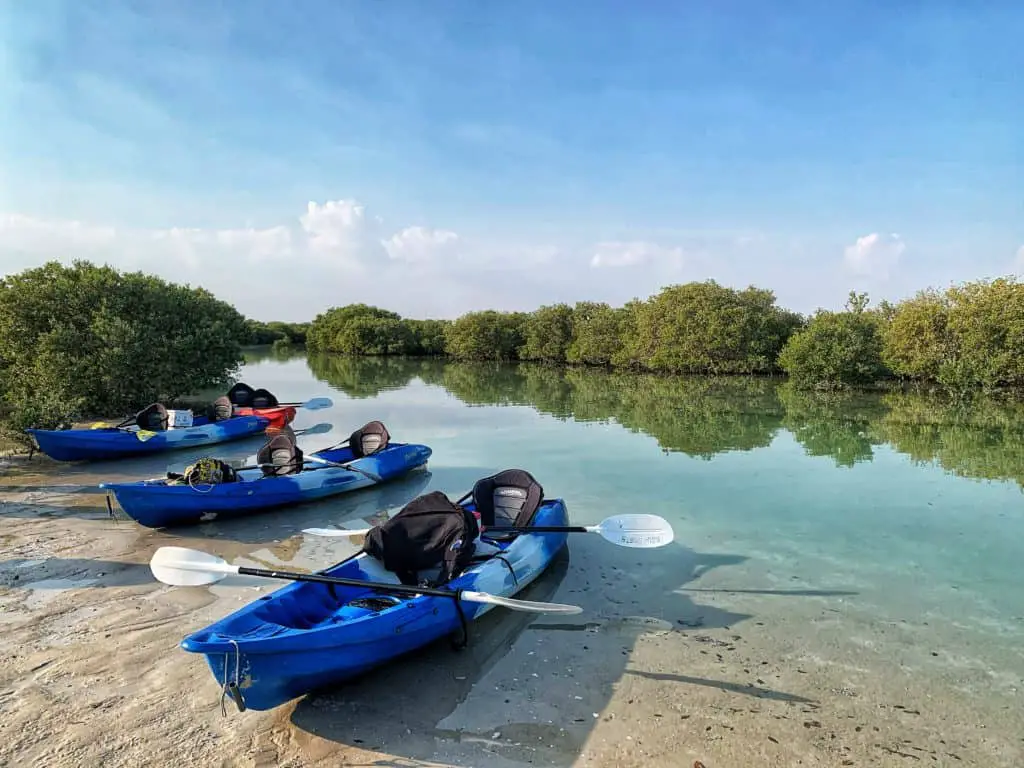 This gem can be found on the northern tip of Qatar. It's perfect for anybody that enjoys outdoor activities. Kayaking along the Al-Thakira Mangroves was a very relaxing event, and even though it took just over an hour there and an hour back, it was well worth the trip.
If you decide to check out this natural beauty you are sure to see lots of birds, aquatic animals, and majestic trees. It will bring a breath of fresh air from the hustle and bustle of Doha. It is recommended that you go with a guide if you're not familiar with the route or area.
Souq Waqif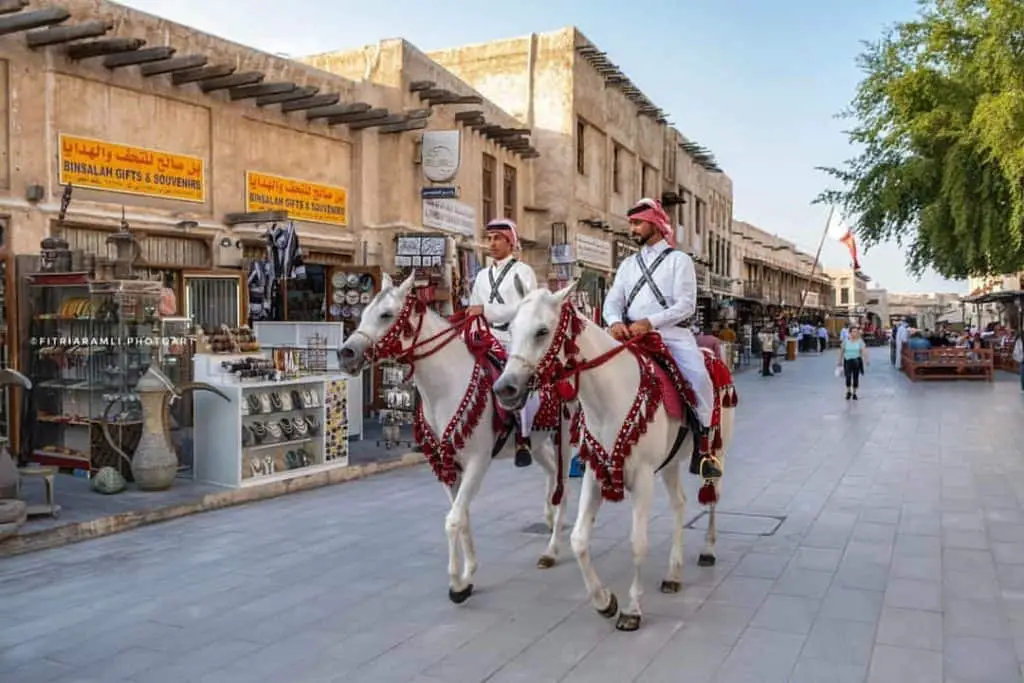 Another integral part of Qatar's rich culture and traditions is the Souq Waqif. It is one of Qatar's oldest shopping centers. It's nestled in between skyscrapers, luxury hotels, and other architectural structures, so it is a perfect representation of an authentic Middle Eastern location that continues to thrive even after the industrial revolution.
You can visit cafes, shop 'til you drop, and get a taste of local cuisine, coffee, and tea. There are also shops located along the alleys which sell perfume, spices, traditional fabrics and a lot more. If you are still in need of locating the perfect souvenir to take home, this is the place to find it.
There are also lots of restaurants in the Souq Waqif and a vast majority of them serve authentic Persian foods. I found one spot that served up the best lentil soup I had ever tasted. The mall venue itself looks unreal with all the vibrant colors, artworks, and other fine decor and art pieces that are posted up throughout it.
Museum of Islamic Art (MIA)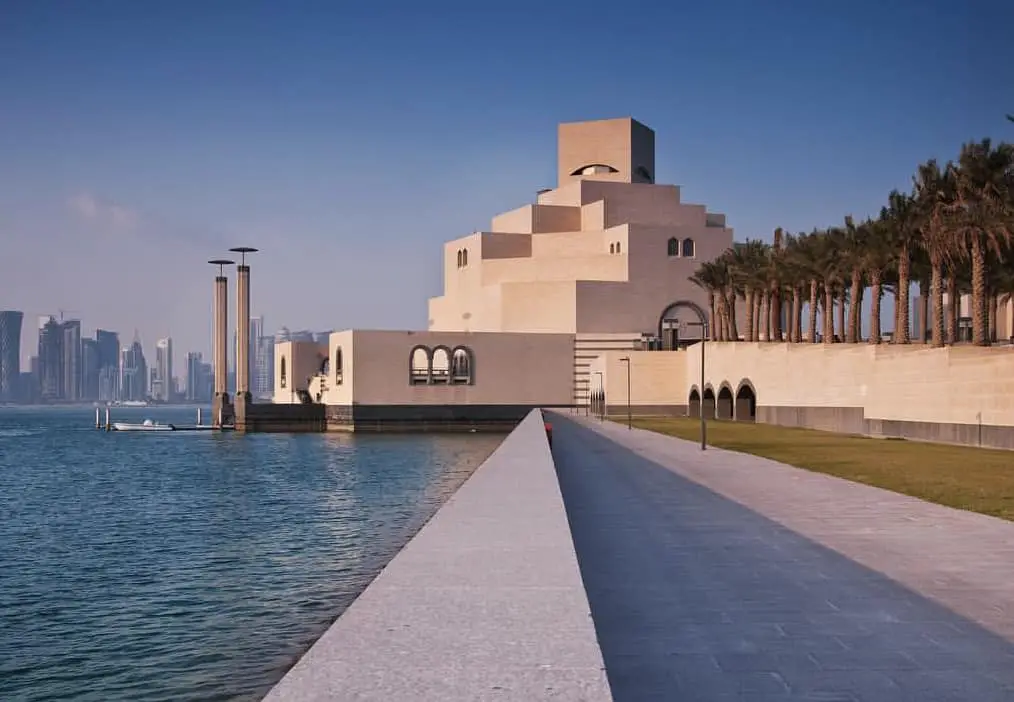 One of the most visited museums in Doha is the Museum of Islamic Art. It is home to some of the best pieces in the Qatari art scene. It has a massive collection of artifacts from the historic world of Islam, too. If you're seeking something a little more refined and historical, you have to go to this museum.
Their exhibits include ceramics, jewelry, textiles, glassware, paintings, and other items. The entrance to the building is very majestic looking (maybe even a little intimidating), but the interior design is a level higher. Its floors are covered with French limestone and the ceiling is a work of art all by itself.
Looking from the outside, the extraordinary design of the building looks very striking and presents a good backdrop for a photograph. In fact, I got a picture in the walkway of the entrance near the fountain. The palm trees are also a great feature of the overall beauty of this place. Make sure to take a minute to have a coffee or tea at their cafe and enjoy the West Bay skyline.
Qatar National Library (QNL)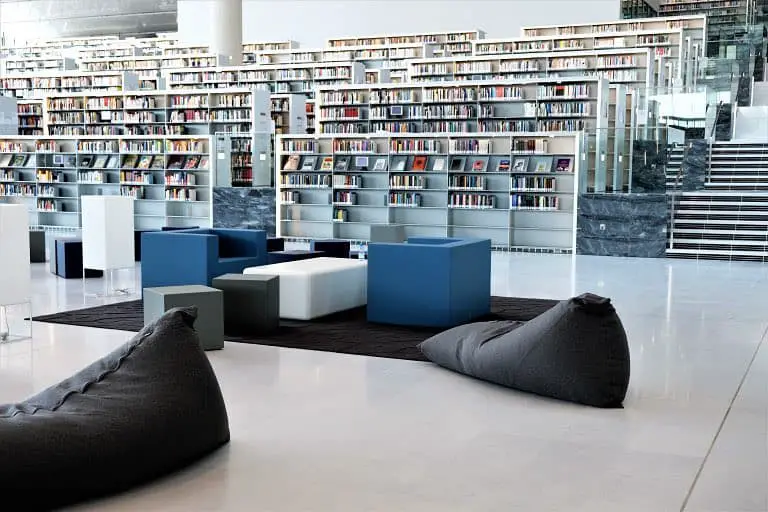 One of the finest libraries in the world, the Qatar National Library is home to the literary treasures of the region. It has a collection of approximately one million books, including some really rare and important historical manuscripts. They have a huge display of maps, pictures, and historical books which play a big role in educating people on how the country has transformed into a rich and mighty nation.
The complex is also home to Oxygen Park and the Education City Mosque which is a mosque that is greatly influenced by the modern world. You can read some of the rare books and dive into the teachings and writings that have shaped Qatar into what it is today. If you're anything like me you'll be left in awe.
National Museum of Qatar (NMoQ)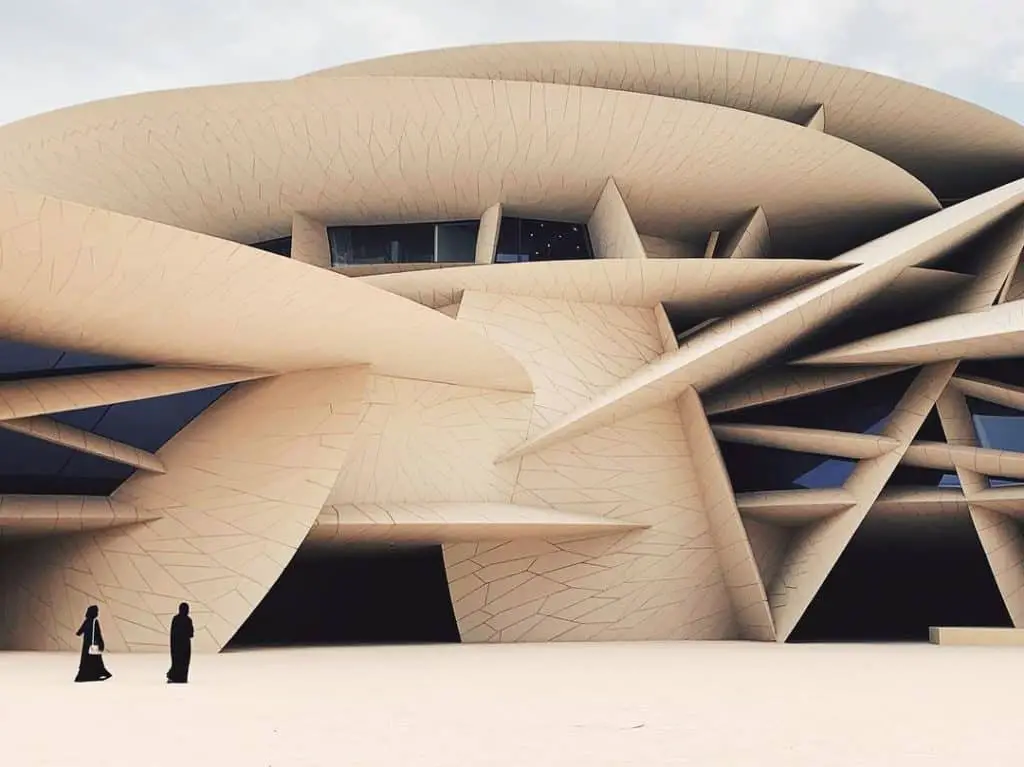 This museum is one of Doha's newest attractions and it's located right at the heart of the city. The National Museum of Qatar opened in March of 2019 and I did not miss the chance to wander around this newly-opened architectural marvel. The building was designed by French architect Jean Nouvel. He was inspired by the design of the desert rose, which can be demonstrated by how the building looks from the outside.
The whole museum spans a whopping 430,000 square feet, so make sure to wear comfy shoes if you plan to visit. Upon entering you will notice that it's divided into many different stages and is focused on depicting the history of Qatar and teaching people about Qatari life. Simply put, the exhibits are designed to show the past, present, and future of Qatar.
The experience is very immersive and educational and you will need to dedicate at least a few hours of your Qatar visit to this museum to see it all. The best part for me was the design and concept of the museum. The building and architecture were very distinctive and exude a very bold character. The inside exhibits were all just an extra bonus!