If you're looking for the best hotels in Doha, Qatar, you have come to the right place! Here are the top 10 best hotels in Doha. These have been fully researched and include what price range to expect and the address of the property for your convenience.
Four Seasons Hotel Doha
Expect to pay $250-$400 nightly | P.O. Box 24665 Doha, Qatar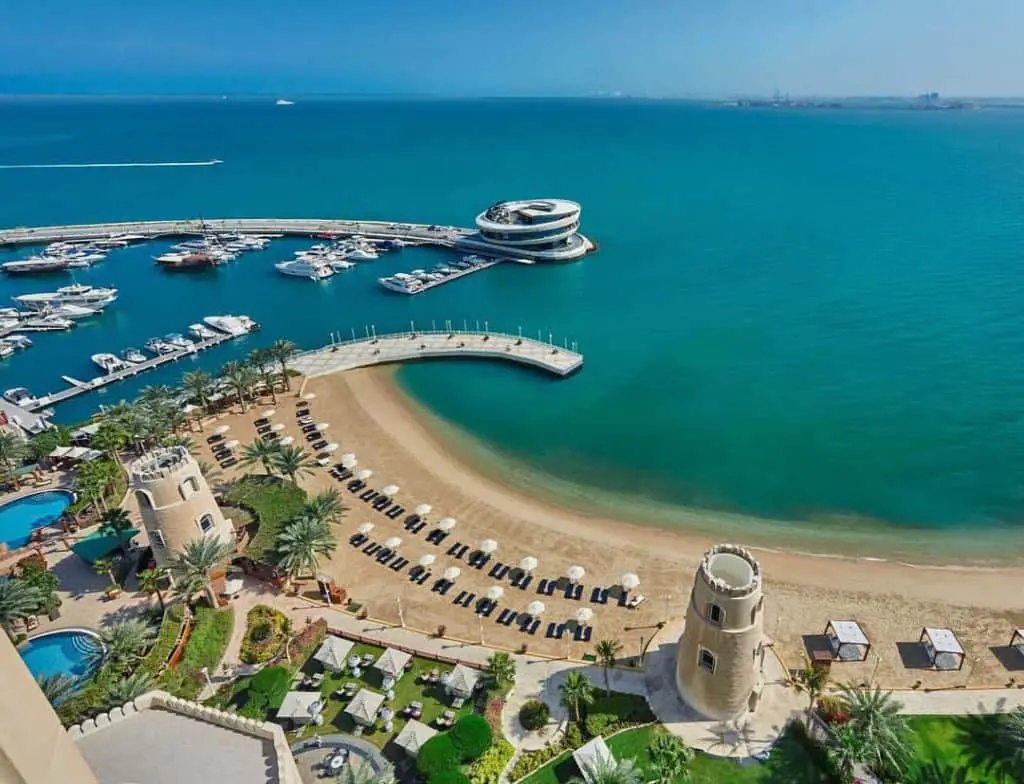 For those looking to splurge on their retreat to Qatar it doesn't get much better than the Four Season Hotel Doha. This beachfront gem has everything you will need for your holiday. The rooms are spacious, almost 500 square feet, and clean.
They feature views of the city or beach that will make you instantly regret not being able to stay longer. Make sure to do your best to score a room with a balcony! The marble countertops in the bathroom are just the luxurious cherry on top.
The onsite restaurants will allow you to enjoy some of the freshest seafood you will find in Doha. Whether you prefer eating by the pool or if you want to experience a little more elevation with a view of the Arabian Gulf, is up to you!
The Four Seasons Doha also boasts some of the friendliest staff and the concierge here are always more than willing to point you in the right direction when you're ready to head out for a night on the town or a day out shopping at the local bazaar.
Get Up To 30% OFF on Booking.com
The Curve Hotel
Expect to pay $100-$250 nightly | Diplomatic St. West Bay, Doha, Qatar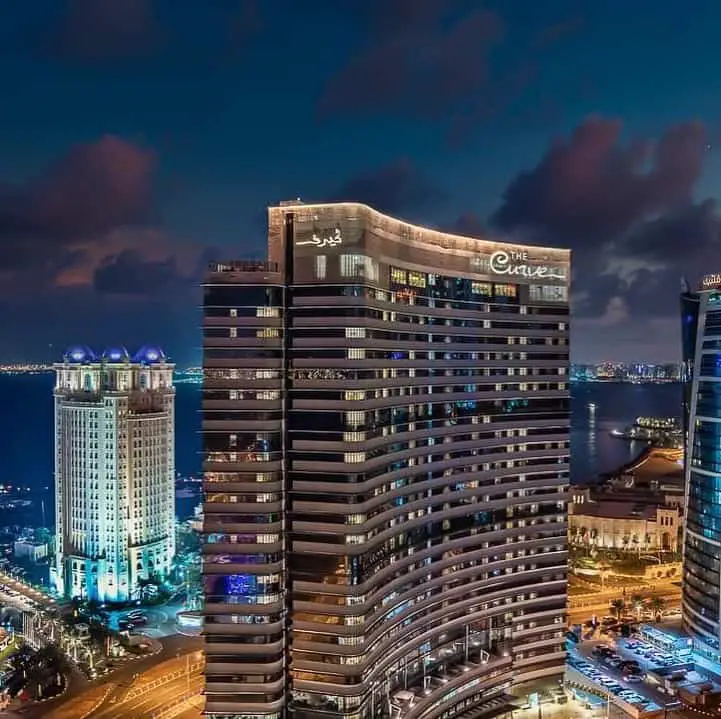 If you are in need of luxury, convenience, and have a strict budget to adhere to, the Curve Hotel is for you. This one stands out from the rest, literally, as it gets its name from the signature building style.
Whether it's just you and your significant other or the whole family they will have the necessary accommodations for your traveling party. All rooms come with a kitchen or kitchenette for your convenience, too.
When you're ready to experience ultimate relaxation you can head on down to the terrace pool and enjoy a delicious mocktail or reserve a spot at their onsite spa, Skinsation. Once you've dried off you can head to the onsite Delice Restaurant and proceed to enjoying delicious delicacies that will have your taste buds saying "Wow!".
As far as the location of the Curve Hotel, you will be located right on the bend of the Corniche shoreline of Qatar, so you can rest assured that you will be right in the middle of all the luxury and fun that Doha has to offer. I'd have to say that this one is ahead of the curve when it comes to places to stay in the Doha region of Qatar.
Get Up To 30% OFF on Booking.com
Sheraton Grand Doha Resort & Convention Hotel
Expect to pay $200+ nightly | Al Corniche St. P.O. Box 600 Doha, Qatar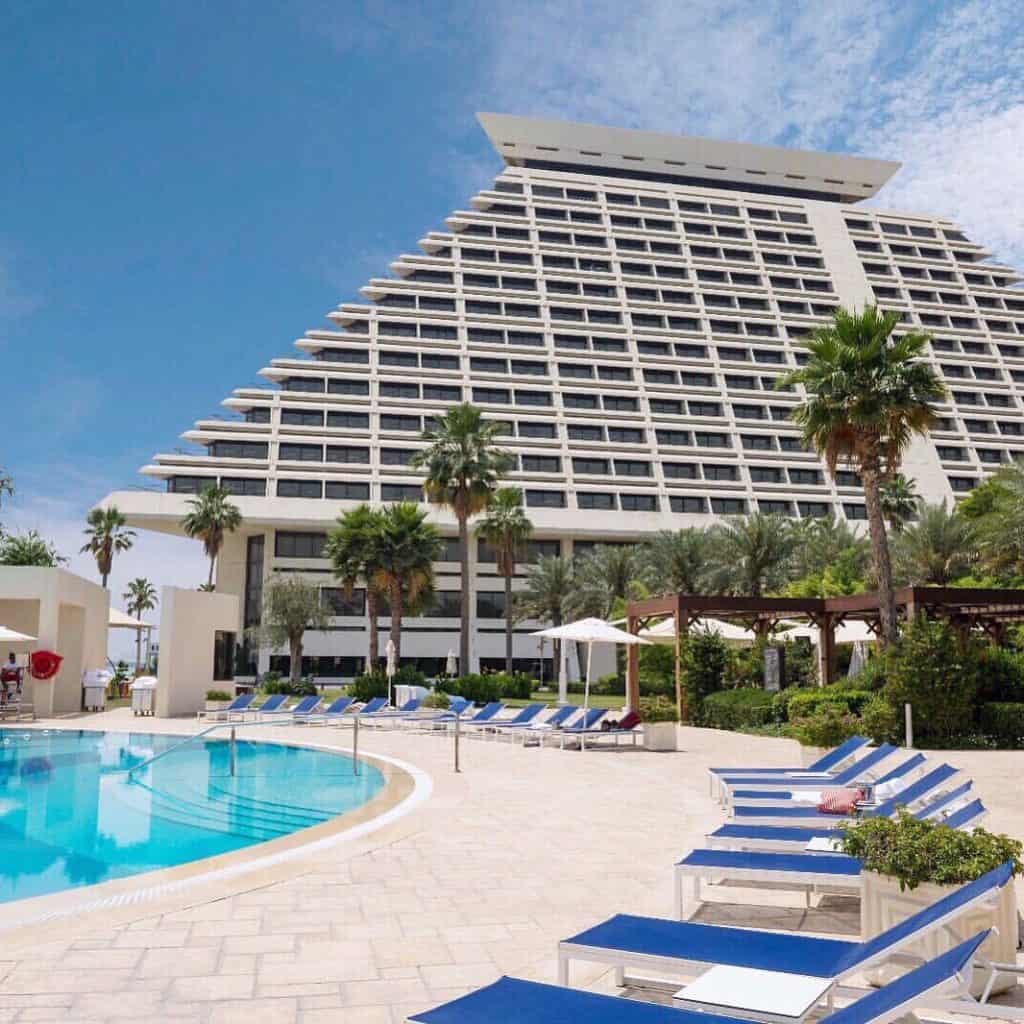 This 5-Star hotel is conveniently located right in the center of Doha. It's perfect for a couple visiting for a few nights with plenty of onsite amenities to enjoy or you can bring the whole family. The rooftop restaurant allows for some of the best views in all of Doha.
If you are not big on heights there are six other onsite restaurants you can enjoy, including the beachside La Veranda and if you're in the mood for the best steak in town Nusr-Et Steakhouse, located onsite, will not disappoint! Even though you're on a vacation, if you feel yourself putting on the pounds, you can also feel free to take advantage of their 24-hour gym.
Of course their private beach is what attracts most of their clients. It's meticulously well-kept and even offers extra water activities to enjoy like banana boats, jet skis, and more.
If you decide to bring the whole family you will be happy to know that there's a special children's play area designed to keep the kids entertained for hours. This includes the indoor FunMania and even an inflatable waterpark.
While this hotel is certainly nowhere near the most affordable on this list, rest assured that every penny spent here will be more than worth it. It's this type of hotel that really makes a vacation memorable and will have the kids begging to come back every year.
Get Up To 30% OFF on Booking.com
Retaj Al Rayyan
Expect to pay $150-$400 nightly | P.O. Box 25556 Doha, Qatar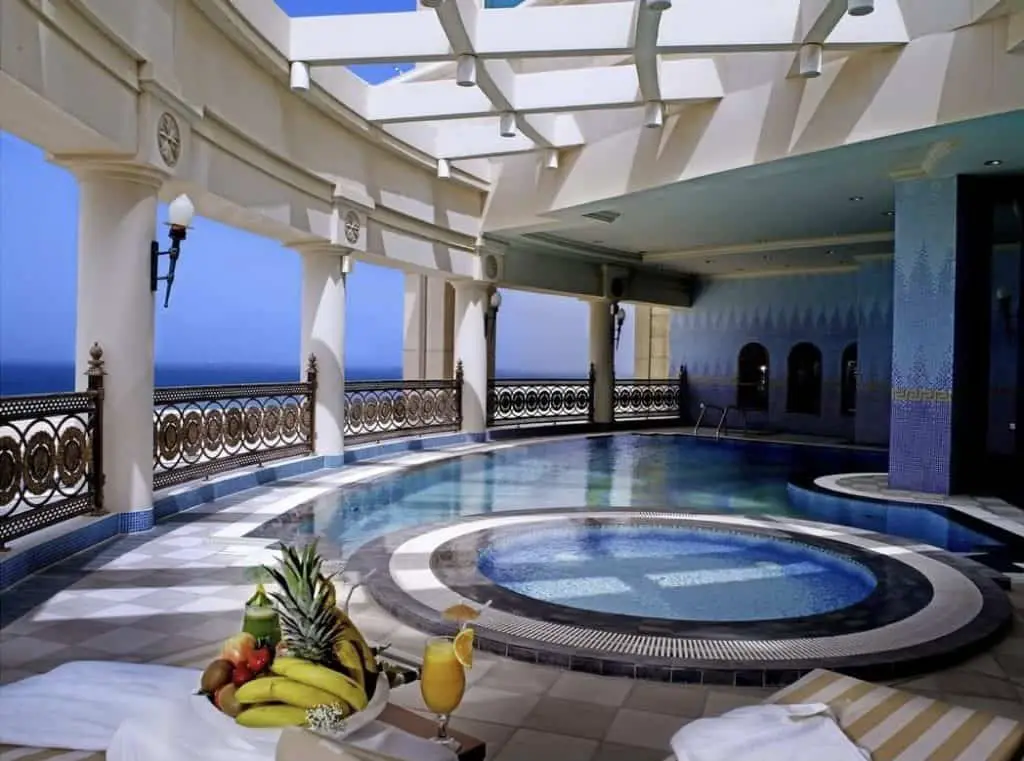 Being able to stay on the world famous Corniche strip in Doha is a privilege for many travelers. The Retaj Al Rayyan Hotel offers that and much more.
Not being directly on the beach may be a downside for some, but being in the business district of Doha also has its benefits. You will have your pick of amenities including large pool, sauna, gym, and more.
As far as dining is concerned there is one full restaurant onsite, Al Maiz, which offers both a la carte and buffet style dining options while you're immersed in the beautiful history and culture of Qatar.
You will also be within a short walking distance from the City Centre Shopping Mall, the Doha Convention Centre, the Katara Cultural Village, and other fantastic Doha highlights.
While the Retaj Al Rayyan may be lacking some of the frills other bigger hotels may offer, if you're looking for something that is affordable and efficient, this hotel may just be right up your alley.
Get Up To 30% OFF on Booking.com
Sharq Village & Spa
Expect to pay $200+ nightly| Ras Abu Abboud St. P.O. Box 26662 Doha, Qatar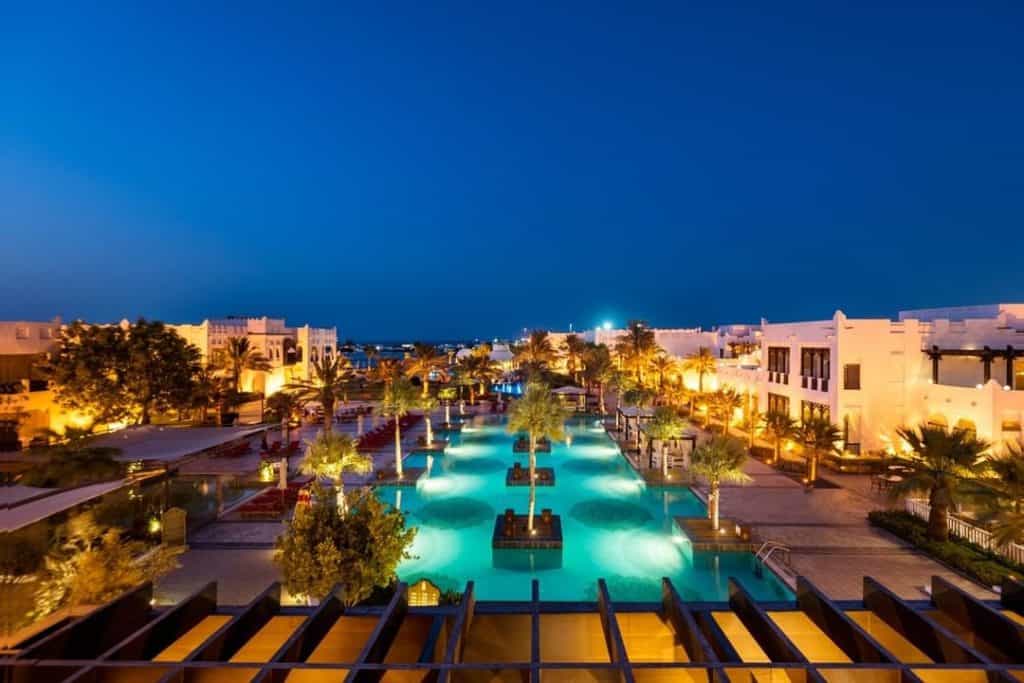 The Sharq Village & Spa is a Ritz-Carlton Hotel, so you know it has to make the top 10 list! If you want to live the luxurious life while on holiday this is the place to stay.
Their specialty is to make you feel like royalty and give you a fully immersive Qatari experience that you'd be hard-pressed to find anywhere else.
While this hotel is a ways away from the city you will still be able to see the beautiful Doha skyline. The Sharq boasts a huge private beach, three pools, and amazing courtyards.
Walking around the property it will be plain to see that a lot of focus and dedication has been implemented in order to ensure happy guests.
If you want to unwind you can do so by booking an ultimate massage experience at their onsite spa. Then, whenever hunger strikes, you can head out to one of their onsite restaurants. There are a few to choose from, so it'll all depend on the setting you want.
The Parisa restaurant offers Persian cuisine and a terrace seating area overlooking the gorgeous Doha Bay, while Al Liwan offers a more exciting dining experience and buffet-style option.
There are many different room styles to choose from including villas, suites, and standard rooms all with their own perks to consider. No matter your party size and view preference, you really can't go wrong with Sharq Village & Spa.
Get Up To 30% OFF on Booking.com
The St. Regis Doha
Expect to pay $200-$400 nightly | Katara Street, Doha, Qatar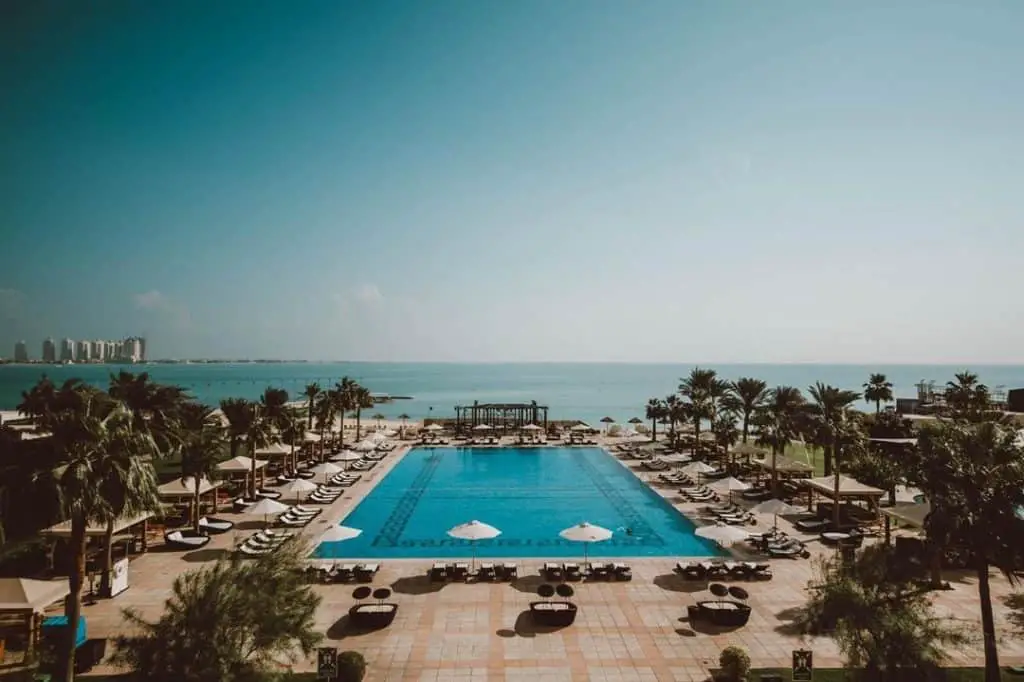 This 5-star beachfront Doha hotel is one for serious consideration! Located on Doha's elite West Bay, The rooms are some of the cleanest in the area. They feature luxurious amenities like marble accents in the bathroom that comes fully stocked with classic toiletries, gorgeous sea views, and contemporary décor that is unrivaled by any other hotel in Doha.
There are ten – yes, 10! – restaurants and bars onsite, so it won't be difficult to keep your taste buds guessing what's next. Whether you're looking for some fine surf & turf at the Astor Grill Steakhouse, or something more international, like the flavors or Italy and Spain you would encounter at Si Restaurant, rest assured that the St. Regis will keep your belly full for your entire trip.
There are plenty of attractions to see in the area that are just a short walk or ride away. Adventure seekers will be happy to know that Aladdin's Kingdom theme park is a short 10-minute walk away from this hotel, while the City Centre Shopping Mall is less than 2 miles away and the Diwan Emiri Royal Palace is only 4 miles away.
Whether you're there to be pampered at the Remède Spa, want to take a few laps in an Olympic-sized pool, or just want to rent out a cabana to relax right by the beach, you have unlimited options when it comes to things to do at the St. Regis Doha.
Get Up To 30% OFF on Booking.com
Banana Island Resort Doha by Anantara
Expect to pay $300-$450 nightly | P.O. Box 23919 Doha, Qatar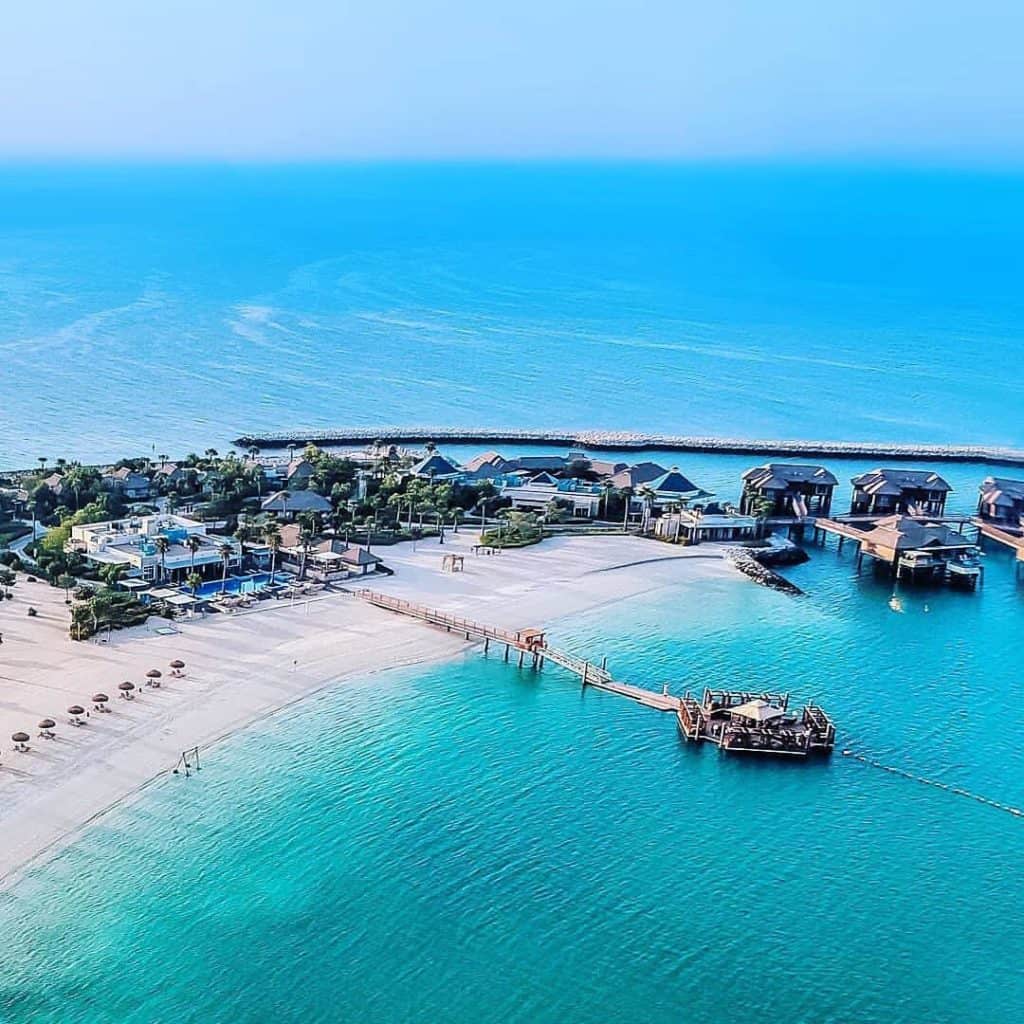 This resort is located on an island and includes a free catamaran boat ride with the room purchase. With that being said, it is an outstanding option for those looking for a true relaxing getaway. It's a dry resort, meaning they do not offer or allow alcohol, so it's also a great option for those traveling with kids as you don't have to worry about encountering any rowdy crowds.
There is a multitude of eateries and cafes to choose from throughout the resort or you can opt to have the food brought directly to your room. Speaking of the rooms, there are many different layouts and location/view options to choose from, so you can reserve with confidence.
Once there, you can enjoy pristine private beach shorelines and take advantage of many fun family activities like mini-golf, a movie theater, and a bowling alley. You can enjoy all these activities without ever even leaving the premises! There's even a surf pool for those looking for a more adventurous activity.
One other highlight of this resort is the Anantara Spa. It is highly regarded as one of the top spas in all of Doha and should not be missed.
Get Up To 30% OFF on Booking.com
Hyatt Regency Oryx Doha
Expect to pay $150-$500 nightly | Al Matar Street, Doha, Qatar
This hotel is perfect for those just looking for a quiet place to lay their heads for a night or two. It's close to the Hamad International Airport and just a few miles for other must-see landmarks like the Corniche shoreline, various museums, and excellent malls.
While they may be a little lacking in a vast array of amenities compared to the others on this list, they do have a clean outdoor pool, onsite spa and fitness center, and a few quality eateries.
For music lovers there's even an exclusive jazz club that offers nightly entertainment. It's a hidden gem for anybody that's just passing through or plans to spend most of their leisure time out and about rather than in the comfort of their hotel room.
Get Up To 30% OFF on Booking.com
W Doha
Expect to pay $150-$700 nightly | P.O. Box 19573 Street 831, Building 262, Doha, Qatar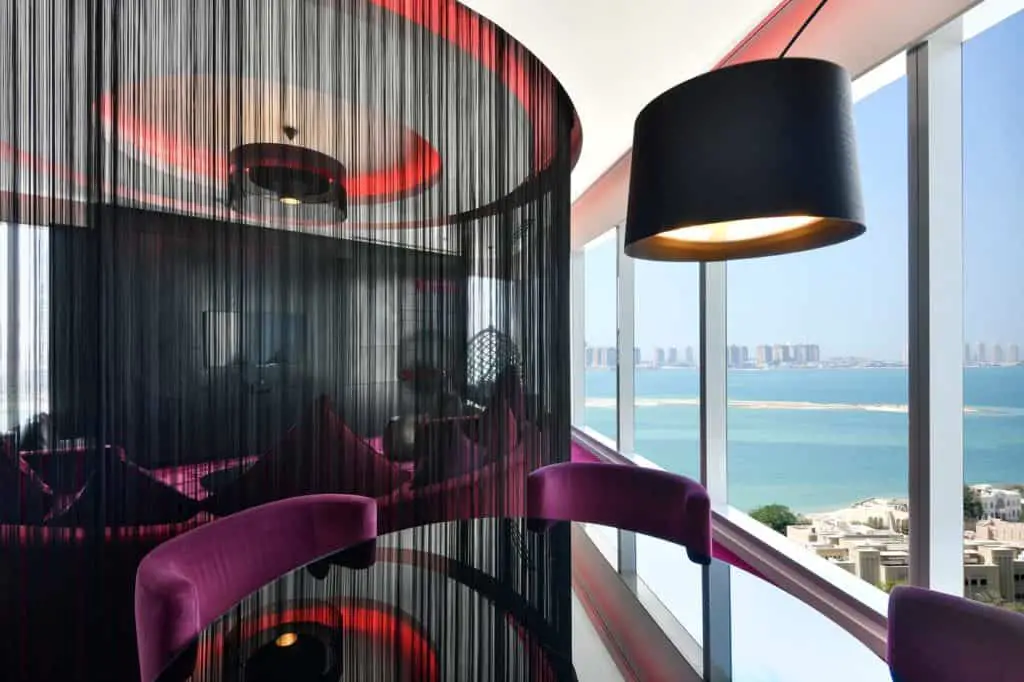 If you're seeking a hotel that's close to it all, this is the one. Literally minutes from the Corniche coast and City Centre Shopping mall, you can rest assured that you will have easy access to all there is to do in Doha.
Besides the upscale onsite restaurants like the Asian eatery Spice Market and La Spiga by Paper Moon, you can also enjoy a more relaxed atmosphere at Wahm while listening to masterful DJs mix live music while you sip a cocktail.
The rooms all feature unique interiors that are colorful, modern, and vibrant. You can choose from wide array of rooms that only come described as "Cool", "WOW", "Fabulous", "Marvelous", "Spectacular", "Witty", "Warm" and "Wonderful".
You'll have to do your research to decide which room will best suit your needs, but know that no matter which one you go for you're in for a treat.
While this hotel is not right on the beach, it's not too far, and perhaps you will find that the great onsite amenities are worth a short walk to the beach area.
Get Up To 30% OFF on Booking.com
Ezdan Palace Hotel
Expect to pay $120-$200 nightly | Al Shamal Rd. West Bay, Doha, Qatar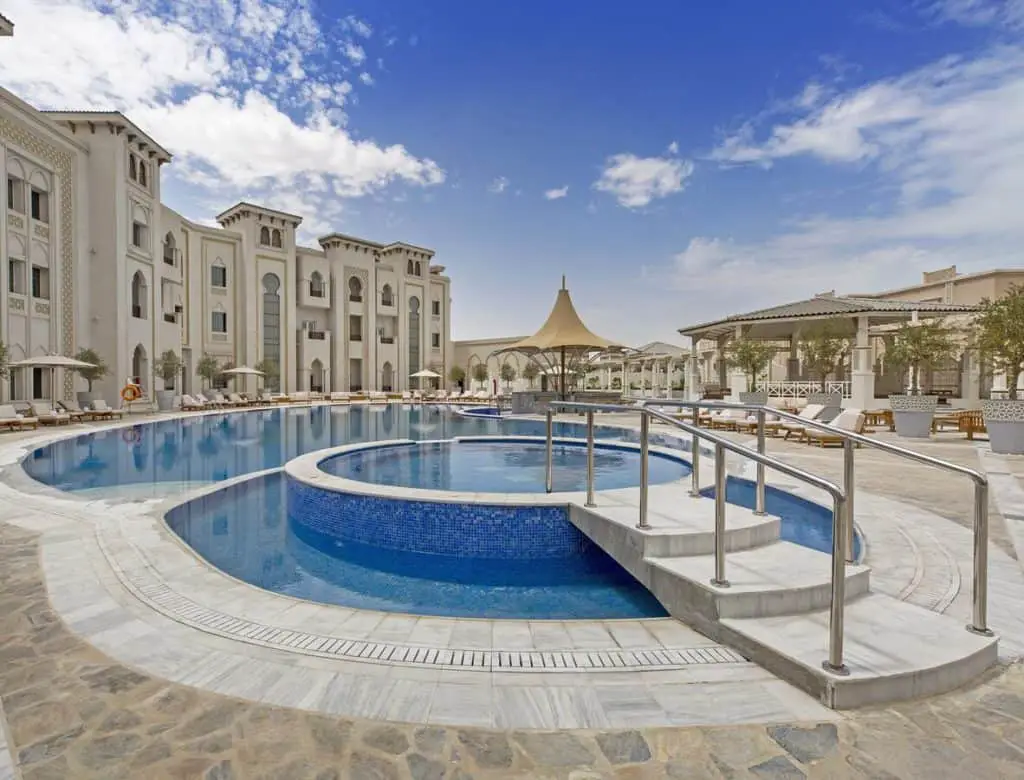 This flashy gem is a bit on the outskirts of Doha about 20 minutes from the Hamad International Airport and the beach. If you're looking for a discreet getaway the seclusion and grandeur you will find here is exceptional.
This hotel was just built and opened in 2018, so you know it'll be as modern and up-to-date as possible.
You will be able to fully immerse yourself in the Andalusian theme that's featured throughout the facility and with close to 200 rooms it'll be easy to secure a one for yourself and your family, even on short notice. Huge HD smart TVs and free Wi-Fi are included in every room, along with a Nespresso machine for your coffee needs.
There are multiple restaurants onsite including Red Orchid which features Thai delicacies and Palermo which offers some of the best Italian dishes in all of Doha. There is also a salon and spa onsite that offers massages for men, women, and couples.
Get Up To 30% OFF on Booking.com
A vacation to Qatar can be unforgettable and obviously there are many different hotels and resorts to choose from in Doha, but this list offers an easy way to help you decide on the best one for you and your family during your holiday in Qatar.