Doha is the main hub for Qatar when it comes to Middle Eastern vacations. It offers everything from crazy dune buggy adventures to calm dining in fancy restaurants and some of the best shopping in the world. The first thing you ought to do when planning a trip to this Middle Eastern gem is to figure out where to stay in Doha.
There are a lot of different hotels and resorts to choose from in Doha. It's pretty much the most visited city in Qatar, and it's also a popular stopover destination, often for lengthy layovers, for those traveling to other faraway destinations. While Doha may not be your final destination, you may find yourself there for long enough to consider renting a room for a night or two.
Of course, as we all know, there are a number of different things to consider when it comes time to pick a hotel to stay in for a vacation. These include budget, amenities, location, and the party that's coming to stay, to name a few. Listed below are some of the finest places to stay in Doha, depending on these factors mentioned above.
Best Doha Hotel For Couples Celebrating On A Budget – Mondrian Doha
Click Here To Get Up To 30% OFF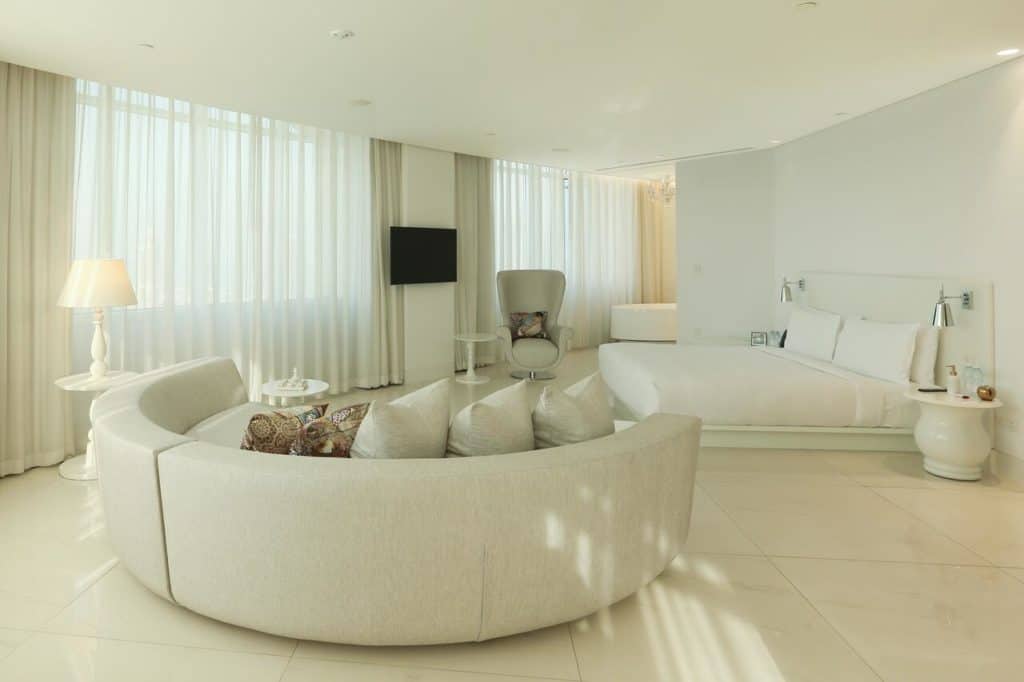 If you want to treat your spouse to a 5-star hotel, without the 5-star price, look no further than Mondrian Doha. This spectacular hotel offers all of the comforts you'd need on a trip to Doha, and some extras, too. With soundproof rooms and almost thirty floors you're sure to enjoy some real R&R here.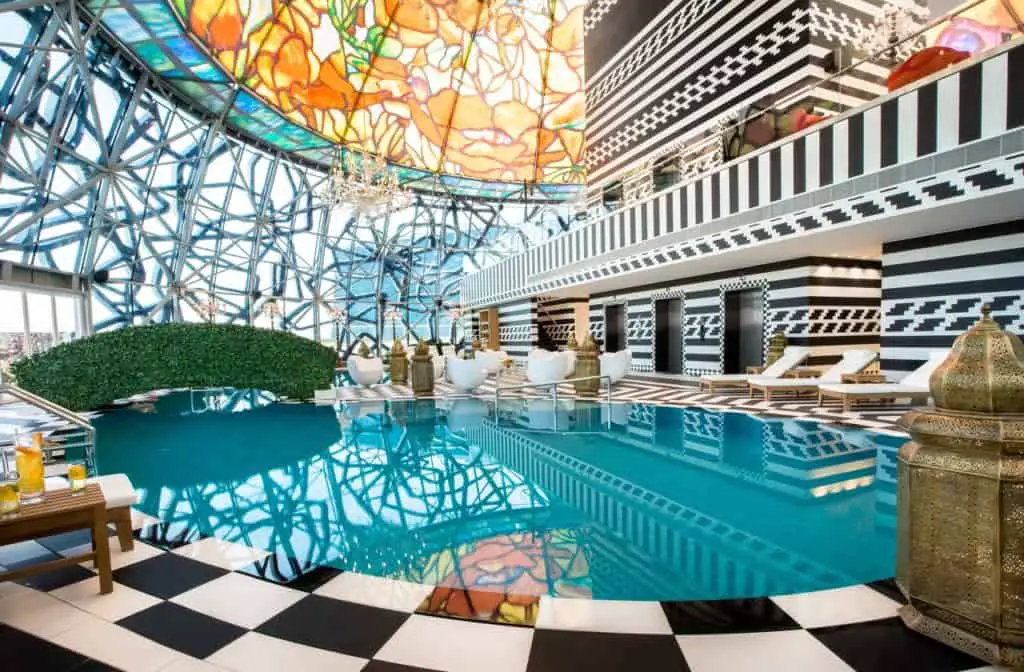 When you do want to enjoy some fun, you can head out to the rooftop pool or one of the eight bars and restaurants that are featured onsite. If you want to add a little heat you can head down to their secret heated garden inside ESPA or dance the night away at their nightclub, Black Orchid.
When staying at this hotel you will be right in the shopping and entertainment district of Doha, so you can also enjoy being just minutes from the major malls and other popular venues. If you let the kids tag along on this trip, they will enjoy the 24-hour room service and maybe the parents can enjoy the rooftop bar once the kids have drifted off to dreamland.
Click Here To Get Up To 30% OFF
Best Doha Hotel For Families – Banana Island Resort Doha By Anantara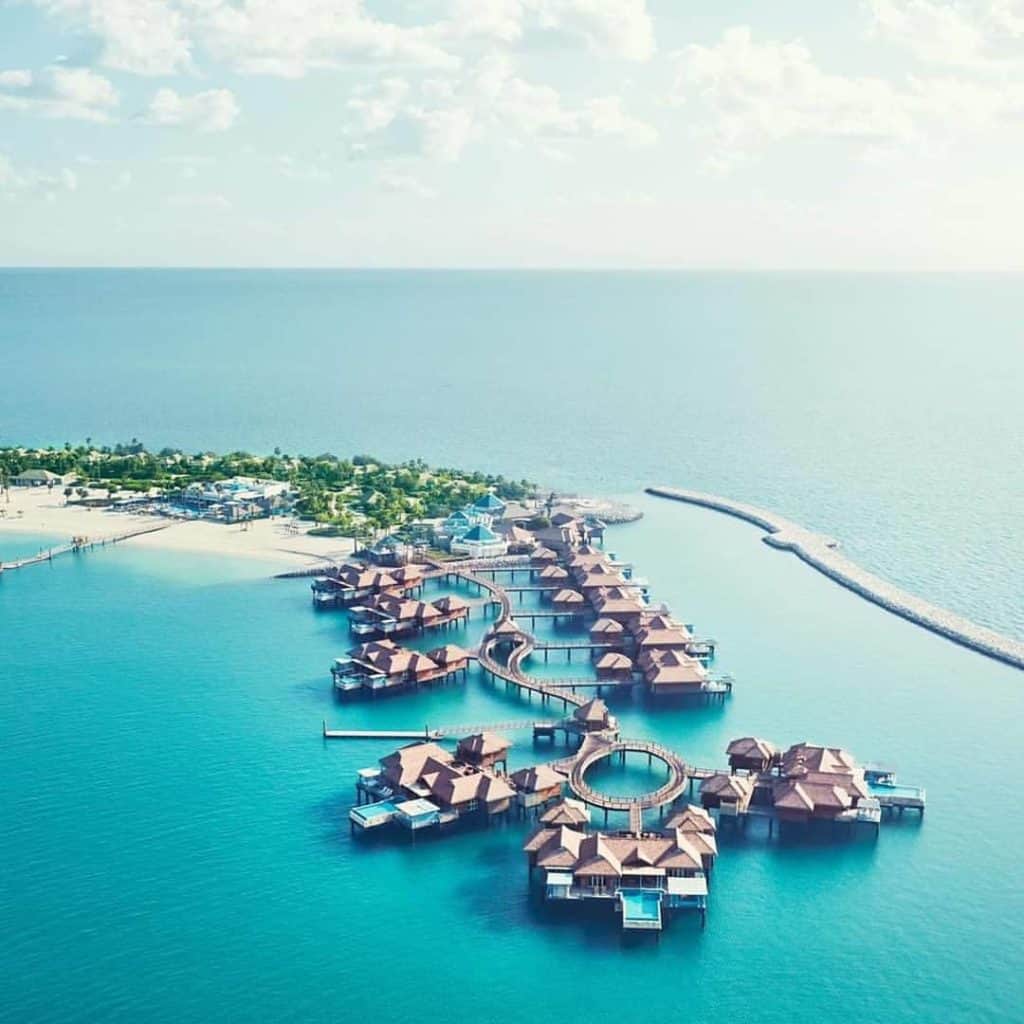 Click Here To Get Up To 30% OFF
If money is no object and you're looking to give your family the most memorable vacation ever, forget Disney World and head to Doha instead. This particular resort is not cheap, but with Banana Island Resort Doha by Anantara you get what you pay for.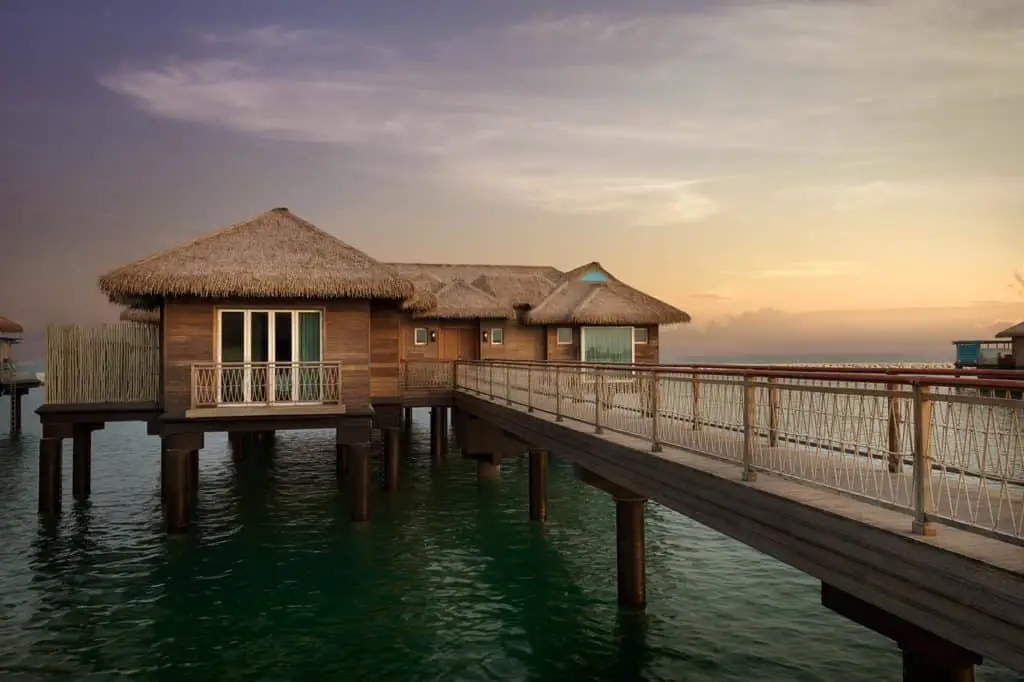 The private island setting and the unique amenities are what make this resort really stand out among the rest. Enjoy taking a plunge in their dive pool, learn how to surf at the onsite surf pool, enjoy a flick at their movie theater, and make sure to take advantage of their kids/teens club, which features a cool hangout spot with lots of arts and crafts and games.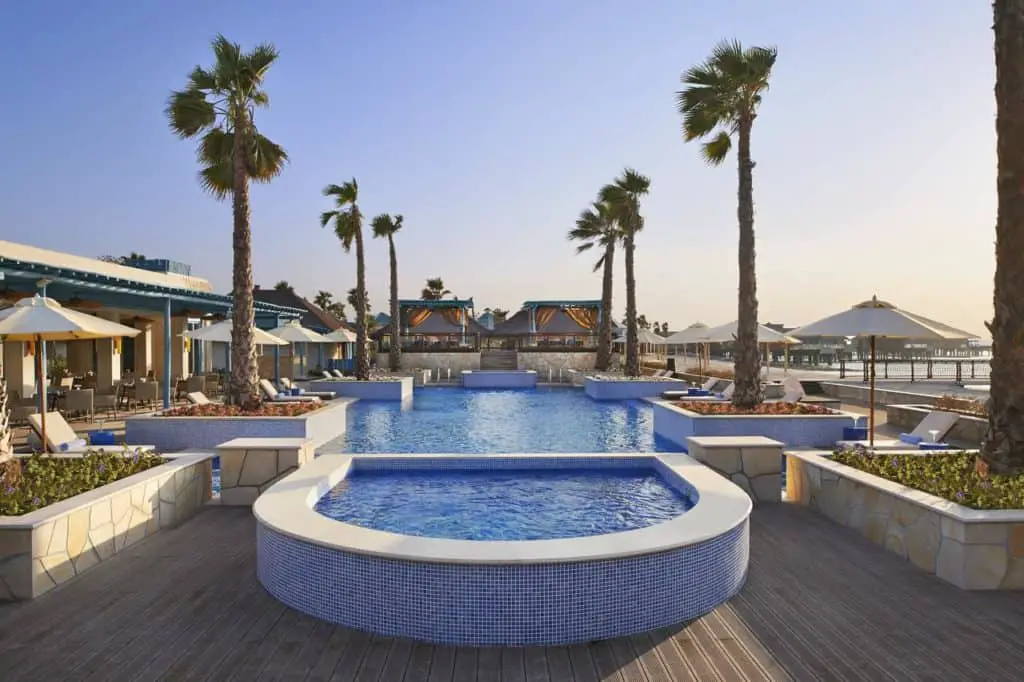 For parents that want to take a night off and spend a romantic evening alone, they even offer babysitting services. If there are any adventurers in the group you can also enjoy a day out kayaking in the shimmering water or get on the banana boat and get pulled behind a speedboat.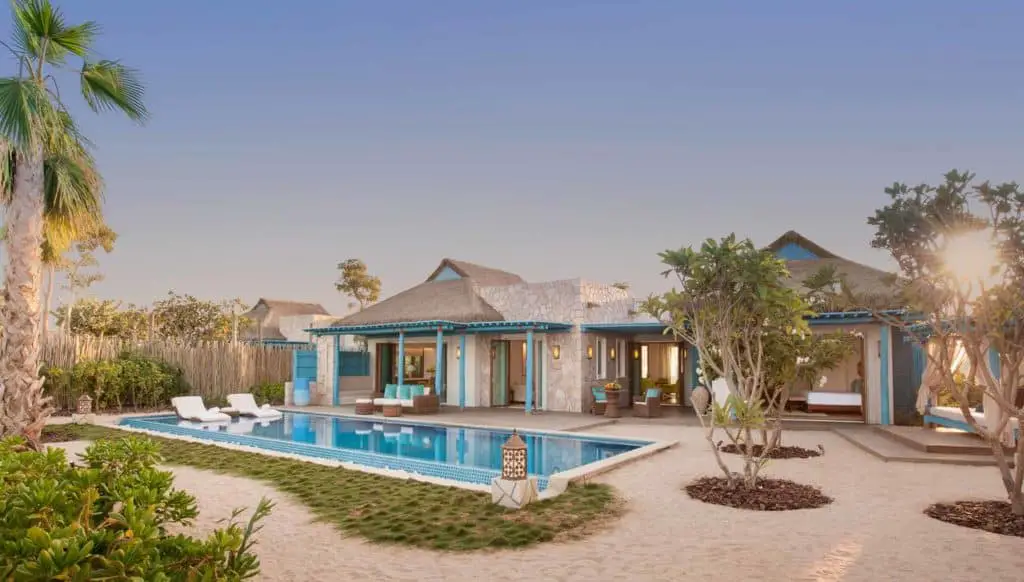 If you're going to spring for this one make sure to at least save up for the two-bedroom overwater villa, or if you're wanting to go all out, the three bedroom comes with its own pool. It will make your vacation that much more unforgettable.
Click Here To Get Up To 30% OFF
Best Doha Hotel For Couples – Alwadi Hotel Doha MGallery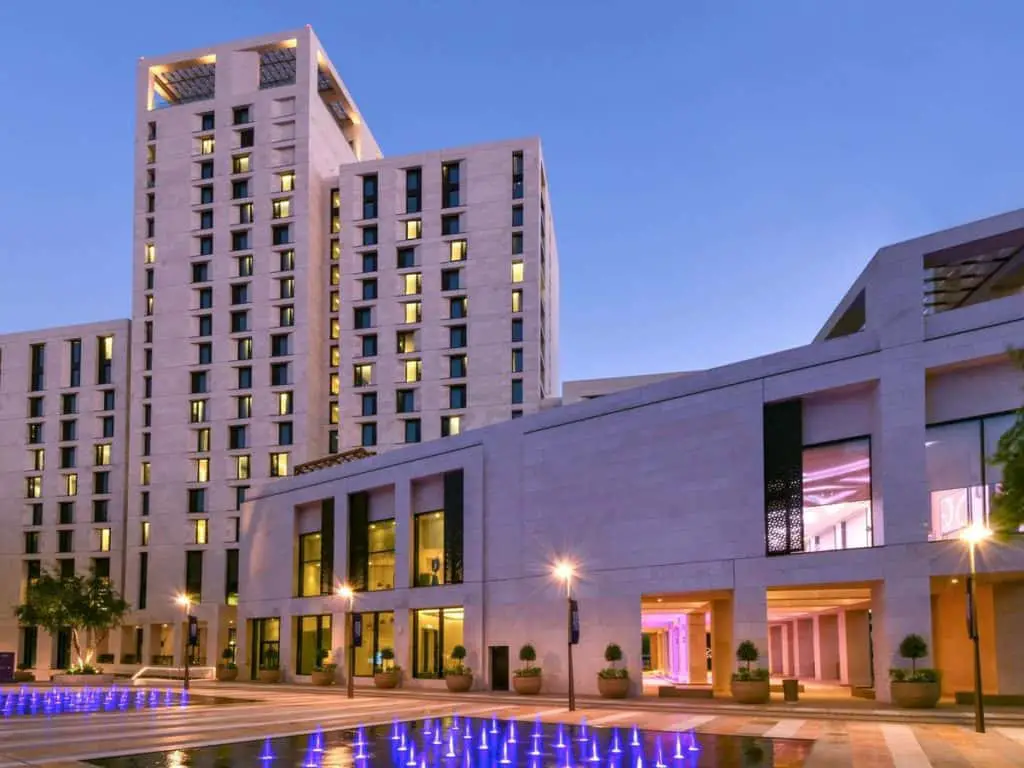 Click Here To Get Up To 30% OFF
This Doha hotel has it all. If you're looking to stay close to the popular Doha attractions you will be happy to know that the Souq Waqif is just a stone's throw away. Other popular tourist destinations are within a short ride away, including the Gold Souq and the Museum of Islamic Art. The Msheireb station is not too far, either, if you're looking to get out and about and explore the beautiful city.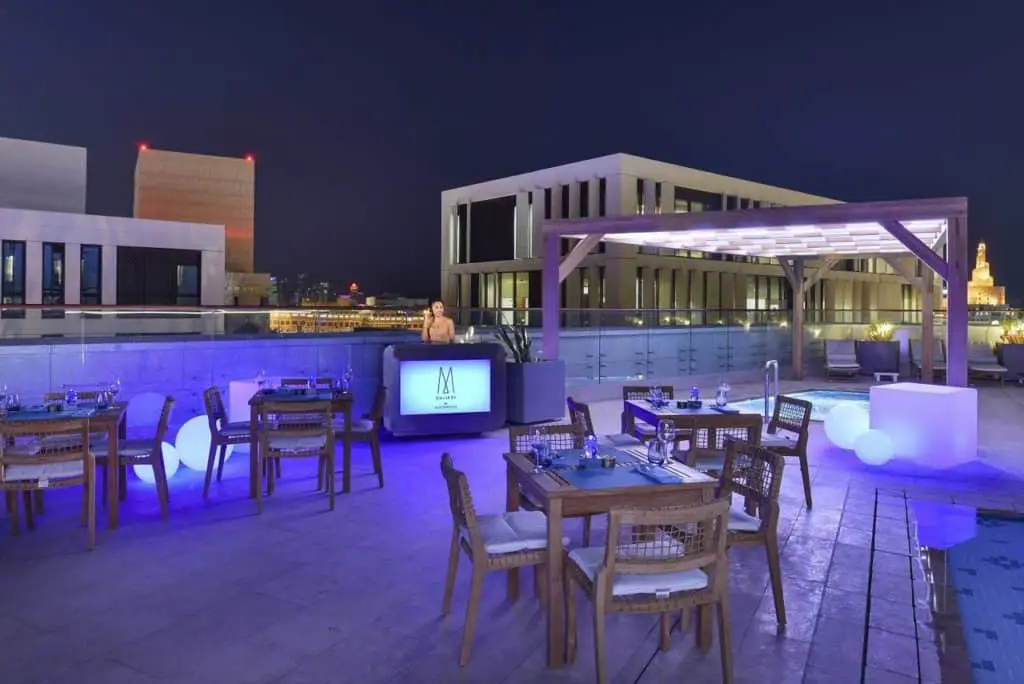 What really makes the Alwadi Hotel Doha great for couples are the lavish amenities it offers to its guests. They have a rooftop bar lounge that serves alcohol with specialty drinks you can't find anywhere else in Doha. The pool has waiter service and daily meal specials.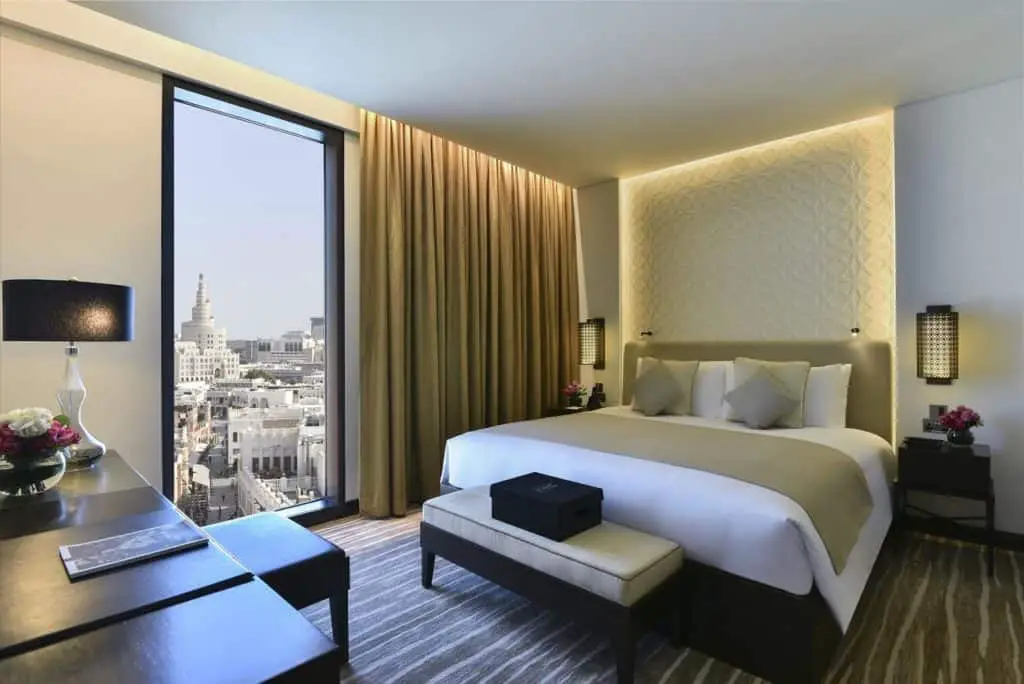 The rooms offered are spotless and intimate with amazing views of the city. The Nespresso machine that comes standard in each room helps to get you perked up and ready for the day. If it's just you and your spouse coming to Doha, this hotel should be at the top of your list.
Click Here To Get Up To 30% OFF
Best Doha Hotel By The Beach – Sharq Village & Spa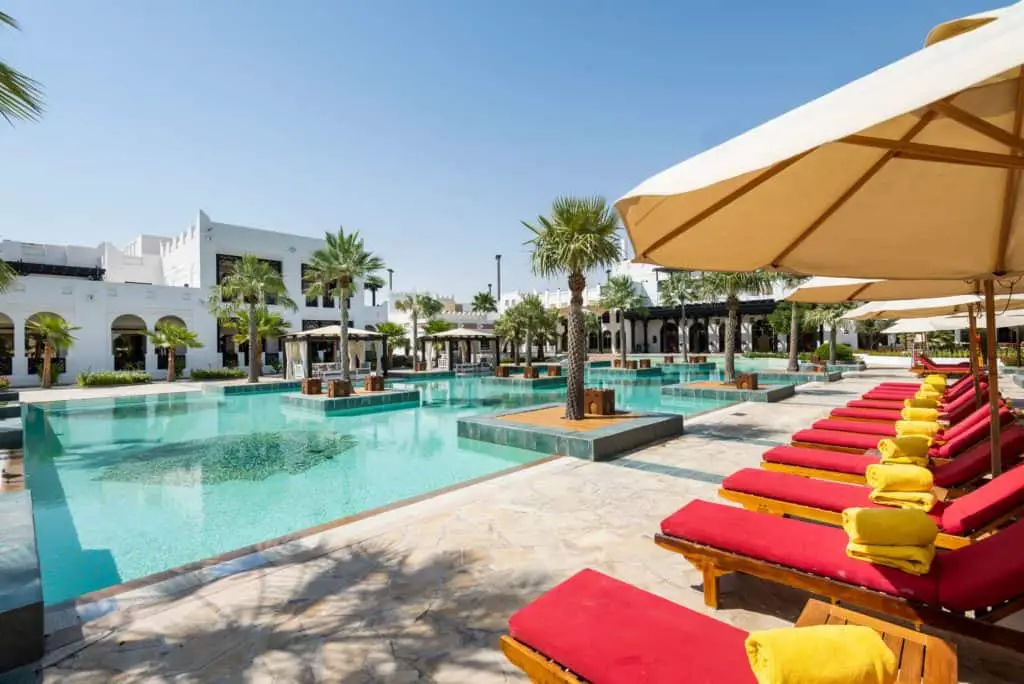 Click Here To Get Up To 30% OFF
The best beach resort in Doha is by far the Sharq Village & Spa, a Ritz-Carlton hotel. This resort not only features some of the best amenities in all of Qatar, but is also right by many of the must-visit attractions, like the National Museum of Qatar and the Pearl Monument. You are also able to find a variety of water activities to enjoy nearby, like snorkeling and windsurfing.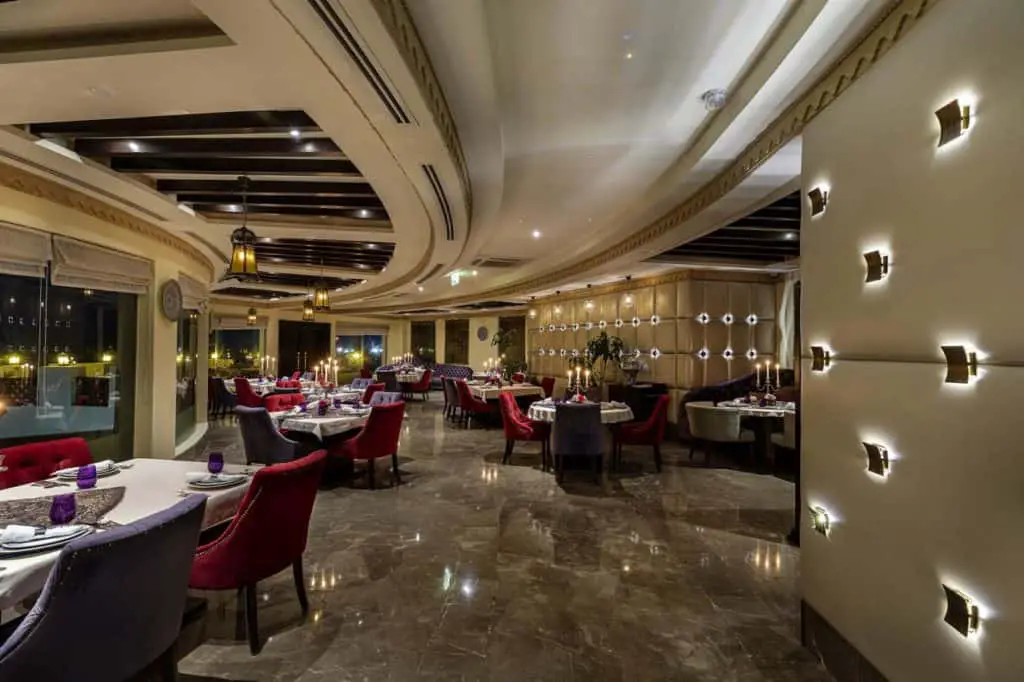 The resort offers a huge selection of onsite restaurants and bars, and even two coffee shops. If you're bringing the little ones, you will be able to allow them access to the children's pool and playground. If you want to enjoy ultimate relaxation, don't forget to book a spa day at their extensive wellness spa.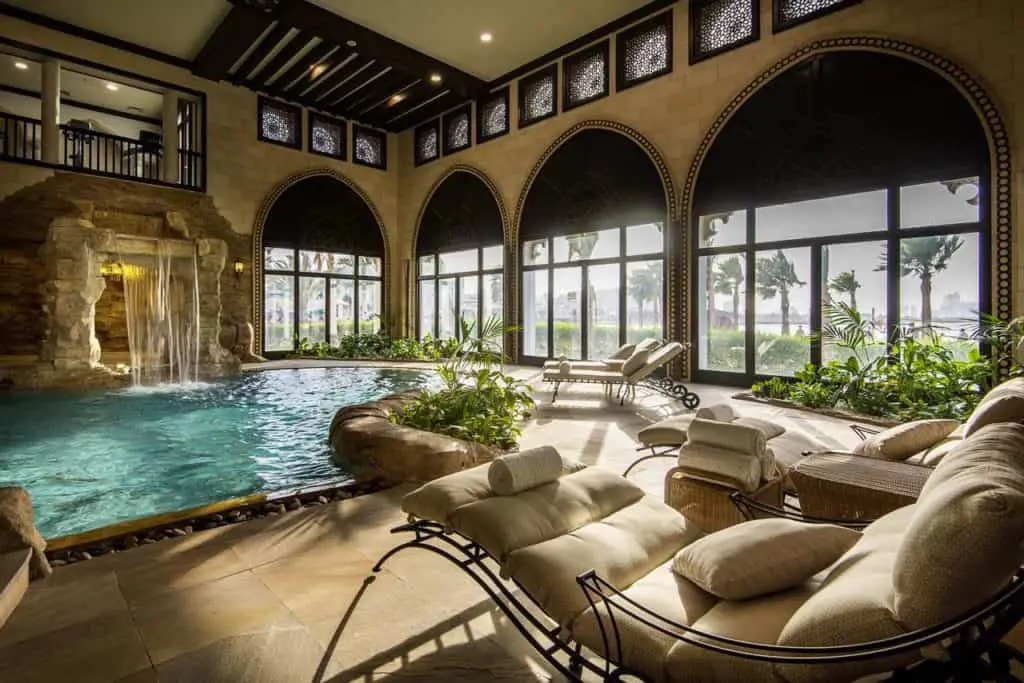 Now, the gem of Sharq Village & Spa is the pristine and private beach. They have almost 1,200 feet of private coastline, so it won't be too difficult to find a spot to lay out and enjoy the Doha desert heat and sun. Hop in the cool waters if it gets too hot. When it's time to go make sure to stop by their own onsite souq and get some great souvenirs from the boutiques.
Click Here To Get Up To 30% OFF
Best Doha Hotel For Solo Travelers – St. Regis Doha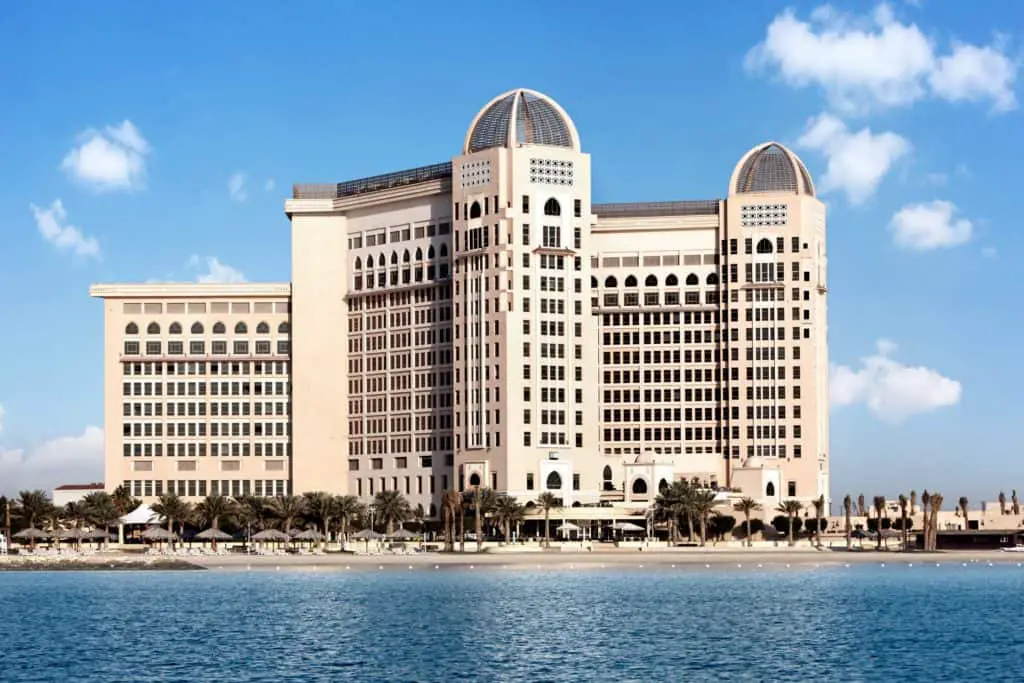 Click Here To Get Up To 30% OFF
Sometimes we just need to get away, far far away. Take a solo trip to Qatar and stay at the St. Regis Doha. It's perfect for anyone looking for a retreat from the mundane. The onsite amenities are superior compared to some of the other hotels in the area.
It's only about 5 minutes from Katara Beach and the Katara Cultural Village. The Souq Waqif is less than 8 miles away, so you'll be conveniently located near all the major attractions. If you want to spend a lavish evening out on the town riding in a limo, they can even set you up with this type of special experience!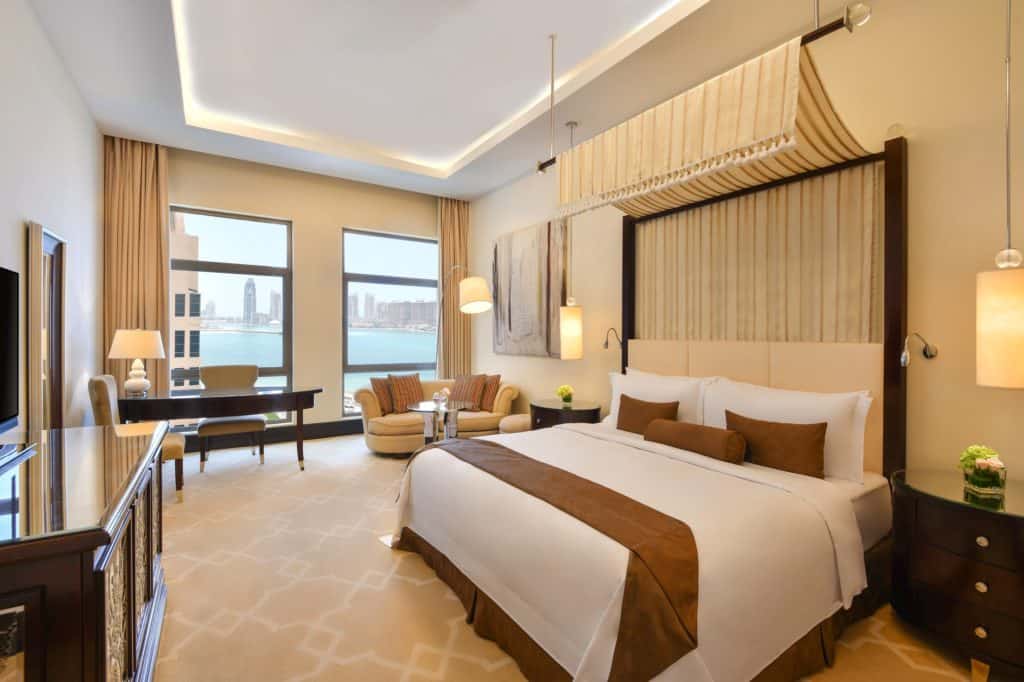 What really makes this Doha hotel perfect for solo travelers is the luxury that the rooms offer and the great amenities. A stay here includes access to 24 hour room service, free bottled water, adjustable air conditioner and in-room minibar. The Egyptian cotton bedding, rainfall showerheads, and sea views are just the cherry on top!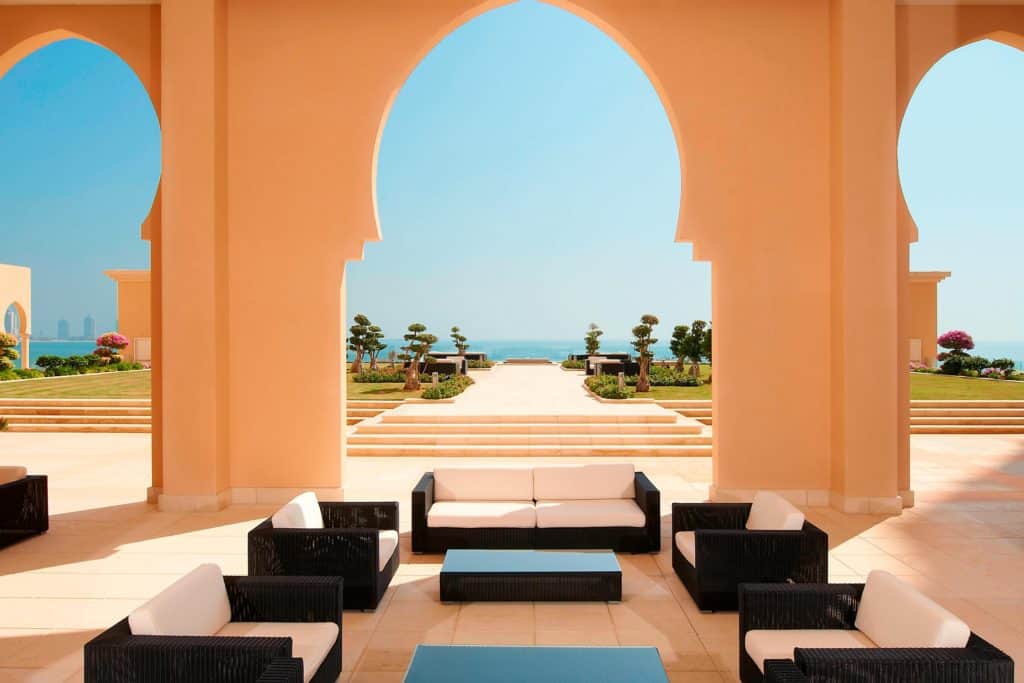 There are also seven restaurants and three bars located at this hotel to make your taste buds happy. Whether you're craving Lebanese, Italian, steak, seafood, or just a nightcap by the pool before bed, the St. Regis Doha will not disappoint.
Click Here To Get Up To 30% OFF
Best Doha Hotel For Families On A Budget – Magnum Hotel & Suites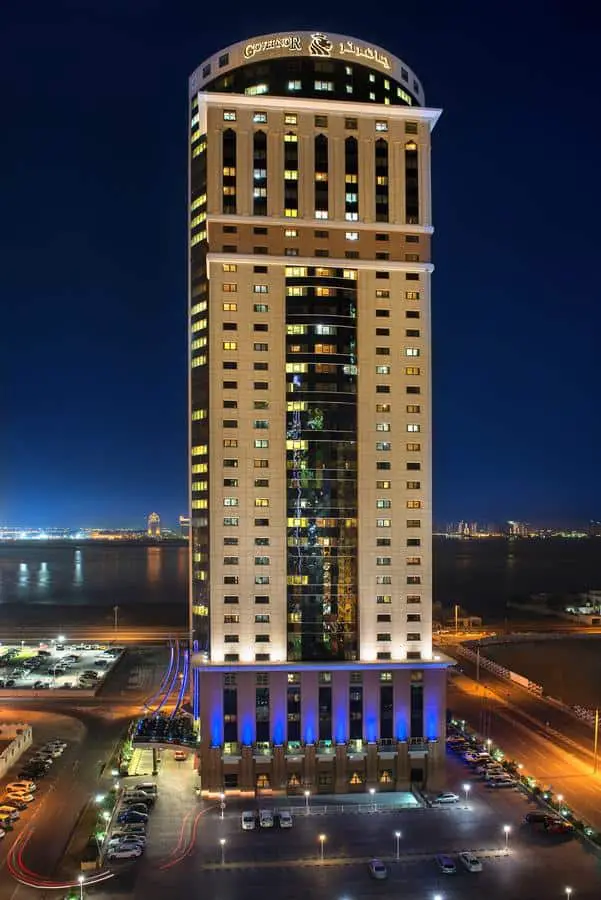 Click Here To Get Up To 30% OFF
If you want to stay at something a little fancier than a hotel, but not quite as expensive as a full-fledged resort, why not consider this aparthotel? Magnum Hotel & Suites offers some of the best amenities and luxury in the Diplomatic Area of Doha. It's within walking distance of many popular attractions including City Centre Shopping Mall and Katara Beach. The Doha Corniche is within a 15 minute walk from here.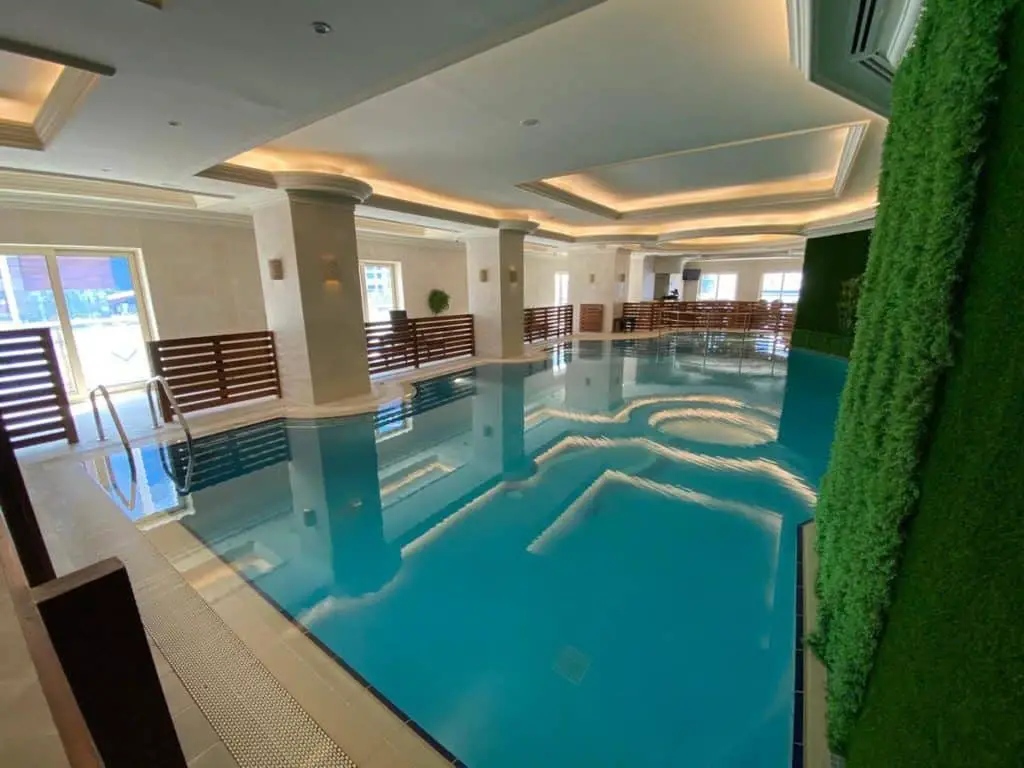 With multiple restaurants, bars, cafes, lounges, and shops on site you won't even have to leave the comfort of the property until you are ready to explore Doha. Kids can enjoy the indoor pool away from the intense hot Doha sun and your kids can also enjoy scheduled kids' activities throughout your stay.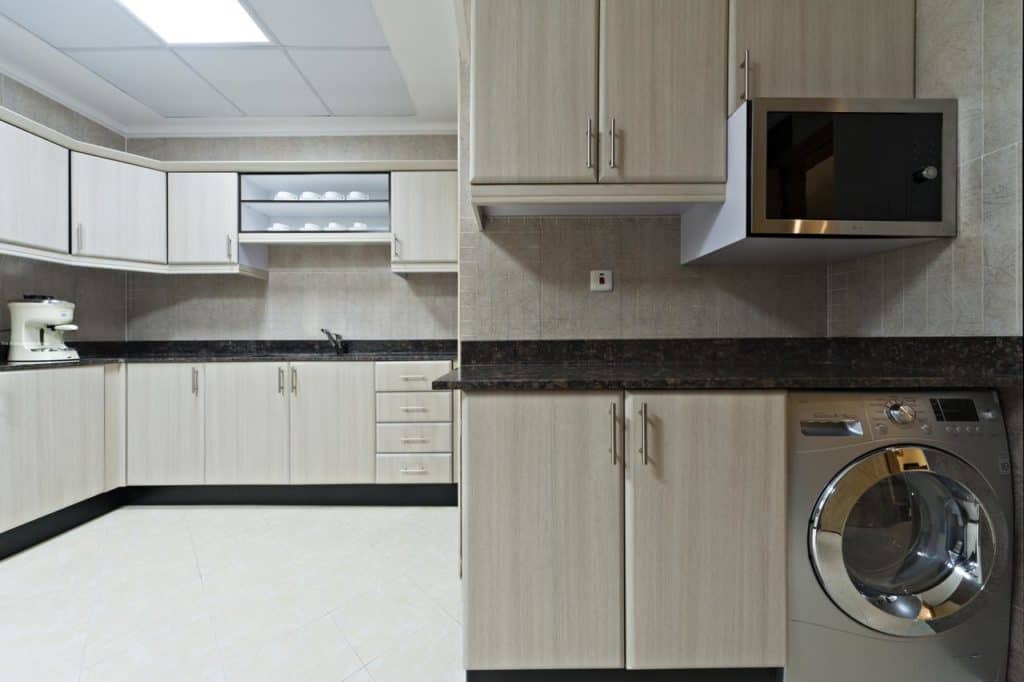 The convenience of having a full kitchen, washer, and dryer in unit should also be mentioned, as they could come in handy at any time, should you want to prepare a midnight snack or need to do a quick load of laundry. Traveling to Doha isn't cheap, so this is a great pick if you want to save a bit on your stay to invest in other nearby activities during your trip to Doha.
Click Here To Get Up To 30% OFF
Best Doha Hotel For A Short Weekend Getaway – Radisson Blu Hotel Doha
This hotel is inexpensive and luxurious at the same time! Only 6 miles from the airport you can easily navigate your way to and from this centrally located hotel. You will be close to all the major Doha attractions such as the Souq Waqif, Museum of Islamic Art, and Aspire Park.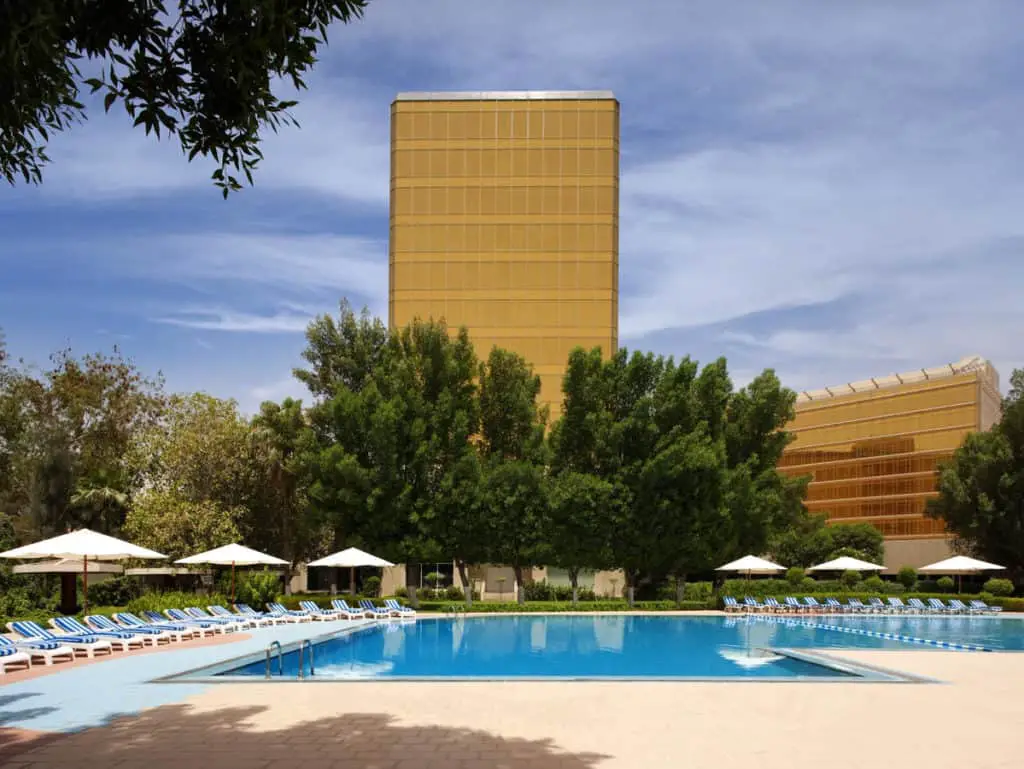 Click Here To Get Up To 30% OFF
Featuring close to 600 hotel rooms you know availability, even on short notice, shouldn't be too much of a problem. Each room comes with top-of-the-line amenities like free Wi-Fi, coffee/tea station, in-room safe, and a luxurious rain showerhead.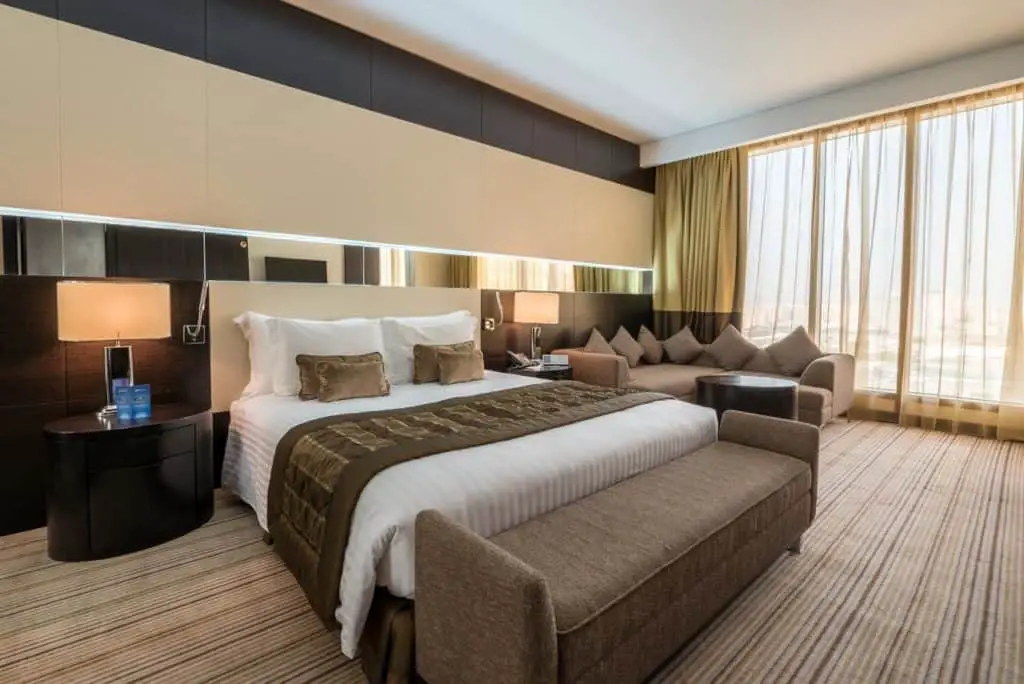 There are nine restaurants onsite and five cafes. Enjoy a mocktail by the pool and live it up on the dance floor at their onsite club, Qube. Staying fit on vacation has never been easier with their state-of-the-art fitness center. If you're looking for something a bit sportier you can enjoy a game of tennis, squash, or basketball and then take a dip in one of their two pools.
Click Here To Get Up To 30% OFF
Best Doha Hotel For Millennials – W Doha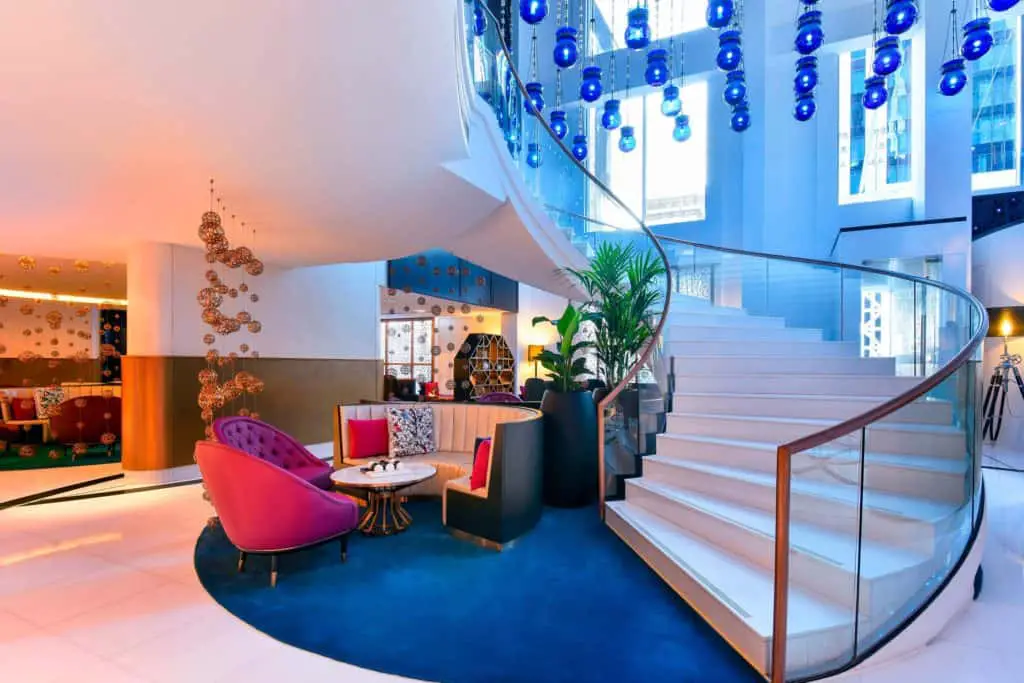 Click Here To Get Up To 30% OFF
This is a 5-star hotel and if what you are looking for is a truly special hotel that has too many features to count, all of which would look perfect on your social media page, W Doha is for you! The lobby itself may be the most photographed spot in Doha with its blue lighting and marble floors. It's just begging for a spur-of-the-moment photo shoot.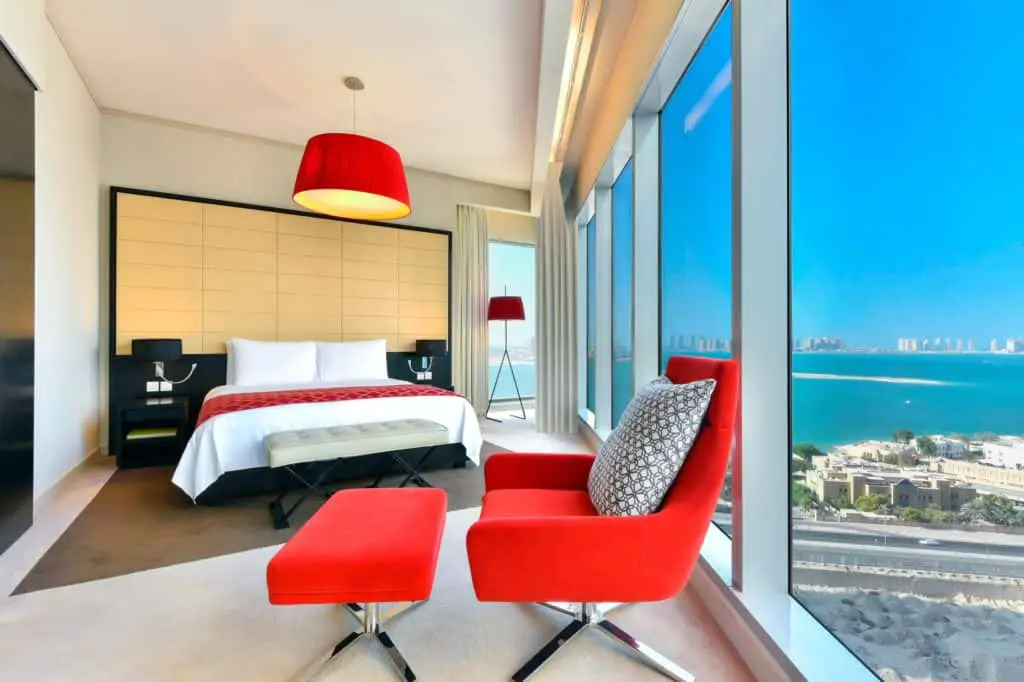 All rooms are modern and up-to-date and offer the utmost comfort for their guests. City or sea view is available when selecting your room and you can also expect spacious bathrooms, exclusive toiletries, robe and slippers, and many other treats to ensure you are able to spoil and pamper yourself the way you should when on vacation.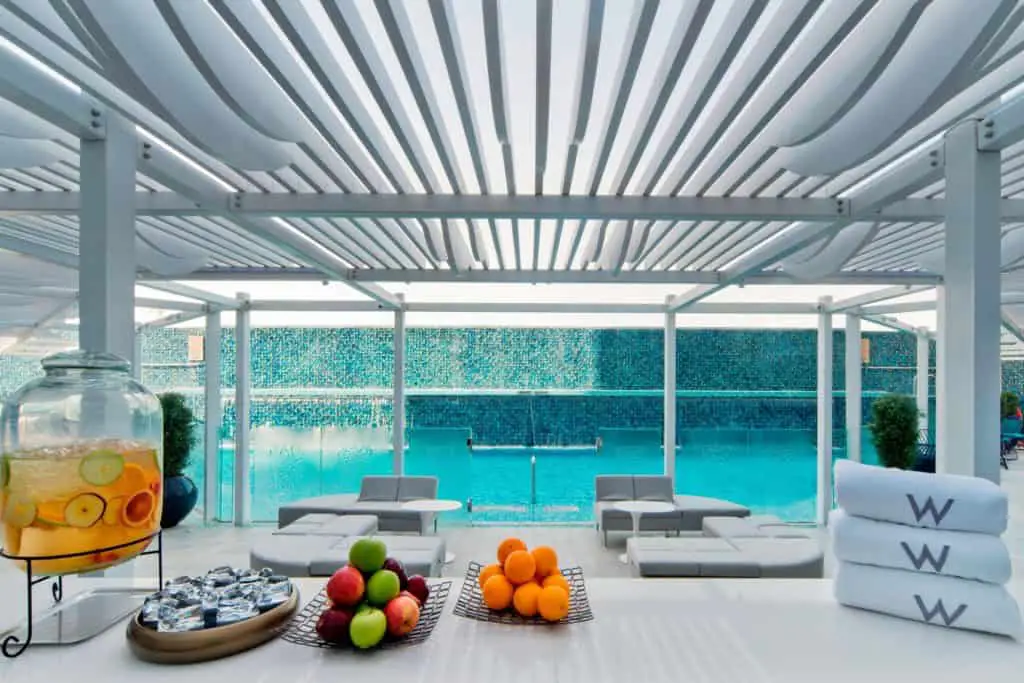 There are also multiple restaurants onsite, a couple of which are managed by Chef Jean-Georges, a 3-Michelin star chef. You can dine onsite at one of many restaurants and if you want to boogie late into the night you will be happy to know that W Doha is home to Crystal, one of the most popular nightclubs in all of Doha. If lounging by the pool is all you want to do, there's plenty of room for it here.
Click Here To Get Up To 30% OFF
Best Doha Hotel For Luxury And Comfort – Hilton Doha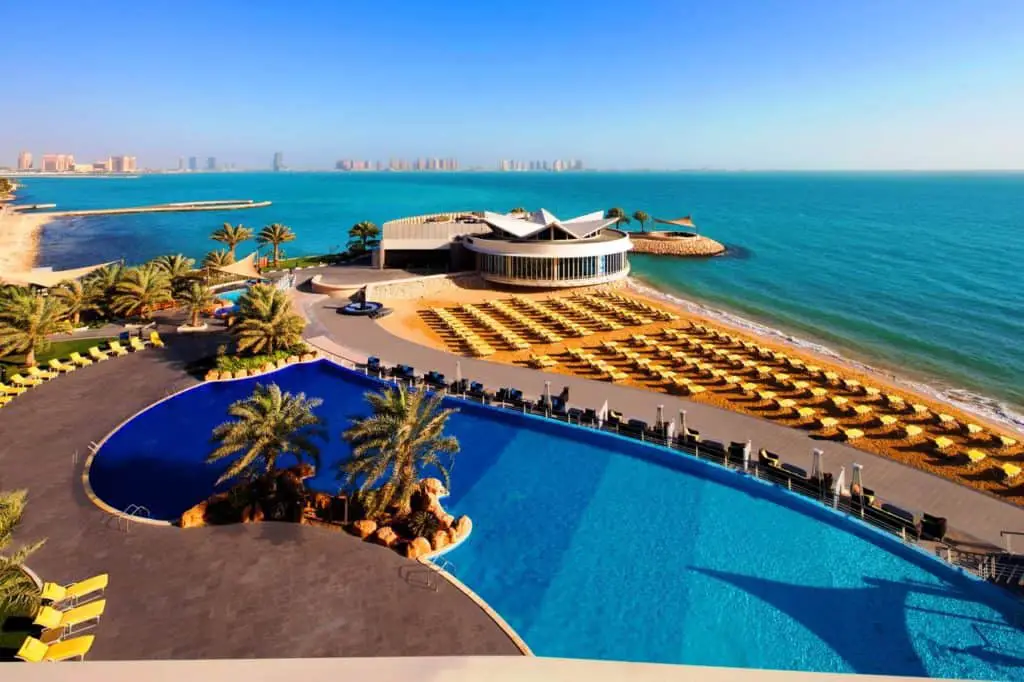 Click Here To Get Up To 30% OFF
This hotel is on the Corniche, so it automatically features one of the most amazing amenities when staying in Doha – a beach view and beach access! While you will end up paying a bit more out of pocket it'll totally be worth it. This hotel has everything you would need for a comfortable stay including onsite restaurants, free Wi-Fi, a fitness center, and a pool with a poolside bar.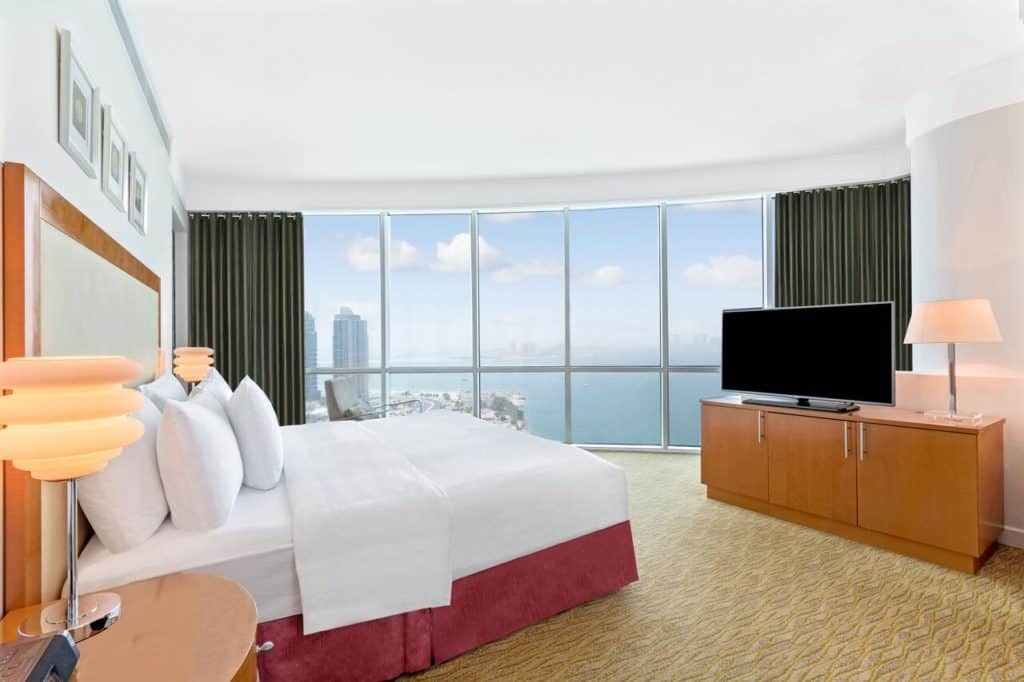 They also have great room service and onsite spa, but the views are really what it's all about here at this Hilton. There are many dining options by the beach and plenty of space to lay out and soak up some sun. Whether you prefer the pool or the beach you have plenty of options here. Expect 24-hour room service to be available and complimentary bottled water, too.
Click Here To Get Up To 30% OFF
There's no doubt that you can find the exact combination of comfort, cost, and luxury when planning a trip to Doha. There are hundreds of hotels to choose from, but ultimately it's going to come down to your own personal preference. This list should provide you with a good start when searching for the best hotel in Doha.
The key when planning a vacation to Doha in Qatar is to find a good balance and to make sure that you get the most you can for the best rate possible. Once you've chosen your hotel, make sure to always read up on the hotel's policies to ensure that you have a smooth experience once you get there.
One thing is certain and that is Doha and the Arabian Gulf are calling! Now, it's just up to you to answer. Start planning your trip in advance so you can score the best room possible for you and your travel party. There's never been a better time than now to travel to this desert oasis.