Like a phoenix rising from the ashes, Qatar has recovered from many challenges in the past. It has emerged to become one of the richest countries in the world and has established its own unique identity. It has rich culture and tradition and offers a wide variety of activities for the locals and visitors to enjoy. 
Tourism in Qatar is also another integral part in their progress. One of the most sought-after and raved about activities to enjoy out in this desert country is the Doha desert safaris. It's probably the most well-known type of tour in the Arabian Peninsula. Honestly, you can't consider a trip to Doha complete if you don't take advantage of a desert safari adventure.
Make sure it's on your itinerary, so you can ensure that it fits into your visit. Here are some of the best Doha desert safari tours to consider.
Doha: Desert Safari With Dune Bashing And A Camel Ride (Starting at about $65 per person)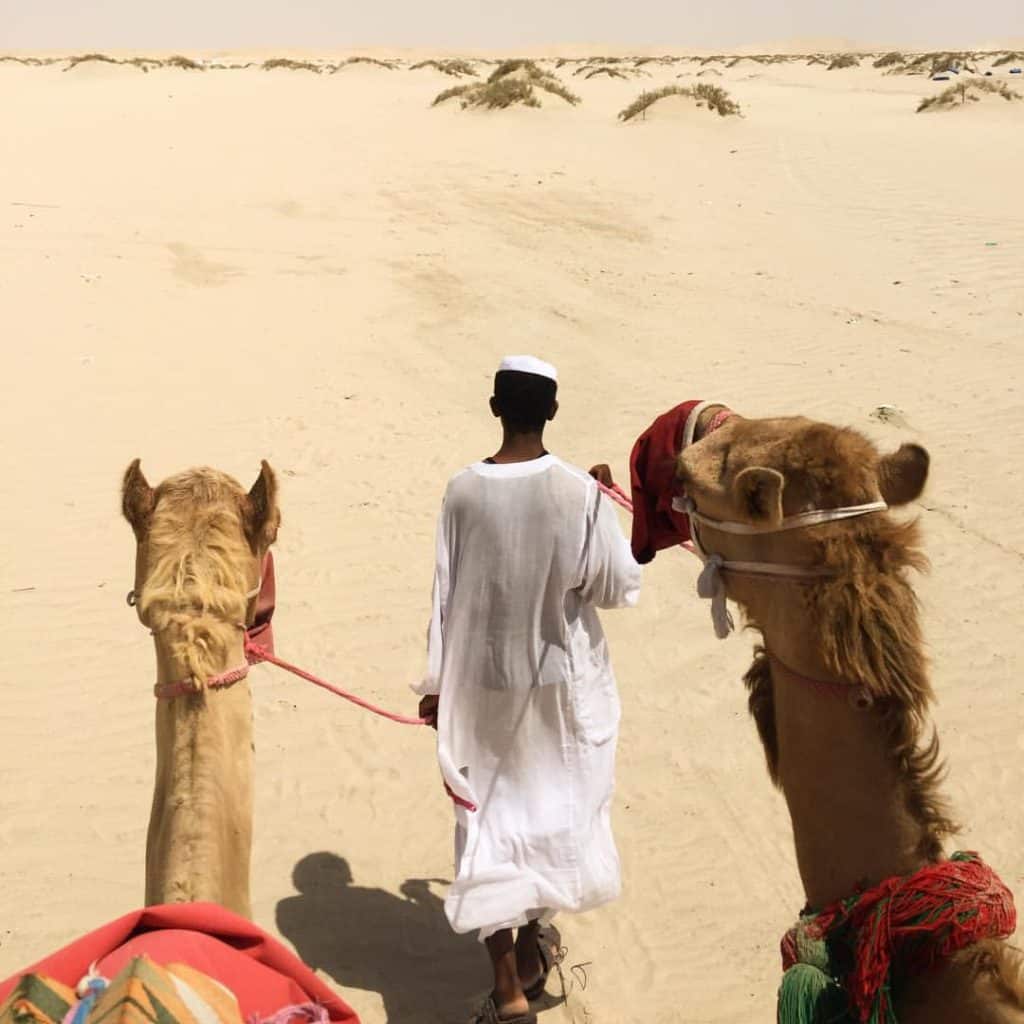 When I arrived in Doha for a weeklong stay I asked a local what they'd consider to be one of the best things to do in Doha and he recommended this desert safari. The great thing about this activity is that they picked me up directly from my hotel. It was a four hour event and I even got to sample some tasty Qatari tea.
I got to see a lot of the city and beyond, including passing through Mesaieed and Wakra City. Being able to see the beach and desert meet was amazing. I got the chance to take so many awesome photos while on this Doha desert safari, too. Make sure to pack some sunglasses, sunblock, and a sunhat if you have one, as it does get hot and very bright out in the desert.
The guide was super friendly and I had zero issues communicating in English with him. I'd have to say that this one is already at the top of my list for my next visit to Qatar. I wouldn't recommend this for anyone that is afraid of heights or if you have toddlers in the party, but for those looking for a unique and thrilling activity in Doha, this one takes the cake!
Doha: Self-Drive Dune Buggy Desert Safari Adventure (Starting at about $210 per person)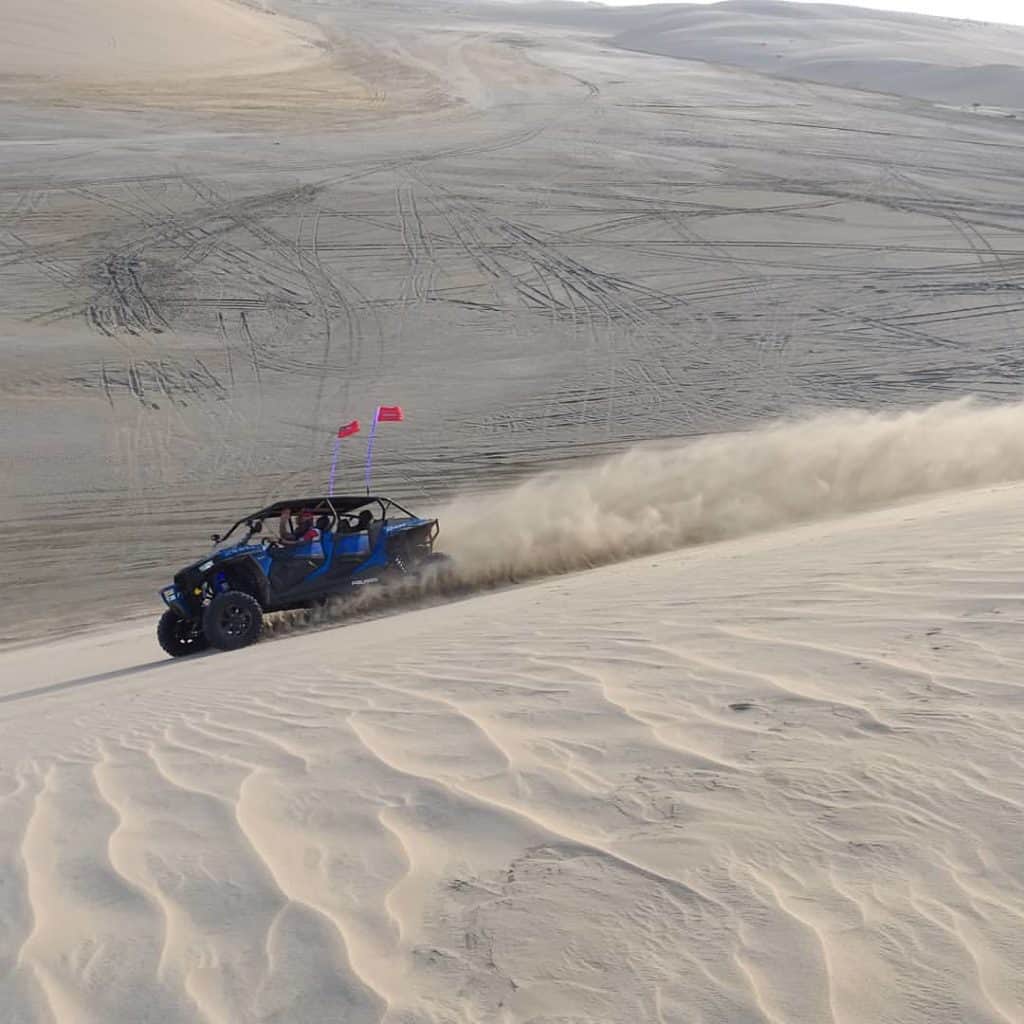 This tour will also take about a total of 4 hours, which includes the transportation time. It is not your typical desert safari ride, however, as you will get the chance to actually drive a dune buggy on your own. This isn't very common as most adventurers prefer to dune-bash in the comfort and safety of a 4×4 vehicle with an experienced driver.
Just like the last one mentioned you can get picked up from your hotel (or even from the airport) and you will be transported into the desert with the dunebuggies in tow.  If you're concerned about safety, it's important to note that before riding these vehicles on your own, you will have to go through a pretty thorough safety course about how to operate the vehicle and navigate the dunes properly.
While you don't get to see too many sights on this Doha desert safari, the real experience is the thrill of actually getting to drive yourself around on the dunes of Qatar. The best thing about this kind of safari is that you can breathe some fresh air and you can stop and take pictures whenever you want. With this adventure you are free to ride over some of the highest sand dunes in Doha and conquer them with ease on an ATV.
Once the tour ends, you will be dropped back off at your hotel or any preferred Doha location. This tour and the one mentioned above provided two completely different experiences, so it really depends on what type of activity or adventure you're looking for.
Zekreet Film City And Desert Sculpture Tour (Starting at about $100 per person)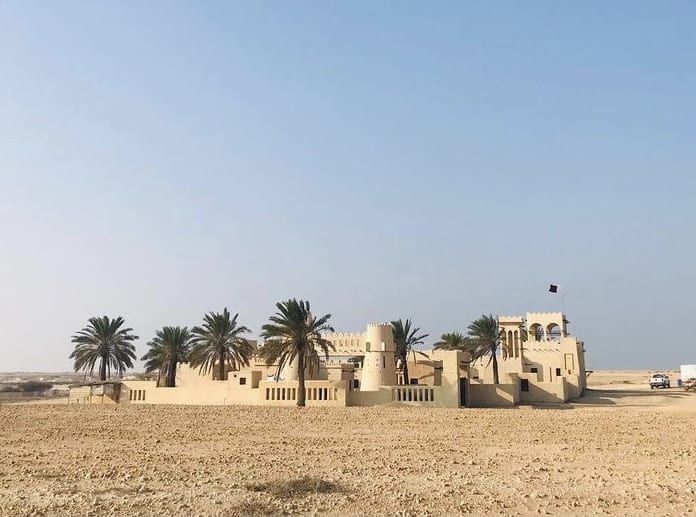 Unlike its name this tour is no secret at all. The Zekreet Film City and Sculpture tour is probably one of the most well-known and complete guided desert tours booked in Doha. The tour lasts around 4 to 5 hours, so it's perfect as a good half-day activity. When I was a teenager (about 30 years ago!) I was an aspiring filmmaker, so I made sure to squeeze this one in during my trip.
This included pick-up from the hotel, too. They head straight to Zekreet Film City which is located out on the peninsula of Zekreet. This is a film set that was built for an Arabic television show called "Sons of Wolves" and it has been open to the public ever since they discontinued filming the series.
After spending a bit of time here you'll be taken to see the very famous sculpture called "East-West/West-East" by Richard Serra. This is located in the popular Brouq nature reserve. This sculpture is composed of four steel towers that are over 40 feet tall and perfectly aligned. At the end I decided to get dropped off at the Museum of Islamic Art instead of back at my hotel.
Doha: City Tour And Desert Safari Combo (Starting at about $115 per person)
This is by far the best Doha desert safari available. If you're looking for a tour that will give you the most bang for your buck and the best of both worlds this is the one for you. You will have the chance to check out some of the most popular city sights in Doha like the Corniche, the Museum of Islamic Art, the Souq Waqif, Pearl Island, and the Katara Cultural Village. On top of that you will also get to enjoy some serious dune bashing and maybe even enjoy a camel ride in the Inland Sea Desert.
Considering all the different activities that are included this is basically an all-day activity. It takes about 10-11 hours from start to finish. If you're short on time in Doha, I would recommend this one as you'll get to see a lot more of Doha and experience a bigger array of activities.
Aside from the thrill and excitement offered by these Doha tours, you will also get a chance to immerse yourself in some of the history and culture of Qatar. I've been to Doha a couple of times now and it has never failed to amaze me. The food, the people, and the activities are always great. If you're looking for an unforgettable experience in Doha, these desert safari tours are the perfect place to start!