Traveling to a new country can be quite intimidating. In a city as big as Doha there are so many nooks and crannies and not knowing exactly where everything is may have you just saying "forget it, I'll just hang out at the hotel". That may be one of the biggest mistakes you can make! Here we will give an easy guide on the ins and outs of getting around Doha. This will make it easy and efficient and have you traveling all over the city with little to no anxiety.
Doha has many options when it comes to traversing the city and getting to your destination. There are a few different factors to consider when you're heading out and about in the city. First, who you are traveling with, where you're going, and the time of day, will all need to be carefully planned for. Obviously, like most large cities, you have multiple options as to how to get around. Let's talk about a few of the most popular ones.
Doha Metro
Talk about fast and efficient. The Doha Metro, which opened in May 2019, has been one of those highly anticipated, yet slow-to-finish projects in Doha. While it is expected to be more operational and closer to completion by 2022 (just in time for the FIFA World Cup), so far it's only about halfway operational. As of now there's close to 40 stations and about 50 miles of stops. The locals love the Doha Metro because it's made their life so much easier.
By the time it's finished there will be a total of 7 different lines (routes) and at least 100 stations, but as of now there are 3. Luckily, especially for tourists, it has routes for many of the popular Doha destinations including the Souq Waqif, the Corniche, Education City, Sports City, West Bay, and many more must-see Doha attractions.
The three lines that are currently operational are the Red Line, Green Line, and Gold Line. The Red Line, as of now, is the most popular. It goes along the coast and currently includes 18 stations. It includes stops throughout the area of the Hamad International Airport, Lusail, City Centre, Katara Cultural Village and Al Wakra, to name a few.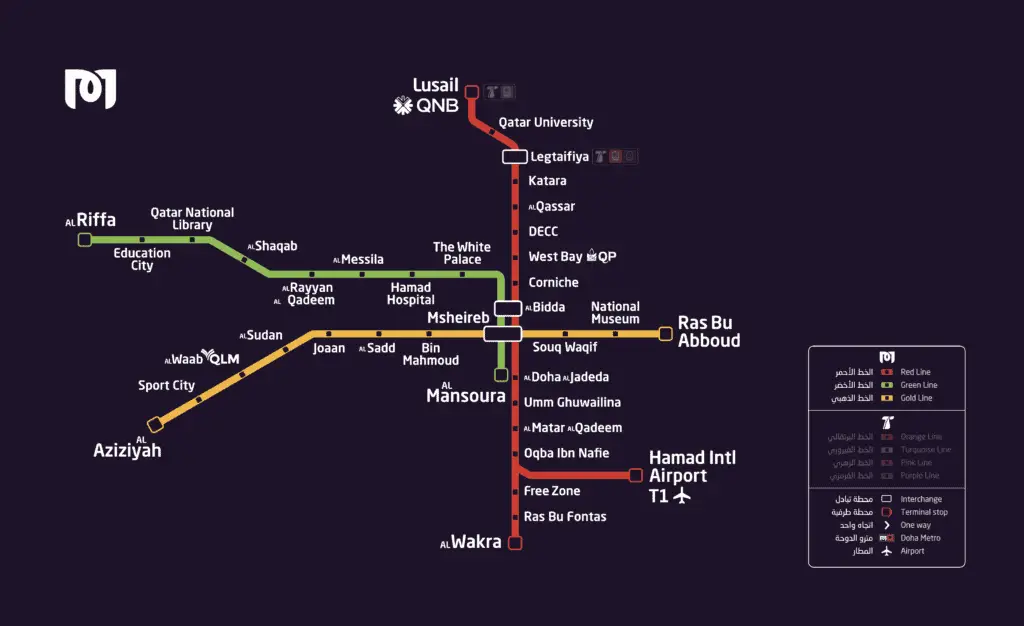 The Green Line, which is also occasionally referred to as the Education Line, currently includes a total of 11 stations throughout Al Riffa, Al Bidda, Hamad Hospital, and the Qatar National Library, and Al Mansoura.
The Gold Line, or the Historic Line, currently includes 11 stations throughout Al Azizyah, Msheireb, As Sadd, Al Sudan and Ras Bu Aboud, plus more. There is a Blue Line currently being constructed, but it's not due to be completed until at least 2025.
Although you will find some stations above ground most are located in tunnels underground. As of now a day pass to ride the Doha Metro will only set you back about $2 (6 QAR), which if you plan to do quite a bit of sightseeing while you are in town, isn't too bad.
Not too many people know this fun fact, but Doha Metro's Qatar Rail is a record breaker. It has been recognized by the Guinness World Records as having "The Largest Number of Tunnel Boring Machines Operating Simultaneously in a Single Project".
If you're apprehensive about hopping on the Doha Metro, rest assured that you will easily be able to make it to where you want to go. As far as public transportation goes Doha has gotten this done right. It doesn't get too crowded, it's clean, it's cheap and very reliable, and it's pretty easy to navigate to the area you are wanting to visit with their detailed guide maps.
Other Public Transportation Options
There are plenty of other options when it comes to public transportation in Doha. While the Metro is one of the most popular, it may not go where you want to go or be available when you need it, so there are other options.
You can look at traveling on one of the various buses, like the Karwa Public Bus, the Lusail Tram, the West Bay shuttle, Mowasalat Transport, or one of the many hop-on-hop-off buses that run throughout the entire city.
These can take a bit more work (and money), but chances are, no matter where and when you want to go somewhere (even outside of Doha), you can find a bus that'll go there. If you want to save money on the cost of using public buses, make sure that you look into pre-purchasing your bus card. Some buses charge an expensive rate to get on if you don't have their card. Most cards can be bought right at the airport.
Some of the public transportation options in Doha are not great for tourists, or more correctly, there are better options. Buses can sometimes be a little more expensive (overall) and a little more complicated than the Doha Metro. I wouldn't recommend public busses if you can afford a private taxi or a rental car.
Rent A Car (Or Private Chauffeur)
Be forewarned that this option is not for the faint of heart, but if you're the type that is not deterred by the possibility of getting lost in a foreign country, then maybe renting a car for your visit to Doha may be a good option.
Of course, there are benefits to having your own car, like being able to get up and go when and where you want. For me, however, it's too much stress driving in an unfamiliar area and (maybe even worse) trying to find parking at all the spots you visit.
If you are going to be in the area for a while this may be one of the more affordable options. The per day rate to rent a standard car can be as low as $40 per day, and the gas (petrol) is super cheap, like less than $1.50/gallon!).
Renting a car in Doha is actually a great idea if you can handle the driving/parking part. Just know that If you decide to go this route it will be necessary to pre-plan your trips out and about to reduce stress and anxiety that comes with driving in a foreign territory.
Some may prefer to hire a private chauffeur for their trip. The prices for this can range from $600-$2000 per day (or $60-$200 per hour). This is another good option (if you're wanting to really splurge) as it provides the freedom of having your own car without the hassle of navigating unfamiliar terrain. There are many different companies in Doha that offer these services, too, so you can do some shopping around and negotiating prior to settling on one.
One thing to keep in mind, if you do plan to do any driving while in Doha, is that if you're are going to be in town for longer than a week you will be required to get an international driver's license. This is a document, similar to a passport, that is to be carried at all times along with your personal driver's license. Make sure that you read up on all the rules and restrictions of driving in Doha if you will need to be there longer than 7 days.
Uber/Taxis
Perhaps the most popular way to get around Doha, and possibly the most practical, is to hail a taxi or order an Uber. This helps to prevent you from having to pay exorbitant per hour (or day) rates to rent a chauffeur as you will only pay for the exact time that you'll need the ride for.
There are a couple of things to consider, however, if you plan to make this your go-to mode of transportation in Doha. First of all, many of the citizens and expats of Doha also use taxis and Ubers to get around, which can lead to a long wait time before the driver can get to you. This just means that you will need to allot a little extra waiting time and plan your request appropriately.
Luckily Uber has become such a mainstream, especially here in the United States, that you don't even need to download a different app. You will be able to update your location on your normal app and follow instructions as usual. Ubers are usually a little less expensive than taxis, coming in as low as $5 (15 QAR) for a short distance drive.
Many taxi drivers in Doha do not run with their meters on, which oftentimes leads to tourists being overcharged for the ride, with little to no other option but to pay upon arrival at your destination. With taxis it's important that you either agree with the driver on a preset price for the ride or demand that they drive with the meter on.
A typical per mile price should be around $1 per mile. Prices do change depending on the time of day and if you need the taxi to wait. You may be asked to pay as much as 2 QAR (about 66 cents) per kilometer (0.62 miles) plus a set starting cost (usually 4 QAR or $1.30-ish). This is one of the other reasons why it's best to set a price when you get in.
Your Own Two Feet
Perhaps one of the best things about Doha is how close the attractions are. Not that everything is within an easy walking distance, but they have designed the attractions to be grouped together in different corners of the city. For example, if you find yourself in the Pearl you can easily walk around and check out the West Bay Lagoon area.
The Museum of Islamic Arts is located right around the Corniche, so you can take a nice stroll either before or after your inevitable visit to MIA. While it may be too hot to do a lot of walking in Doha, there will surely be some things that you can easily group together and walk to versus paying unnecessary funds out to a taxi or Uber or hopping on the bus.
If you think you may enjoy taking a leisurely stroll here and there in Doha be careful when crossing streets and make sure to keep a vigilant eye out. Doha is safe as far as crime goes, but sometimes people drive a little too recklessly. You should always be aware of your surroundings and always use the sidewalk (when there is one).
The best places to walk and see the sights would be the Corniche, West Bay, and around the area where the Souq Waqif is located. Other than that I would recommend that you stick to one of the other options mentioned above. Better to be safe, than sorry.
Ultimately, the mode of transportation you choose may also depend on where you decide to go. For example, you may choose to rent a taxi to take you to the Corniche, but you may opt to rent a bike or moped to further explore the Corniche.
Where you stay will also become a factor. Doha, as a city, isn't too huge. If you know ahead of time what landmarks and attractions you plan to visit during your trip you can pick the best hotel in the area that may be within a short walkable distance.
One thing to keep in mind, while you're out and about, is that you're not alone. If you do happen to get a little lost, or need a little help getting to where you're trying to go, don't be afraid to ask a local. The people of Qatar are some of the most humble and respectful, so it's likely that they will be more than willing to lend a helping hand.
Asking for directions and recommendations from those that live in the area can only lead to good things. You may even stumble across a hidden gem while you're out exploring Doha and create cherished memories that others could only dream about.
If there's anything you don't have to worry about when planning a trip to Doha, it's how you're going to get around. Running out of options of how you will get from Point A to Point B will not be an issue. Whether you're traveling on a budget, looking to splurge, trying to enjoy some independence, or just want to wing it, there are numerous travel options to choose from for all Doha travelers.