Although all flights are meant to take you from point A to point B, not all companies will provide you with the same experience. With Qatar Airways, you should only expect the most quality service, and great food on Qatar Airways is a part of that. 
Food on Qatar Airways consists only of tasty, fresh, and high-quality meals, no matter the class you choose. It is bound to make inflight dining a new experience for you, with all-around-the-world flavors and special meal offers – and it all comes free of charge.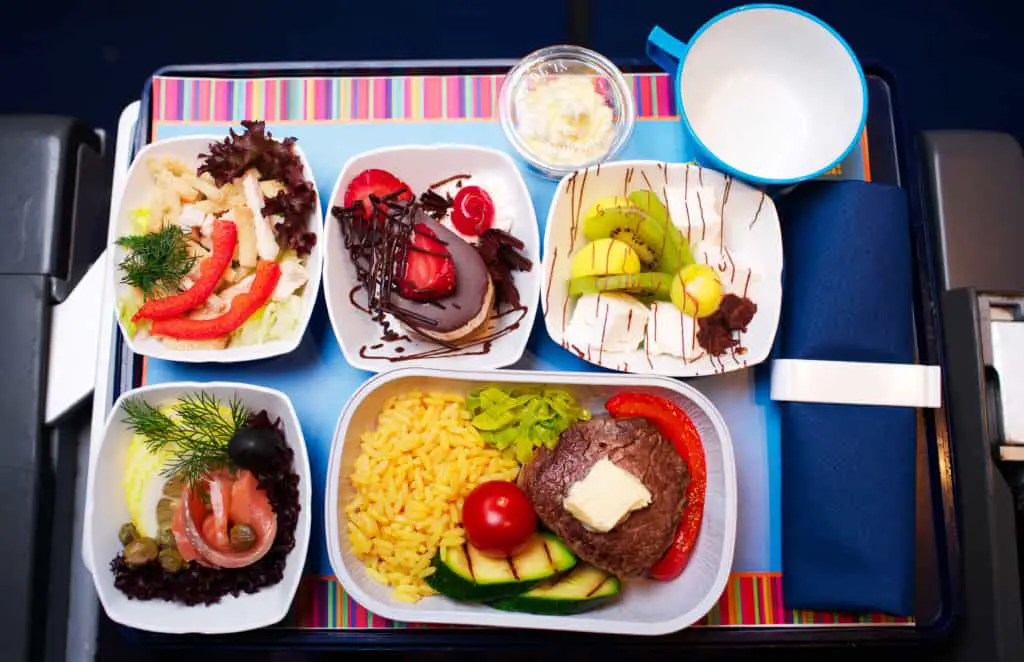 For all foodies and people who want to take pleasure in choosing Qatar Airways, here is my review on one of the most fantastic cuisines you'll be able to enjoy among the clouds. 
Food on Qatar Airways Is Among the Best Inflight Cuisine Offers
According to many different sources (USA Today, Travel Season, Condé Nast Traveler, and so on), Qatar Airways is among the airlines that offer the best inflight food services globally. It's no surprise, considering it's made in collaboration with world-renowned chefs. 
Alongside a kind and capable flying crew, be prepared to enjoy delicious dishes whose origin ranges from North America to Africa and the Far East. You can even check to see which divine dishes await, with digital menus that will be available for you even before boarding the plane.
No matter your cabin choice, you will be presented with exquisite menus, with the possibility of tasting the famous Arabic Mezze, muhammara, and Arabic bread alongside some well-known Western dishes. However, you should expect some differences when it comes to economy class, on the one hand, and business and first class, on the other. 
Economy, Business, and First Class – What Should You Expect? 
The first big difference between the cabins is the serving time of dishes. Business and first-class have on-demand menus, which means you can get your desired dish whenever you like. 
Economy seats, however, have set meal schedules, and a number of them depend on the flight's length. For example, for long-haul flights, you will get one main meal, while the second one will be provided shortly before landing. 
With the economy seats, you will get to choose between three main meal options with international meals, including regional dishes. Alongside each meal, you'll get a side salad, fresh fruits, and dessert. Also, you will be presented with wines, cocktails, beers, and other alcoholic drinks. Non-alcoholic beverages are also available, including tea and coffee.
While the economy cabin will provide you with enough flavorful meals, dining in business or first class will be an experience in itself. It all starts with the setting where you'll be provided with a table and a marvelous dish presentation. In these types of cabins, with the main meal, you will get:
One-bite dish,
Different soup choices, 
Arabic Mezze, 
Appetizer (regional or Western),
Main courses (with the same choices as in the economy cabin), 
More than one dessert choice,
Finest wines (or other types of beverage).
For the light meal, you can expect salads, sandwiches, sweet pastries, and savory bites, but also local small dishes, such as dim sum, samosas, and so on. However, don't expect pork in any of the classes – it's against Islamic religious beliefs.
Is Food in Qatar Airways Free of Charge?
When you book a flight with this airline, you'll be happy to find that meals, snacks, alcohol, and other beverages are cost-free for all passengers, no matter the classes. Whether you choose some of your well-known and favorite meals or want to spice things up (literally) with exotic and piquant aromas, with Qatar Airways, you won't have to pay a dime.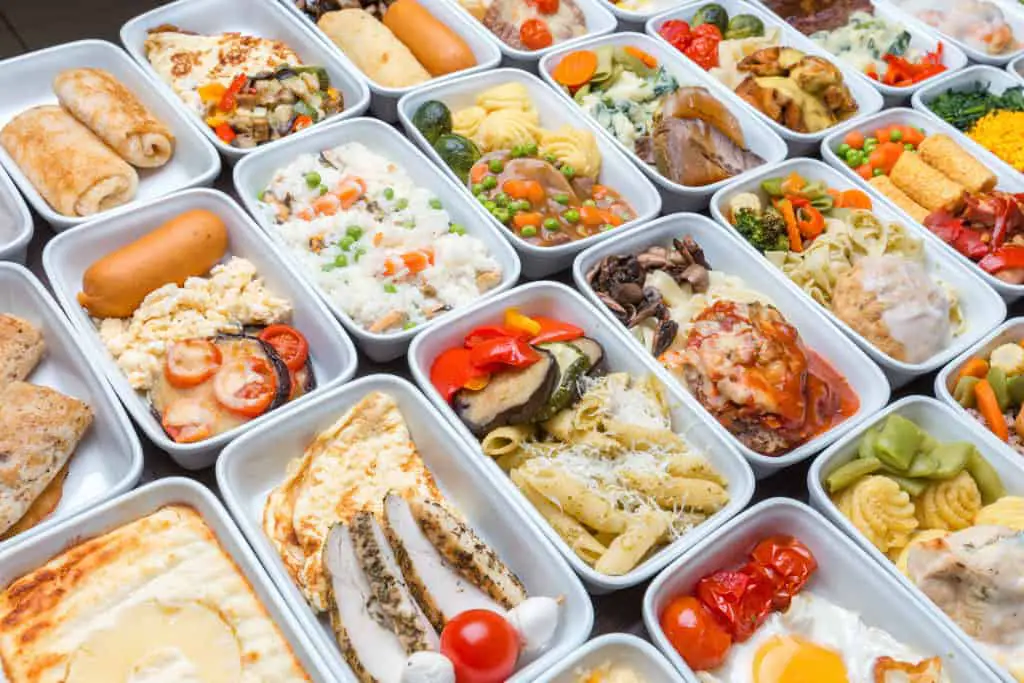 Can I Get a Dietary Meal at Qatar Airways? 
Qatar Airways' officials understand that some people have different dietary requirements, either by choice or necessity. So that each traveler can be completely satisfied with the service provided, there is a list of special meals created for those with allergies, vegetarian preferences, or different religious beliefs. Here are some examples:
| | |
| --- | --- |
| Diet | Description |
| Diabetic  | Low-sugar dishes such as boiled potatoes, vegetables, cereal, meat. No fried products, sweets, or syrups are included  |
| Kosher  | A dish that is prepared entirely by Jewish law |
| Non-lactose  | Lactose-intolerant customers can't consume dairy products such as milk, cheese, ice cream, so they are not a part of this kind of meal. You can expect meat, pasta, vegetables and the like |
| Low-sodium  | These dishes won't have any salt added because they're meant for people on a low-sodium diet. Instead, they are usually flavored with other spices and herbs |
| Vegetarian  | It won't contain any animal products, however there are variations in the vegetarian meal options provided. You can refer to their websites when making your booking. |
Remember that special meals are served as they are, so Qatar Airways won't be able to provide you with their variations and mixes. Simultaneously, you won't be able to make requirements for specific ingredients or meals – you can only order what you see on the menu at the moment.
When Can I Order a Special Meal on My Flight?
Special meals are a possibility for any of the Qatar Airways passengers. However, the company must be notified about your requirements. You must provide Qatar Airways with information about the desired meal at least 24 hours before the departure. Also, keep in mind that it can be done as early as during the booking.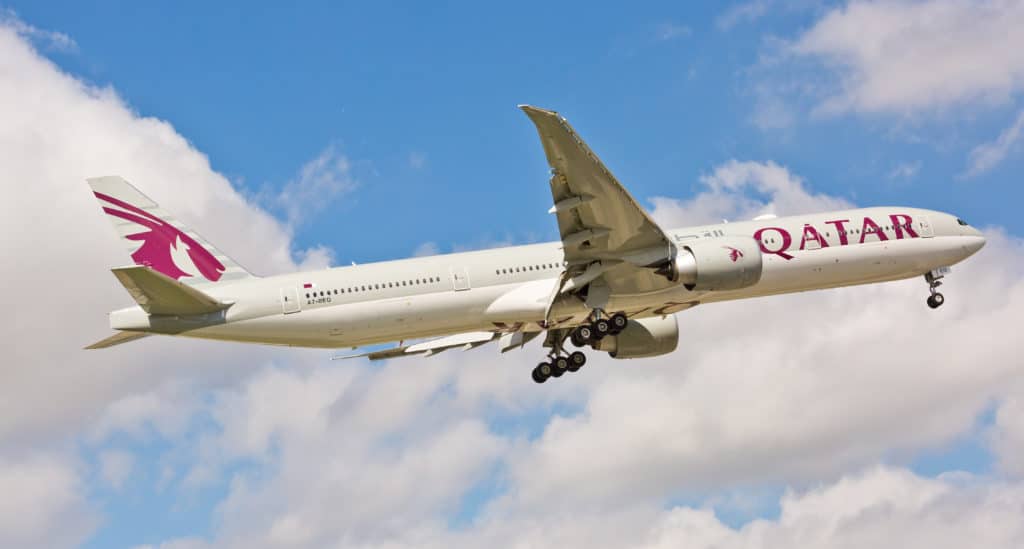 Prepare for the Amazing Experience of Dining With Qatar Airways 
Qatar Airways aims to extend the list of satisfied customers with each flight, and mouthwatering dishes designed by renowned experts are bound to make flying a delightful experience. Whether you look at their services as a whole or focus your attention only on extraordinary dishes being served, one thing is certain – Qatar Airways has proven to be one of the best airlines in the world.