If you're traveling to Doha you will need to have a plan as to how you're going to get from place to place and a way to optimize your exploration time while you're there. This is exactly where the Doha Metro comes in handy.
In the grand scheme of things Doha is not a huge city. With that being said, if you're a visitor that is unfamiliar with the lay of the land, the towering skyscrapers and other structures may make it near impossible to get from Point A to Point B on your own.
Very Brief History Of The Doha Metro
The Doha Metro is a very new transportation system in Doha, Qatar. While it has been under construction since 2013, it only finally began operating in 2020. There are currently 3 different lines offered (which consists of Gold, Green, and Red), while a fourth (the Blue Line) is currently in progress and due to be complete by 2025-2026.
The project has changed hands a few times. It was first grabbed up by Qatari Diar and Deutsch Bahn as a joint venture to create the railway concept back in 2009, but after a couple of years, it was taken over by Qatar Rail. Soon thereafter the different lines (sections) were awarded and divvied out to be managed by many other contracting and construction companies. Let's just say, by now, there's lots of different hands in the pot.
Various Info On The Doha Metro Lines & Stations
Currently there are 3 lines that all join together in the Doha Station (main hub). It's estimated that by the time the project is complete there will be about 100 stations.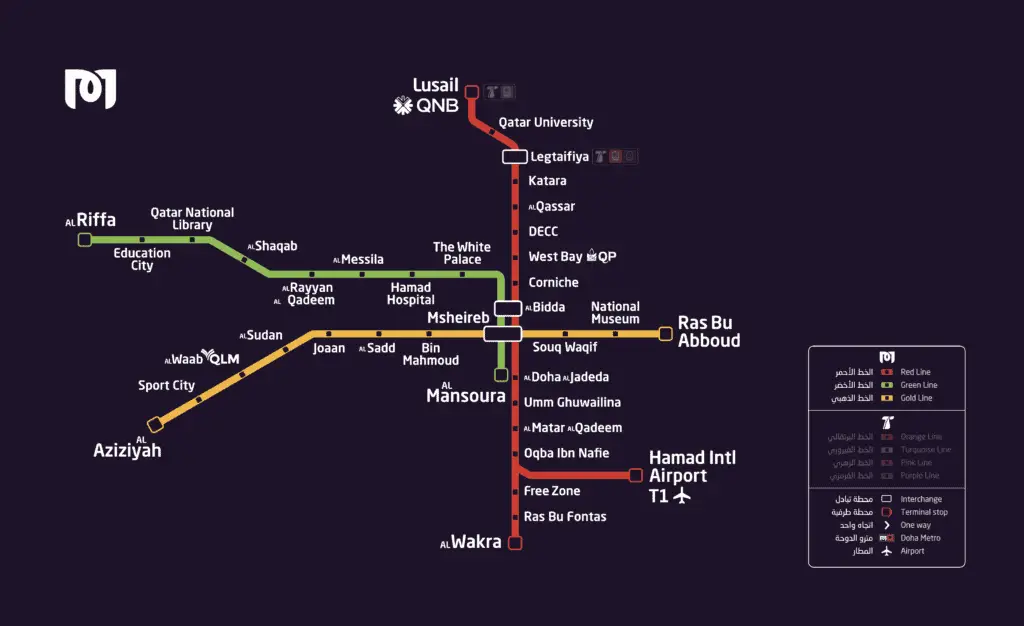 The Red Line, or "Coastal Line", which is the longest of the lines coming in about almost 25 miles in length, helps to connect Al Wakra, Hamad International Airport, West Bay and Lusail. There are currently 18 stations including Katara, the Corniche, Al Bidda, Msheireb, and more. This happens to be the most popular as it offers the greatest number of stops and lots of different well-known tourist locations.
The Green Line is about 14 miles long and runs along Al Rayyan Road and connects Doha with Education City. This is where it gets its nickname "the Education Line" from. This also has stops in Al Bidda and Msheireb, as well as the Hamad Hospital, the Qatar National Library, and the White Palace. There are a total of 11 stations on this route currently.
The Gold Line, which is just under 9 miles in length, also has 11 stations. It is considered the "Historic Line". It runs East to West and connects Airport City North to Al Waab Street and Salwa Road. There are stations at the National Museum of Qatar, Sports City, Bin Mahmoud, Msheireb, and more.
The Blue Line, which is still currently under construction, is due to have at least 14 stations (to be determined) and should connect the Hamad International Airport and West Bay, similar to the Red Line. Currently it's estimated that the route will cover close to 9 miles in length.
These so far account for just 40 of the proposed 100 stations, so it will certainly be interesting to see what other stops are going to come about as the project moves forward. A lot of the stations and lines are underground, which is one of the aspects that helps the vehicles get from place to place reliably and on-time.
The stations themselves are built from a hand-picked design selected by the Emir of Qatar, Sheikh Tamim Bin Hamad Al Thani. It is a design that was put together to portray historical Islamic architecture. It was dubbed "Vaulted Spaces" and was presented to the Emir by a company called UNStudio. There were only five other ideas submitted for consideration.
Overall, there are 75 3-car trains in operation. They will be driverless and operated by various signals and other (very high-tech) means, also commonly referred to as "automatic train operation". These train cars are supplied by a joint venture between Mitsubishi Corp and Kinkisharyo.
Record Breaking And Prestigious Awards? Yes, Please!
Doha is really making a name for itself as far as their public transportation options go. Qatar Rail has already broken records and earned itself a spot in the Guinness World Records. It officially holds the record as having "The Largest Number of Tunnel Boring Machines Operating Simultaneously in a Single Project". Say that 5x fast!
Besides that accomplishment they have also earned other awards. In 2017 it won Major Project Of The Year from ITA (International Tunneling and Underground Space Association), which is said to be one of the most prestigious awards given out to those in the industry of projects involving tunneling underground. 
Overall, the Doha Metro is a very reliable mode of transportation. It's known for always being on time and it's easy to navigate, especially as a local. As a tourist in Doha, you may be a little apprehensive about using this as a means to get from one spot to another.
The various maps regarding the stops and stations are very easy to read. If you do happen to run into any trouble the people of Qatar are very helpful. They can and will surely help you to find your way.
If you're in the mood for an adventure, and are looking for a better (as in faster and cheaper) way to travel around Doha instead of hailing yet another taxi, hop on the Doha Metro. A day pass is only 6 QAR (around $1.65) and allows for unlimited rides. If you know you'll only need one or two, going for a single pass will only set you back 2 QAR (around $0.60) each trip. That's much more reasonable than any taxi or Uber!
Chances are they will have a station at (or very close) to any of the major Doha attractions you will want to visit. At very least, even if you don't intend to ride it, you should still visit one of the stations. They are works of art and meticulously well-kept. Either way, it'll be easy to see that Doha, Qatar Rail, and the Doha Metro are really going places.