Qatar has got it all and I'm not exaggerating when I say that. Qatar is one of the richest countries in the world and that is due to wealth they have accumulated from the natural oil and gas deposits beneath them. Doha, the country's capital, is the best representation of their abundance and you can see it in every corner of the city.
From extraordinary feats of engineering to awe-inspiring architecture and towering skyscrapers, the Doha skyline will leave you with a dizzying sense of astonishment. With their gigantic malls and elegant designer stores, the capital is literally the epitome of sophistication itself. 
I happened to be in the city for nearly a week when I had to travel to Qatar for my job. It was an experience of a lifetime, to say the least. Probably the main thing that made my visit so spectacular was the beach resort I stayed at. My job gave me an allowance and left it up to me to decide where to stay, so obviously I chose to stay at one of the best Doha beach resorts, but I had a bunch to choose from.
Here is a list of the runner-ups and the one I decided to stay at is the last one. Hope this helps you decide on the optimal Doha beach resort for your own visit.
Grand Hyatt Doha Hotel & Villas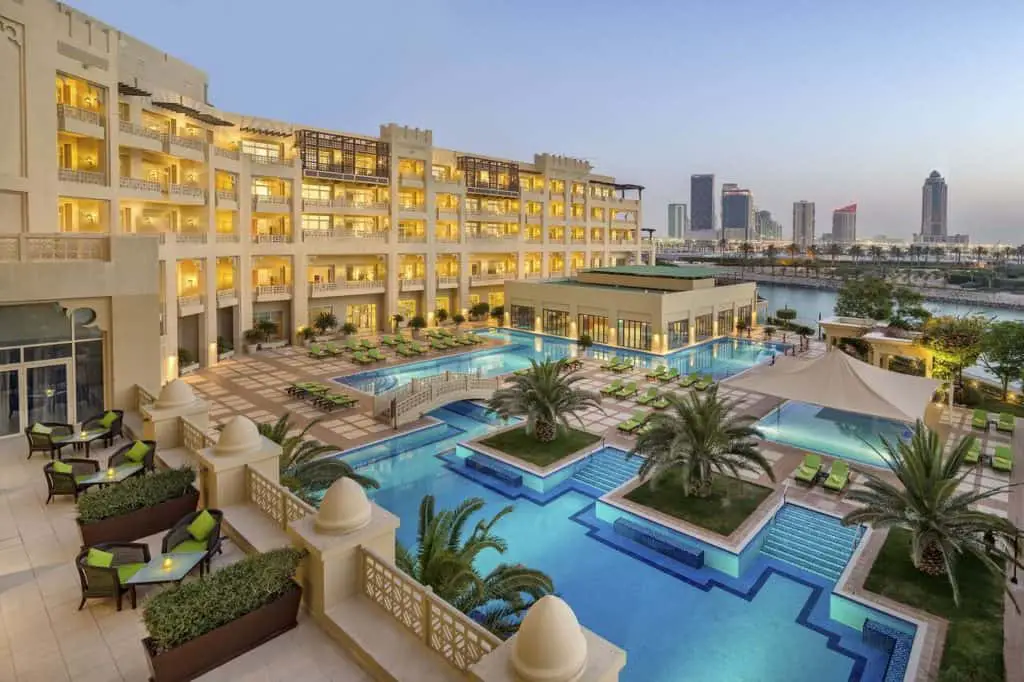 If you're seeking privacy and luxury for your Doha getaway, this is the place for you. They have air-conditioned rooms that offer huge balconies, large work desks, and yes, bathrobes are included for the duration of your stay. If you are bringing the family you can always upgrade to a bigger suite. Whether you go with a basic room or suite, just know that you will also have access to enjoy 24-hour room service and a mini-bar.
Get Up To 30% OFF on Booking.com
Whether you are traveling for business or pleasure the beach vibe here is something to really look forward to. Not only that, but they also have indoor and outdoor pools and a lounge that has a panoramic view of the Arabian Gulf. This beach resort is located in West Bay Lagoon and is actually home to one of Doha's largest private beaches.
There are 7 different onsite bars and eateries to enjoy, too. They range from Thai to Italian (and of course Arabic) cuisine and you will encounter some of the best cocktails in Qatar at this Doha Beach resort.
Sheraton Grand Doha Resort & Convention Hotel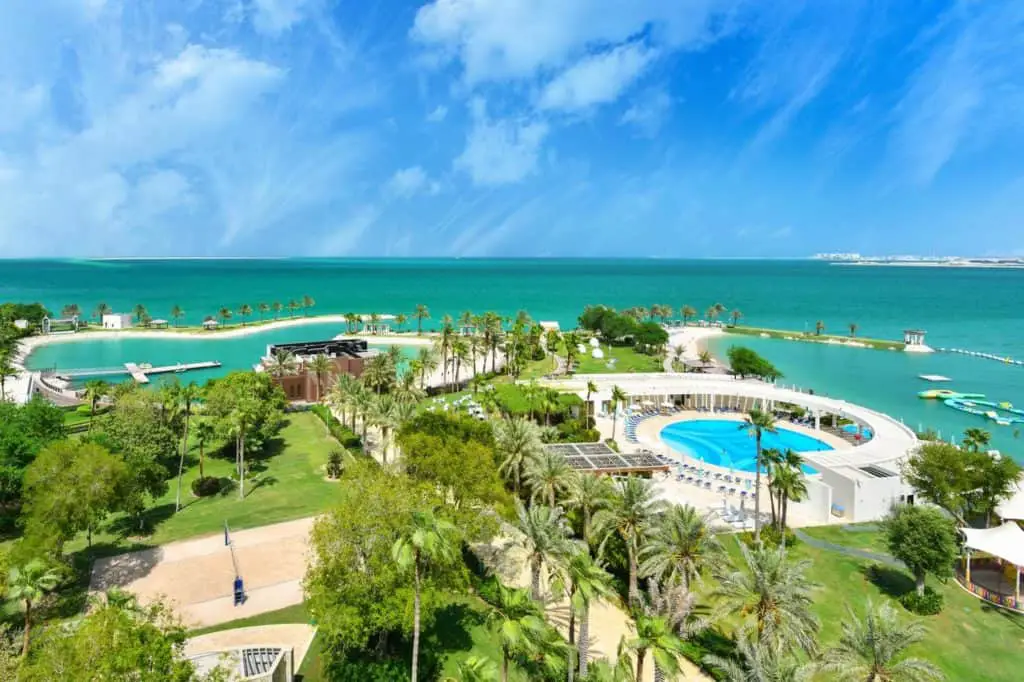 This hotel, located right by the beach, is one of Doha's crown jewels. The Sheraton Grand is only about 15 minutes from the Hamad International Airport (HIA) and conveniently built right along the Corniche. It is jam-packed with amenities that will ensure you have the best stay possible.
Each room comes with its own private balcony and gorgeous views of either the sea or the city. Their private beach features white powder sand, crystal clear waters, and probably some of the best views you can find in Doha. You can take full advantage of their sun beds and enjoy the Doha heat.
Get Up To 30% OFF on Booking.com
One of the amenities here, by far, is their infinity Jacuzzi. It offers a view of the beautifully-designed hotel with a backdrop of the mesmerizing Doha skyscrapers. They also have a steam room, sauna, a children's pool, and numerous onsite restaurants, including the world-renowned Nusr-Et Steakhouse (ever heard of #Saltbae? This is that place!). Should you decide to stay here, I would definitely have to recommend that you schedule a spa day at their onsite skin and soul beauty center.
InterContinental Doha Residences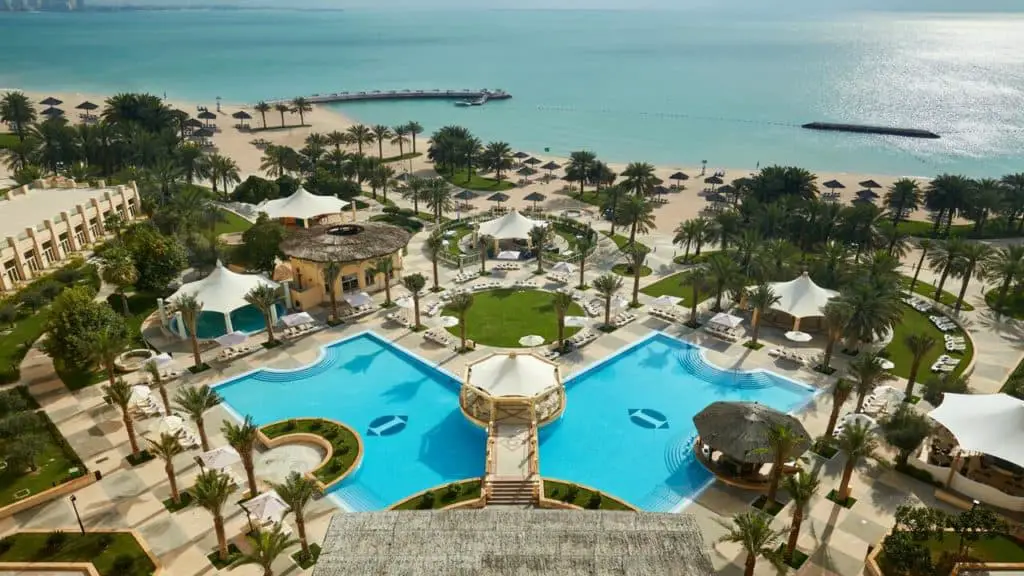 This place is synonymous with luxury and offers the perfect spot to see the majestic Doha skyline from across the water. Just like the rest on this list it is a 5-star Doha resort and is located in West Bay Lagoon. At about 1,500 feet, they have one of the longest private beaches in the city and offer plenty of loungers for sunbathing and other fun water activities.
This Doha beach hotel also has other amenities like a free-form outdoor pool, kid's pool, tennis courts, and a 24-hour fitness center. The rooms are always cleaned with the utmost care and you'll find that the robes and slippers provided here are some of the comfiest in the area.
They also have 9 different bars, cafes, and restaurants onsite to keep you well-fed and hydrated. Depending on your party you can go for a standard room, or if you're looking to splurge, you can rent out a 3-bedroom beachfront villa.
Get Up To 30% OFF on Booking.com
The St. Regis Doha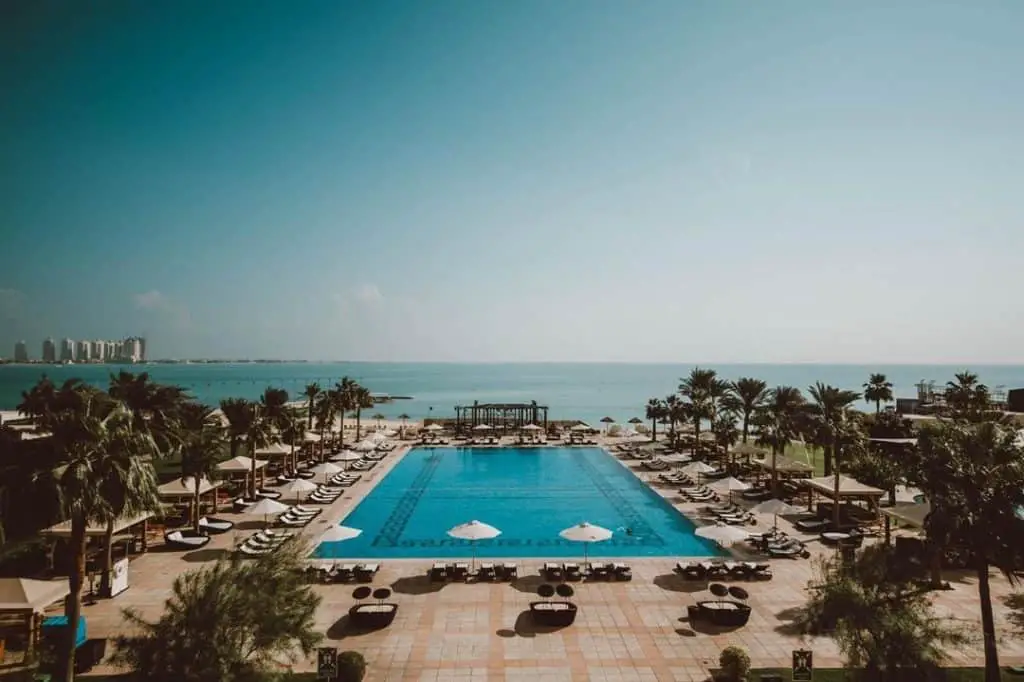 Another excellent option, if you are adamant about having one of the best beach views from your room, is the St. Regis. This Doha icon is located in West Bay and is one of the leading leisure resorts in the city. This place has been dubbed "The Finest Address in Qatar" and for good reason, too. Some say staying here is similar to a fairytale and I would have to agree.
Their beachfront cabanas face the pristine blue waters of the Arabian Gulf and provide the best spot to relax and feel the warm Doha breezes. They also have an Olympic-sized swimming pool for those who don't want to dive in to the salty sea waters. There are also jacuzzis available to help relieve any built-up stress.
There are a plethora of bars and restaurants featuring many different types of cuisine to enjoy there, too. Really you don't even have to leave the property during your stay as they have everything you could possibly need. If you do want to venture out, however, just know that you're only a short drive away from many popular Doha attractions like the Katara Cultural Village, Villaggio Mall, and the Souq Waqif.
Get Up To 30% OFF on Booking.com
Banana Island Resort Doha By Anantara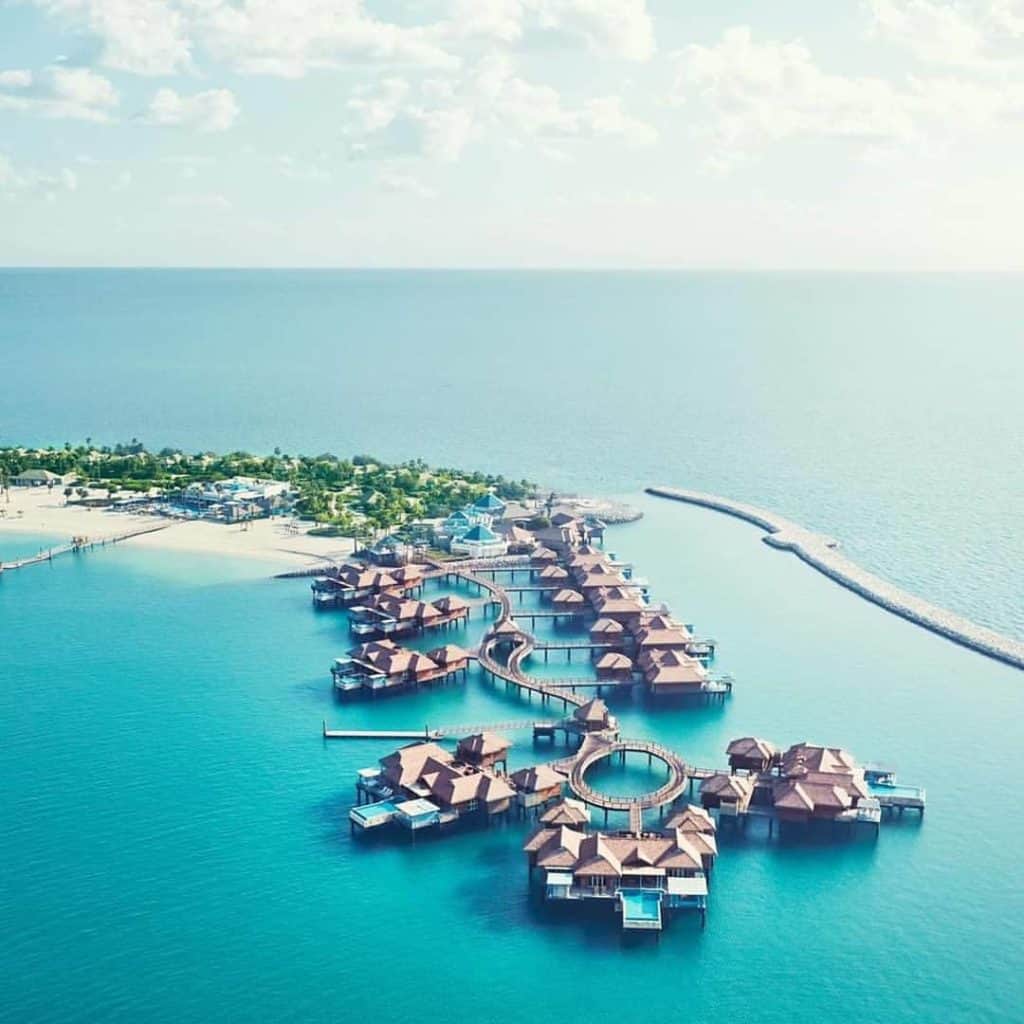 This was the best Doha beach resort I decided on for my trip. Banana Island is a crescent-shaped island located just off the coast of Downtown Doha. You have to take a catamaran, which is provided daily by the resort, in order to get to it. Staying here literally guarantees the perfect beach getaway, for locals and visitors alike.
The location offers a private golden beach with fine sand and tranquil blue waters that any beach lover would appreciate. I was amazed by the ambience and atmosphere the resort offered all the way from my arrival up until I left. The staff members were all very helpful and friendly and the views were unreal. Everywhere I looked seemed postcard-perfect.
Luckily all I needed for my job was reliable Wi-Fi, which they offered here. Once I was finished with my work for the day I was able to go out and enjoy some fun. Some of the awesome amenities I was able to treat myself to include the surf pool, onsite movie theater, and their long pristine beach that is sure to take your breath away.
Get Up To 30% OFF on Booking.com
Doha resorts not included in my top five, but still highly recommended, include the Hilton Doha, Four Seasons Doha, Sharq Village & Spa (a Ritz-Carlton hotel), and Marsa Malaz Kempinski. All of these resorts are highly praised due to their location, boastful accommodations, and top-of-the-line amenities.
Doha has really gone way above my expectations. It is a great place to visit, for work or just for a nice getaway, and I bet it would also be a great place to live. The locals are all so nice and humble. If you ever have the chance to go to Doha, jump at it ASAP and make sure that you stay somewhere on the beach.