If you've booked an economy seat on your next trip but want to experience the amenities reserved for premium classes, upgrading your seat is a solution.
But how do you get a Qatar Airways upgrade?
Qatar Airways offers a number of ways to upgrade your flight to business class, including purchasing an upgrade at the time of booking, receiving an upgrade as a gift from Qatar Airways or a partner airline, or being upgraded as a result of elite status or a complimentary upgrade.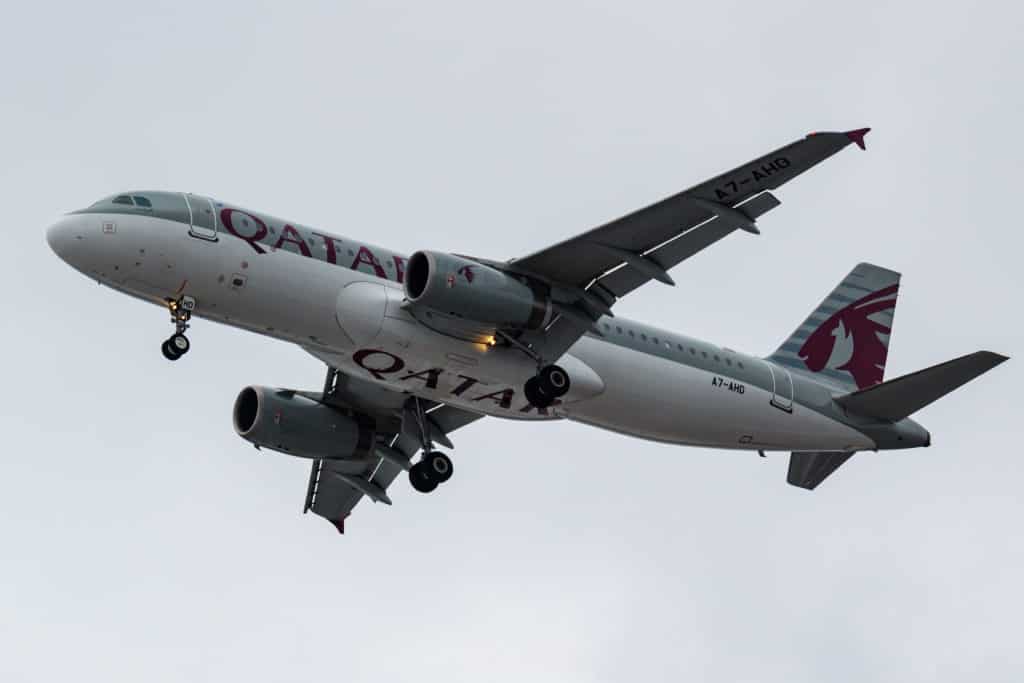 Qatar Airways flights can be upgraded via the website, app, phone call, or through airline staff at the airport. It can also happen if a customer has enough Qmiles and Qcredits.
Upgrading, however, refers only to the flight seat and doesn't include an additional baggage allowance or access to premium lounges.
With flights operated by Qatar Airways, you'll generally have the permission to upgrade economy to business and business to first-class seats. Read further if you want to find out how to get those kinds of upgrades. 
Different Ways To Get An Upgrade To Business Class With Qatar Airways
Exceptional service and plenty of additional benefits in higher classes make many passengers wonder: How do I upgrade my flight after booking?
There is more than one way of doing so, so ensure to think through all of the following options. 
Upgrading via the Qatar Airways Website
The simplest way of upgrading flights (when possible) is to visit qatarairways.com. How do I get an upgrade on Qatar Airways online, you ask? Just follow the next steps:
When you're on quatarairways.com, log in (or sign in),
Go to the Manage Booking option, 
There you'll be asked to enter your last name and booking number, 
If your booking is eligible for it, you'll be presented with an upgrade option, 
After clicking on it, you'll receive an email invitation with offers, 
Make a purchase via the link provided in the email.
If you opt for upgraded seats, know that there will be a time limit in which you must accept the offer you've chosen. Also, keep in mind that the upgrade must be paid immediately using one of the offered payment methods. The same offers will also be given to you when you decide to check-in online.
Check the Qatar Airways Mobile App For A Business Class Upgrade
The same offers will be presented to you via Qatar Airways mobile app. All you have to do is add the booked trip to your personalized dashboard, and you'll get all the information and offers regarding available upgrades. 
Upgrades are not available for all flights. Remember that there can be several reasons for not getting an offer, either through the website or the app:
Qatar Airways can't issue an offer if there aren't enough seats available,
Your booking hasn't been confirmed (upgrades are possible only when the seat has already been booked),
The purchased fare may not be eligible for upgrades, 
The trip was booked within seven days or less from the departure.
If you're not certain why you're not given upgrading offers for your travel arrangements, don't hesitate to contact Qatar Airways' customer service.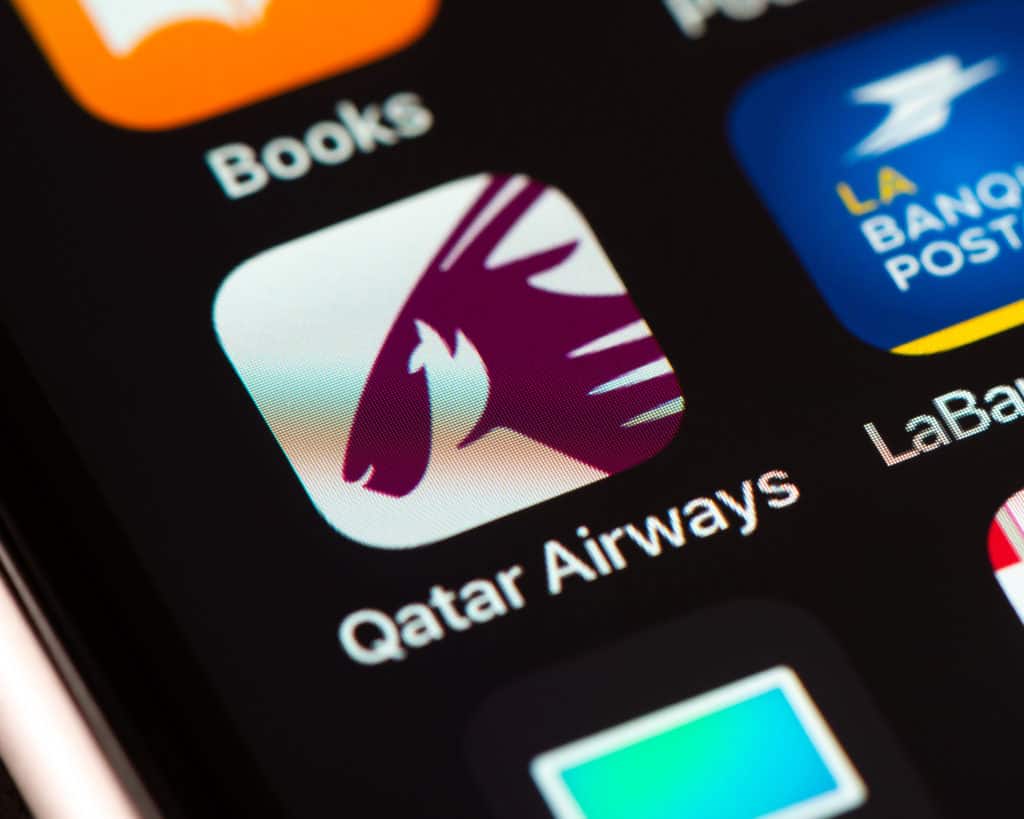 Contacting Qatar Airways Customer Care
Upgrading requests can be submitted through the Qatar Airways customer service. Their lines are open for 24 hours each day. If this is your preferable upgrading method, give them a call whenever you want and get all the necessary information.
Upgrade From Economy to Business Class on Departure 
Upgrading the seat at the airport is one other option. To do so, you must approach Qatar Airways staff at the check-in counter and purchase the upgrade. Generally, upgrades on airports are available one to three hours before the departure time and are much more common for a single passenger than a group.
Is it cheaper to upgrade to business class at the airport in Qatar or other international airports? Although last-minute upgrades usually come with a discount, there is no guarantee that there will be seats available. So, if you're set on upgrading, doing it online or via the app is a much safer solution. On the other hand, if you're fine with your current seats, but wouldn't mind upgrading if presented with an affordable offer, wait until the check-in.
Sometimes, although rarely, customers get a free upgraded seat. It will usually occur when the economy seats are overbooked. In that case, Privilege Club members will have a priority. The same goes for upgrades to the first class.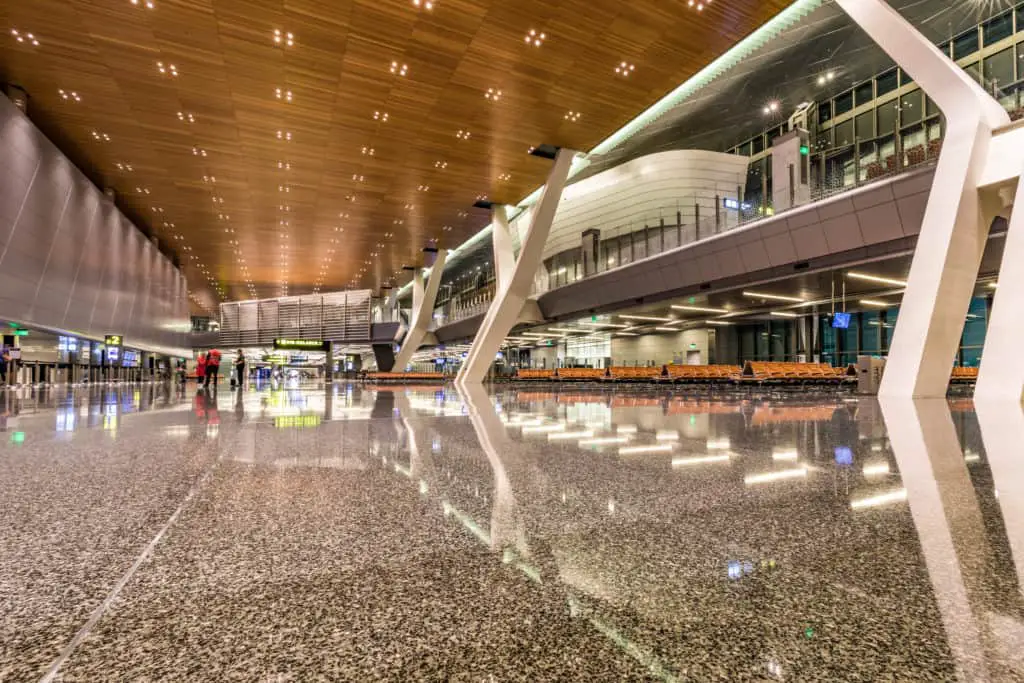 Qatar Airways Upgrade Offers
Upgrades on Qatar Airways Are Non-Refundable, Non-Transferable, and Non-Changeable
By accepting an offer, you also accept the terms and conditions connected to the upgrading process. So don't make the final decision before you get familiar with all rules and limitations.
For example, once purchased, the upgraded seats will be valid only for the passenger(s) stated in the booking reference. That means that an upgraded seat can't be transferred to another person. Furthermore, the purchased upgrade refers only to the flight number it was purchased for.
If you need to rebook, the upgrade won't be valid anymore. Also, keep in mind that any demands for refunds will be denied in the case of canceling or rebooking.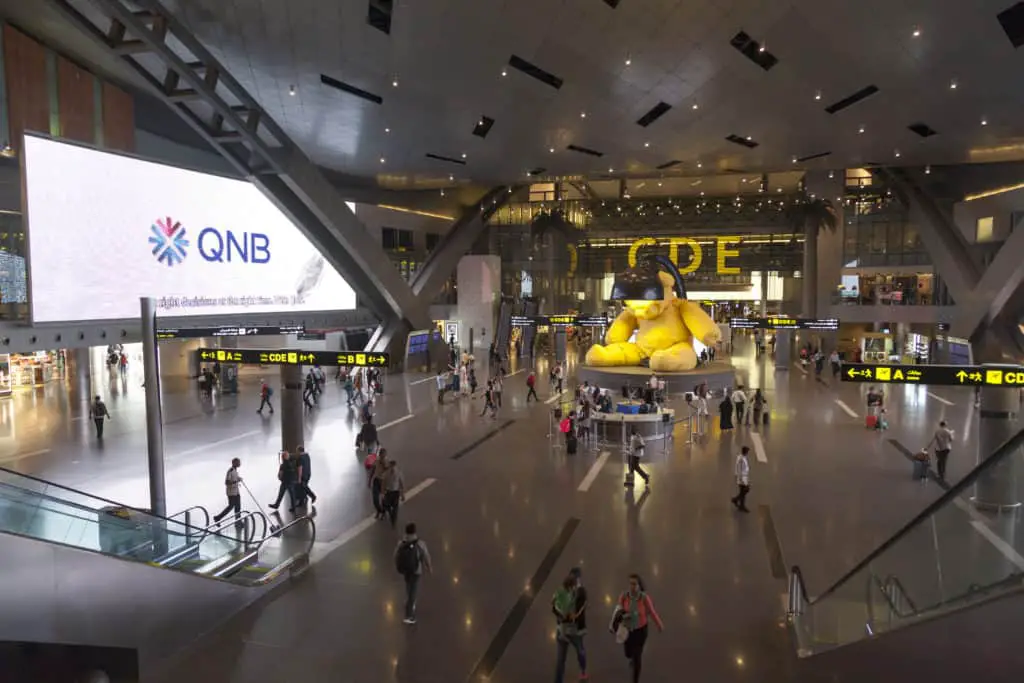 Are Qatar Airways Business Class Seats Worth Upgrading?
The answer depends on what you want to achieve – comfort or affordability. And while first class and business services are somewhat similar, the differences between economy and premium classes are more prominent. 
Some differences between classes are pointed out in the table below. As you will see, there are plenty of added benefits the higher class can provide. They are the main reason people are wondering: How do I upgrade from economy to business class?
| | | |
| --- | --- | --- |
| | Economy  | Business  |
| Check-in and boarding | Non-priority | Priority |
| Access to Qatar Airways Lounge | No access allowed  | Access allowed |
| Seats | Wide economy seats with blankets and pillows  | Lie-flat seats  |
| Food | Available when served | A la carte on-demand menu |
| Amenity kit | Only with chosen long-haul flights  | Yes |
| Wi-Fi | Free up to 30 minutes (unlimited if the booking was made directly through the airline) | Fre up to one hour (unlimited if the booking was made directly from the company) |
| Noise-canceling headphones | No | Yes |
Use Loyalty Points Like Qmiles or Qcredits to Get Affordable Upgrades
Sometimes, you don't have to pay hundreds of dollars for upgrading seats. Qatar Airways has a policy of rewarding its most loyal customers. The more frequently you choose this airline (or its partner airlines) when flying, the more of these points you're going to earn. If you have enough points and there are available seats in a higher class, you will be able to get an award or a highly discounted upgrade. 
Use Qcalculotor provided on qatarairways.com to see how many Qmiles or Qcredits you need so you can be upgraded. Keep in mind that these points can be redeemed at the airport but also through the website or app. 
Upgrade Your Flight on Qatar Airways
Although Qatar Airways offers an amazing service to all of its passengers, no matter the chosen seats, the perks of premium classes are pretty alluring. That is why many travelers opt for an upgraded option.
Whatever upgrading method you select, be certain that it will bring you closer to a truly extraordinary flying experience. Get higher-class amenities even if you initially decide to book an economy seat and make your trip even more enjoyable.