One of the many things that visitors of Doha, Qatar's capital, really look forward to is a walk around the Corniche. If you're unfamiliar with the Doha Corniche and all the offerings it has, now is the time to learn about it. The Corniche in Doha didn't use to be too much. It was mainly a walkway along the water of Doha Bay and only had one primary hotel, a pyramid-shaped Sheraton. Over the past few decades the Corniche, along with the surrounding Downtown Doha area, has expanded and grown in popularity. 
There are three main sections included in the Doha Corniche. They include the Government Zone, the Corniche Park and Promenade, and Corniche Street. The Government zone is home to a number of admin buildings, like the Amiri Diwan of the State of Qatar. The Promenade and Park area offers a large recreational area which is convenient for those looking to take a leisurely stroll or to have a fun day out with the family.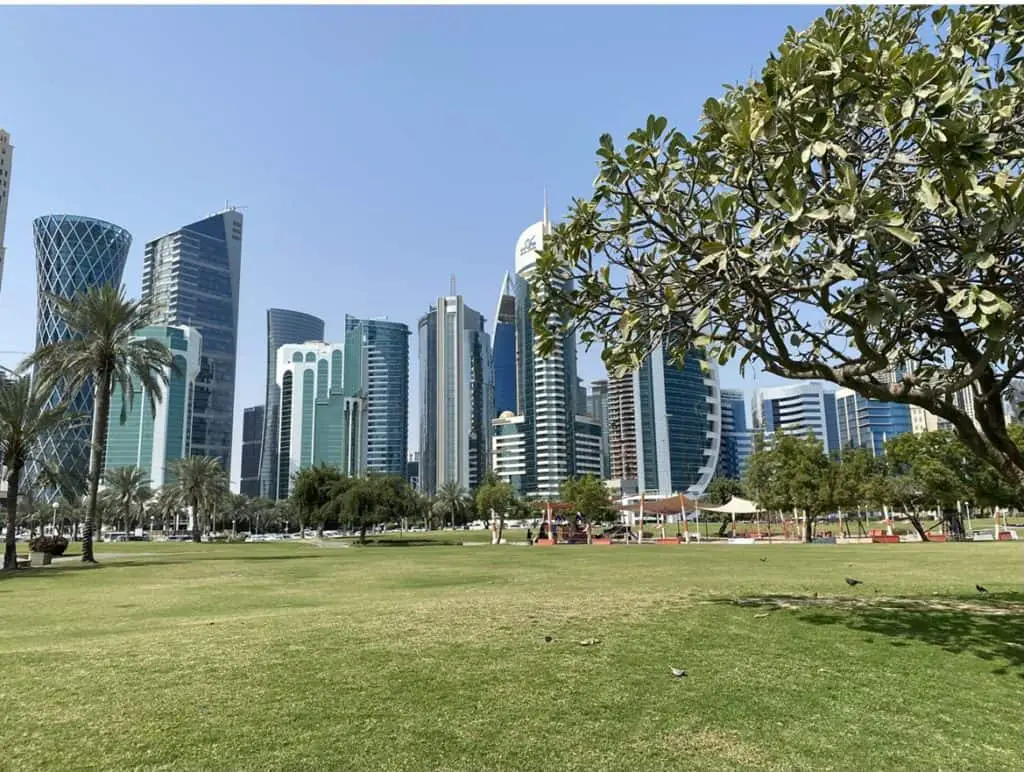 Corniche Street may be the most important part of the Corniche since it provides a connection to Doha's West Bay area and the Doha International Airport. It was created back in the mid-70s and early 80s and took a lot of dredging and construction to create. It actually changed the coastline of Doha.
The views of Doha Bay are likely what draws the huge crowds. The overall length of the Corniche is about 4 ½ miles. There are also a lot of other attractions and landmarks in the nearby vicinity. This includes the iconic Doha Tower (also commonly referred to as Burj Doha), Al Bidda Park which has views of the bay and offers a playground for the kids, Richard Serra's sculpture 7, the Qatar National Theater, and the Museum of Islamic Art, just to name a few.
When I was visiting Doha, on one of my many business trips out to the Middle East, I made sure to include a few hours to enjoy the Corniche. It wasn't too difficult since I was staying at the Curve Hotel, which is located right on the curve of the Corniche. I would have to say that this hotel offers some of the best views of the famous shoreline and very clean and comfy rooms.
You may think that since Qatar is a desert country it'd be near impossible to find palm trees here, but you'd be wrong. One of the things that brings so many people to the Corniche is the huge grassy area that's dotted here and there with palm trees. It offers a great spot for family picnics and a nice stroll.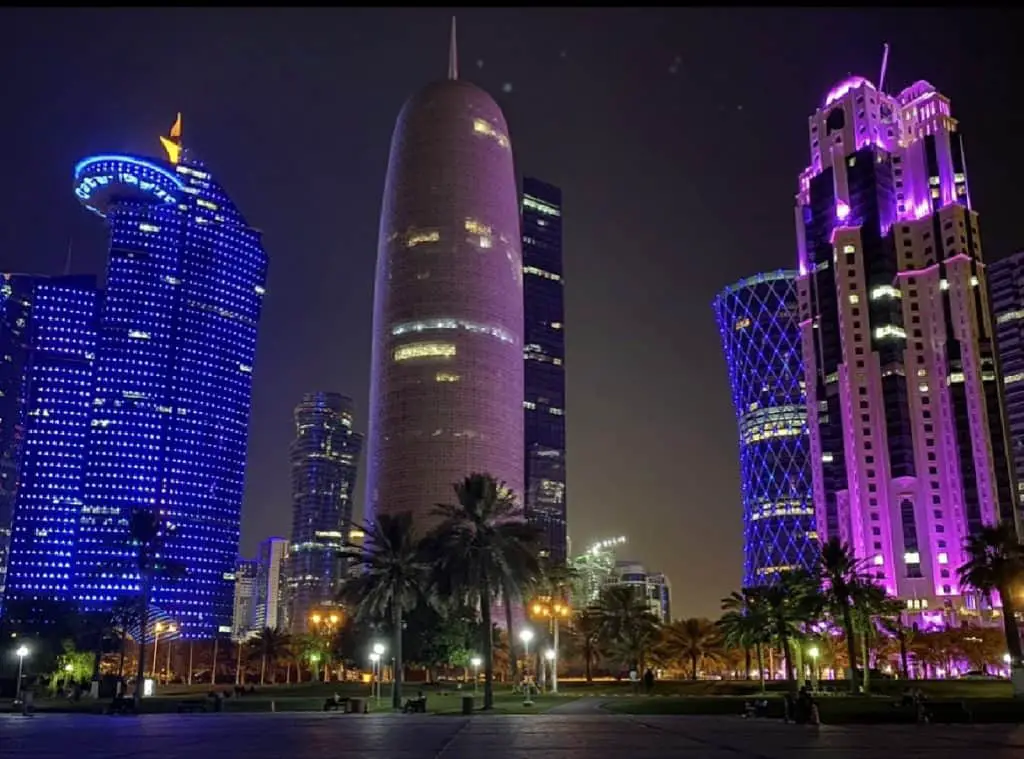 One of my favorite parts of the Corniche would have to be Dafna Park. It offers amazing photo opportunities of the huge skyscrapers that Doha is known for and there are lots of restaurants and cafes within a very short walking distance.
For anyone visiting Doha, looking for some unique spots for selfies, head to Dafna Park. I went during both day and night, but for truly amazing photos you will probably want to go during the day or around dusk when the sun is setting and it's a little cooler out.
One other interesting spot I found around the Corniche was where the dhow boats come in and out of. There were lots of boat operators that were offering rides on the dhows, but I didn't have the time to take one on this visit. A dhow is one of the traditional fishing boats used in Qatar and is very cool looking. If you can't fit in a ride while you're visiting, definitely at least stop by and get some photos of them.
The Museum of Islamic Arts is an absolute must for anyone visiting Doha, even if you can't spend much time exploring the Corniche.
Speaking of time, a leisurely walk around the Corniche would only take about an hour and a half, or maybe up to 2 hours, if you do lots of stopping and photo breaks. It's totally worth it, and if you have the chance, I would say to do it twice on your trip here. It really does offer a day and night difference depending on the time of day you go.
This spot is also famous for hosting some of Qatar's biggest annual events due to its location and size. A couple of the more popular ones are Qatar National Day, which celebrates Qatar's unification back in 1878 and takes place on December 18th. I suppose this can be compared to America's 4th of July.
Then you also have National Sports Day. This event was started back in 2012 and takes place on the 2nd Tuesday of February. It features many different sporting events ranging from taekwondo to basketball to swimming and more. The goal of this event is to get the community engaged in sports and other physical activities.
If you are really short on time there are a couple of must-see spots around the Corniche. One of them I mentioned earlier, which was the MIA. The other is the Pearl Monument, which can be found in the promenade area of the Corniche, and is fairly hard to miss. It's a huge fountain built in the shape of an open oyster shell with a pearl inside.
It's likely one of the most visited spots on the Corniche since it presents a great iconic photo stop and features the Doha skyline in the background. It also lights up during the night.
The Pearl Monument serves as a reminder to the humble beginnings of Doha, during the pre-oil boom times before the 1930s, when many people in the community depended on the task of fishing for pearls to make a living for themselves and their family. 
There's no doubt that Doha has come a long way to become what it is today. A walk around the Corniche is one of those things that you have to do in order to feel like your trip to Qatar is complete. It's really an unavoidable area of Doha, and I would have to say that it's definitely something that you would regret not at least checking out, if you don't take advantage of it during a trip to Doha.