Established in 2010, Mathaf Arab Museum of Modern Art is a must see if you're planning a trip to Doha.
The building used to house the various artworks and exhibitions used to be a school and is almost 60,000 square feet in size, so make sure to pack comfy shoes. It's located in Education City and was created with the intention of helping to inform the public about modern Arab art and also bring people of all nationalities together to view and discuss the works.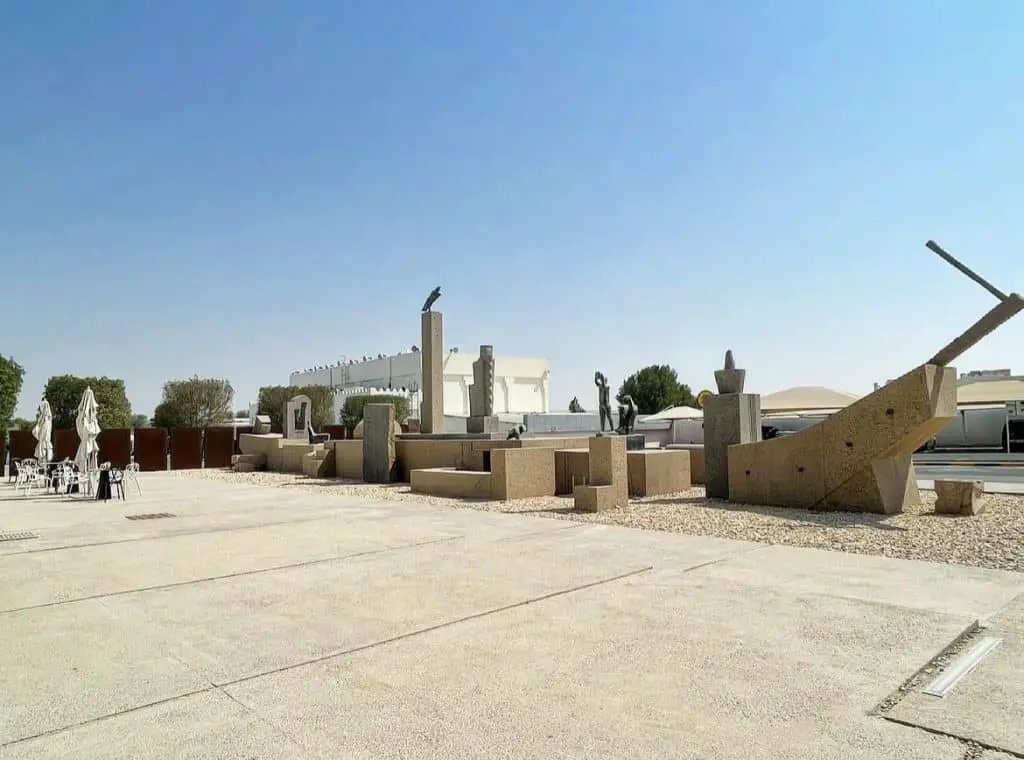 This particular museum is home to over 9,000 different exhibits. They have a permanent collection which takes up seven galleries by itself and can be found on the top floor. The other galleries on the lower level are home to temporary exhibits. There's also an atrium, library, and a gift shop. For those that would like a quick pick-me-up before tackling the thought-provoking artworks don't forget to make a stop at the in-house café. They have some fairly decent coffee.
This was some of the information I gathered as my husband and I sat in the pink shuttle bus on the way to this wondrous museum. We were in Doha on a business trip and we decided to pencil in a stop to the Arab Museum of Modern Art as there were many people raving about it online.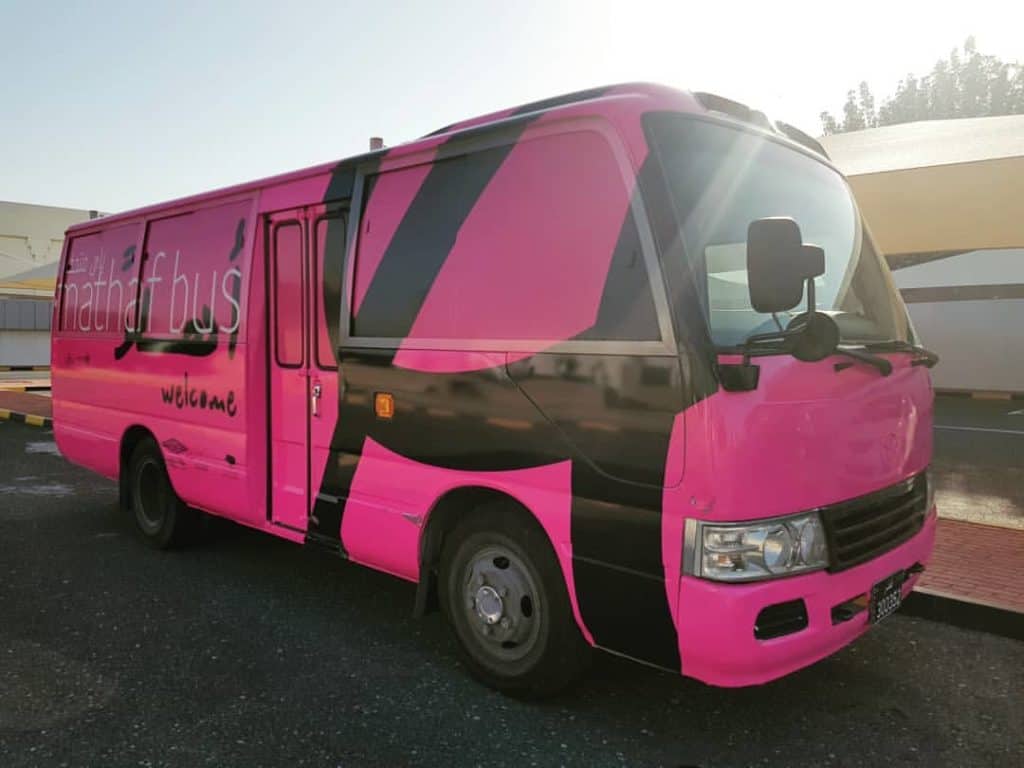 We were going to take a taxi, but the concierge at our hotel recommended that we take the shuttle service as it would be quicker, and it was free. This begs the question, "who are we to argue with a local?"
For those wondering, we paid 50 QAR a piece (about $15 USD), which is the price for a non-resident of Qatar, otherwise it would have been half the price. For those traveling with children you will be happy to know that kids 16 and under are free.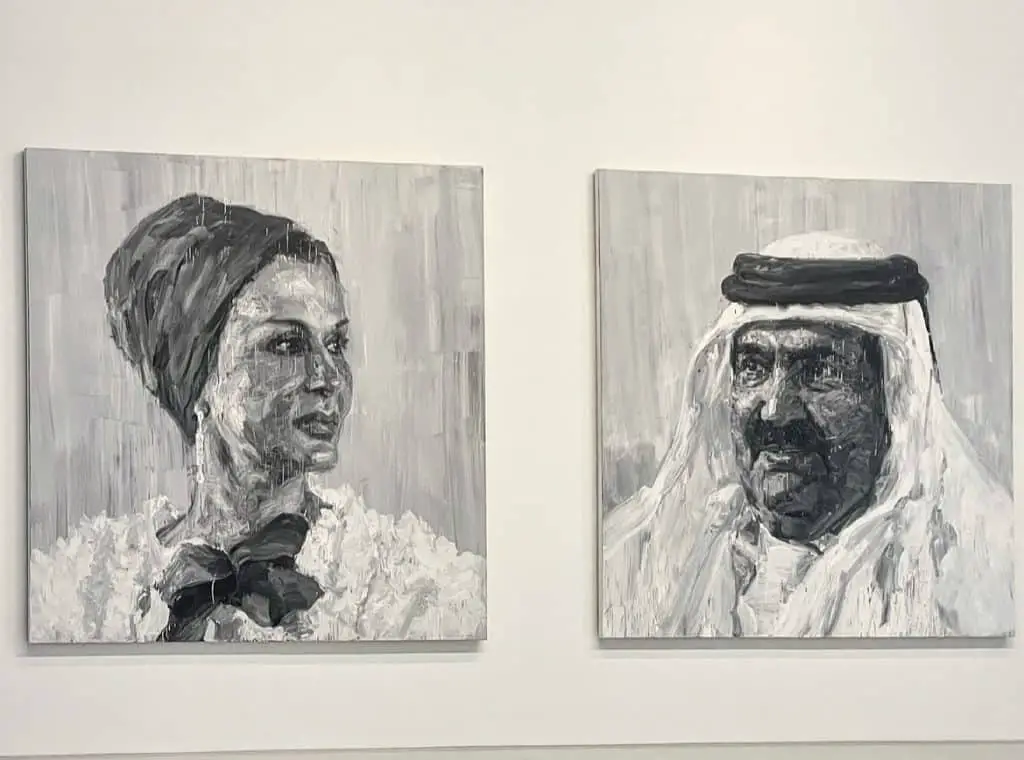 Just walking up to the entrance you can see statues for free. I loved the fact that there were different themes to see along the way. You could literally see the progress of civilization throughout time. You can see how human civilization became an established society and also see the timeline of industrial progress. This museum does an excellent job of showcasing the Arab artists that have been lucky enough to get featured at this museum.
Whether you're a fan of sculptures, expressionism, abstract art, cubism, modern photography, or impressionism you will find something to love about this museum. My husband loved the gift shop and even bought a few items for a couple of his coworkers.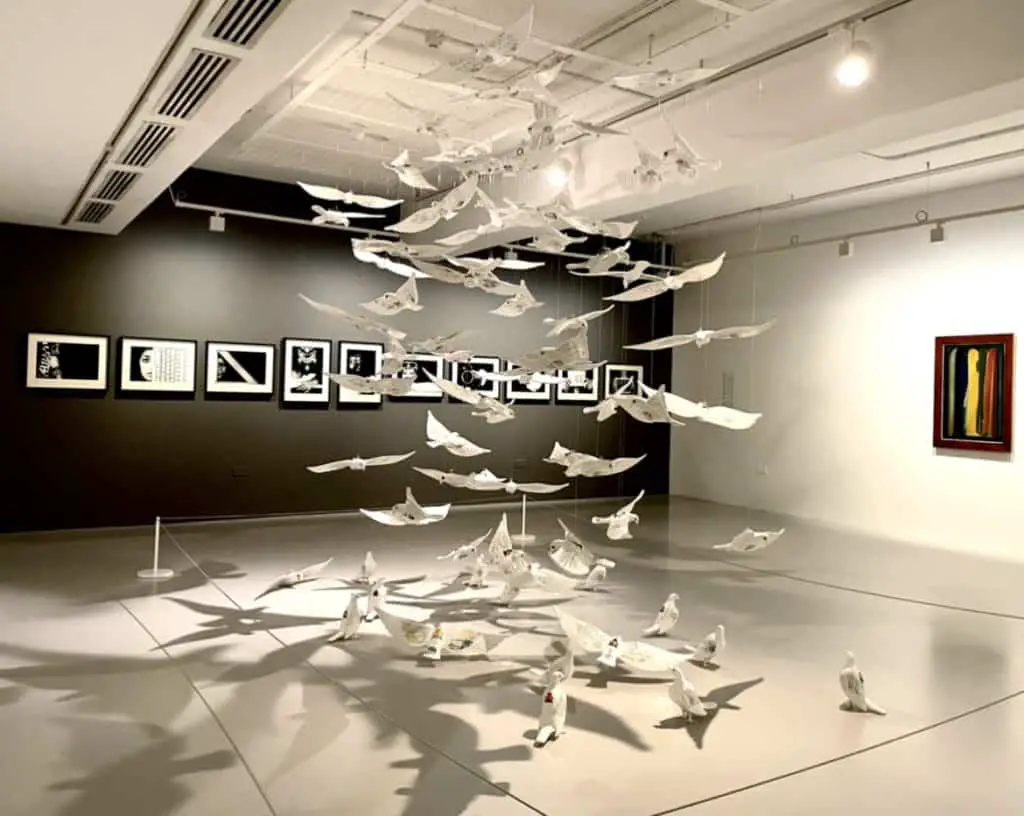 This place is really big and you can easily spend all day here and not see everything. The works are spread out among different floors and different rooms.
Since there are many different galleries and exhibits to see inside this particular museum, when my husband and I visited I took careful notes of a lot of the pieces we enjoyed, so I could later put this list together to make sure others can ensure to stop and see the most impressive works. Hope you enjoy!
Interested in Museums? Don't forget to check out the Museum Of Islamic Art and The National Museum Of Qatar guide!
Must-See Exhibits To Check Out From The Permanent Collection
Gallery 8 – Women In Society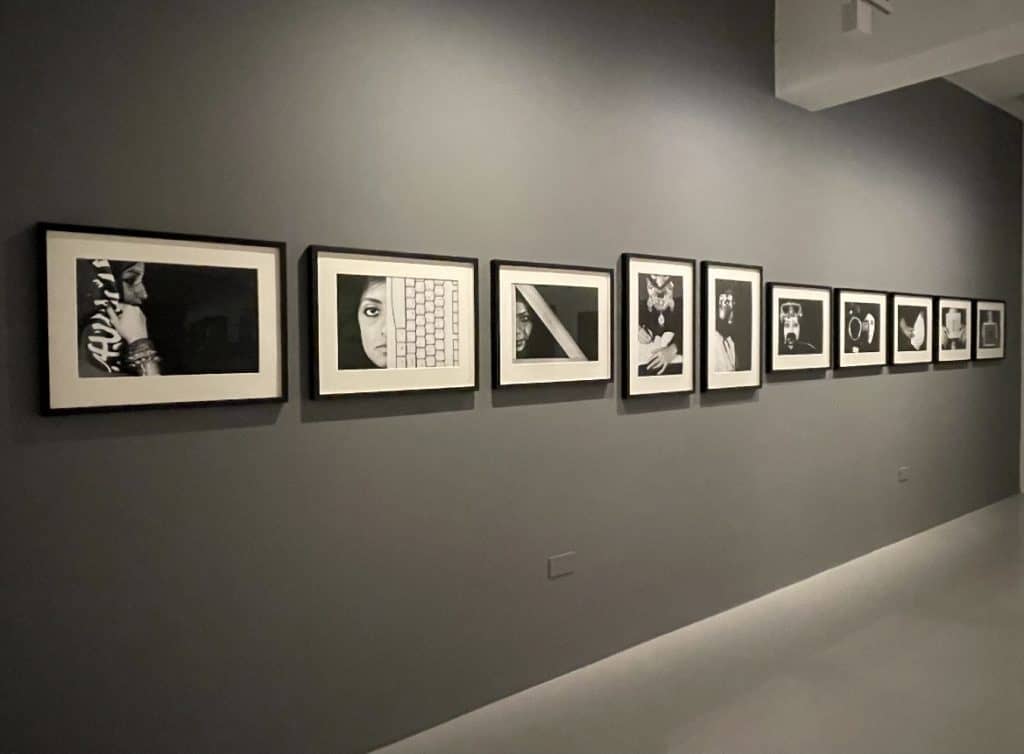 Any museum that has a section dedicated to women is good in my book! This was definitely the best place to start. It featured many fascinating oil paintings that really display how women in Arab society contribute so much to their community, but also showcases some of the darker aspects that a visitor to the country simply wouldn't consider, let alone be able to appreciate.
Pieces Worth A Closer Look In This Section: Baghdadiat by Jewad Selim and Any works by Manal AlDowayan
Gallery 9 – Portraits of Changing Societies, Witnessing and Reading Histories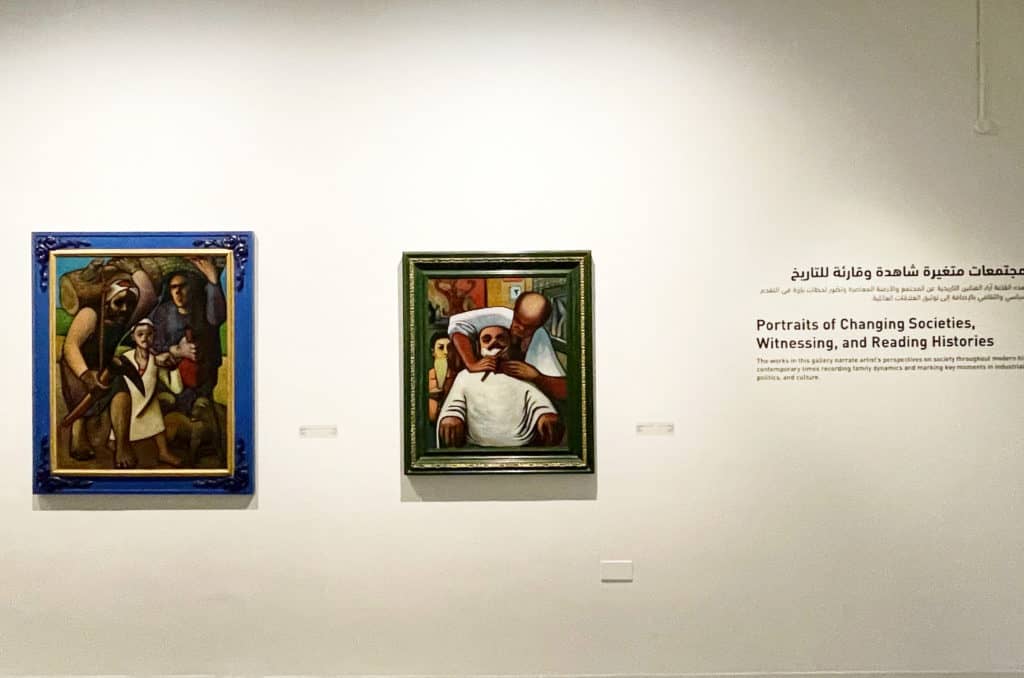 There was also a gallery titled "Portraits of Changing Societies, Witnessing and Reading Histories". While I definitely understand the point of this section I do have to say that this artwork wasn't really in the style I prefer.  My husband did find one that piqued his interest which was Afraah by Abduhalim Radawi fascinating.
Pieces Worth A Closer Look In This Section: The Barber by Hamed Owais and Majnun and Layla by Dia al-Azzawi
Gallery 10 – Gallery New Vocabularies in Post-Independence Contexts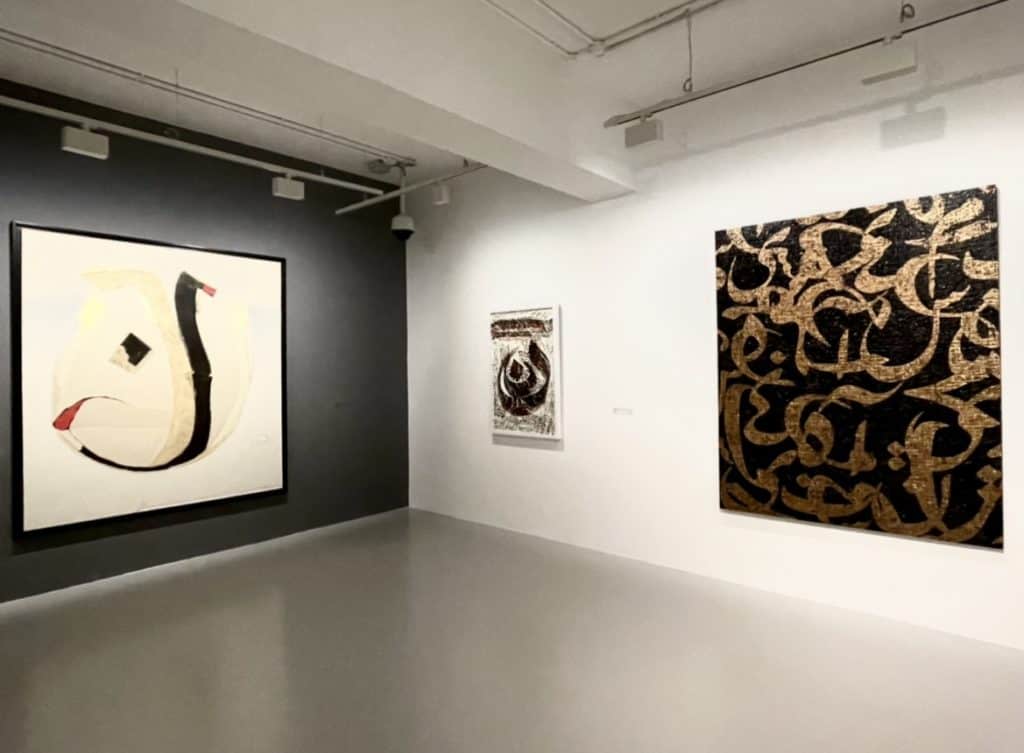 The works from Rafa al-Nasiri, especially In the Depth of Alienation, were some of my favorites to see. These can be found in the New Vocabularies in Post-Independence Contexts which allows for a collaboration of Arabic script and artistic experimentation. This section featured many acrylic paintings that were very eye-catching along with a couple abstract structures.
Pieces Worth A Closer Look In This Section: Khedaa al-Basaar by Wafa al-Hamad and Youm al Haj by Abdulhalim Radawi
Gallery 11 – Mathematics, Mosaics, and Universal Systems of Perception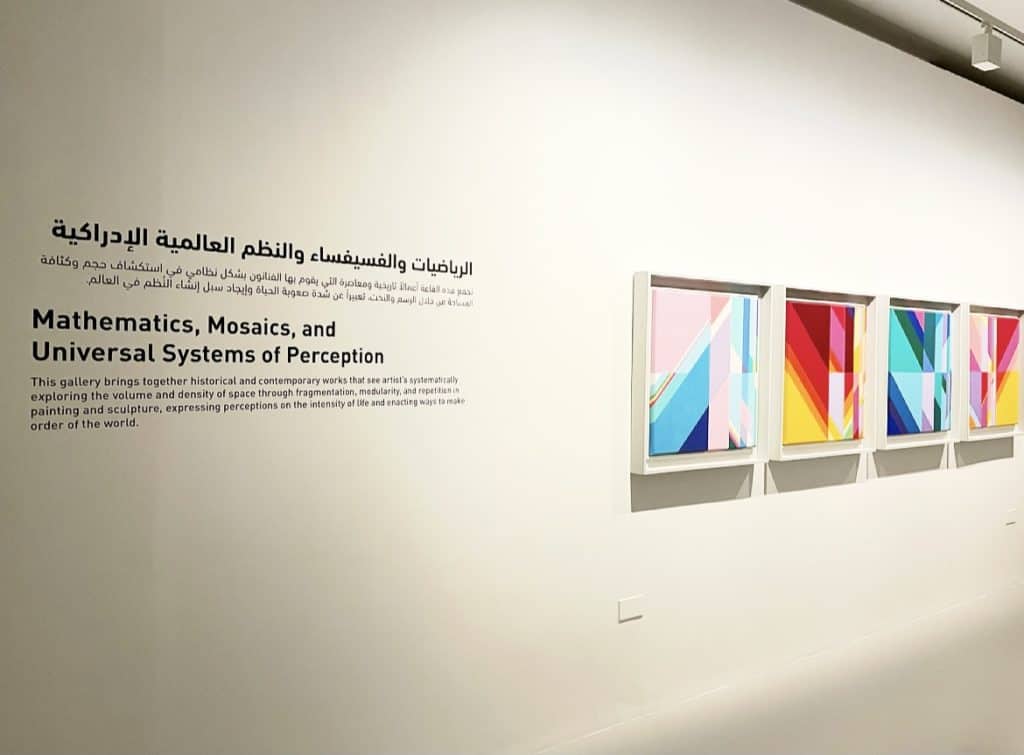 My husband's favorite gallery, by far, was the "Mathematics, Mosaics, and Universal Systems of Perception". He's always been an analytical guy, so these kind of hit home. He really enjoyed the acrylic works by Gebran Tarazi, while I liked the Hussein Madi ones which resembled Origami style statues.
Pieces Worth A Closer Look In This Section: Rubaieat by Kamal Boullata and Three Crescents by Mohammed Melehi
Overall I would have to say that visiting the Arab Museum of Modern Art was the highlight of our trip to Doha. I was concerned that there wouldn't be enough to see to make our trip worthwhile, as some reviews I read indicated, but with over 9000 pieces to examine, it kept us both thoroughly engaged and entertained the entire time. To be honest I'm pretty sure we didn't even see it all – the place is huge! 
Besides the permanent collection they also have ever-changing galleries, so even if you've visited before it's definitely worth coming back to as you're sure to find something new. Even if you don't consider yourself a "museum" person, if you're near Education City in Doha, you have to visit or you'll regret it. I'd have to consider this one of those once in a lifetime opportunities.