Hamad International Airport (HIA) is one of the most luxurious airports you will ever have the privilege to see, should you be planning a trip to Doha anytime in the near future. It was formerly called New Doha International Airport (NDIA), and took the place of Doha International Airport (DIA) to become the only airport in Qatar to offer international flights.
It serves over 30 million passengers per year, which is estimated to go way up in 2022 with Doha hosting the FIFA World Cup. It took about 11 years to plan and build this airport after many costly postponements, but we all know that perfection takes time. It finally opened in April of 2014.
Most airports are loud and hectic, but strolling through this airport may be eerily quiet and calm. It's very clean, too. The architecture of this airport is also something that needs to be talked about. A couple of common themes around the airport are desert oasis and water. It even features roofs and ceilings that look like waves and gardens with plants that you can find in the desert.
When it comes to size this airport is huge. It's built on almost nine square miles of land, and is still growing. When all is said and done the airport should be about two-thirds the size of Qatar's capital, Doha.
This was just some of the information I was able to gather upon researching where best to fly into for my first international trip to China that happened to have a 10 hour stopover in Doha. Airports have always fascinated me, even when I was a child. There's something magical about being able to transport people long distances in a short amount of time. Then you have the behind-the-scenes complexity of the many baggage conveyor belts that go this way and that.
Art In The Airport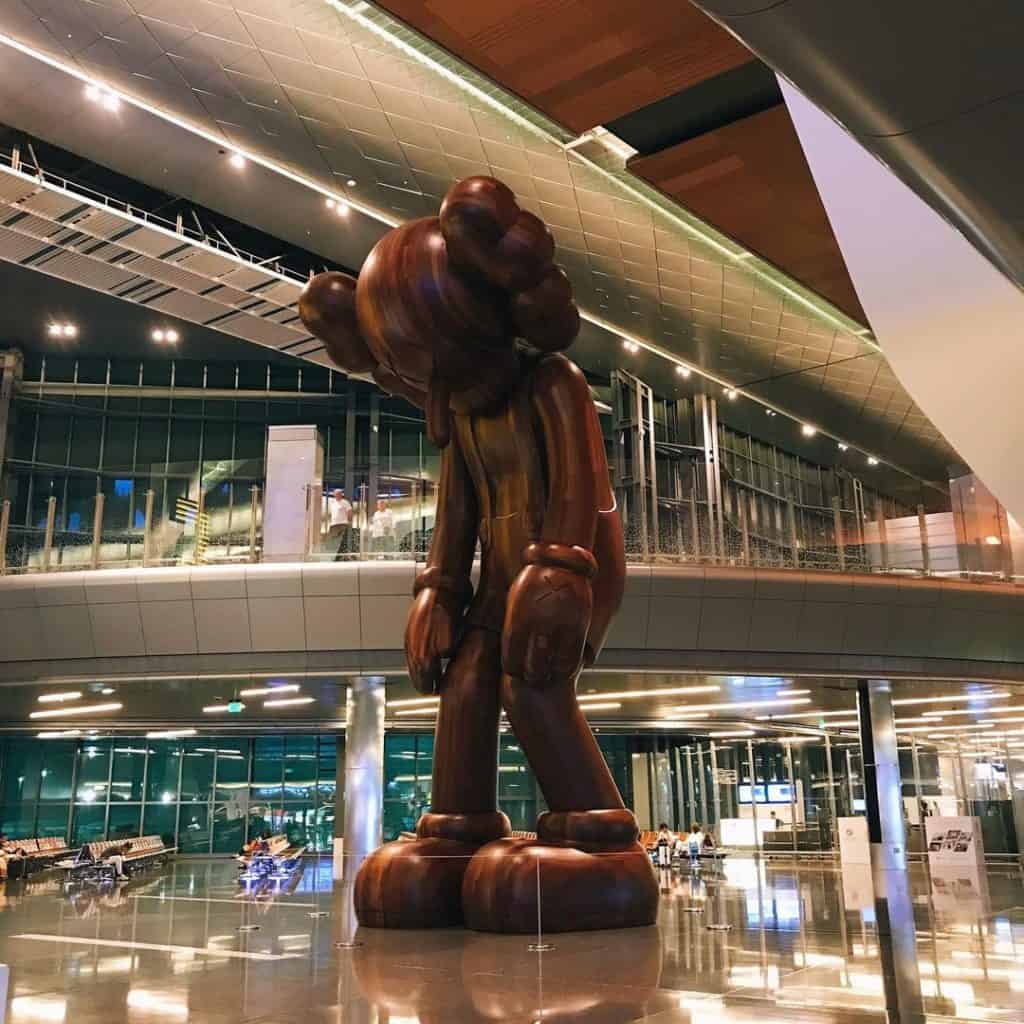 Hamad International Airport was a wonderland to me. There was so much to see and so much to do. On the flight over I made myself a scavenger hunt for all the things I wanted to make sure to check out during my short layover. With numerous art exhibits featured all around the airport I knew I had to get a move on as soon as I landed in order to fit in as much as possible.
There are at least ten different works of art on display at HIA, including "Flying Man", "Cosmos", "Mappemondes", "Small Lie" and more. I had enough time to see them all, but if you're really short on time, I recommend at least seeking out these two works.
The first thing I did when I landed there was take an obligatory selfie with Lamp Bear by Urs Fischer. The whole story of how this piece came about in Qatar astonished me. A Qatari royal bought the statue for almost $7,000,000 at an auction in NYC. That's one heck of a souvenir!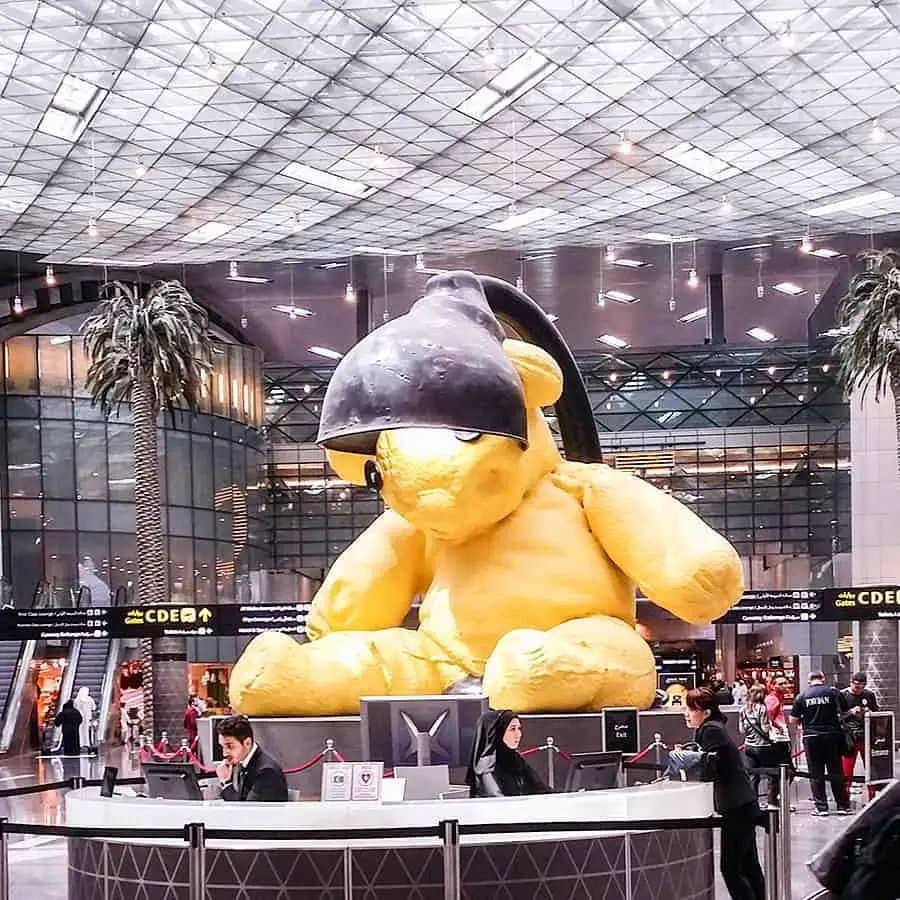 For those that are unfamiliar with this artwork, Lamp Bear is a huge statue that features a bronzed teddy bear that has its head inside a lamp. It's claimed that the statue weighs around 20 tons and after standing next to it I believe that. This is a must-do for any visitor to HIA.
You ought to check out the artwork by Ahmed Al Bahrani, an Iraqi artist that has made Doha his home since 1999, titled "A message of peace to the world". It's a giant cube that was designed as a symbol of the logo for ROTA (Reach Out To Asia), which is a non-profit that helps fund education in some of the disadvantaged countries in Asia. It reminded me of an artist's Rubik's cube.
Dining At HIA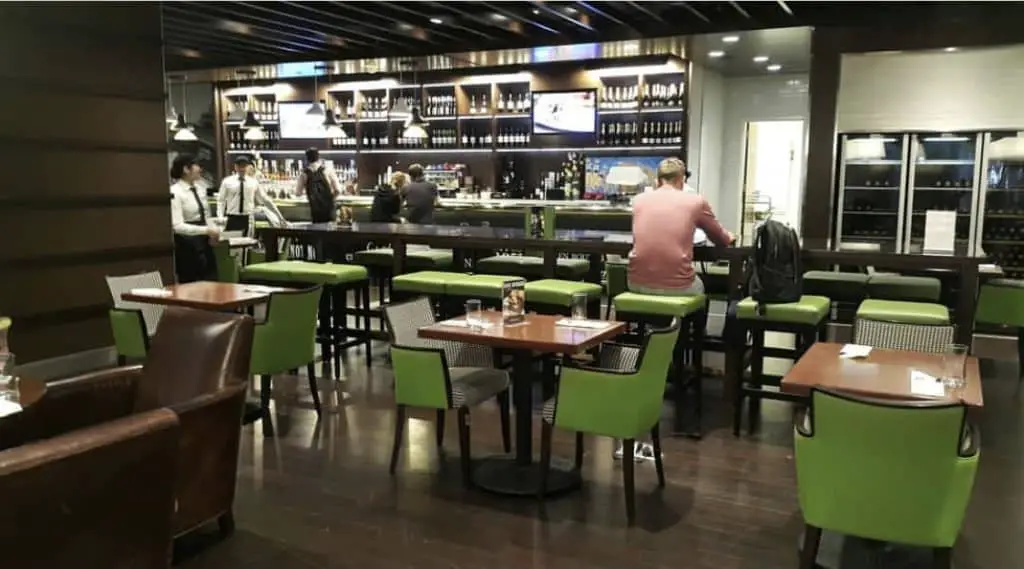 There is a wide variety of dining options at HIA. With different restaurants and cafes it's difficult to name one favorite, as I dabbled at a few different ones during my short stopover. I guess the best was Le Grand Comptoir. They offered the best atmosphere and lovely French cuisine for dinner. The live piano playing was a nice touch, too.
I also want to note that any tea or coffee lover will absolutely want to try Argo Tea and Qataf Cafe. You'll have some of the best tea and coffee in the world there. If you are craving something a bit sweeter, head on over to Farggi which specializes in premium ice-creams and other sugary concoctions.
For The Smokers
For those that need to take the edge off prior to boarding, like myself, you need to be aware that smoking, even of e-cigarettes, is prohibited inside the airport. They do have smoking rooms available with fans that suck the smoke out and offer comfortable seating. You will need to watch for signs directing you to these rooms, or if you can't find one, anybody at the information desk can help to point you in the right direction.
Duty-Free Shopping Is A Must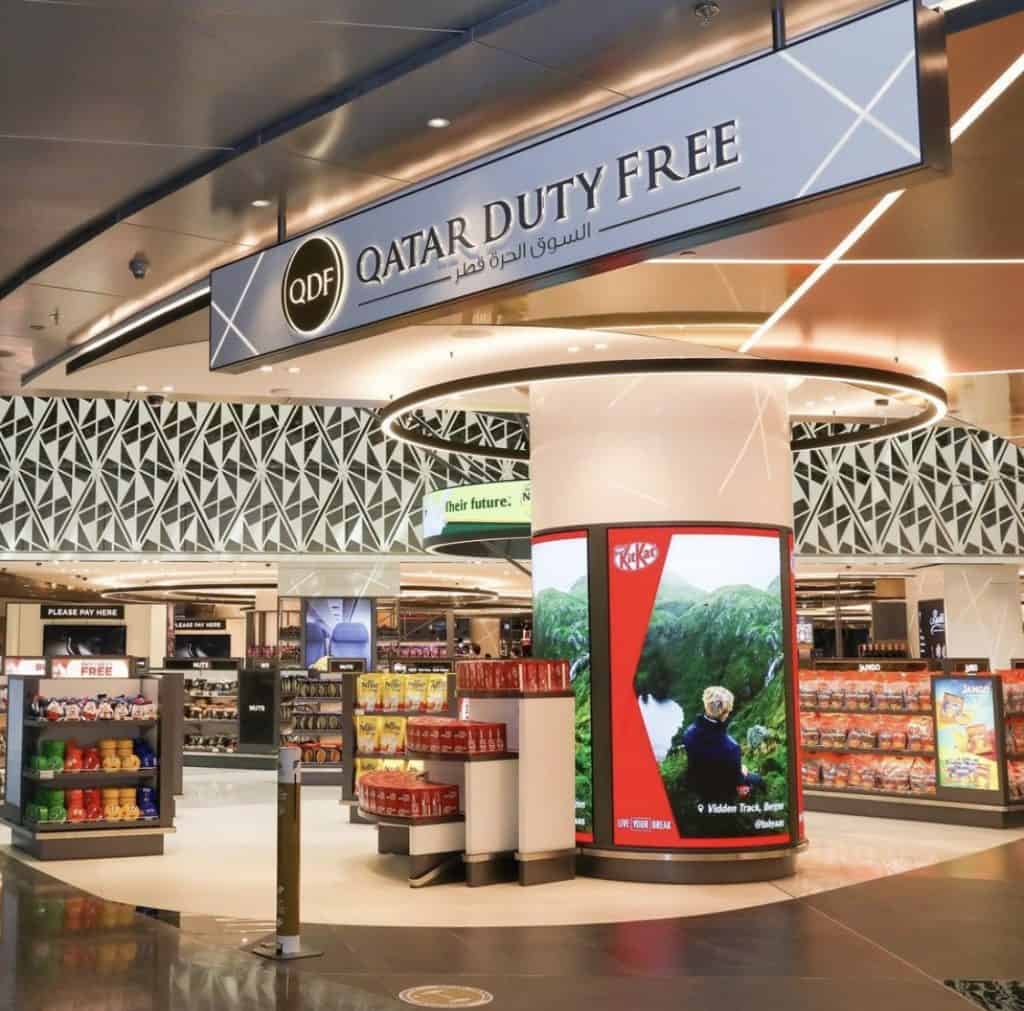 One of the best parts of HIA is their duty-free shopping. You can find plenty of items at this airport including expensive gadgets, shoes, handbags, perfumes and colognes, fine chocolates, jewelry, and much more all without taxes. This is a great way to save big on exotic luxury goods.
One word to the wise, if you plan to do quite a bit of shopping while abroad, you should make sure that you contact your card companies before leaving for your trip. I say this so you don't have to suffer the embarrassment of having your card decline due to being blocked by your bank for being out of the country, like I did.
Overall, I would have to say that Hamad International Airport is one of the best airports I've ever had the pleasure of visiting. While one may expect any airport to be busy, noisy, disorganized, and mundane, this one is quite the opposite of all those things. It's a unique experience, and even if you only have a few hours to enjoy it, make sure that you at least check out the few artworks and restaurants mentioned above, as these will ensure you experience the best Hamad International Airport has to offer.