Set on the shores of the Persian Gulf, Doha is a cosmopolitan city full of Arab culture and adventure for its visitors. Capital of Qatar, Doha is the most populous city in the country with approximately one million residents. 
Independent since 1971, Qatar is a former British protectorate. In recent years, Doha has become a leading city of the world due to its proximity to the resources and revenues associated with Gulf oil production. Doha has amenities to please the savvy business traveler, the sports enthusiast and the world traveler.
With a climate of eternal summer, Doha's resorts and hotels offer the beauty of sun and sand with the luxurious pleasure of peaceful rest. For those who want to try something different in the Gulf region, to those that want to experience the adventure of the Arabian Peninsula, Doha has everything for its visitors.
City Tour
The best way to take in any city is to start your stay with a guided city tour. Doha has many tour operators to choose from and you can move from site to site in a private, air-conditioned vehicle or hop-on/hop-off self-guided bus tours. 
Your investment in a knowledgeable tour will enable you to ask questions of your local guide, get the lay of the land and find out more about the culture behind the key city highlights. Many of the iconic sites and attractions you will see warrant separate visits later, depending on the length of your stay in Doha and your interests. 
Make sure to take in Souq Waqif, The Corniche, Katara Cultural Village and the Museum of Islamic Art while you get your bearings in this jewel city of the Gulf.
Dune Bashing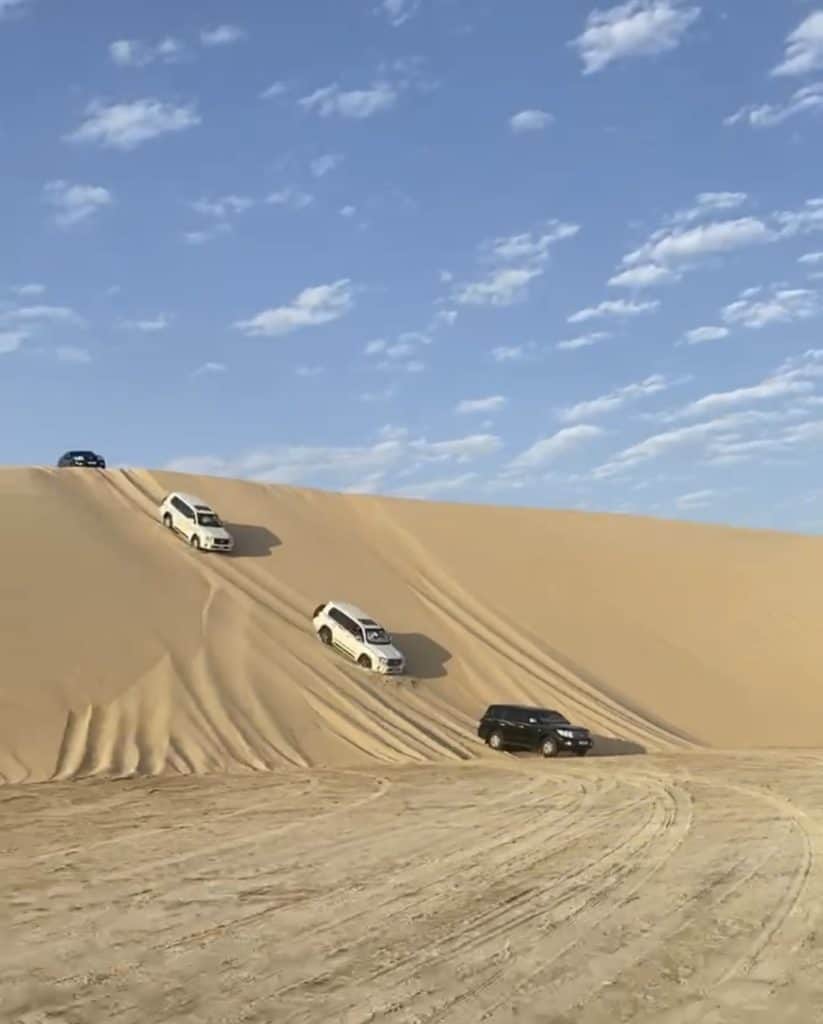 If this is your first time staying in the desert, then "dune bashing" needs to be prioritized on your Doha itinerary. For a change of pace after the city sights, a rousing adventure in the dunes of the countryside will provide excitement in a uniquely Arabian setting. 
Not familiar with the thrilling sport of dune bashing? Fortunately, there are expert guides to take you on a free-wheeling ride over the sand in the comfort and safety of an air-conditioned SUV.
With custom tire pressures to accommodate the soft sand, your guide will show you how to make the most of the hilly dunes, accelerating and decelerating over the mountains of shifting ground.
With the city noise far away, you'll enjoy an hour or so of invigorating adventure, sliding down dunes, spinning out and marveling at the endlessness of the sandy moonscape.
Desert Safari
If you've traveled from a more temperate climate, experiencing the wonder of the desert is a bucket-list must-do. Beyond the thrilling fun of dune bashing, you'll want to take in a safari experience as well.
A guided half-day tour of the desert along the Gulf coast will expose you to the small towns and oil fields outside Doha. Travel where the Bedouin have for centuries, as you explore the vast and serene Qatar desert in the comfort of a modern, air-conditioned vehicle. 
Small group tours with a dedicated guide offer stops of interest where several of the other activities named in our top-25 list can be experienced at an additional cost.
Souq Waqif
If you're looking to stay in the city, the old market district called "Souq Waqif" has hundred-year history and ethnic sights and smells to experience. An expansive marketplace in the center of the old district, Souq Waqif is a collection of open-air alleys with places to shop and cafes to enjoy. Restaurants and bars sit beside shisha (hookah) spots. 
During the day, Souq Waqif is a beehive of merchants offering souvenirs, clothing and keepsakes you will treasure for years to come. At night, the area comes alive with an active bar scene and ample areas for pleasant walking with the relaxed evening crowd.
Museum of Islamic Art
Doha boasts the world's largest collection of Islamic art and city planners created a spectacular man-made island to show it off. With great views of the city and park-like lawns with palm trees, the museum is worth at least a three-hour visit.
A striking architectural piece, the museum was designed by IM Pei, the architect of Louvre-pyramid (Paris, France) fame. Inside Doha's museum, collections of textiles, enamel work, tapestries, pottery, blown glass, jewelry and other creative mediums fill three floors.
Free, guided tours are available in English and Arabic and the site boasts a café and restaurant.
National Museum of Qatar
After a morning visit to the Museum of Islamic Art, you might want to spend the afternoon touring the National Museum of Qatar, close by along the waterfront.
Opened in 2019, the exterior architecture of Jean Nouvel's masterpiece sprawls impressively in a desert-like formation containing three gallery sections: Beginnings, Life in Qatar and Building the Nation.
Focusing on Qatar's history, this site explains the nation's heritage, pre and post-independence. Learn about the Bedouin traders, the Ottoman and British eras, and about Qatar's role in the contemporary Gulf economy.
The Corniche
The Corniche is a beautiful promenade hugging the curve of Doha Bay. Gentle strolling along five miles of waterfront gives the visitor unparalleled views of the Persian Gulf and the city rising out of the desert. The walkway passes by several of the key tourist sites of Doha, including the Museum of Islamic Art and the Qatar National Theatre.
The boardwalk features elegant palms, shaded areas, spots for aerobic exercise, and it is an excellent place to watch the mesmerizing night lights of the watercraft. A perfect spot for a jog or a stroll with a baby buggy, the Corniche features modern sculptures, including the impressive Giant Teapot and the Calligraphy Sculpture.
This area is a Friday afternoon social hub and tourists can find many places to enjoy a harbor cruise on a traditional fishing dhow any day of the week.
Katara Cultural Village
Katara Cultural Village is located on the West Bay, north of Doha's downtown Doha. It features replica architecture from Islamic nations, as well as galleries, restaurants, an opera house and an open-air amphitheater.
By promoting multicultural activities centered on the arts (theatre, literature, music, visual arts), the Village's conventions, exhibitions, festivals, workshops and performances feature artists from the Middle East and around the world.
The Village also boasts the headquarters of many regional organizations, including the Qatar Music Academy and the Society of Engineers. Featuring a wide array of diverse attractions, The Village is host to a beachfront area, a marketplace, an auction house and Qatar's maritime heritage museum.
The Pearl-Qatar
Adjacent to Katara Cultural Village is the Pearl. This man-made island created 32 kilometers of coastline for the city of Doha. With almost 30,000 residents, the Pearl was built as Qatar's first freehold land ownership opportunity for foreigners.
With many residential towers and walking-friendly plazas, the Pearl-Qatar also has a canal system that was styled after Venice, Italy. The series of islands that make up the Peart boast five-star hotels, extensive retail shopping, restaurants and live entertainment venues. 
Qatar National Library
With a spaceship-like architectural design, the National Library is one of the many Doha buildings which are appreciated for their striking external appeal as well as inner attractions.
Featuring temporary art exhibits and a permanent Heritage Library exhibition, the Qatar National Library offers a one-million book collection, plus a Children's Library. The National Library is joined by a research-level university library and Doha's municipal library. The Heritage Library features content relevant to the history of Qatar and the region.
The Qatar Philharmonic Orchestra offers a free monthly concert at the library. There is also a café on-site, and the library hosts free events and exhibitions frequently.
State Grand Mosque 
The Imam Abdul Wahhab Mosque, also known as the State Grand Mosque, stands on a hill overlooking Doha. It is an impressive architectural site that evokes the rich religious history of the Islamic tradition.
Housing three libraries and multiple prayer and ablution halls, the mosque was opened in 2011 and can accommodate more than 30,000 worshippers. The largest mosque in Qatar, the impressive marble flooring and domed hallways keep visitors cool. Religious instruction, social events, educational programs and cultural features are part of the mosque's calendar.
The mosque is open to the public (children under seven are not permitted), and organized tours are available. 
City Center Mall
Take a break from the heat and tourist spots and enjoy an afternoon shopping at Doha's City Center Mall. Located close to The Corniche, the mall has three large hotels and five floors of shopping to offer. With international and regional retail brands and restaurants, there's a way for everyone to relax in air-conditioned coolness.
Catch a movie, spend time in the amusement center or have some fun skating in the desert…you can even take in a round of mini-golf! Whether you've been looking for a dollar store, or need to get some photography supplies, if you wondered where to find a pharmacy or where to shop for European specialties, the mall has everything you are looking for.
Villaggio
If you didn't find the name brands you were hoping for at City Center Mall, move your shopping excursion to Villaggio. A mall with lots to experience and an artistic bent, the beautifully painted ceiling matches the feel of the mall's unique interior canal.
Villaggio features an indoor amusement park which is a highlight for children, as well as an indoor bowling alley. But the mall's specialty stores are the main attraction, as designer shops complement the restaurant options in this air-conditioned oasis.
Camel Racetrack
With the museums under your belt and your shopping done, it's time to find some more desert adventure. How about taking in a camel race?
Al-Shahaniya Racetrack is a one-hour drive out of Doha, and there are camel races every Friday during the competitive season (November to February). Known as "the sport of sheiks," camel racing is a popular sport that employs remote-controlled jockeys on galloping dromedaries. The camels run distances ranging from 5 to 10 kilometers and the animals can clock speeds of up to 40 mph. 
Daily training sessions are open to the public, and next door to the track, you'll find a virtual camel city that provides information on camel racing and provides a memorable photo opportunity. It should be noted that gambling is illegal in Qatar, and the races are a spectator event only.
Inland Sea
When looking to round out your desert experiences, you must visit the Inland Sea, which forms the border between Qatar and Saudi Arabia.
Sixty kilometers outside of the city of Doha and often an itinerary stop on half-day desert tours, the Inland Sea is a UNESCO-listed body of water. The desert forms natural beaches at the edges of what is formally known as the Khor Al Adaid Sea and the beautiful turquoise waters provide an ideal refreshment break.
The Inland Sea is only accessible by traversing the rolling dunes of the area, as roads are non-existent. With a unique ecosystem, the Inland Sea is home to threatened wildlife species, including rare turtles and migratory birds. Keep your eyes open for nesting ospreys and Arabian gazelles.
Sand Boarding
Add sand boarding to your dune bashing and you'll have experienced all of the uniqueness of Qatar's deserts. What is sand boarding, you ask?
Imagine skateboarding or surfing on dunes. This is the emerging adventure sport of "sand boarding." Don't forget that while you are trying to figure out how to snowboard on the sand, you will also be experiencing the dunes in a personal and memorable way. Imagine the tumbling stories you will have to tell your friends!
If the conditions are just right, you might also get to experience the phenomena of the "singing" sand dunes — when shifting sand makes audible noise.
Camel Riding
If the lure of the dunes didn't get you boarding, but camel races inspired you, then you'll want to check out camel riding while you're out in the desert.
What could be more splendid than a desert camel ride as the sun sets? With their gentle gait and high perch, camel riding is a unique desert experience. Whether at the Al Shahaniya Racetrack or during a stop on a half-day desert safari, camel riding is a bucket-list event with lots of photo opportunities as you learn to tame these long-necked, humped dromedaries with the assistance of an able guide. 
The North District
To the north of Doha, the desert offers beautiful and historical views of life before an oil-based economy created modern Qatar.
Al-Khor Harbor is the historic location for fishing and oyster pearl harvesting industries and, in fact, the port is still alive with daily fishery activity. Further north, Al Thakira is full of natural beauty, with mangrove trees and pretty water features in the middle of the arid desert.
One hundred kilometers from Doha, Zubarah Fort is a must-see historic military site that has a collection of artifacts on display and tells the story of Qatar's time as a British protectorate. Built in 1938 by Sheikh Abdullah bin Jassim Al Thani, the fort now hosts a museum collection that includes artwork and archaeological discoveries.
Museum of Illusions
If you have children with you during your time in Doha, they will enjoy a stop at the Museum of Illusions. The whole family will be amazed by the clever effects created inside this modern museum, as principles of science and perception are highlighted for young and old.
Relax in air-conditioned comfort and let imaginations run while you take memorable photographs of illusion-made realities with the kids. With a stocked playroom full of puzzles and games, there is something for everyone in a pleasant atmosphere that provides a change of pace.
Cenfit Fitness Center
If you are looking for more things to do in the air-conditioned indoors, where all ages of the family can participate, take a peek at Cenfit Center. With state-of-the-art fitness equipment in the gym, as well as steam and sauna rooms, there's something for everyone.
Relax poolside or enjoy some quick laps. There's a separate pool for the kids and a café serving delicious and healthy drinks and meals. Exercise classes are available if you're looking to catch up on your cardio. Centrally located at West Bay, Cenfit is adjacent to a large hotel complex and private residences.
Doha Metro
Still looking for something to do with young travelers? Doha's Metro system provides an interesting (and air-conditioned) diversion while also giving a good overview of the city's size and layout.
A rapid transit system that opened in 2019, there are 47 miles (76 km) of a standard-gauge track with a top train speed of 67 mph (107 kph). The trains run at grade, underground and on elevated tracks and connect the city center to the airport. Also connected on the line are the Katara Cultural Village and Qatar University. 
MIA Park
The Museum of Islamic Art features a beautiful outdoor park which is a day-trip destination of its own. Here's a place where the kids can have some fun while the adults enjoy the adjacent amenities.
Located next to the museum and along The Corniche, there are fee-for-service bicycles and even rental golf buggies available. The world-famous Richard Serra sculpture, "7," is located in the park, as well as several cafes. There is a large playground for children and plenty of scenic gardens for strolls and photographs.
Enjoy an early morning stroll, fantastic city views, lunch at a food truck and a special family memory.
Aspire Zone
Aspire Zone is part of Doha Sports City and includes Khalifa International Stadium. Proud host for the upcoming 2022 FIFA World Cup, Doha has world-class sports facilities, and Aspire Zone shows them to the fullest.
Close to Villagio Mall, Aspire features a running track, plenty of outdoor areas for children to explore and a cycling area. A feature tower offers wonderful views, and Hamad Aquatic Centre is within the Aspire Zone grounds.
Aspire Dome is an indoor multi-purpose facility that can host thirteen different, climate-controlled sporting events simultaneously. The Dome facilities include a running track, soccer pitch, Olympic-sized pool, volleyball courts, gymnastics hall, squash courts, workout gym and spa, sports science laboratories and a sports psychology lab.
City Night Tour and Souq Falconry
Your time in Doha isn't complete without taking in the beauty of its nighttime sights. Whether walking along The Corniche or enjoying the nightlife of Souq Waqif, you'll feel the pleasant warmth of the desert even as the evening's coolness takes away the fatigue of the day.
Local tours are easily found that highlight the night features of the city. At Souq Falconry, you can enjoy an evening exhibition of the ancient sport of falcon training, an Arab specialty. Remember to take a night trip in a dhow boat and enjoy the beautifully lit architecture of Doha's many unique buildings and cultural spots.
Night Tour of the Desert
Qatar is special because of its desert location. Doha, a city constructed out of the desert landscape, invites you to finish your visit with a guided nighttime tour of the beautiful sands.
Unlike your daytime adventures speeding over the dunes and riding camels, a nighttime trip is a time for reflecting on the wonders and beauties of the desert. Tours offer Arabian barbeque dinner, gentle drinks and dancing, live entertainment and cultural performances. For the more adventuresome, there are overnight tent stays with a star-filled sky at a Bedouin camp.
When traveling this year, it is wise to check for travel restrictions concerning pandemic effects and vaccination requirements. In addition, cultural sensitivity in Gulf nations should be considered, particularly concerning appropriate dress.
Doha is full of adventures, just waiting for your arrival. Whether you are stopping over mid-flight or taking the family for an exotic, Arabian vacation, Doha has all the features you need for a fun-filled, relaxing, memorable stay. Qatar is waiting to say 'hala,' welcome and hello!