One of the things that I worried about when planning our trip to Doha was what food we would eat.
I'm not a huge fan of Middle Eastern food, not because I don't like the taste (because I do), it just doesn't agree too well with my stomach.
I did a bit of research prior to heading to Qatar and found that they have a wide array of different foods for every taste. My husband and I were determined to try them all so we could really experience Doha in full (while getting full).
Our trip to Doha was for a week and we ate out for every meal. I simply refuse to cook when on vacation.
The last one on the list really surprised me as it was a bit of a hole-in-the-wall, but in the end it was probably the one that offered the unique and authentic Doha experience we were looking for.
Here is a list of the best Doha restaurants:
Market by Jean-Georges – Dinner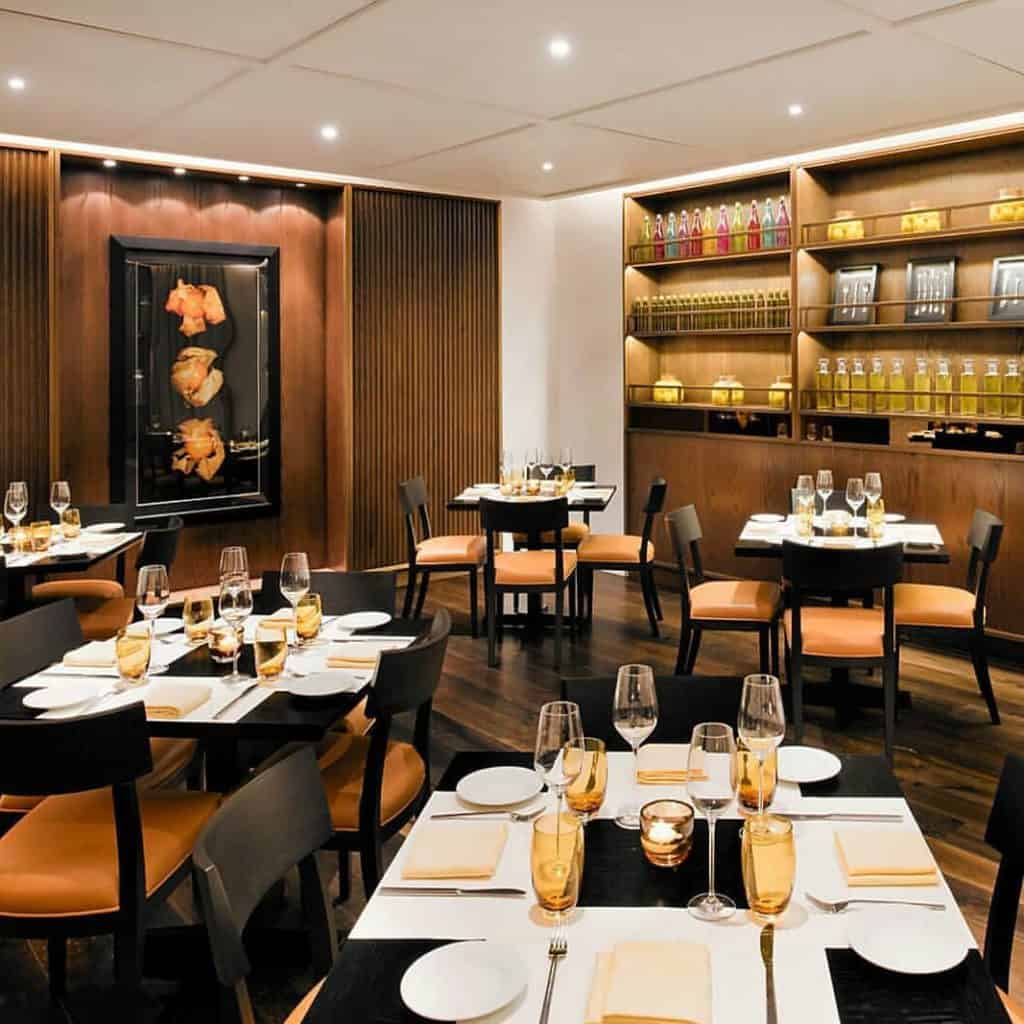 We decided to play it safe for our first meal in Doha. We arrived pretty late in the evening, so we just decided to head on to a restaurant that was inside our hotel. We stayed at the W Hotel and the restaurant was simply called "Market". It had plenty of options and seemed to focus on French inspired foods, but also had a few unexpected treats.
Even though it was kind of late when we arrived it was still pretty packed. The service was great and the food came out quickly even though it was busy. The ambiance it what really stood out at this restaurant. We ended up ordering the Seam Bream Ceviche for an appetizer. It was soft and had a semi-sweet watermelon dressing, which complemented it perfectly.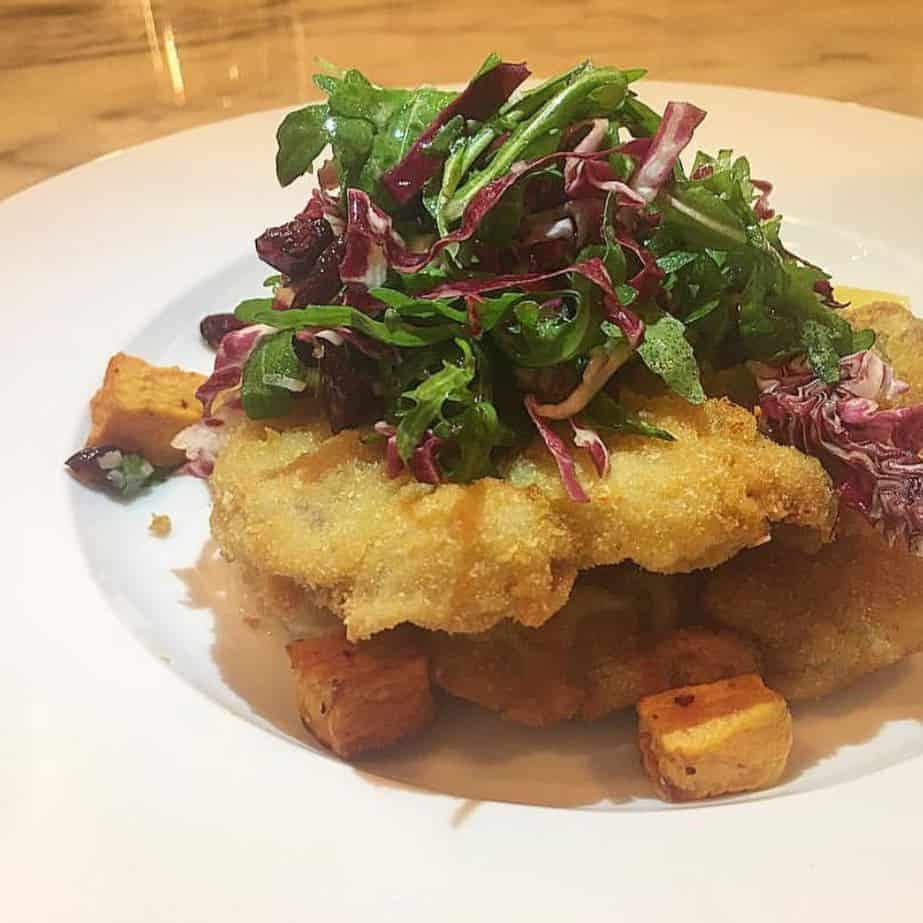 For my main course I went with the Veal Milanese, and although my husband wanted to get the Market Cheeseburger (I told him, "We didn't come all the way from the US for a cheeseburger!"), he ended up getting the Aus Wagyu Ribeye. Upon receiving our bill, I realized that I should have just let him get the burger.
THREE SIXTY – Lunch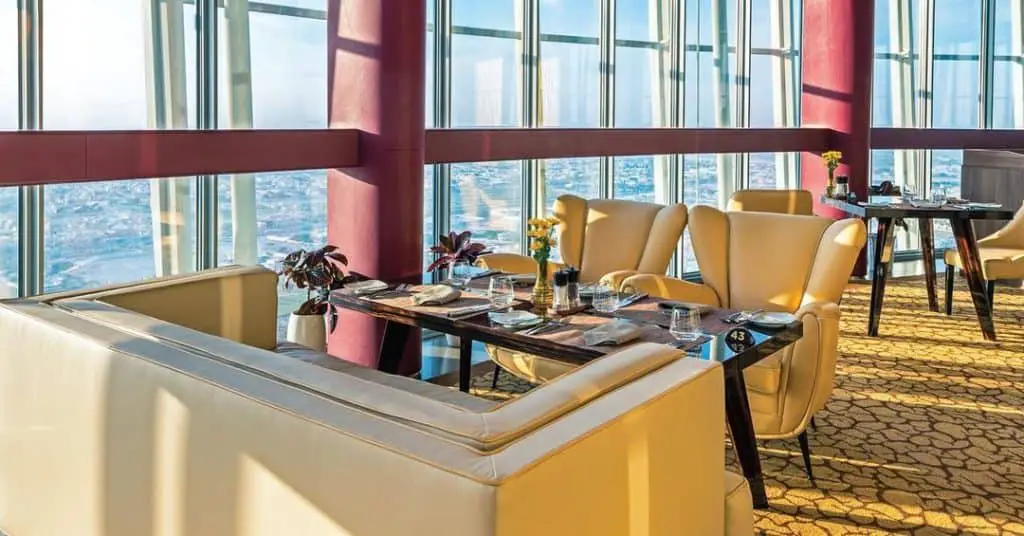 There's no guessing as to why we had to go here. This restaurant offers a bird's eye view of all of Doha by rotating while you dine. It's a must-do for anyone visiting Doha for the first time. It requires prior reservations far in advance as it is one of the most popular restaurants in all of Qatar.
Luckily we made our reservations for lunch about three months in advance to secure a seat. If you're afraid of heights this is not for you as it is located on the 47th floor of THE TORCH DOHA building. They offer two or three course meal plans with plenty of choices on the food. We went with the three course option and started with the Goat Cheese Salad.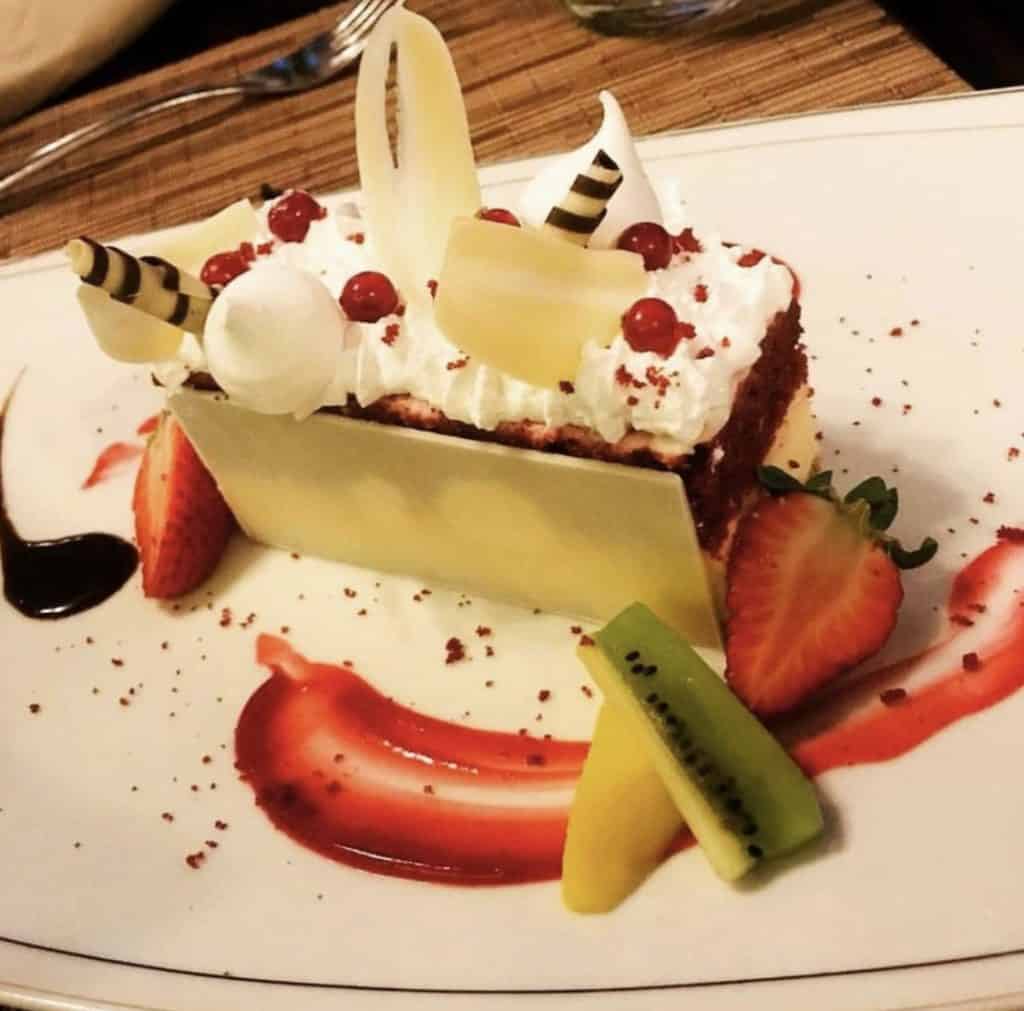 For our entrees I went with the pan seared sea bass and my husband opted for the grilled beef rump. For dessert I had the red velvet cheesecake and he went with the warm chocolate cake. We split both in half and shared it. I would have to say that this was one of our most memorable dining experiences to date (and we've been married for 37 years). If you do anything while you're in Doha, make sure it's that you dine here at least once.
MAMIG – Dinner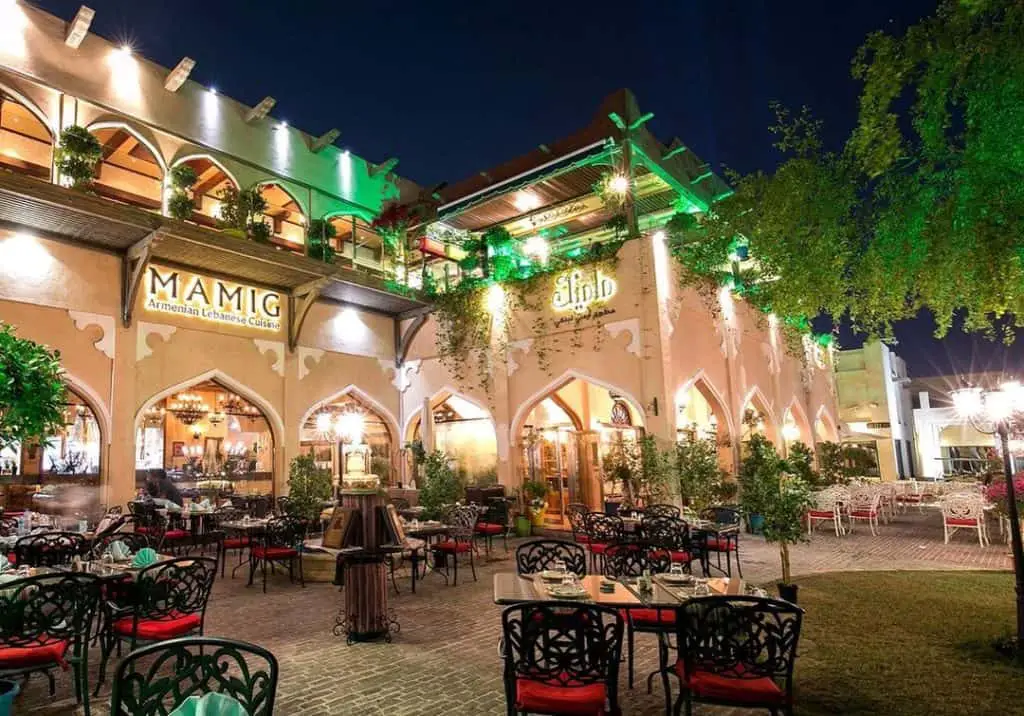 This is a popular restaurant that even the locals like to hang out at. We found it while visiting the Katara Cultural Village. It was all lit up at night and was very busy, so we knew it had to be good. We had to wait about an hour for a seat, but we were not disappointed. They offered a different type of food I hadn't really tried much yet, which was Lebanese and Armenian.
We were able to score a seat up on the terrace and got to look out at the impressive Doha skyline and the Arabian Gulf. Although I felt a little spoiled by the view from THREE SIXTY, this one was just as nice, and from a much safer height.
One thing you should know about MAMIG is that the menu changes depending on the season and what the chefs want to make, but the food here was top notch and you could tell that it was 100% fresh. I opted for a chicken dish and my husband, being the beef lover that he is, went with the marinated beef dish. The food was great, but the overall energy of the dining area really made the moment magical for us.
Ard Canaan – Lunch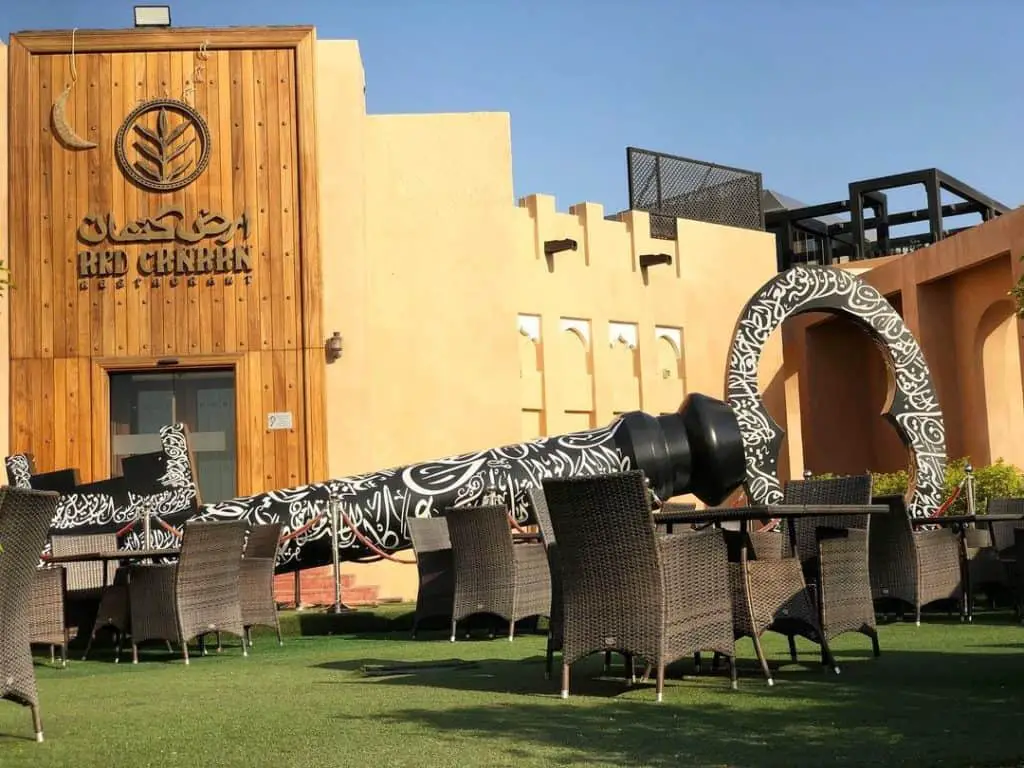 This restaurant was one of the gems we found while exploring Katara. They offer authentic Palestinian food and the rates were really reasonable. What made this one stand out was its interior. Everything looked old, not in a bad way, but like it was showcasing its natural beauty from centuries ago.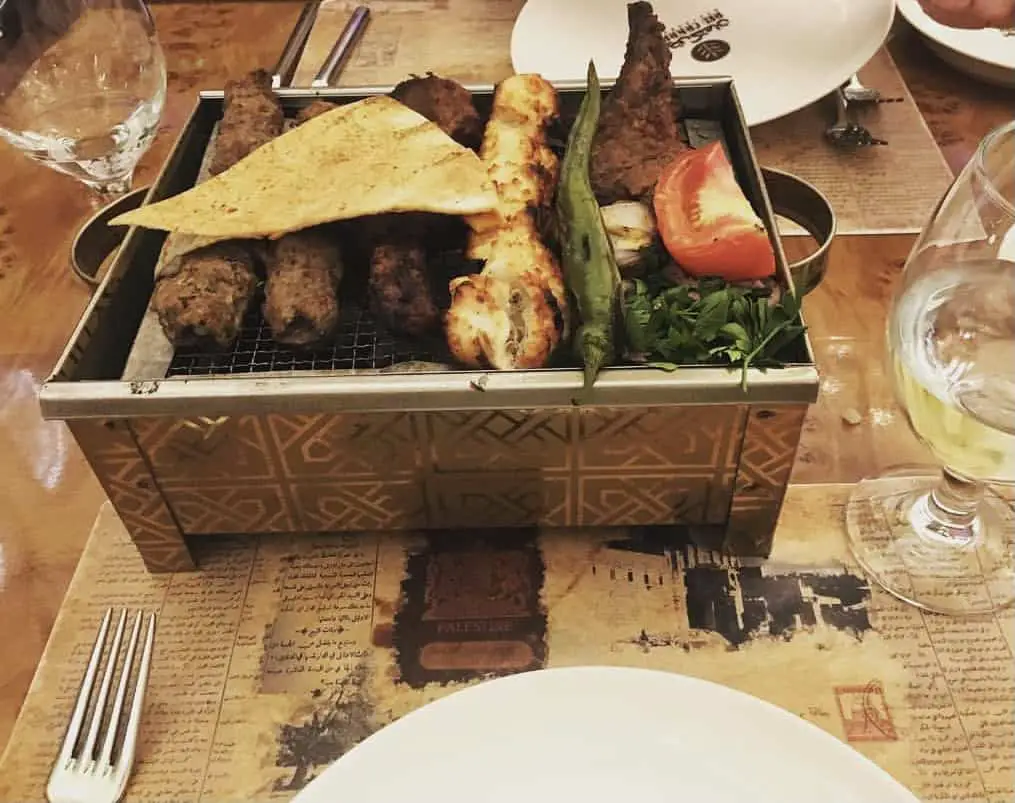 The food was exceptional and came in large portions. We had the Cauliflower Ejjeh for an appetizer followed by with the Mediterranean Sayadieh for me and the Ard Canaan BBQ, which offered a variety of meat kabobs, for my husband. We had to try dessert here as they just looked too good to pass up. We went with the powder-sugar topped Tameryeh (I dubbed it the powdery dough ball of goodness) and the Hareesah which was perfect with a hint of coconut.
Another bonus with eating lunch here is the proximity to the beach. After wrapping up our meal, we were able to continue our stroll down the Corniche and work off some of the weight we'd put on in just the few days we'd spent in Doha.
La Bodega Negra – Dinner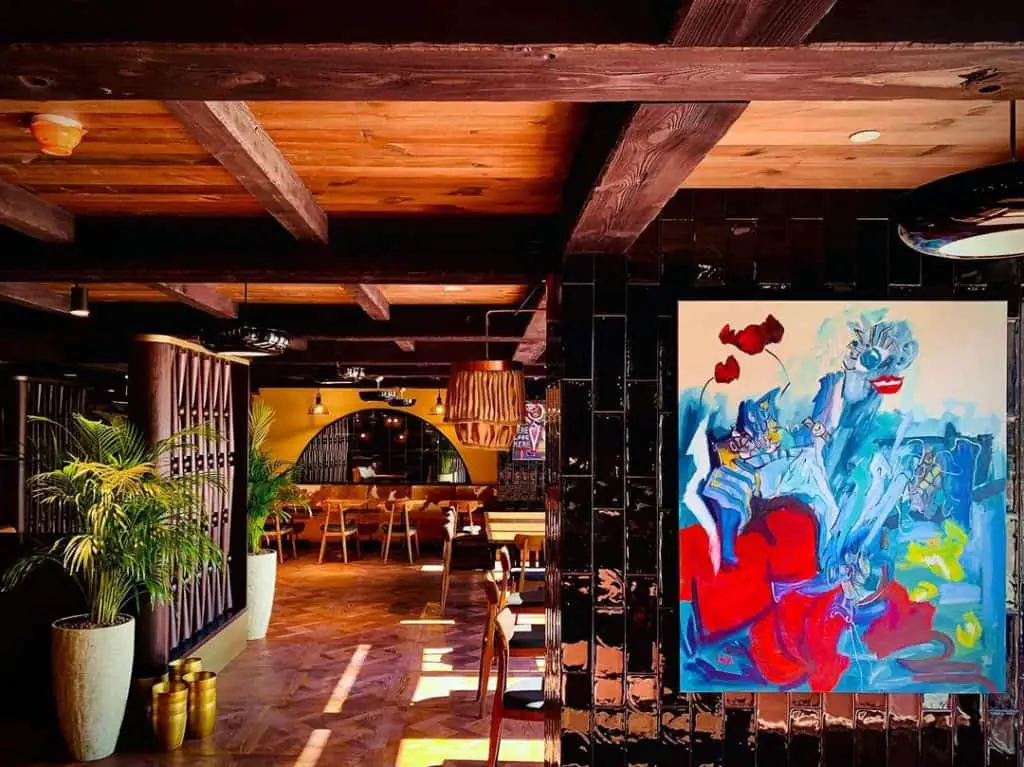 If you thought that there'd be no way to find Mexican food in Doha, you better guess again!
We were thrilled that we were able to find this restaurant that offers Mexican food with an Arabic twist. The King Crab Salad was the perfect appetizer, although the Calamares Fritos dish was tempting. For the main course I went with Duck Carnitas and my husband decided to go for the Beef Barbacoa.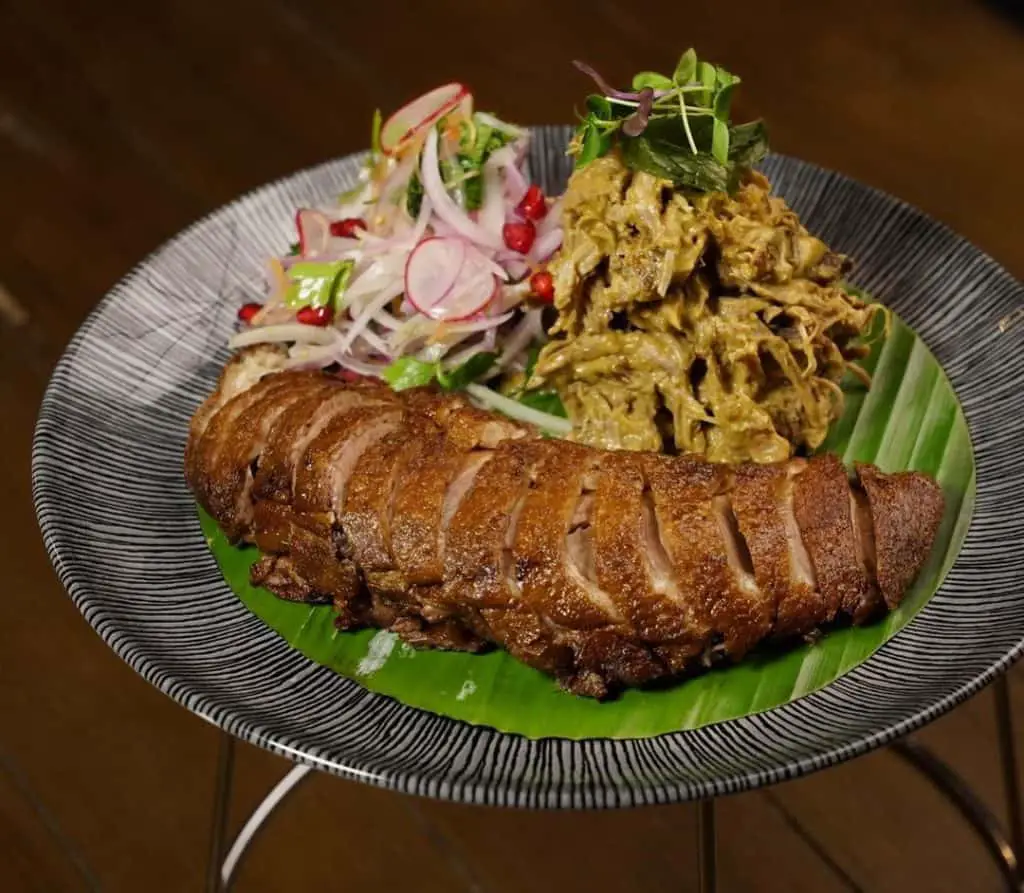 The food was all divine, but the only thing I didn't like was the amount of food we got for the price we paid. The plates should have been heaping (which is usually the case in US Mexican restaurants), but apparently the taste and presentation is what they focus on here. For dessert we shared a Chili Chocolate Cube, which admittedly did come out larger than we thought it would. Don't worry we still finished it all!
Eggspectation – Breakfast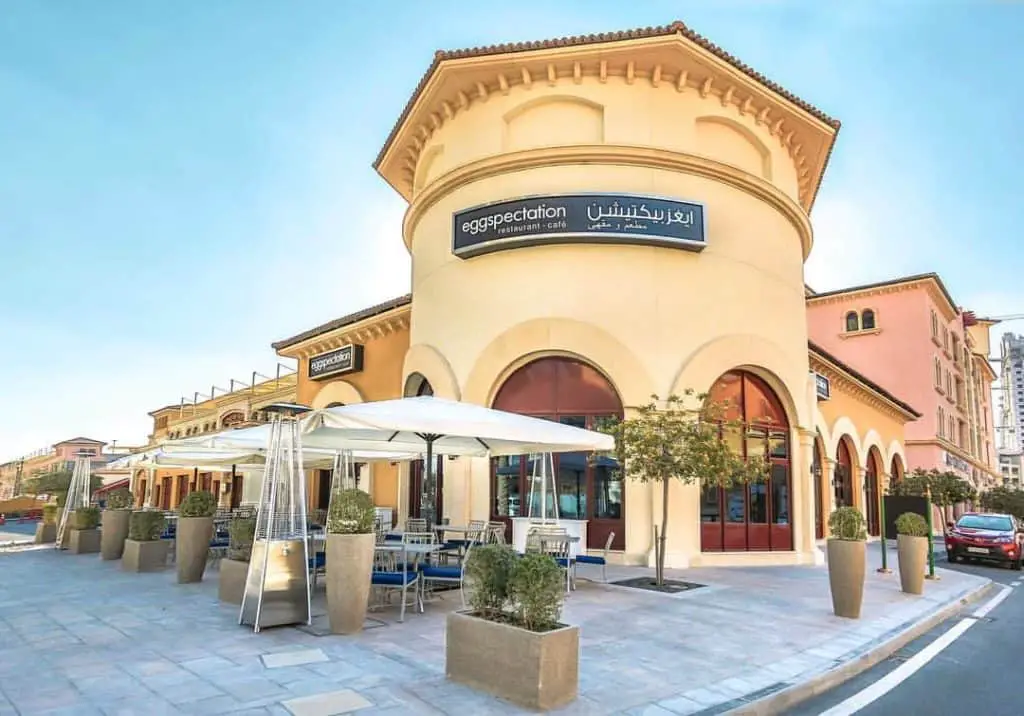 I just realized that I haven't mentioned one breakfast restaurant yet, but that's just because we're not ones to get up too early, so we usually only eat two meals a day. We did stumble across this restaurant, and although it was way past lunchtime, we still ordered a breakfast-type meal, so I figured I would put it in the breakfast category.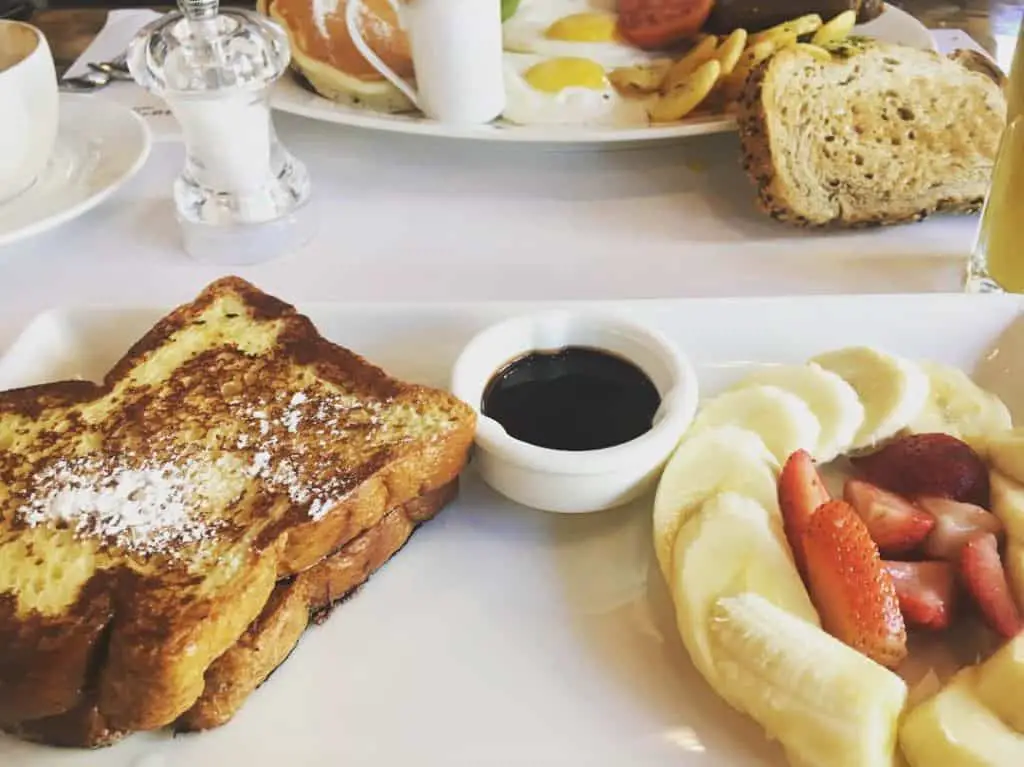 I started with a cup of freshly squeezed carrot juice, while my husband opted for something a little (ok, a lot) more caffeinated, the espresso doppio. Even though they had a huge selection of all types of foods, we decided to stick with a breakfast theme. I had the S'mores French Toast and my husband had the Belgian Waffles Gone Bananas. I would have to say that this was the best breakfast we had in Doha.
If you're looking for a good breakfast, or are a huge egg fan any time of day, go here. You will not be disappointed. The prices are egg-streamly reasonable, too!
Zengo – Lunch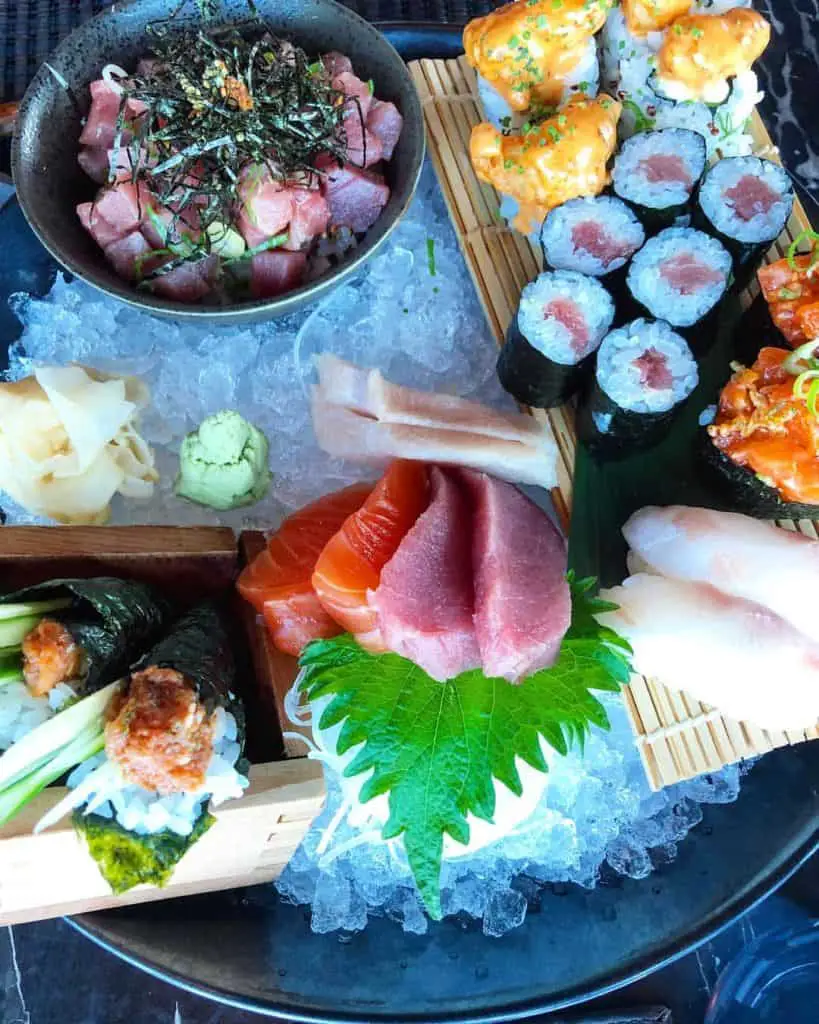 If you're looking for some Asian inspired dishes, have we got a treat for you! Zengo was definitely one of the more unique restaurants we visited while in Doha. It's a little hard to find, since it's perched up on the 61st floor of the Kempinski Residences & Suites, but it's worth seeking out.
We happened across this restaurant on a Wednesday to find that there was an All-You-Can-Eat sushi deal going on. We went ahead and did that and ate to our heart's content. I still looked at what other dishes they offered and found that there were plenty of other options, like Wok-fried beef and noodles, grilled Wagyu tenderloin, and soups and salads.
After stuffing ourselves full of delicious fish we decided to top it off with dessert. We went with the one called "Just Coconut", which featured a hazelnut crumble topped with coconut mousse and Vietnamese coffee. It was spectacular. Their prices were a bit steep, but if you can get there on a Wednesday, it's highly recommended. The views from the windows were amazing, too.
BOHO Social – Breakfast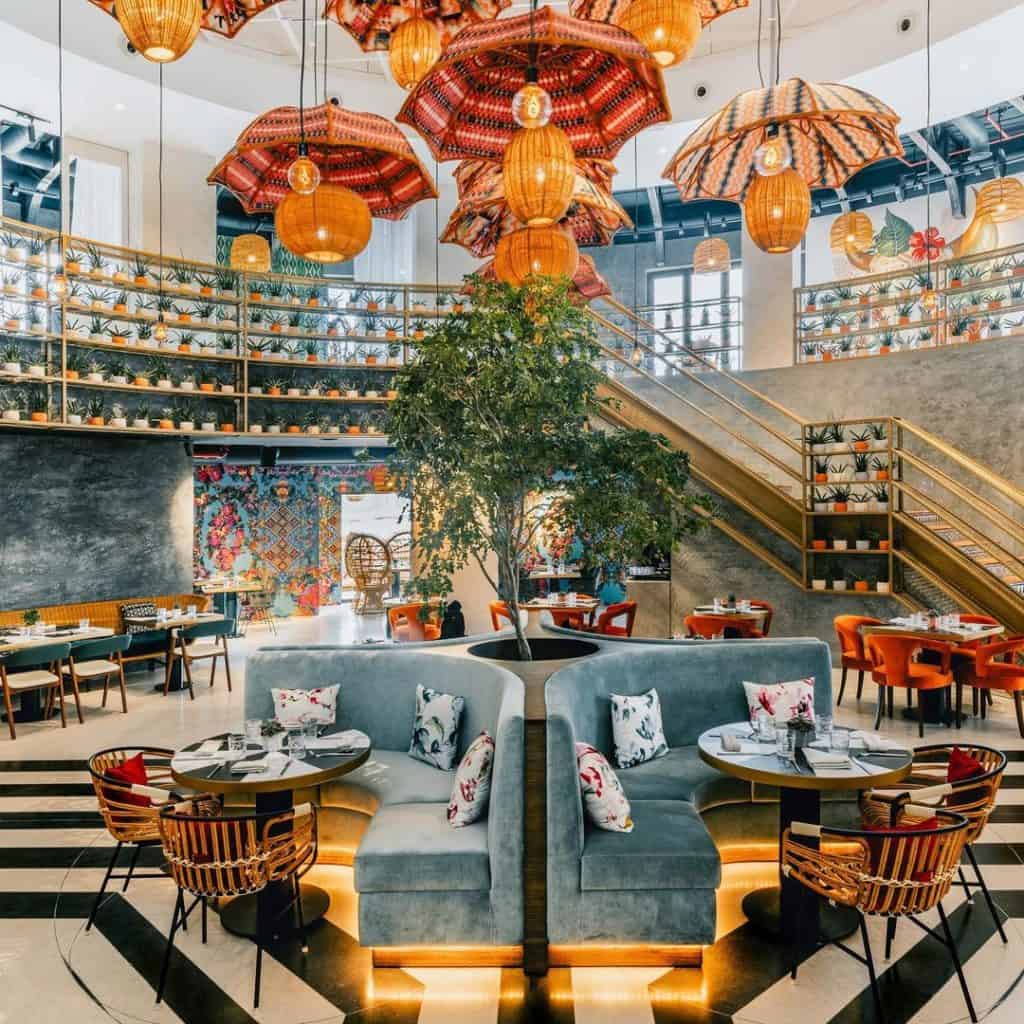 Really we only came here to see what all the fuss was about…and to get an espresso from their Espresso Bar. The inside is very bright, so I see why the younger crowd likes to come here and take pictures to post on their social media pages. This cafe wasn't really our cup of tea, but the espresso was good, and so were the views.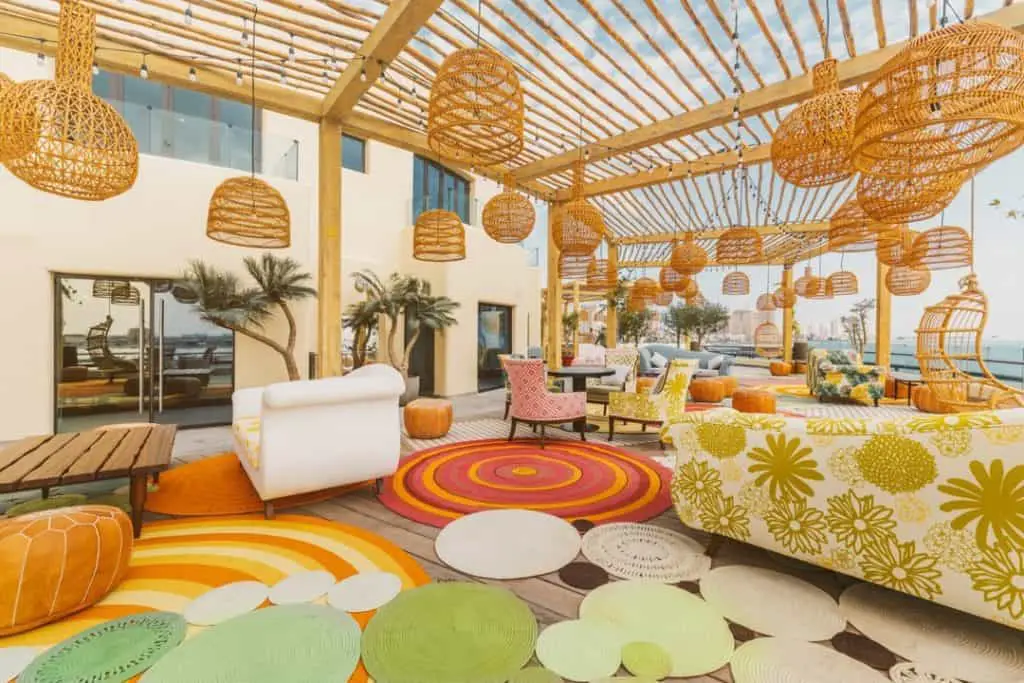 We considered trying the food here, but we had plans already to go to Nusr-Et, so we didn't want to get too full before that. If you're looking for a cool place to hang out and sip some coffee in Doha, BOHO Social might be right up your alley.
Nusr-Et Steakhouse – Dinner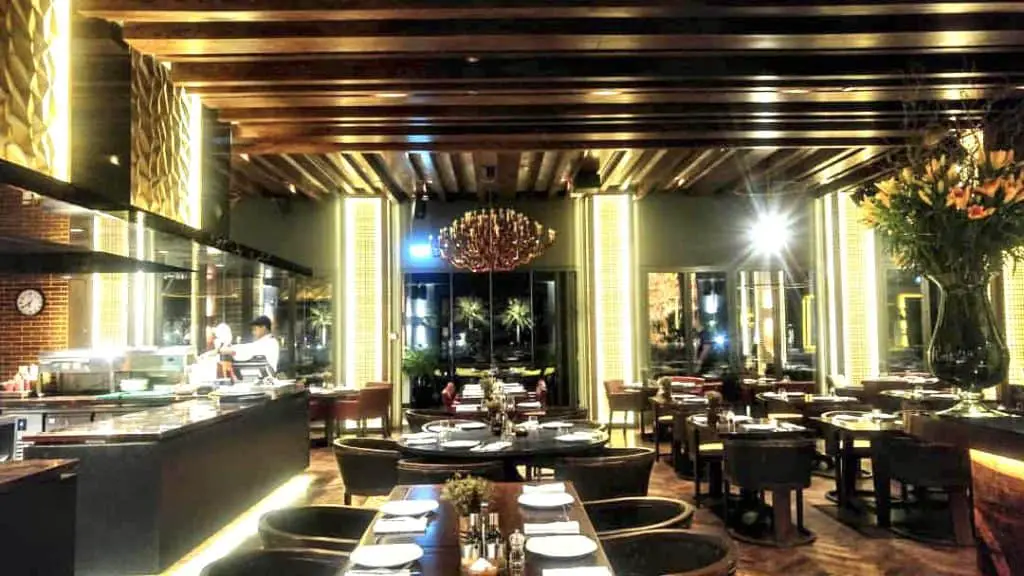 With my husband being such a beef fan we had to try Nusr-Et Steakhouse inside the Sheraton Grand located in West Bay, Doha. The atmosphere was a little raucous, but not enough to complain about. They were crowded, which is always a good sign. The server was nice and quick with getting our drinks and appetizer out.
We started with crispy baby squid which came with a delicious mango tomato chutney sauce. As far as main courses go, they have a wide variety of meats besides just steak. My husband however has a rule which is, whenever you go to a steakhouse with a Tomahawk Ribeye, you get the Tomahawk Ribeye, so that's what we both ended up getting.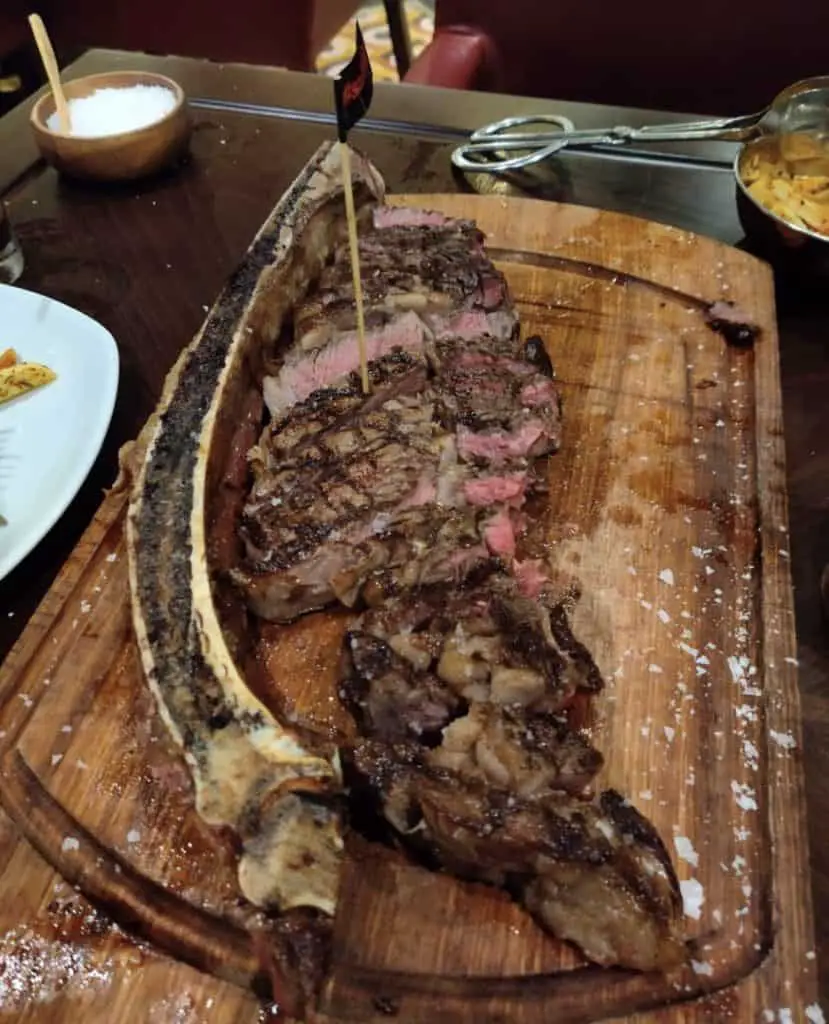 After enjoying our huge steaks we topped it off with some baklava for dessert. Overall, this restaurant was a real winner for us. Even though they were a little overpriced the experience made it worth it.
Aljasra – Lunch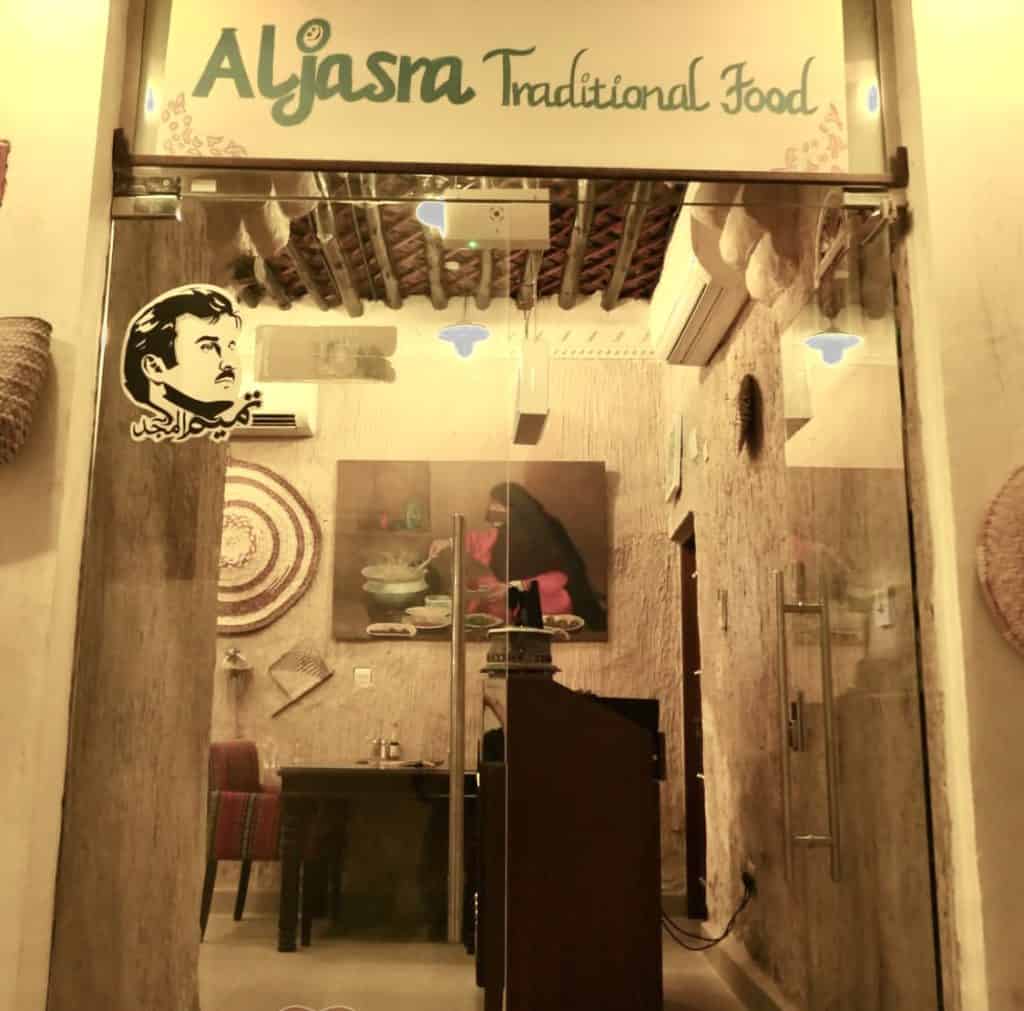 This humble eatery was the one I alluded to in the beginning. It was hidden away deep inside the Souq Waqif, so you have to be looking for it if you want to find it, or be lucky enough to stumble across it like we did. They have the best lentil soup I've ever had in my life! This was also the most authentic Qatari dining experience we found during our whole trip to Doha.
As we walked in we could tell it was going to be good because it was jam-packed with locals. It is a family owned and operated restaurant, which is always the best because they cook to serve and have others enjoy it, rather than just turnover tables and make as much money as possible. Food made from the heart by those that genuinely enjoy it always tastes better, in my opinion.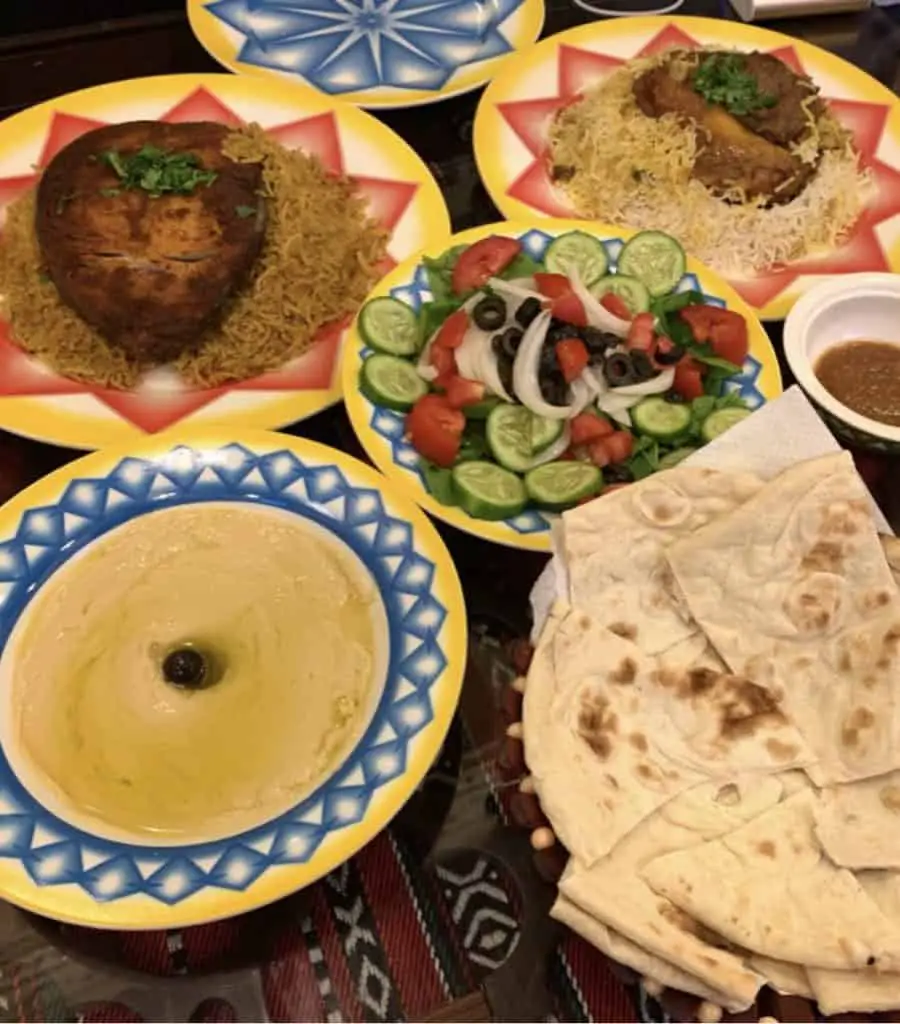 After we were done with our lentil soup (second lentil soup for me), we took advantage of one of their meat stews. It was almost as delectable as the soup. After finishing off with the appetizer and main course we did not have any room for dessert. We headed back out to roam about the Souq a little more. We did end up popping back in a little later for a lentil soup to-go. Yes, it was that good!
If you're planning a trip to Doha (or anywhere in Qatar) and are worried about finding good food to eat, rest assured it's not a worry you have to have. The country offers so many different restaurants, cuisines, and pretty much any type of food you could want – except pork. Pork is very hard to find, and should be avoided anyway, as eating it is frowned upon in this country.
If you're coming from anywhere in North America you're sure to come across some new tastes. If you have a sensitive stomach, like me, you will want to make sure to buy something to help with an upset stomach. You don't want to get caught off guard should heartburn (or worse) come knocking.
I only went through one roll of antacids for the whole week we were there. Doha is really the perfect place to treat your taste buds to a smorgasbord of delights that you may, or may not, be able to find anywhere else in the world.