It's no secret that Qatar is home to one of the best (and most authentic) Middle Eastern markets in the world, the Souq Waqif. This market is located in Doha, Qatar's capital, and is one of the biggest attractions in the area. While there is certainly no shortage of fancy malls to shop at when visiting Doha, the Souq Waqif is definitely a must-do while in town, especially if you're looking for a way to mingle with the locals. For those that have been to the Souq in Doha before 2003, it's important to note that a lot has changed since then.
This market has stood the test of time. The area has always been used as a market and has been around for over 250 years. Although it became a little less popular with the advent of air-conditioning and luxury malls, it has always held a place right in the heart of Doha (and in the hearts of Qataris, expats, and visitors alike) and has been a popular place for the locals to shop and get necessary items at great rates. 
Unfortunately, in 2003 a fire ripped through the market and destroyed a big portion of the market. Since it was such a mainstay of the Qatari culture a lot of time, energy, and money went into rebuilding it. While some of the historical aspects were forever destroyed, they did an awesome job putting it back together and making it as authentic as possible.
The Souq is home to a huge variety of authentic Middle Eastern apparel, gold jewelry, intricate scarves, diamonds, spices, perfume, and there's even a shop that sells Qatar's beloved falcons. The point I'm trying to make here is if you're looking for any type of "Middle Eastern" item, you're likely to find it here.
If you're from the US I want you to picture the biggest flea market you have ever been to….and then multiply that by 10. This place is huge and they have so many ramshackle stalls that there is no possible way that you could see every store/stall/item in one trip. Besides all the unique objects you will come across there are also lots of different eateries to try the local cuisine.
As far as the food you will find at the Souq they come in all flavors. They have the authentic Qatari cuisine, Mediterranean dishes, Yemini, Indian, Syrian, Iraqi, and so on. Pretty much any Middle Eastern dish you could possibly want can be found at this market. Perhaps you read my post about the little restaurant at the Souq where I found the best lentil soup I had ever had? That was many years ago and I still haven't found any better.
One important thing to remember, when wandering around and shopping at the Souq, is that you should never pay the first price offered. It's almost expected that you haggle with the vendors. Also, bring cash (and lots of it – well not lots and lots, but at least 800 QAR, which is about $200). You're bound to find stuff you like, but if you're going to haggle don't whip out a credit card that is going to charge the vendor extra fees. You ought to pay in the local currency, and if you work the vendor down good, you can always throw in a couple extra riyals for the fun of it.
If you're in the market for some fine jewelry you can also venture over to the Gold Souq. They have all sorts of jewelry, but specialize in 22 and 18 carat gold. Make sure also that you know the amount of gold (and the value) that you're allowed to leave the country with. That's important because anything you buy in Qatar will be subject to search and there are very strict rules to abide by when entering and leaving this country.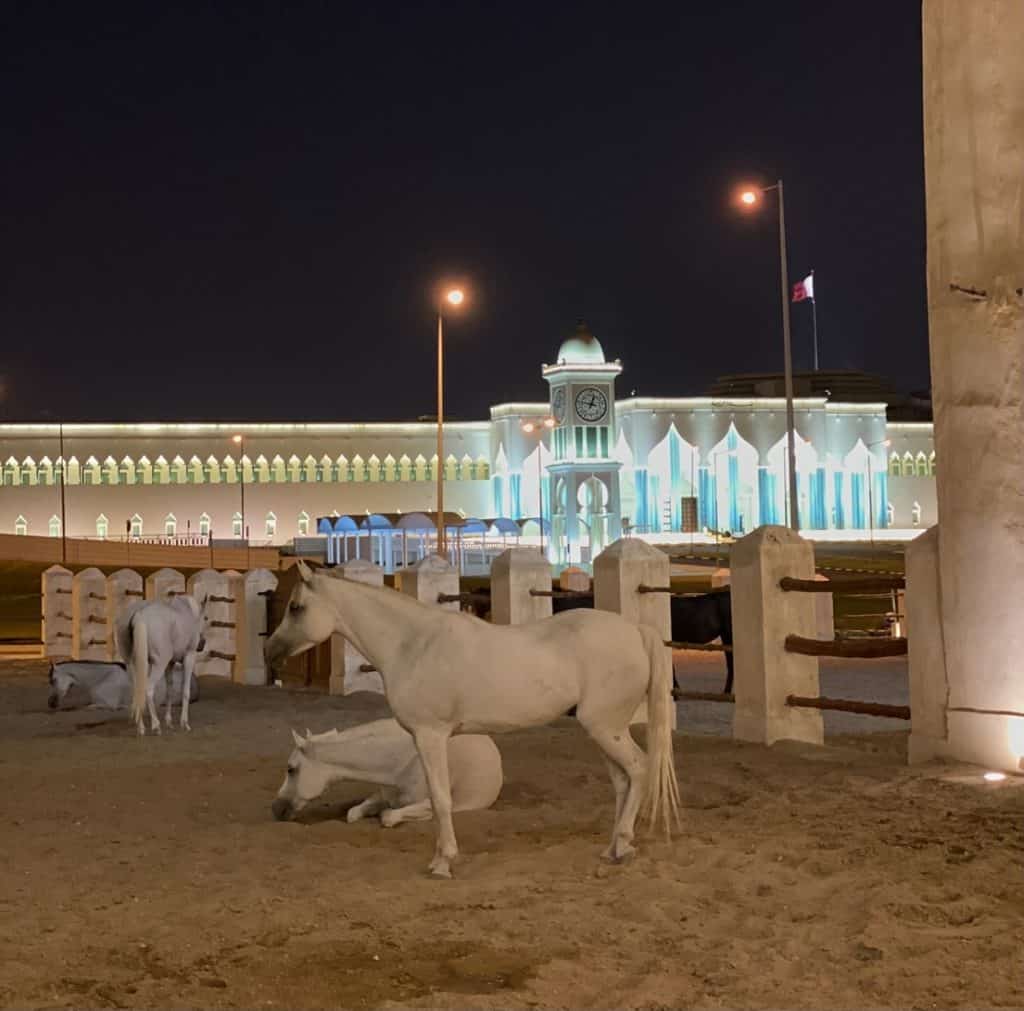 For animal lovers you will definitely want to set an hour or so to check out the Falconry Souq and the horse stable. Qataris treat these animals with the utmost respect and it's no wonder – I mean just look how majestic (and cute) they are! At the falconry, if you ask nicely, you may even be able to score a photo with the falcon standing on your arm.
If you get tired of buying more and more items you can take a break from shopping and find a cool art gallery or "mini-museum" as I like to call it. They are free to wander through and, who knows, maybe you will stumble across the perfect art piece to bring home and hang on your wall.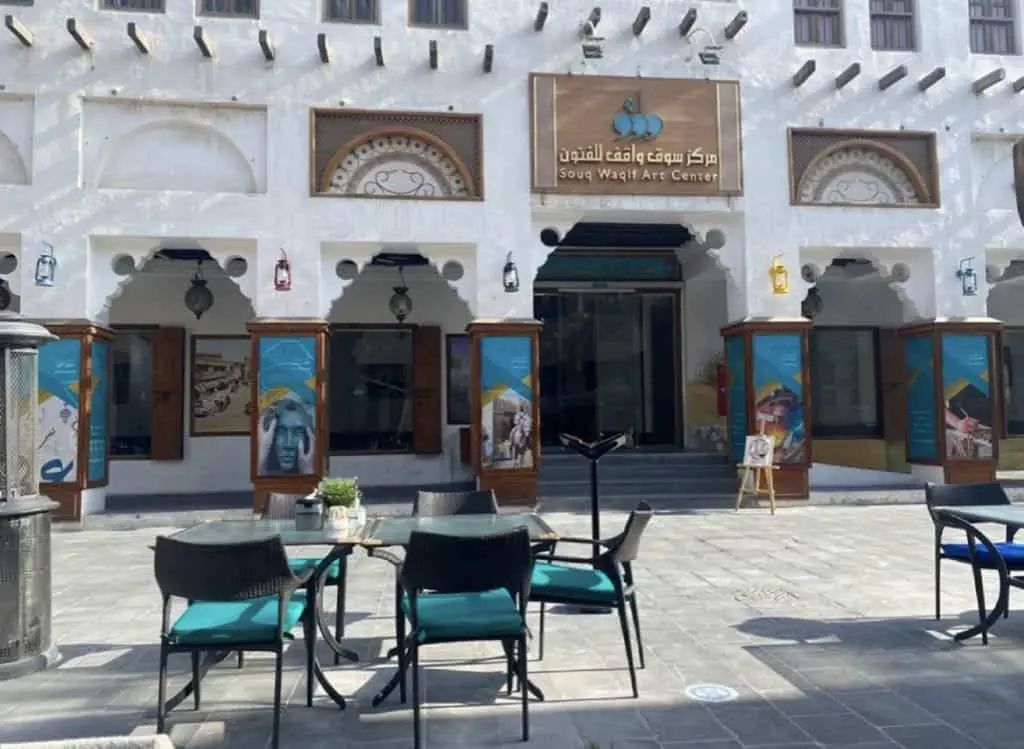 There's no doubt that if you are looking for the perfect souvenir to bring home, either for yourself, a friend, or family member, you can find it at the Souq Waqif. Depending on the type of outing you're looking for, the market tends to be a little less crowded in the afternoon. During the nighttime, once the sun goes down, it fills up since the locals come out to do their shopping and hang out.
As far as the operating times of the Souq they vary. A lot of the shops and stalls will close down during the hottest hours of the day (12PM to 4PM). If you decide to go there around that time of day it's best to find a good cafe or restaurant to enjoy for a few hours. You will slowly start to see the market open back up by about 4:30PM and it will be bustling with lots of people by 6 or 7 PM. 
The Souq Waqif offers a wide variety of things to do, items to buy, and food to eat that there's no way that you can go here and not have a great time. It's one of the most unique and authentic things you can do while visiting Doha. If you have been there before and love the experience there are even luxury hotels right at the Souq that you can stay at. They're not cheap, but in Doha you get what you pay for.