Upon researching Doha and things to do there for a trip I had coming up I kept running into the Souq Waqif. It has a reputation of being one of the best places to shop in Doha. It's like an upper-class flea market where you can find amazing authentic Qatari items and, above all, it appears as if it is home to some of the best restaurants in Doha.
I decided to dedicate an entire day to checking this place out and trying a few of the restaurants there. I literally made it an all-day event. I found some great souvenirs to take home, and I'm sure I took home a few extra pounds from there, too! Below are some of the tried and truly best places to eat at in Souq Waqif for every meal of the day.
Breakfast – Cafe Tasse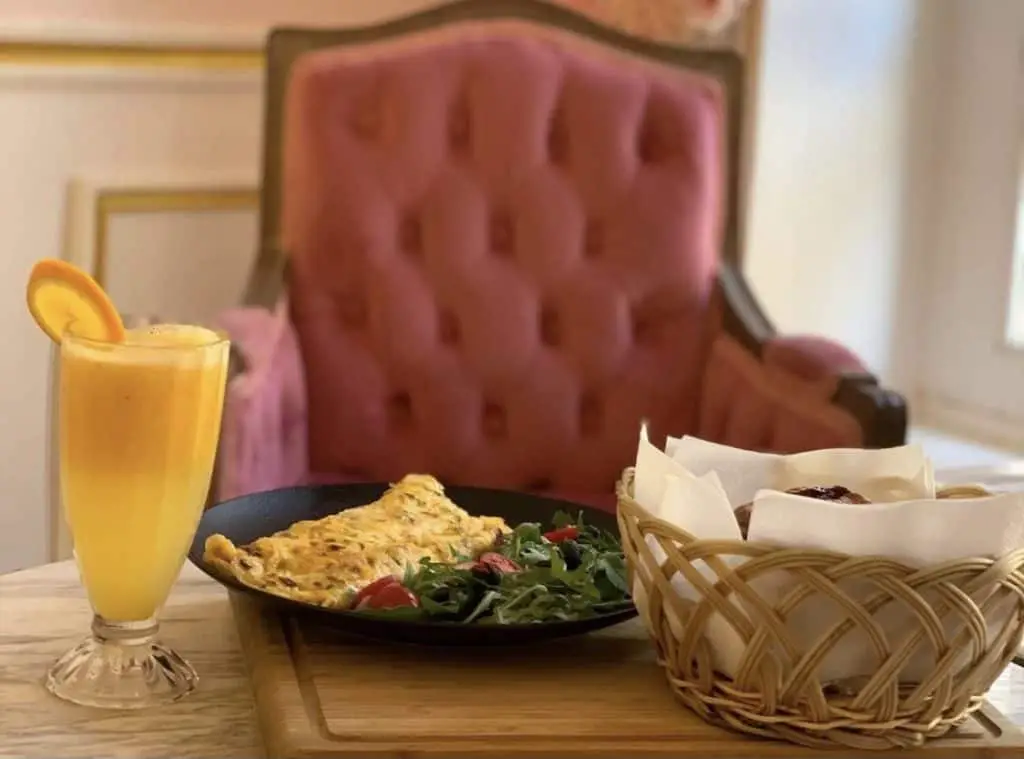 I started my day at the Souq early. This place is very large and I wanted to make sure I had time to see it all. I decided to find a spot to eat breakfast here instead of at my hotel and I am so happy I did. I happened to stumble upon one of the best breakfasts I have ever had at Cafe Tasse. I had the omelette stuffed with veggies and mushrooms and served with crispy toast.
Honestly I think this was the best way to start my day. I loved the European style rooms, the decor, and the layout of the restaurant. I could have stayed and lounged in this cute cafe for a bit longer, but I knew I had my work cut out for me to get all of the Souq Waqif properly seen.
After I finished my breakfast I went to seek out a cup of coffee to wash it all down with. That's not to say I couldn't have gotten coffee here, I just wanted to try as many eateries as possible. I saw a couple people order coffee in Cafe Tasse and it smelled like they used fresh coffee grounds there.
Cafe & Pastry – Second Cup
While I initially just wanted a cup of java after breakfast I found myself in Second Cup and couldn't help but to get something a little more extravagant. As soon as I entered this eatery I had a sudden sweet tooth attack.
They had a long list of items to choose from on the menu, but I eventually settled on a medium Ice Butter Pecan Latte and a sweet croissant-like pastry. It was just what I was looking for and helped to fend off my sweet tooth. I took it to-go so I would be able to wander about a bit more and see some more of the Souq Waqif's shops and restaurants…and also to help me resist ordering more carbohydrate-filled treats!
After looking at a few of the different shops, and making a stop inside the falcon souq, I decided to start searching for a good lunch spot. Walking around among a bunch of locals got me in the mood for some traditional Qatari cuisine. I had already been in Qatar for a couple of days and I was really growing fond of the authentic Qatari dishes. I really can't find anything like it at home in the United States.
Lunch – Al Shurfa Arabic Restaurant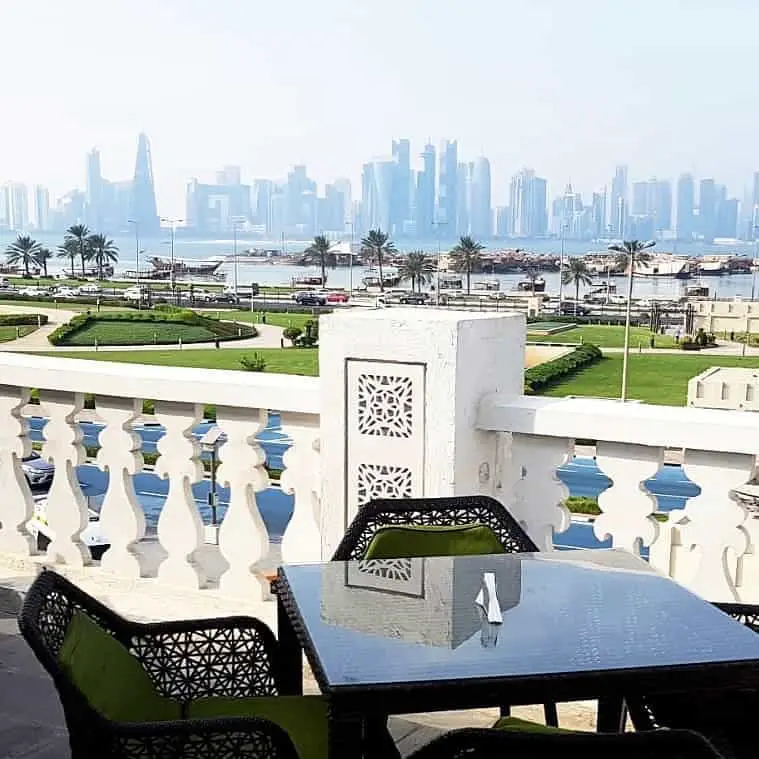 I decided to make a pit stop for lunch at Al Shurfa Arabic Restaurant. It had a very inviting sitting area and as I was passing by I could smell the delicious food and spices. It literally had my mouth watering. I had the Lamb Kofta with some fresh grilled vegetables, which was very reasonably priced considering the portion. The meat literally melted in my mouth.
This was a great way to rest up, too. My feet were already aching from all the walking I had done and I was really enjoying my time in the air conditioning. The server there was very kind and really helped to pick out a delicious meal. I would definitely come back here and recommend it to my friends.
After lunch I headed back out into the Souq to do a little more shopping. I still had a few people left on my list to get souvenirs for. After everything I had eaten so far I needed to do as much walking as possible. I was so looking forward to finding my spot for dinner and dessert. Looking around the Souq allowed me to really see a lot that they had to offer. Now I realize why it popped up on literally every site I visited while doing research on Doha.
Dinner – Bandar Aden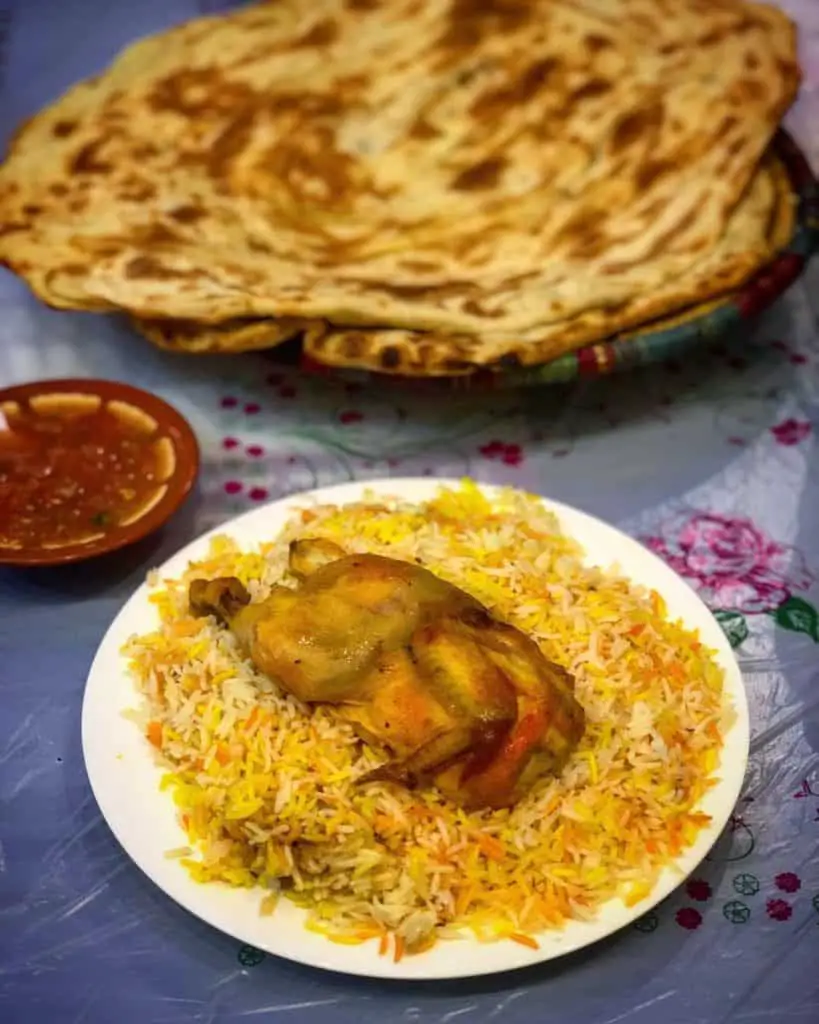 I knew, after the extraordinary dishes I had already had throughout the day, that dinner had to blow them out of the water. Another thing that this trip to Doha taught me about myself is that I am not much of a risk taker. I like to stay in my comfort zone. With that being said I decided to step very far out of my comfort zone for this meal. 
Bandar Aden came highly recommended from a couple of locals that I met while eating at Al Shurfa. I hadn't decided on the place right away as I was a little turned off when the couple suggested I eat on the floor, but upon arriving at the restaurant I understood what they meant. I'm so glad to have made this place my last meal at the Souq.
I had the Chicken Mandy, which seemed to be a very popular dish. It really was delicious. The portions here are huge, so if you are coming solo like me be prepared to take some back home for later. I was going to find a different place to have dessert, but I really didn't have any room left after leaving here.
Overall I would have to say that if you're looking for some reasonably priced restaurants with delicious food and huge portions, you should head on over to the Souq Waqif. Not only is this place home to great restaurants, but there are also lots of shops and entertaining things to see all around.