While visiting Doha, I decided to meet up for dinner at a friend's house. I met her on one of my previous trips to Doha and we had really hit it off right away. She lived in an area called Al Sadd, which is basically just on the outskirts of Doha.
The taxi ride there from my hotel on the Corniche took a little over 20 minutes. Along the way we passed many different restaurants and shops and I'd decided during that ride to spend the next couple of days really exploring the area.
Al Sadd is only about 1.5 square miles in size, so it's not huge, but it has plenty to do in and around the area. It's most popularly known for its football team and their sports complex, the Al Sadd SC.
The name of this area came from a popular plant, sadd, that grows along the coastline. I found a couple of great places to eat and a wonderful mall full of luxury brands and more. I also spent a couple of nights at one of the great hotels in the area.
The best hotel I found around here was the Doubletree By Hilton Doha – Al Sadd. It had 24-hour room service, a well-equipped gym, a pool, and an onsite restaurant. The room was very spacious and bright. I chose this one because I was only staying for one night, so I didn't need too much.
If you just need a comfortable spot to lay your head down and provide basic, yet luxurious amenities, this is a good place for that. Not to mention that their prices were very reasonable.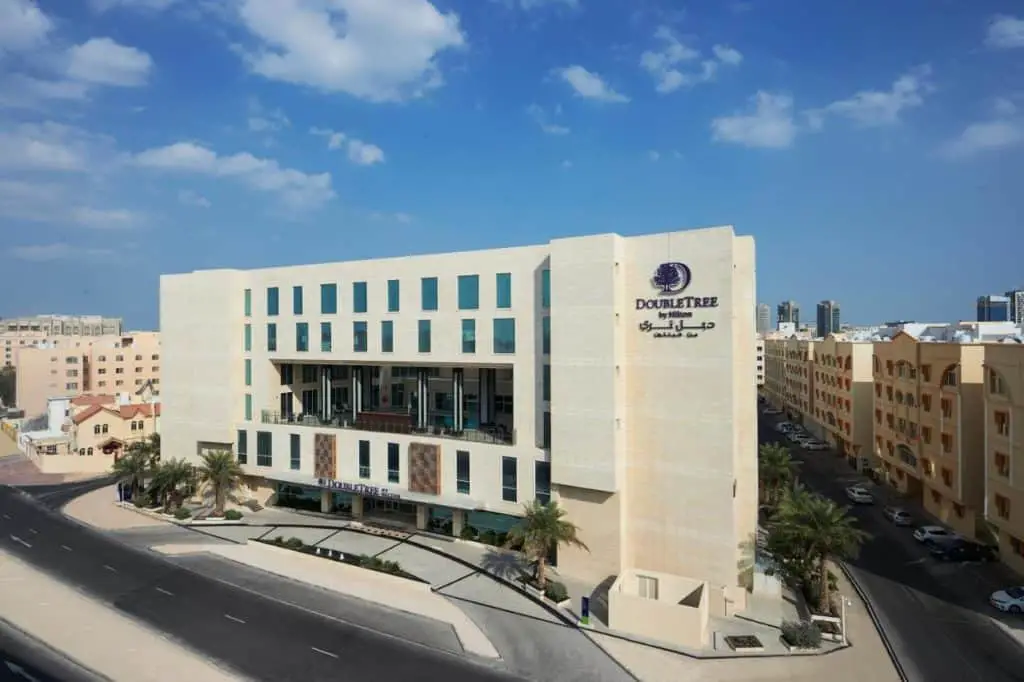 Even though I only spent a couple of days here I still made sure to explore the hotel. My favorite spot was the Blu Terrace Pool Bar. It's on one of the upper levels of the hotel and the view of the city was amazing. The drinks were just as refreshing as the pool water.
It was a great area to kick back and relax for a couple of hours. I even invited my friend to come and visit so she could enjoy a little relaxation, too. We also grabbed a coffee and tasty treat from EspressoLab Cafe. Which really topped off the day in a great way!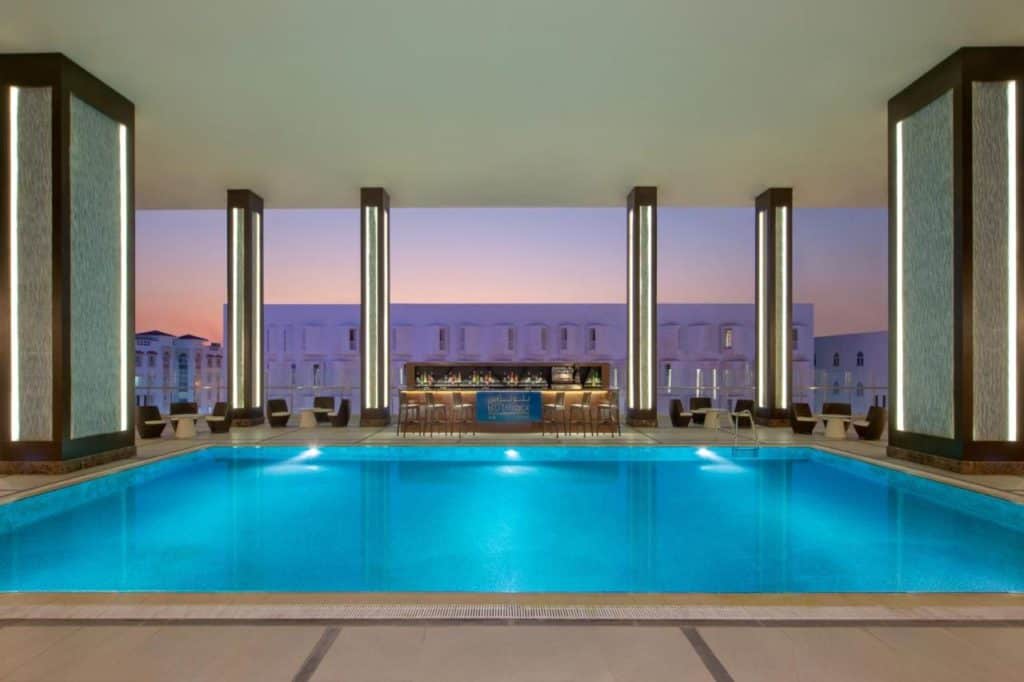 I asked her to stick around and show me this neighborhood and offered to pay for her meals. Not having anything else on her schedule she happily agreed. We decided to go grab lunch and apparently, she knew the perfect place to go. Luckily, she has her own car, so I let her take the wheel and drive us wherever she wanted to go. It was like a free tour! She was pointing out a bunch of places as we drove by them.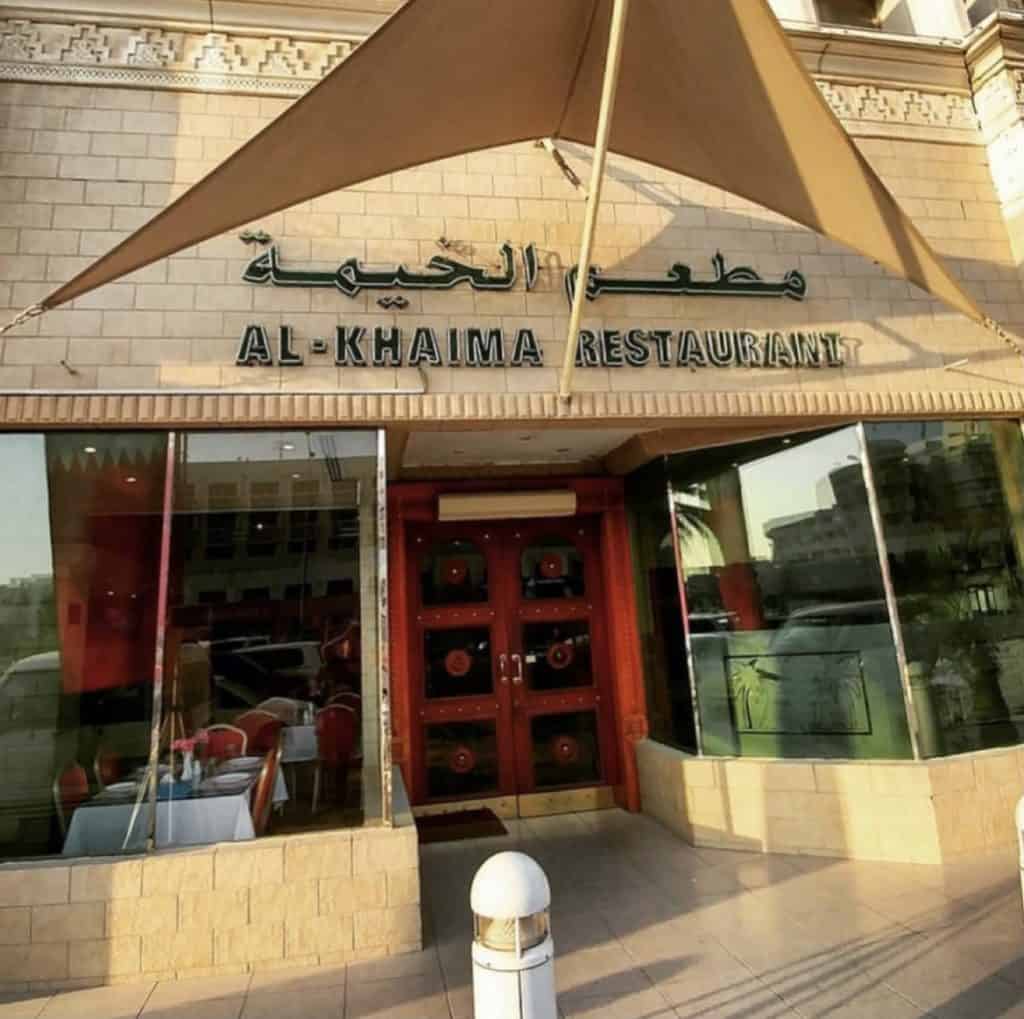 She took me to this amazing place called Al Khaima Restaurant. Honestly it didn't really stand out, so it's one of those places that just kind of blends into the background unless you're specifically looking for it.
It's located on Al Sadd Street and is open 24-hours a day. This, my friend told me, is where the locals go. It's cheap and the food is amazing. I didn't just have to take her word for it since we were seated right away and had out appetizers in less than 10 minutes. Talk about service!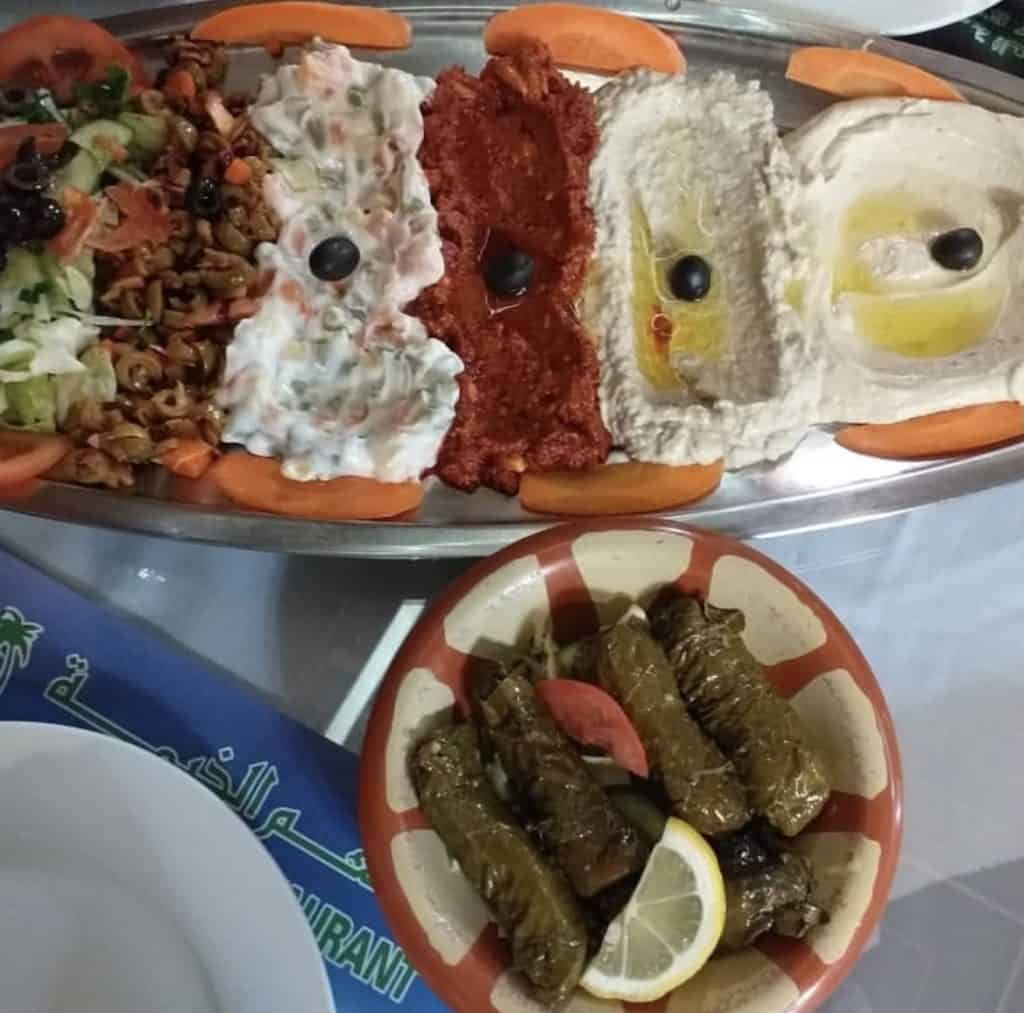 My friend was welcomed by name when we walked in. Apparently, she goes here at least once a week, if not more. It was bright inside and smelled delicious. For our appetizers I got the cold vine leaves and my friend got the baba ghanouj. Both were exquisite. I asked her what she recommended since she comes all the time and she asked what I was in the mood for.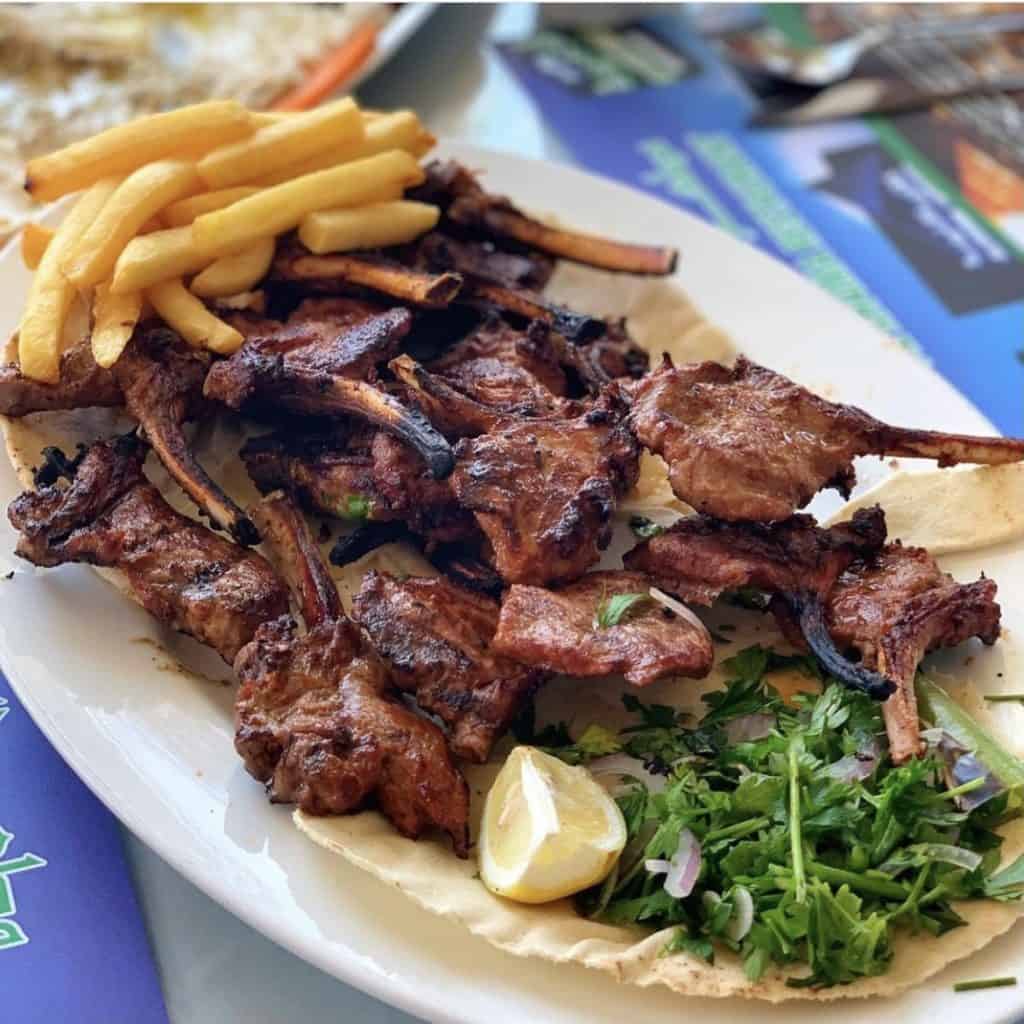 I perused the various headings of the menu which included BBQ, seafood, western dishes, and a special section. I told her BBQ sounded good, so she recommended I get the mixed grill. It was 125 QAR (about $35) and I would have to say it was worth every penny.
The meat was all juicy and tender. My friend ended up getting the lamb chops (she said that is her favorite) and she let me try it, too. Usually I don't like lamb, but the way they cooked it here had me reconsidering. It was seasoned and cooked perfectly.
After we'd finished filling our bellies, we left content and happy. I was in the mood to do some shopping and see one of the malls of Al Sadd. She took us to the Royal Plaza Mall which was literally up the road.
It's also located on Al Sadd Street and my friend informed me that we could have walked there in less than ten minutes, however after eating all the we did, that didn't seem like a remote possibility in the heat. The underground parking garage provided us some protection from the sun, too.
The Royal Plaza Mall was big and featured intricate designs and luxurious flooring (possibly marble, but I'm no expert). There were three floors of stores, so obviously we didn't see everything.
Perhaps my favorite store that we spent about an hour looking around in was Heya. They had some great unique clothing and shoes. We tried on a few things and I even bought a cute dress. Sizy was another one that stood out, but there are over a hundred stores at this mall, so you're sure to find whatever you come looking for.
After we'd spent a few hours looking around the mall, and grabbing a pizza at Yellow Cab Pizza Co., we headed back to the hotel. It was a pleasant afternoon. I would say that Al Sadd is definitely worth a good look around.
If you have any friends that live in the area you can do what I did and ask them to show you around. I got extremely lucky that my friend was free to spend the day out with me, otherwise I would not have had as good of a time as I did.
Wanna know more about Doha's neighbourhoods? Check out my Fereej Bin Mahmoud, Doha West Bay, Msheireb Downtown Doha and the Pearl Qatar.