I always get really excited when I'm planning a trip to Qatar. It's turned into one of my favorite travel destinations (in case you can't tell). Besides the luxurious flight I always look forward to on Qatar Airways, I know that Doha offers everything that I look for in a vacation. Beautiful beaches, hot climate, amazing hotels, and adventurous excursions and tours, what's not to love!?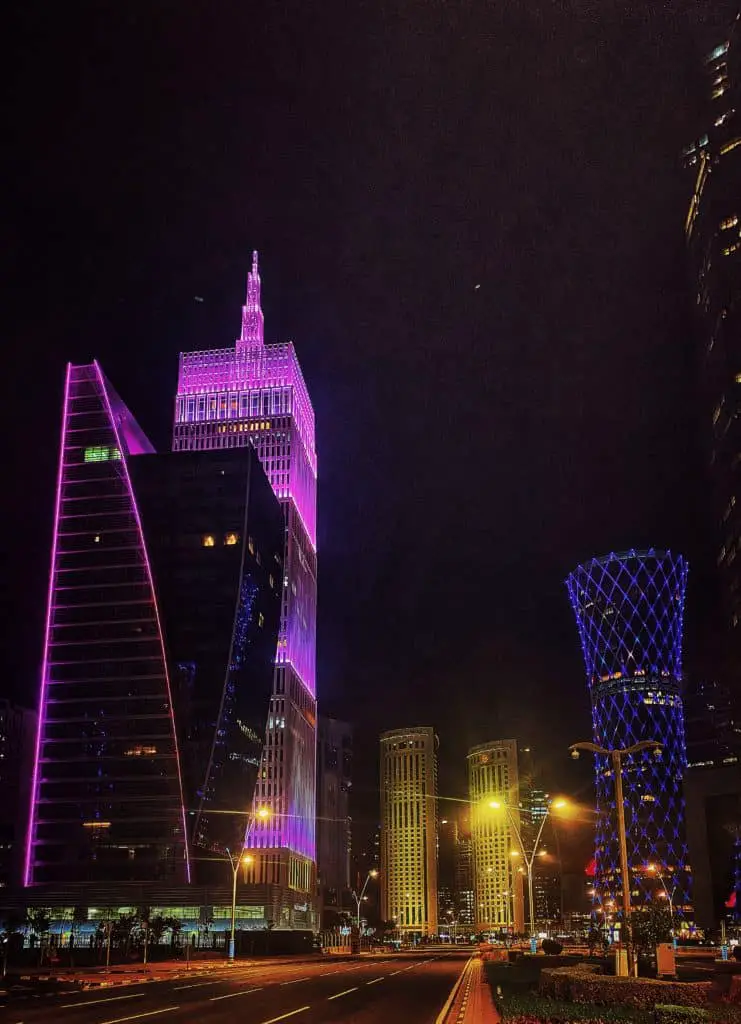 If you've ever had the pleasure of seeing the skyline of Doha, Qatar you have seen West Bay. West Bay in Doha spans a large distance along the east coast. If includes a few different districts like Al Dafna, West Bay Lagoon, Onaiza, and Al Qassar. This area is where most of the tall skyscrapers are located, as well as some of the best Doha attractions. It's nearly impossible to visit Qatar and not take a little time to explore Doha's West Bay!
Top Attractions In West Bay, Doha, Qatar
The Doha Corniche
While West Bay is in the "business district" of Doha doesn't mean that it's all business. Perhaps one of the biggest draws of West Bay is the Doha Corniche. This is an area that provides a nice leisurely stroll along the coast. You will be able to peer out at the Arabian Gulf on one side and see beautiful buildings on the other. Along the walkway of the Corniche, you will also likely encounter dhow boat operators willing to take you on a boat ride around the harbor for a nominal fee. The experience is definitely worth the price, but feel free to haggle on the price if you're so inclined, especially if it's not too busy.
Katara Cultural Village
The Katara Cultural Village is home to lots of interesting venues including an opera house, amphitheater, a beach, and even a souq. This spot offers a little bit of everything all in one area. They also host plenty of annual events throughout the year. If you're visiting Doha with limited time you will want to make sure to schedule at least a couple of hours here.
Dafna Park
If you want to bring home some amazing photos of your trip to Qatar you have to visit Dafna Park. This location offers some of the best photo opportunities of the iconic Doha Skyline and other views. They have lights throughout the park, but it's best to go during the daytime if you want to get some truly unique and special pictures.
Top Dining In West Bay, Doha, Qatar
Al Sayyad
There are also lots of hotels and resorts in this area which mean a few unique bars and plenty of restaurants to help keep your belly full. If you're in the mood for seafood you have to check out Al Sayyad in the West Bay Lagoon area on Al Istiqlal Street. It offers amazing seaside dining during the day and even in the night.
Angelina Paris
If you awaken with a sweet tooth you will want to head to Angelina Paris. They quite possibly have the best hot chocolate in Doha and offer lots of fresh French treats. While it's not cheap, it's definitely worth the price for the quality and freshness. Get your camera ready, too, because the food comes out ready with Instagram-worthy designs. The decor inside the cafe will have you feeling like you were transported to Paris.
Bab Al Baher
For a truly unique experience, and something light and quick to eat, head over to Bab Al Baher. This is a poolside AND seaside venue located at the Doha Hilton. You'd think as a poolside bar you would be stuck with mundane and tasteless fried foods that do little to appease your appetite, but here you will experience something different. Choose from delicious dishes like fresh green salad, hummus, beetroot spread and bread, grilled eggplant, fresh fish, calamari, chili rellenos, and more. They even have sweet dessert dishes! This place is definitely something to write home about!
Top Bars In West Bay, Doha, Qatar
Champions Sports Bar
Sports fans unite! Champions Sports Bar, located in the West Bay City Center at the Marriott Marquis City Center Hotel, is the perfect place to catch up on your favorite sporting events while enjoying some fresh and hot chicken wings and a popular hoppy alcoholic beverage. You can enjoy a game a foosball or pool while you're waiting for your food. It's exactly what you picture when you hear the term "sports bar". It's loud, fun, and offers great food. It's also a popular hangout spot for the locals, so you know it has to be good!
Glo Cocktail Bar
Speaking of the Marriott Marquis, if you're in the mood for something a little more upscale, head to Glo Cocktail Bar. This bar is open from 5PM to 2AM every day except Saturday. It's a great venue offering appetizers like tuna and steak tacos, calamari, and even churros. The live music and overall ambiance are what really brings people here. Ladies night here is also a really good deal.
La Vista 55
If you are from the United States chances are you've never been to Cuba. Well, if you're visiting Doha you are in luck because they have an amazing Cuban restaurant that will likely be the next best thing for you. It's located inside the InterContinental Hotel on the 55th floor. The views you will see from the windows will not be the only thing that takes your breath away here.
Here you will want to make sure that you get a picture to put on your Facebook or Instagram with the colorful wings at the entrance and any of the other decorations around the venue. There's a live band (or DJ) here every night of the week. The unique drinks, which oftentimes include unexpected elements like smoke, are also a cool aspect to enjoy. This place is pricey, but it's sure to provide you with amazing memories to take back home.
As you can see there are plenty of activities and points of interest to keep you busy in West Bay, Doha. It's important that if you're planning a trip here that you take a little time to really explore the area online, prior to arriving, and have a plan of action once you get there. A couple other interesting places to check out in the Doha area would be the Museum of Illusions at the Gate Mall, the Souq Waqif, and the Villaggio Mall.