Smokers that are traveling abroad are constantly having to adjust when it comes to smoking. Whether it's finding a new brand, abiding by new and unfamiliar rules and regulations, or just figuring out where to buy a pack of smokes, it can be a tough situation. If you are heading to Doha you may be wondering if you're able to buy cigarettes at the airport. It's a reasonable question, especially for those that can't kick the habit.
So, can you buy cigarettes at the Doha airport? Yes, you can buy cartons of cigarettes, as well as cigars and tobacco, at the Doha airport. There is a limit to the total number of cigarettes you can purchase (depending on where you're flying to – for USA residents the limit is 1,000 cigarettes). You can also purchase up to 400 on the way into Doha.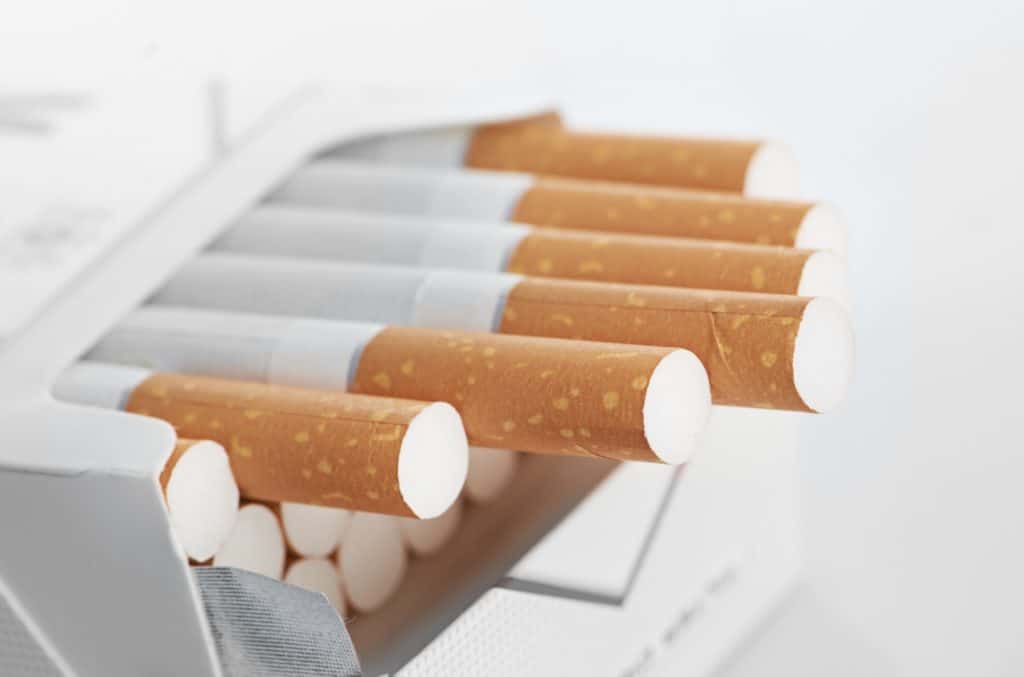 A double carton (20 packs) of popular cigarette brands, like Marlboro, can cost as much as 200 QAR (about $50 USD). This price, compared to $6-8 per pack, is a real bargain. You can find many other brands (they have a wide selection) for much cheaper, which is good news to the non-picky smokers out there. Not to mention that it's duty-free!
Where and when can I buy cigarettes at the Doha airport?
There are two main stores inside the Doha airport (Hamad International Airport) where you can buy cigarettes and those are the 24 seven and QDF Express. They only sell in cartons and not loose packs, but for many smokers that won't pose too big of a problem. Both stores are open 24/7, so whenever you are arriving or departing you will be able to score some great deals on your cartons of cigarettes. Not only are they always open, but there are multiple QDF Express stores all around the airport, so it's not only cheap, but convenient, too.
Also, it's important to note that the airport itself is a smoke-free facility. With that being said, they do have a few designated smoking areas. There are signs around the airport as to where you can find these rooms, but if you have trouble locating them, you can ask someone at one of the information desks to kindly point you in the right direction.
How much are cigarettes in Doha, outside the airport?
If you miss your chance to purchase a carton at the Doha airport, or prefer to buy cigarettes pack-by-pack rather than in bulk, the prices are still a little cheaper than in the US. Using Marlboro as an example again, you can expect to pay around 15 QAR (about $4.50) per pack.
Do keep in mind that there will also be a small tax on that, unlike what you would encounter with duty-free shopping at the airport. Even if you're trying to cut back on smoking, your best bet would still be to buy in bulk at a lower rate. Worst case scenario your packs will last you longer, in the long run it's more cost effective.
Any other tips about shopping at the Doha airport?
Yes! If you find yourself with extra QAR on your way back home, don't head straight to the counter to exchange it back into your home currency. There is a fee associated with any exchange you make, which inevitably causes a small loss to the amount you receive back. Instead, if you have a little time to spare, head to the shops and do a little last minute souvenir shopping. Whether it's cigarettes, alcohol, or fine jewelry, whatever you end up buying will not only likely be cheaper than what you'd find at home, but it's also tax-free, which only adds to the significant savings.
This airport boasts a huge array of duty-free stores. Don't make the mistake of just getting your smokes and leaving right away. Yes, you can score huge savings on your favorite cigarette brands at the Doha airport, but with over 80 duty-free shops (most of which are luxury brands and other brands that you can't find anywhere else), I would have to say that it's worth it to take a good look around. The Doha airport is like a shopper's paradise, so get your smokes and whatever else suits your fancy.
Also, keep in mind that they have a wide variety of cigars at this airport. If you have ever wanted to sit and savor a real Cuban cigar, now's your chance. We don't get a chance to enjoy real authentic Cuban cigars in the U.S., so make sure that you hunt one down here (shouldn't be too difficult) and head to the nearest designated smoking area.
Some smokers say that a real Cuban cigar can be life-changing. It's definitely something any smoking American should take the opportunity to enjoy while vacationing in Doha. Who knows when you'll get another chance?