One of my favorite parts about booking a vacation is getting to look through different hotels and resorts and ultimately pick my favorite. I have been to Doha a number of times and back in 2017 I stayed at the Shangri La Hotel in Doha.
It was an amazing property and had all the comforts that it promised (and then some). It has since been rebranded as the JW Marriott Marquis City Center Doha, although it's still commonly referred to as Shangri La Doha.
I decided to stay here again for a trip I took in 2020. This 5-star resort was still just as beautiful as I remembered, although I could tell that they had done some major upgrades to the interior. The rooms had been spruced up a bit, too. The huge floor to ceiling windows provide amazing views of either the city or the gorgeous Arabian Gulf (Pro Tip: Always go for the water view if you can afford it). Either room you choose will provide an abundance of natural light. The work desk allowed me to get a little work done while I was visiting. I had to send a few emails, and the fast (and free) wi-fi was definitely a bonus.
I spent a total of 5 days here and the huge bathroom, along with the (extremely comfy) robe and slippers that were provided, made it feel like every day was a spa day. The cherry on top for me were the free toiletries. The lotion, shampoo, and conditioner all smelled great. The room also comes with a mini-bar, minifridge, and free bottled water. I had the opportunity to enjoy a few cups of tea in my room, too.
The 24-hour room service came in handy a couple of times during my visit. The food was always delivered hot and fresh. It was also delicious, so shout out to those chefs working the kitchen at all hours of the night! For those that prefer to eat out (and avoid having to do any cleaning while on vacation) you will be happy to know that there are 7 different eateries to choose from. You will have a wide variety of cuisines to enjoy, ranging from Spanish/Latin to European to Asian (and more), you're sure to find something here to make your tastebuds happy.
Check The Latest Prices on Booking.com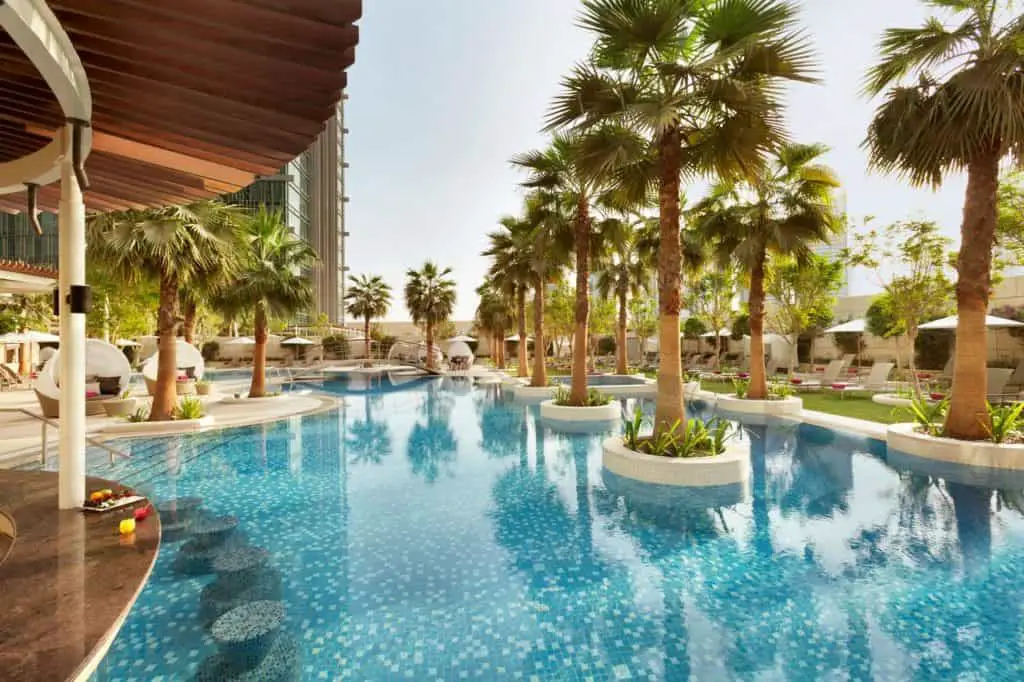 I also have to make mention of the awesome pool located at this hotel. It's up on the seventh floor, along with a gorgeous garden, and provided an amazing midday activity. For those that can't forego a workout even when on vacation you will be thrilled to know that they have a full gym onsite that is open 24/7. I personally believe that it's necessary to bring back a couple pounds whenever I go on vacation (as a souvenir of a great trip), so I am firmly against stepping one foot inside any building with a treadmill, but to each their own.
There is also a spa onsite, which apparently gets filled up quickly. They had exactly 0 available slots for me during my stay. I guess I should have booked an appointment at the same time that I booked my stay. They offer a wide array of services including massages, body scrubs, facials and more. I wish I could elaborate on how great all this was, I just didn't get the privilege of experiencing it firsthand.
Check The Latest Prices on Booking.com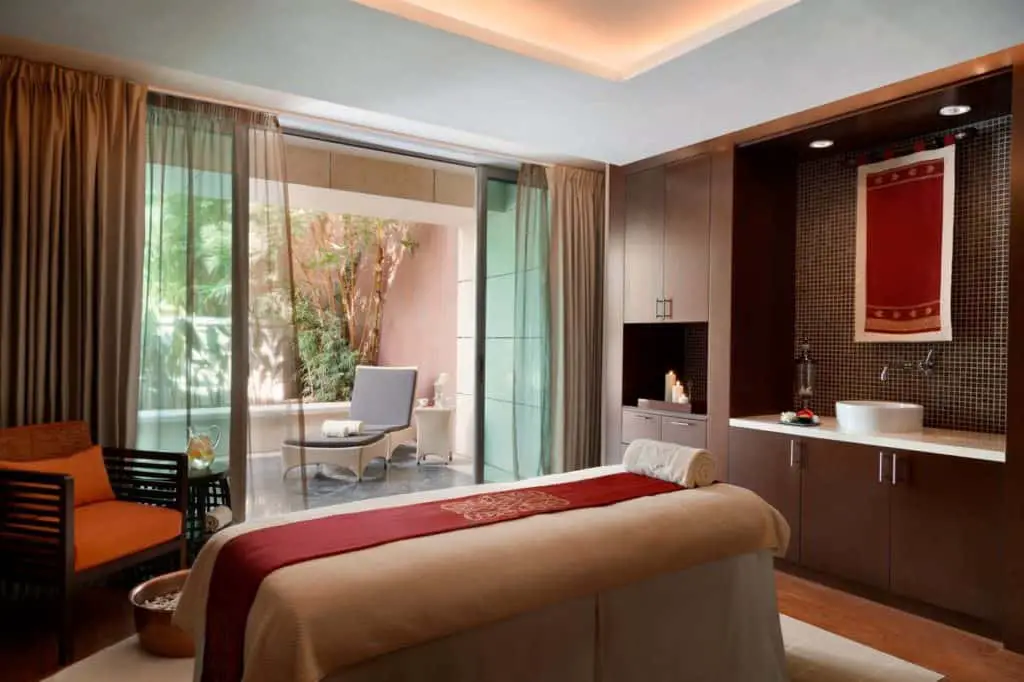 Maybe you can learn from my mistake and book a massage right after your room is confirmed. The prices seemed very reasonable for what they were offering. I do also want to point out that they even offer a Mother-To-Be Massage, which sounds like an amazing experience, great for a pregnant woman, and is not something that you see everywhere.
My favorite part about staying at the JW Marriott Marquis City Center would have to be how close I was to all the major attractions in Doha. I spent an entire day at the City Centre Mall (which is connected to the hotel). The popular market, the Souq Waqif, is about 3-3.5 miles away and it's also just a quick drive (or taxi cab ride) from popular museums, like the Museum of Islamic Art, the Qatar National Library, and the National Museum of Qatar. The Pearl is less than 6 miles away, too. If you want to visit Katara Beach it's only about 2.5 miles away.
Overall, I would have to say that the Shangri-La Doha, or the JW Marriott City Center Doha, is a great option for those that want to be in the middle of it all and still have a 5-star quality stay with some of the most luxurious amenities in Doha.