If you're visiting Qatar or Doha for the first time, then you can't leave without checking out the famous Festival City Mall. It's one of the largest malls in the entire world and boasts over 400 brands. It also has a huge food court and dining area. So, that being said, what's the best restaurant in Doha's Festival City?
Asha's is easily the best (and highest-rated) restaurant in Festival City. They're an internationally recognized brand and have locations in 19 countries worldwide. They serve amazing Indian dishes, craft cocktails, and provide unparalleled service!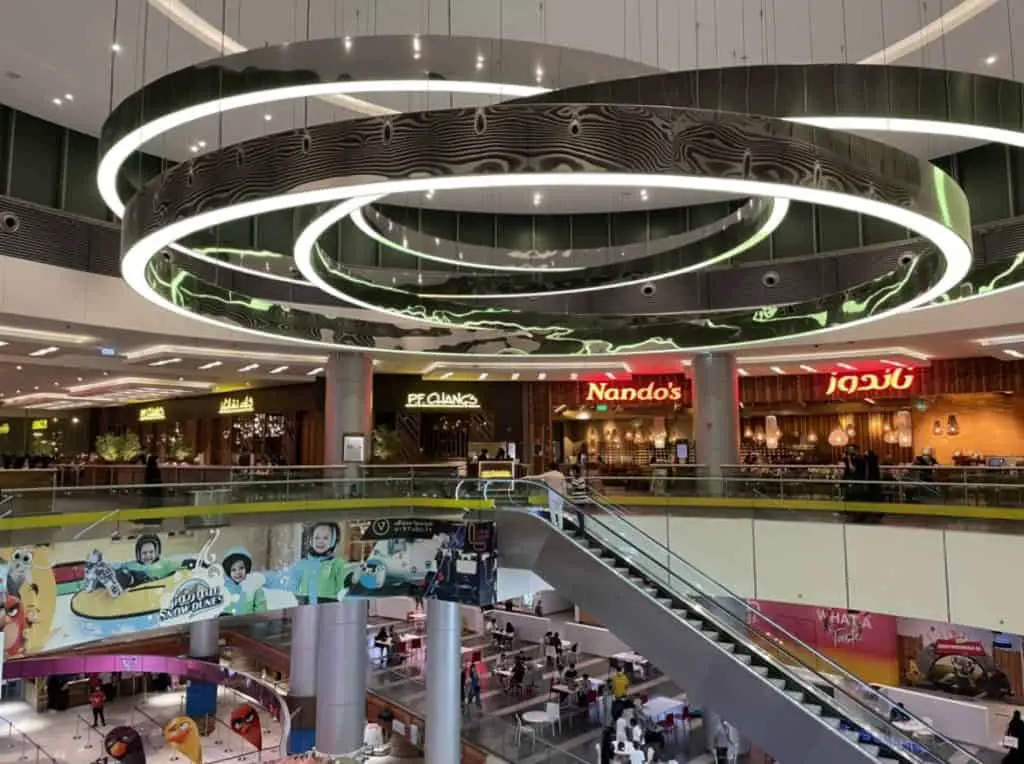 Festival City has a number of different restaurants that range from fast food to fine dining. In today's article, though, I'm going to go over the best restaurants in Festival City. You know, the spots that will provide you with a unique experience and some truly delicious food. I'll also answer a couple of the most commonly asked questions about dining in Festival City. 
Doha Festival City Restaurants
Festival City is probably one of the most widely recognized landmarks in Qatar. The country is famous for its high-end shopping and culinary culture. Needless to say, Festival City offers visitors the best of both worlds and provides a superior shopping experience along with plentiful options for dining and dessert. 
As far as food goes, Festival City has a lot of typical mall food restaurants, such as P.F. Chang's, McDonald's, Five Guys, and Starbucks. However, there's a 90% chance that you've already eaten at one of these global franchises before, so I'm going to avoid bringing up the obvious.
Instead, I've chosen to write about the more unique dining venues in Festival City that really offer unique food and a more memorable experience. Let's take a look!
1) Asha's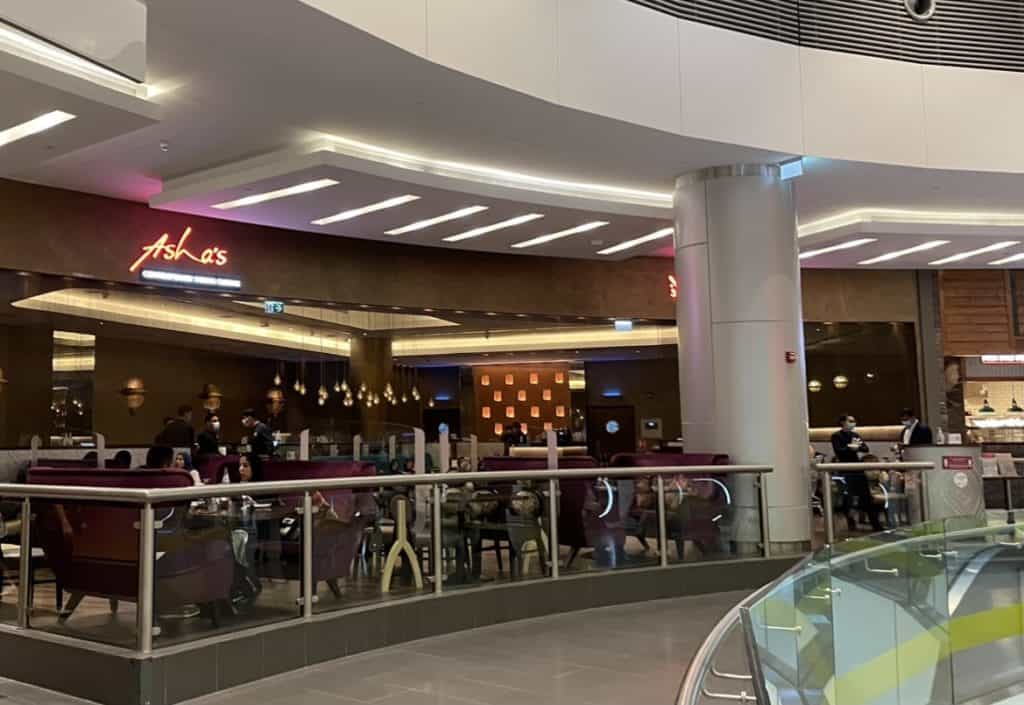 I almost included Asha's on my list of the best Indian restaurants in Doha. However, my main goal in that post was to write about smaller, more unique Indian restaurants. If you happen to be in Festival City, though, Asha's is, by far, the best place to eat. 
They serve Indian classics like chicken tikka, lamb kebabs, and my favorite- [biryani]! Although the dishes are more traditional in nature, the presentation of the plates and the environment of the restaurant are sleek, stylish, and upscale. Asha's also has a great bar program and serves a number of fine craft cocktails for those wishing to imbibe a bit after shopping. 
2) Maki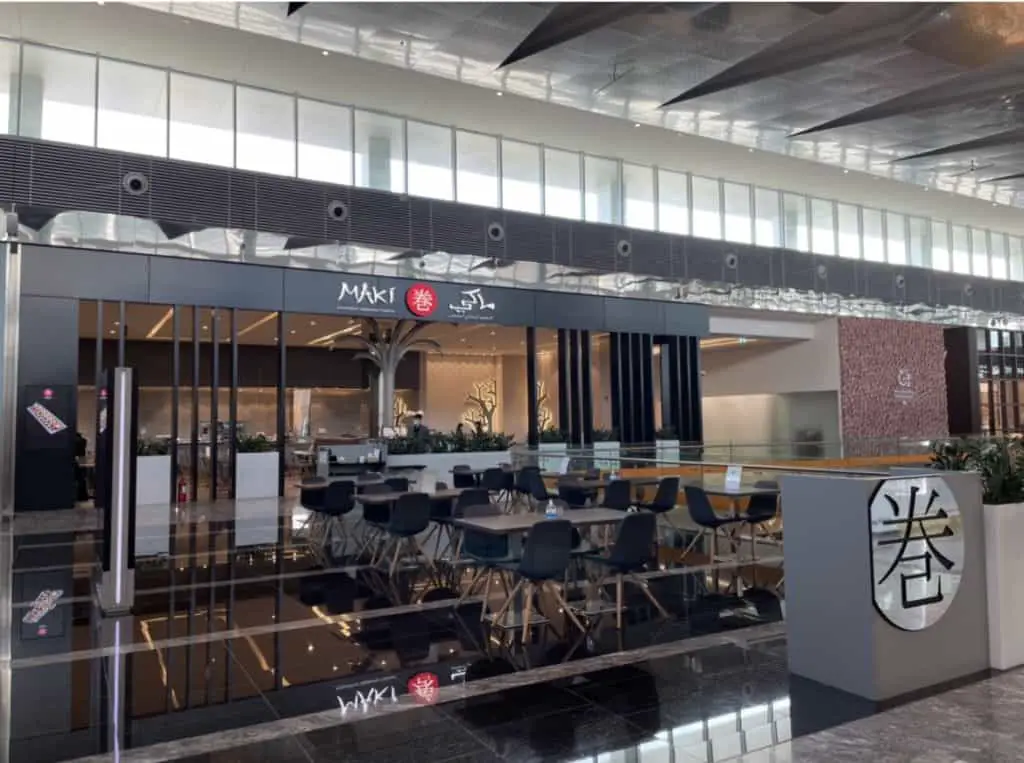 Maki offers world-renowned Japanese food along with a fine dining experience. From sushi and soups to flame-kissed hibachi dishes, you'll get an authentic taste of some of Doha's best Japanese cuisine. The restaurant has a number of locations around the world and its chefs continue to win gold medal awards at culinary events and competitions. 
As a sushi fanatic, I've had the pleasure of dining here on a number of occasions, and I've never been disappointed. The bar also offers a wonderful selection of sake (which pairs wonderfully with the seafood dishes), as well as Japanese beers like Sapporo (which are great with Maki's hibachi-style dishes). 
The service you'll get while dining here is absolutely extraordinary and the servers pay close attention to each guest to make sure that every need is attended to. I can't remember a single time that my glass was empty! 
3) The Cheesecake Factory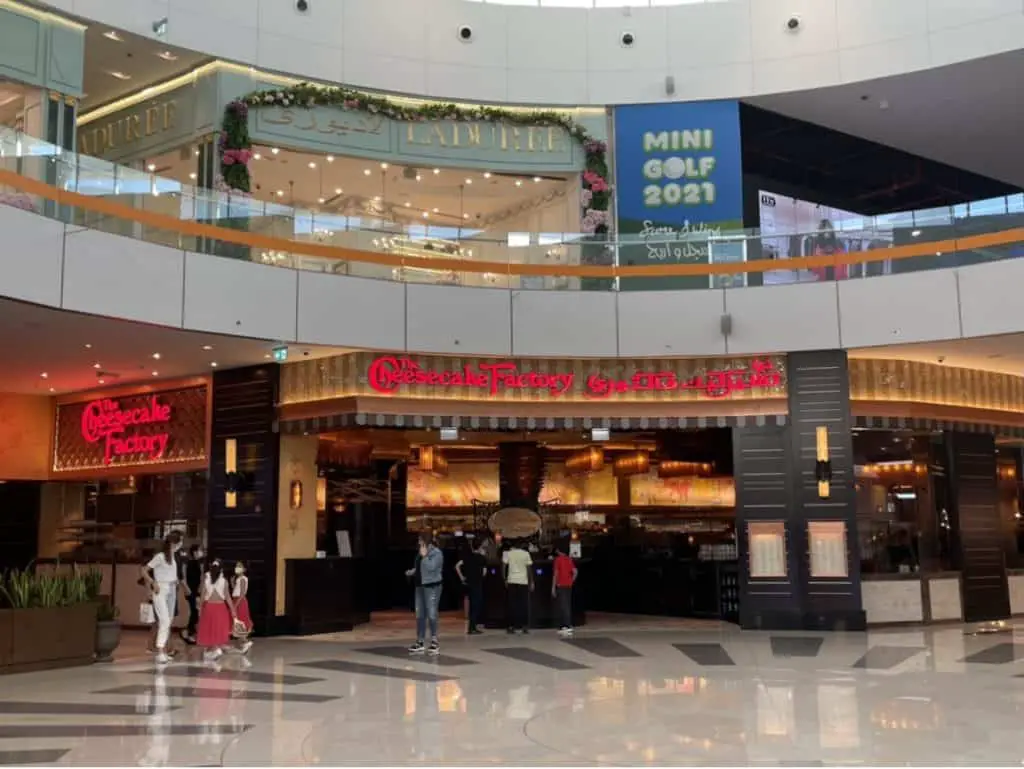 Okay, so you may have heard about The Cheesecake Factory… However, I still thought it was worth mentioning on this list. Because let's be honest – there aren't a lot of Cheesecake Factory locations internationally. 
Of course, the restaurant is known for its fine lineup of cheesecakes and Italian-style pastries (which are among some of the best cakes in Doha). Whenever I go, though, I almost always end up ordering some of their famous pasta dishes. My all-time favorite is probably the shrimp scampi or the chicken fettuccini alfredo. And, of course, I always like to finish off my meal with a cafe americano or a double-shot of espresso. 
4) Wagamama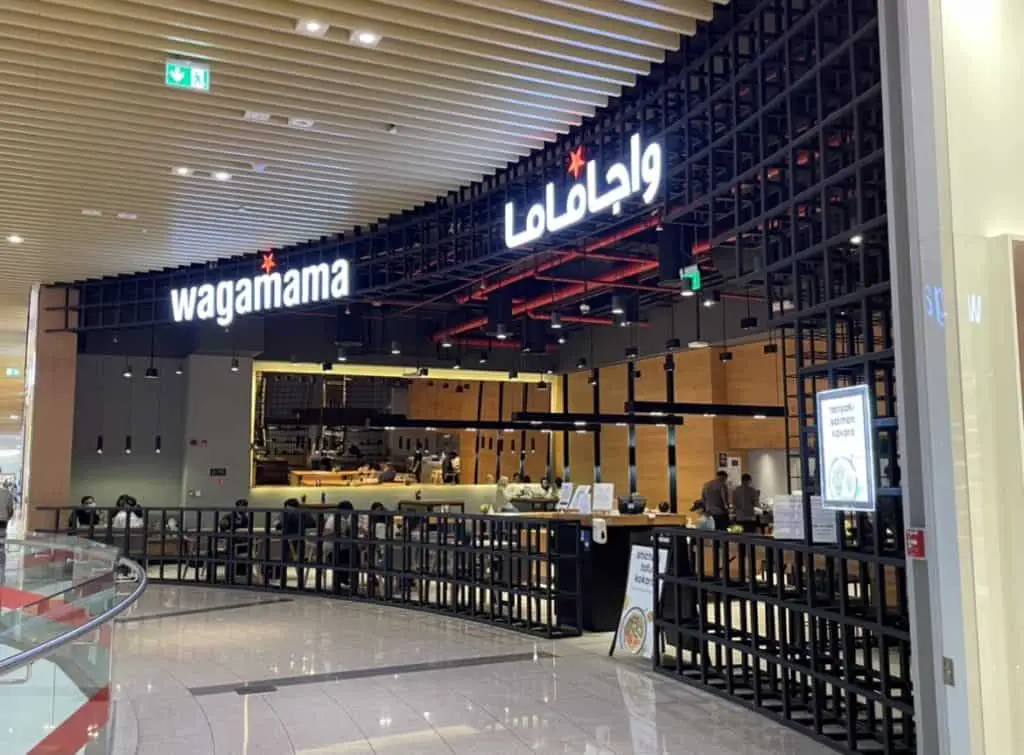 Although Wagamama has a few international locations, my first time ever seeing or trying their food was in Festival City. If you enjoy ramen dishes, then Wagamama has some of the best ramen I've ever had outside of Japan and San Francisco. Each bowl features authentic, traditionally-made broth, miso seasoning, and thinly-sliced, juicy meat. 
The only difference you'll notice between the ramen at Festival City's Wagamama and other Western ramen-centric restaurants is that Wagamama does not offer pork ramen. While pork is arguably the most common and traditional meat to add to ramen dishes, consuming it is against Qatar's Islamic laws. 
That being said, though, their beef and chicken-based ramen are still easily some of the best I've ever had!  
5) Carluccio's Italian Dining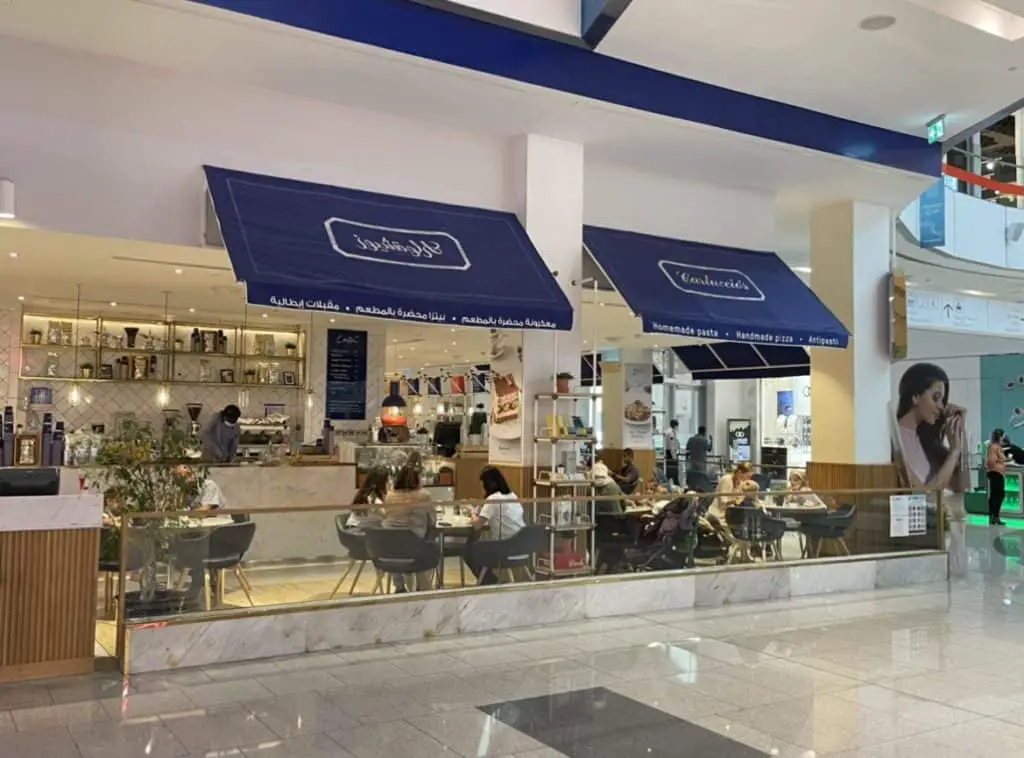 Carluccio's may not have made my list of the top 10 restaurants in Doha, but it's my favorite Italian restaurant in Festival City (which is saying something, considering how many Italian spots are in the mall). What I really enjoy about Carluccio's is the commitment to simple, delicious foods. 
You won't find a bunch of heavy, sauce-laden, oily dishes here. Everything is light, simple, and delicious. Every ingredient is thoughtfully sourced. Not surprisingly, my favorite dish is the signature dish – Penne Giardiniera. It features giant penne pasta, mixed with a light sauce, green chile peppers, and balls of spinach stuffed with parmesan cheese and garlic
Can I Consume Alcohol In Festival City? 
As I mentioned in my article on Doha nightlife, Qatar has strict laws on alcohol consumption. However, as long as you're a non-muslim visitor (or a resident with a QDC alcohol consumption card), you'll be able to consume alcohol within the bounds of alcohol-serving restaurants in Festival City. Just don't drink too much, as being drunk in public is a crime punishable by arrest.
Festival City Restaurants Are Closed For Friday Prayers
In Islamic culture, prayers are observed every Friday between 11am and 1pm. During this time, restaurants are not allowed to serve food or alcoholic beverages. So, in order to comply with this law, it's best to avoid eating out at lunch on Friday.
Conclusion
Whether you're looking for a fine-dining experience or you want a fast-food bite to eat, Doha's Festival City Mall has a number of delicious places to eat at. My favorite, by far, is Ashe's Indian cuisine. However, as I discussed, the mall also offers Italian food, American food, and even Japanese and Asian fusion!