If you are planning a vacation to Doha, Qatar it's imperative that you check out Banana Island. I say this because a visit there could only improve your vacation. It will help you relax and truly enjoy the activities that Banana Island has become well-known for.
The Banana island is home to one of the best Doha resorts, Banana Island Resort Doha by Anantara. There are also some amazing restaurants, family activities, watersports, and shops to enjoy. I went there on a day pass as I went to Doha on a business trip and my job paid for the accommodations at a mainland hotel.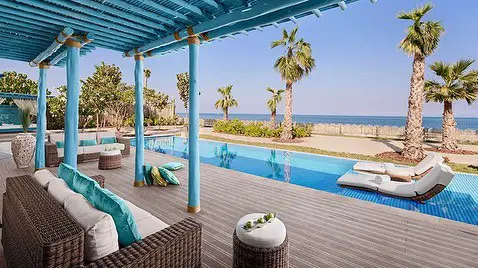 I vowed that I would come back to Doha and be sure to stay at this resort. The day pass set me back about $100, but I would have to say that it may have been the best $100 I spent during my entire trip to Doha and I will explain why.
Banana Island Doha Resort
It's important to note that I went on a weekday. If you decide to go on a weekend or holiday you should expect to pay a little over $150 per person. While you pay a little more for a weekend day, it may be a better value as the vouchers you get are a lot more, about double, if not more. I would have to imagine it's a little busier on the weekends, too.
With my Banana Island Resort day pass I got transported there from the Shyoukh Port (which is the only method to get there with a day pass). It left promptly at 9 AM. It took about a half hour to get there and it was scheduled to leave at 5 PM, so I only had about 7 hours to enjoy the island before I had to head back to the boat and the mainland.
The Banana Island Doha Resort Rooms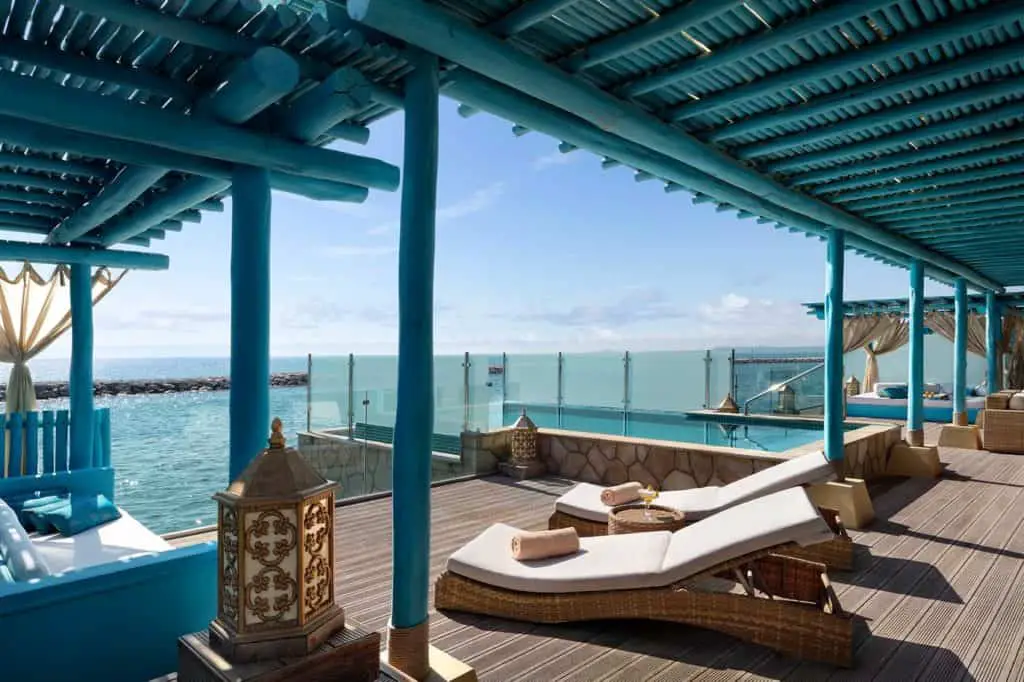 Let's delve into the Banana Island Doha Resort and the awesome experience they offer for their guests. First, let me explain their various room options. I like to travel solo, and cheap, so the only room I would get would be the premier sea view room. It starts at about $350 per night and is just over 150 square feet of tropical paradise luxury. Reading through all that it includes shows that it will have everything you will need for a comfortable stay.
If you typically travel with more in your party, this resort also offers two and three bedroom villas. The rooms are very pricey, but if you're looking for quality and want to create unforgettable memories during your Doha trip, it's well worth it. They have rooms that have a sea view, or if you really want to splurge, go for one of the over-the-water villas.
All rooms offer free wifi (which for me is an absolute must for any vacation). They also have plenty of outdoor space. I would have to make sure to secure a room with a private balcony. I'm a reader, so for me there's nothing much better than sitting on my own private balcony reading one of my books out in the sun on an island.
This resort is not your run-of-the-mill resort. There's really no resort in the world like it. It's won numerous awards due to the quality of their accommodations, their spa, onsite restaurants, and other services…and this is for many years in a row. Just remember, you pay for what you get and here that includes relaxing leisure and unbeatable luxury.
So, now that I've described the rooms, let's move on to the activities you can enjoy on the island and at the resort.
Get The Best Deals on Booking.com
Banana Island Day Pass Activities And Restaurants
I was granted access to the resort's pool and private beach. I really enjoyed just lounging about and soaking up the sun. The day pass also included a voucher for about $55 for onsite dining and one resort activity. There are lots of activities to choose from.
If you want to watch a movie in their theater, go bowling, learn how to surf in their very own surf pool, or take a kayaking adventure, here's your chance. I decided to try out the latter with my resort activity voucher. Let's just say I had fun, but it worked out lots of muscles that hadn't been used in quite some time.
For my $55 food voucher I had a tough time deciding what I wanted to eat. They had so many different restaurants to choose from. Al Nahham, a seaside pavilion that serves fine Middle Eastern cuisine, was closed since it was Monday, which at least helped me narrow down my choices. I had already had breakfast, so I counted Azraq out. Zest was a cafe/bakery, so I wasn't going to spend over $50 there on carb-filled treats. I had it narrowed down to Ted's or Q Lounge, and since I can get American food any time I want at home, I finally decided on Q Lounge & Restaurant for my meal voucher.
I was not disappointed at all. The food was great and best of all I got to eat by the pool. I had a lentil soup to start and for my main course went with a Panini sandwich. I did end up having to spend just a little more out of pocket, but it was delicious and I was in a tropical paradise, so I didn't really mind shelling out $10-$15 more and tipping the excellent server. I'm sure I could have found something that would have been right in the voucher amount, but the Panini sounded very good right at that particular moment.
Get The Best Deals on Booking.com
The Anantara Spa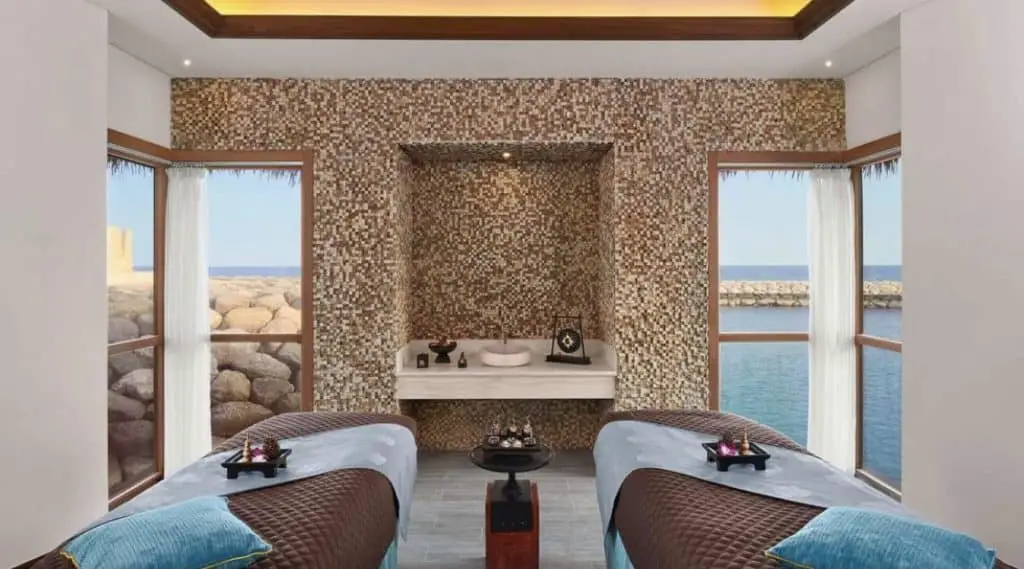 The Anantara Spa deserves a huge shout out, too. I was able to squeeze in a quick treatment during my day trip there and please don't ask me how because I would have to say it was just pure luck. I thought it would be a long shot, but decided to ask if there was anything open. When I questioned the front desk they said all the slots for the day were already booked, but I asked if she could double check, and the receptionist was more than happy to.
Surprisingly, she found that they had encountered a last minute cancel (which must not happen very often because I could tell that the receptionist was genuinely shocked by it), so they did in fact have exactly one opening. It's like it was an opening made for me!
I wouldn't expect that exact scenario again, so if you want to get a massage or mani/pedi while visiting Banana Island, I would highly suggest that you book an appointment in advance. I will vouch for the deep tissue massage as that's all I had time to enjoy. I must say that I desperately needed a massage after working out all those muscles while kayaking. I'm so happy they could fit me in during my short visit there. I'd have to say it was an hour of pure bliss and relaxation. It was time and money well spent!
Their spa also offers a lot of other treatments. They do waxing (eyebrow, bikini, and underarms), manicures, pedicures, facials, and a wide variety of different massages. They also have a couple's special that lasts 3 hours and includes a facial, foot massage, full-body massage and more. It was pretty pricey, but if you can afford it and are looking for a great bonding experience with your spouse, I would have to imagine it'd be worth it.
Get The Best Deals on Booking.com
Other Banana Island Activities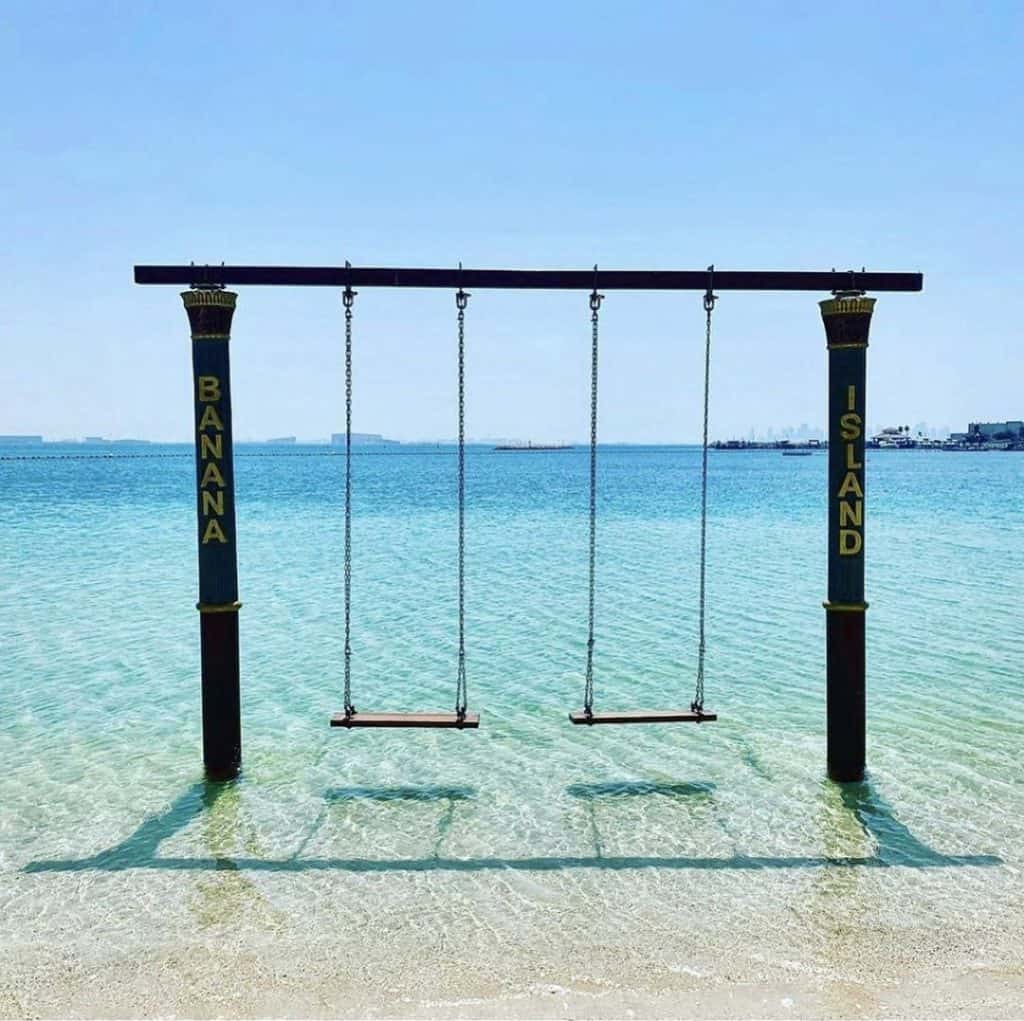 One other thing that I noticed the resort offers, but was not able to take advantage of on this trip, was boat rentals. You can rent out a traditional dhow, take a romantic picnic out on a sailboat, or even enjoy a fun fishing trip. They even offer diving excursions that allow you to snorkel with the barracuda. If you're a thrill-seeker I'd recommend checking out one of these mini-adventures. They're sure to provide a great time, just like everything else on the island.
If you're in the mood for sightseeing you can also opt to rent a Segway or bicycle and go on a tour of the island. You will be able to take in all the gorgeous palm trees, blue waters, and island wildlife. The island measure about 13 hectares, so it's just big enough to tour without wearing yourself out.
Take the time to really enjoy the beach there. Don't just hop in and hop out. For extra points I would have to say that finding (and using) the beach swings is an absolute must while you're here. If anything you can get some great photos of yourself swinging in the water (which will definitely make all of your social media friends jealous).
If you travel with children I would also recommend that you take full advantage of their kids club. They charge a nominal per child fee (don't remember exactly how much, but I want to say around $10) and they will entertain the kids with a bunch of fun activities for a few hours while you get to go and play and do whatever else you want around the island. It's probably one of the best babysitting services in all of Doha.
Get The Best Deals on Booking.com
One Thing That Was Missing (But Didn't Ruin My Trip)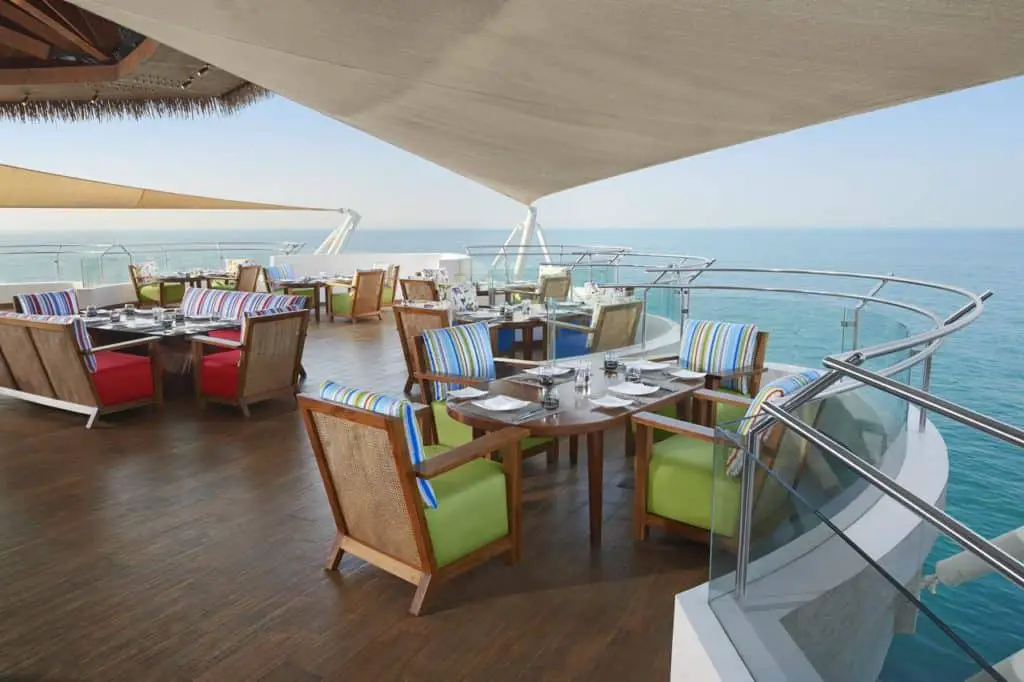 Really the only thing I believe would have made my trip just a little better would have been a cocktail or two. This island is a dry island meaning no alcohol is served or permitted here. While I don't drink often I think that having a refreshing glass of wine or something with my lunch would have been the icing on top. It wasn't completely necessary and I still had a fantastic time without it.
This practice, or rule, isn't really a strike against them. I completely understand why they wouldn't want to allow alcohol here. It's a pristine and gorgeous island full of adults and children that are just looking to have a good time. There's no need to bring in the party crowd. I'm sure that overall it helps to make the experience better for every guest that visits.
One of the best things that I have come to love about Qatar is the weather. Yes, it's a desert country and yes, it's hot, but one thing you can reliably count on is beautiful sunny weather. This weather is what makes for a perfect beach day and really there's no better way I can think to spend it, if you're in Doha, than taking a day out to enjoy Banana Island.
Get The Best Deals on Booking.com
Final Conclusion & Side Notes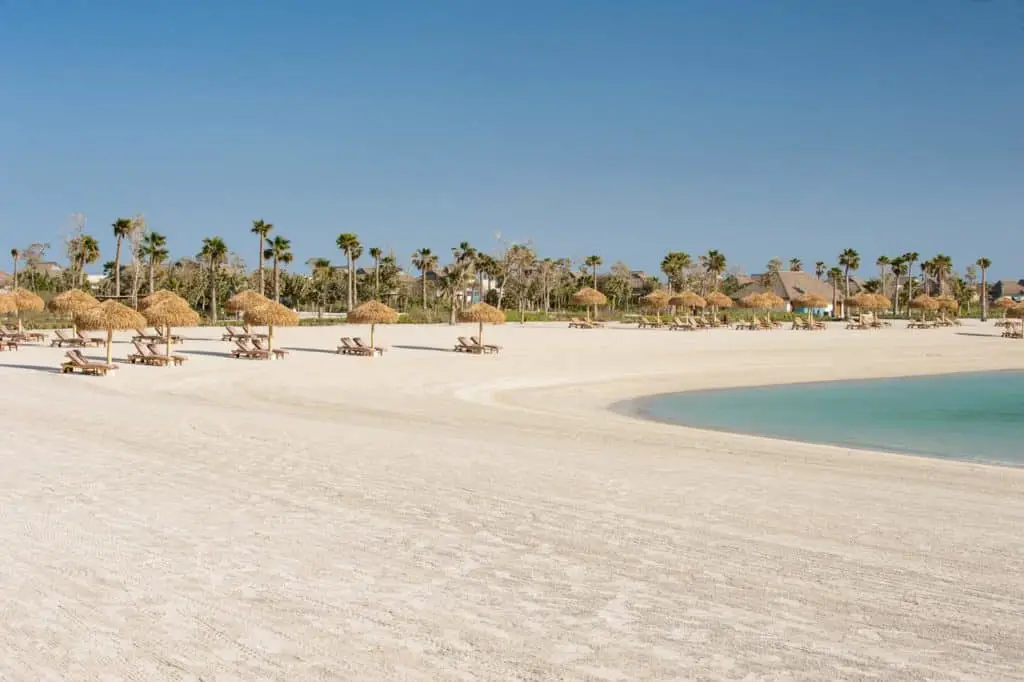 The staff here, all the way from the boat ride over to the island, the servers at the restaurants, and the hotel staff were super nice and helpful. I didn't really find myself wanting for much of anything for my whole day there. Everything I needed I either brought with me (don't forget the sunblock and sunglasses!) or I was able to obtain from the resort.
One other thing that I noted, after making conversation with some of the other visitors (most of which were locals), was that a lot of the people there were repeat visitors. A few of them make a monthly visit to Banana Island just to take advantage of the Day Pass deals they offer. It has to say something when locals come on a regular basis.
Overall I would have to say that my experience of Banana Island in Doha, however brief, was nothing short of spectacular. It's literally at the top of my list for my next trip to Doha. Now that I have seen what they have to do there, tried the delectable dishes, and know the quality to expect I will be able to book a stay here with confidence.
While most people would consider the Caribbean as a perfect getaway location, I'd have to say that Doha is way better. It's less expensive, more exotic, and way less crowded than other popular locations. So, if you're looking for a prime vacation destination with gorgeous beaches, delicious food, and attractions that you can't find anywhere else, head to Doha and make sure to pencil in a stay (or at least a visit) to Banana Island. You won't regret it!