Hey, I'm Sandra! Happy mother and avid globe trotter. I have a deep passion for world travel, and one of my favorite cities in the world is Doha- the capital city of Qatar. If you've never heard of Qatar, it's a small desert country on the Persian Gulf. 
Doha shares the same beautiful coasts, desert surroundings, and crystal-clear waters that Dubai has and is located just a few hundred miles away. I spend a significant portion of both my work life and free time in this beautiful city and decided to start a blog detailing my personal cultural experience and travels. 
Thanks for your support!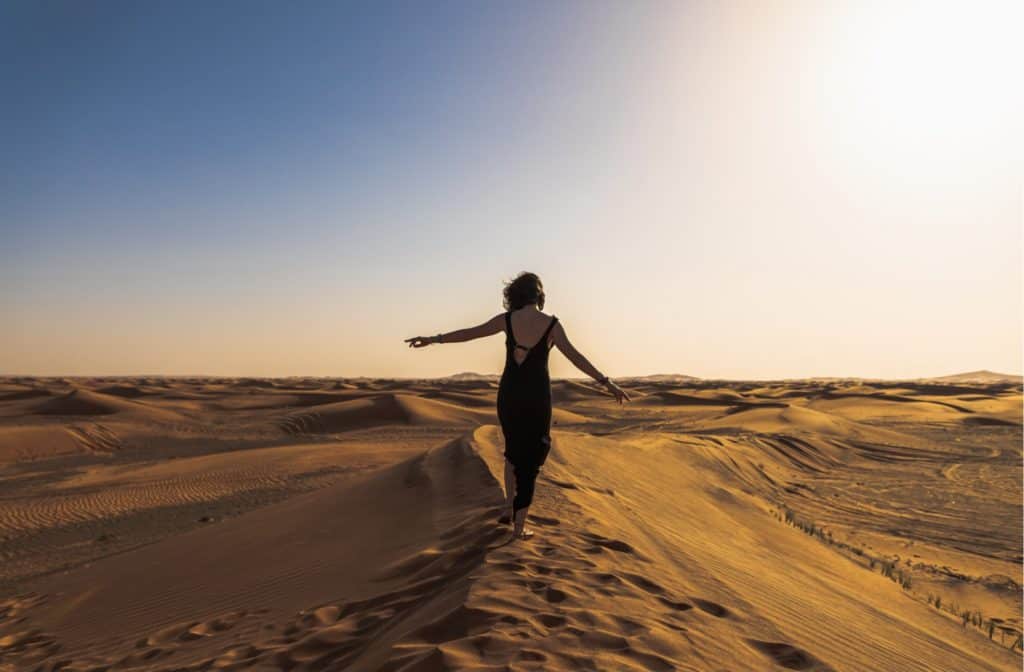 My Story
I'm 35-years-old (but who's counting?), and I've been happily married to my wonderful husband, Jake, for going on 6 years. When I'm not focused on my latest home crafting projects, I spend a considerable amount of time studying other cultures, learning new recipes, and sometimes even taking some foreign language classes. 
For my day job, I'm a travel agent. Sure, it sounds a bit boring, but it pays the bills and more importantly- gives me plenty of freedom. 
Since COVID-19, the majority of my work has become virtual, which has really allowed me to expand my traveling horizons. However, some of our company's top clients are based out of Doha- a center for trade in the Middle East. 
Over the past 4 years, I've had a chance to visit this modern city several times a year. I take advantage of my free flight from work, and then I usually stay an extra week or two and explore. Sometimes Jake even comes with me! 
How I've started this blog
The more I visited Doha, the more comfortable I became. Before long, all of my friends and co-workers were hitting me up, trying to get information about my travels. I eventually realized that with all of the time I spent talking to friends on the phone and responding to DMs, I could create an entire blog to share with everybody! 
About the website
AbsoluteDoha is your one-stop resource for learning about the rich cultural history of Doha. Here, I'll write about all of my experiences, the best restaurants to visit, the coolest places I've seen, great photo opportunities, and recreational experiences (such as skydiving!).
I'm a social butterfly, so more than likely, my content will feature strangers, close friends, and Jake accompanying me for all of my crazy adventures. 
From time to time, you may also notice the occasional product review. Once you travel around the world a few times, you'll come to realize some of the most important travel essentials. All of the products that I mention are things that I've used personally and found great benefit out of. 
My mission
The first time that I went to Doha, I had no idea what to expect! Part of me was nervous, part of me was excited. If I had had a good resource, I could have gotten a lot more out of my first few experiences, though. 
I want to share this beautiful culture with you so that you, too, can enjoy what Doha has to offer! 
What's in it for you
If you follow along, you'll get the chance to learn about a new city, its amazing food, and the unique culture. As travel restrictions begin to relax, many of the city's top hotels and resorts will be offering deals on stays. If I can convince you that this really is the city of dreams, then I've done my job!
Keep following to see all of the adventures! 
-Sandra