For those that have never been to Doha it's a definite must visit location for anyone looking for a unique travel destination. It's a place of elegance, tradition, and luxury. It is home to some of the world's most incredible structures and skyscrapers. Aside from that, it also has a good reputation when it comes to tourism and hospitality management.
There are lots of activities you can do, including desert safaris, theme parks, private guided tours, and plenty of malls and souqs to get all of your souvenir shopping done quickly. Now, before you can start enjoying these things, it is obvious that you need to book a place to stay.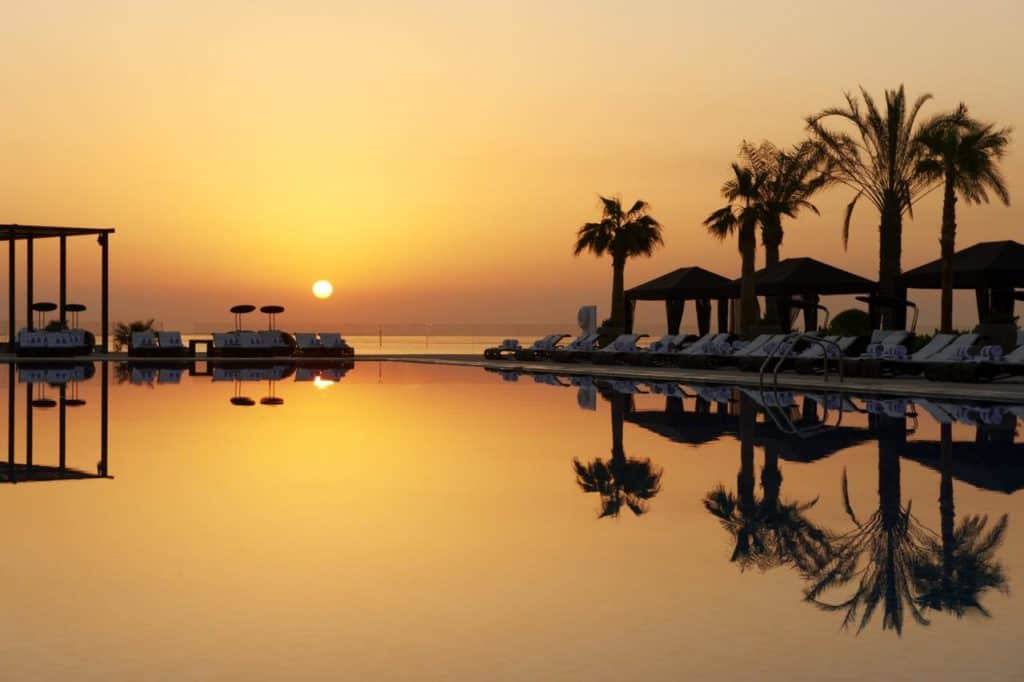 There are numerous hotels to choose from in Doha, so it can get a little tricky navigating through the endless results, so let me make it just a smidge easier for you. I'm going to give you a quick breakdown of one of the best hotels in Doha that I stayed in when I went there last year. 
All I can say is that this hotel will give you some of the best value for your hard-earned money without sacrificing good service, a relaxing atmosphere, and luxury like no other. The place I am talking about is The St. Regis Doha Hotel. It was the perfect place to call home while I was visiting some friends in Doha.
About The St. Regis Doha
This hotel can easily be found in the Diplomatic District in Downtown Doha. It's in a region known as West Bay. It's a 5-star rated luxury hotel beautifully nestled on the border of the Arabian Gulf right near the tranquil blue waters.
It has almost 350 guest rooms, so there shouldn't be any worry about having a room available for your dates, no matter the time of year. Each room offers the type of comfort and style everyone dreams about whenever planning a getaway to a faraway place.
It boasts a good line up of facilities, too. There are world-class restaurants, a grand ballroom, spa, beach access and plenty of water sports to keep you busy and fit. It is a place where good times are always easy to find. Unsurprisingly, it is dubbed "The Finest Address in Qatar" and you would be considered lucky to call this home for the duration of your stay. I know I was.
Checking The Latest Deals on Booking.com
Great Location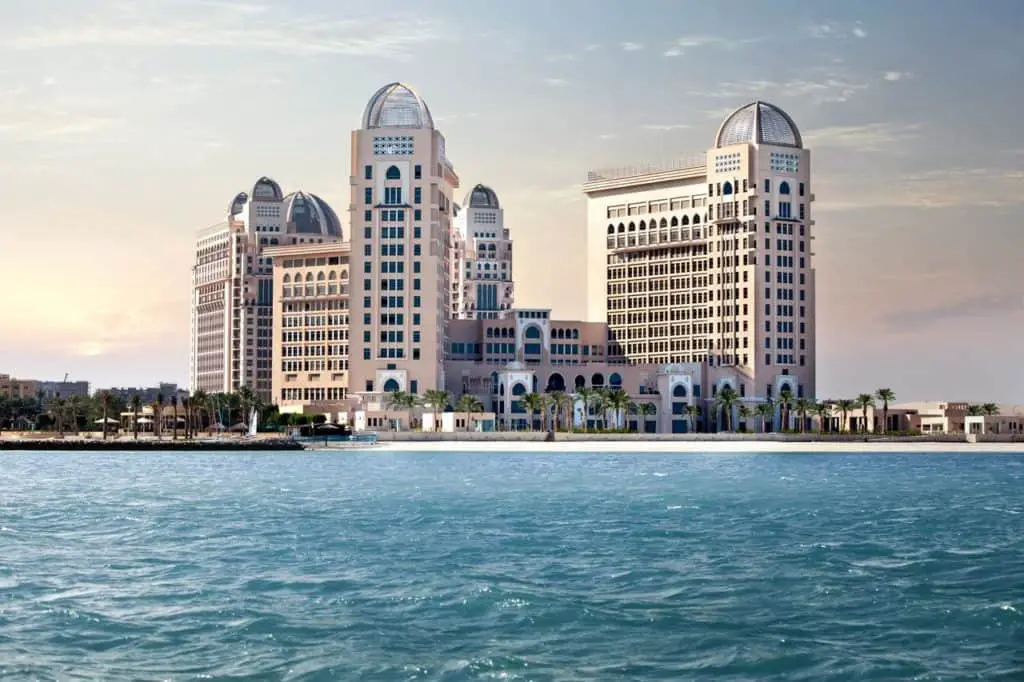 The elite location of the St. Regis Doha hotel is nothing short of magnificent. It is in West Bay and adjacent to one of Doha's biggest draws, Pearl Island. It is close to many other amazing tourist attractions like the Katara Cultural Village and a bunch of museums and restaurants. Not to mention the Villaggio Mall and Aspire Zone are just a short drive away.
Perhaps best of all, this hotel offers some of the best panoramic views of the Doha skyline on the horizon and a treat of the stunning clear waters of the sea. There is plenty to do and see nearby, so staying here would literally put you right in the middle of all the great attractions that make Doha one of the top travel destinations in the world.
Exciting Lineup Of Amenities
What I was thrilled about while staying at the St. Regis Doha, besides the excellent location, was the wide array of amenities and features I could enjoy. Some of the ones I looked forward to most include the outdoor swimming pool, private beach cabanas, spa and wellness center, and the onsite night club.
You may also try some water sports like diving, snorkeling, and canoeing. If you enjoy fitting in a workout session you will be happy to know that they even have tennis courts you can enjoy or, if you'd prefer, you can take advantage of their state-of-the-art fitness center. They also offer daily workouts, yoga, and other fitness activities.
Checking The Latest Deals on Booking.com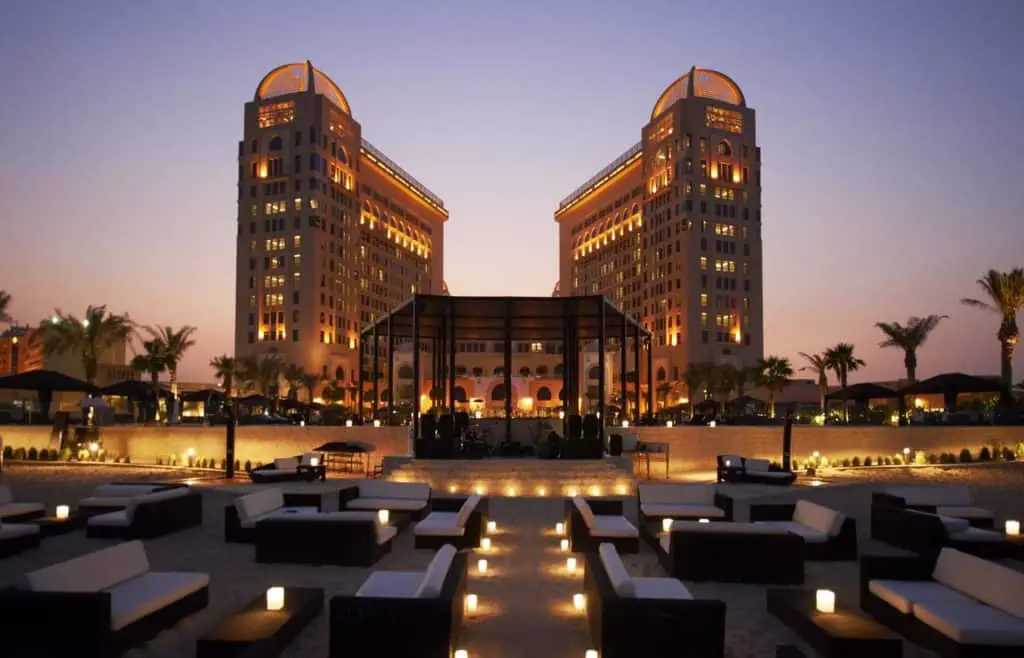 Onsite you can also find a beach bar on their private beach, a cafe for your morning (or afternoon) perk-me-up, restaurants, a flower shop, ATMs, and my favorite, a poolside snack bar. It is actually a long list of all the great things you will have access to by staying here. It really appears as if they know and understand the needs (and wants) of their guests.
There are 10 different eateries onsite where you can enjoy delectable dishes and refreshing beverages (alcoholic and non-alcoholic). They can even cook you a made-to-order meal and have it delivered to your room, if you feel like staying in for the day or night.
My Guest Room Features & Amenities
With this hotel being right on the beach I don't think that I need to spend very much time going on and on about how beautiful the views of the bright blue waters of the Arabian Gulf were from my room. The air-conditioning in my king grand deluxe room was a huge bonus after spending the day out in the desert heat. It also came with a high-speed internet connection which, for many, is an essential. My room had a private terrace, although I am not sure every room offers that.
Beyond that the room offered the basic necessities, like a writing desk, dresser, dining table, private shower, a bathtub, a flat screen TV and a lot more. Although I came solo I did note that they even offer babysitting service (for an additional charge, of course).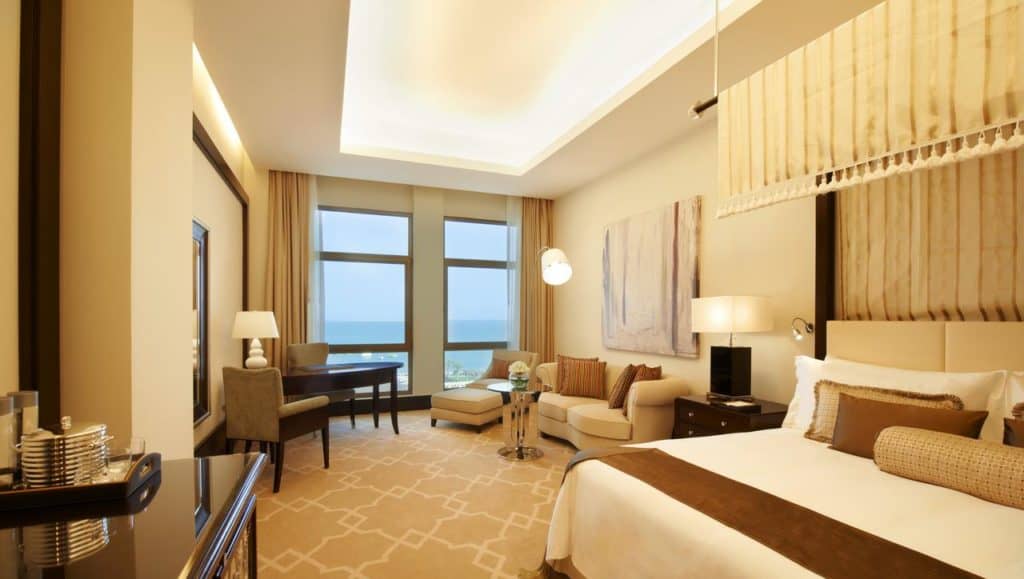 Checking The Latest Deals on Booking.com
Regarding quality and luxury, the St. Regis in Doha beats most of its competition. This is especially true once you factor in its excellent service and good array of amenities. Their rooms are very spacious and the décor is very pleasing to the eyes.
The hotel building itself looks very vibrant and welcoming when you see it for the first time. They offer some of the best views of the Doha sunset that makes everything look golden at the end of the afternoon. The hotel is in the right location if you are looking for the best value for your money. The St. Regis will definitely fulfill all your expectations of a five-star hotel and then some.