Just under 13 miles north of Doha you will find a marvelous city called Lusail. It's just past The Pearl Qatar, and if you've ever been to Doha you may have heard this city referred to as "Qatar's Future City", and it really is just that.
If you are a soccer fan you may have heard of this city since this is where the FIFA World Cup will be held in December 2022.
It seems as if this city literally popped up overnight and has become one of the biggest attractions in Doha for locals and tourists. I just had to spend a little time here during one of my visits to Doha.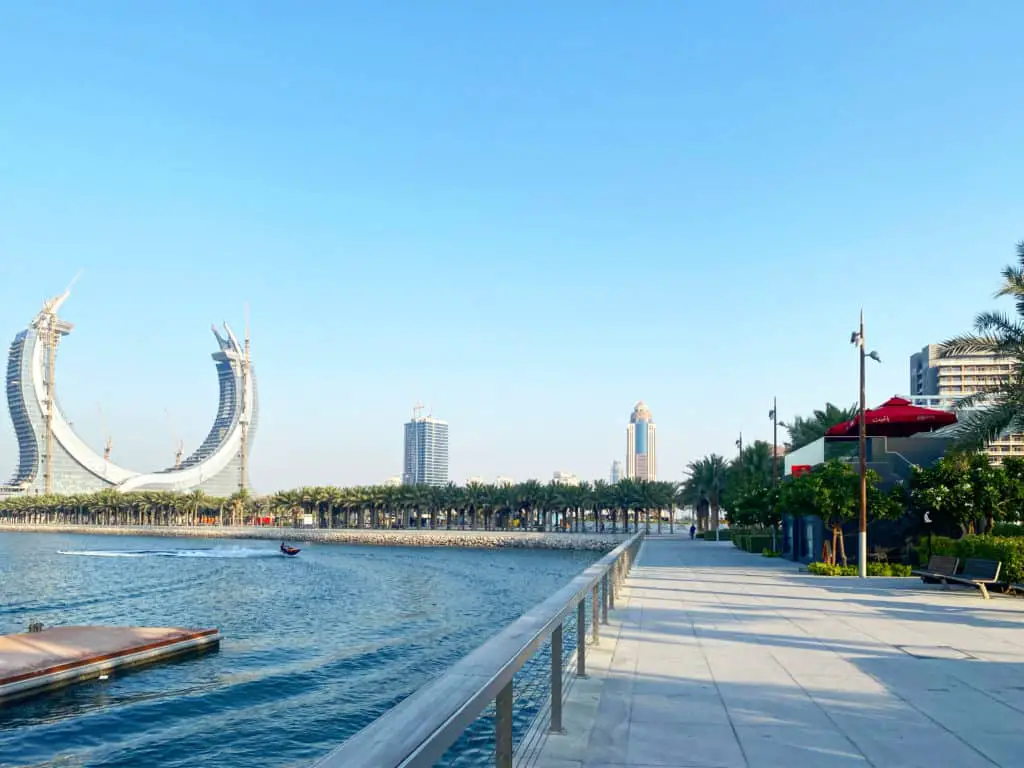 The concept of building Lusail started back in 2005. The city is broken up into 18 different districts, the biggest of which is the "Golf District" which will include a complete 18-hole golf course and lots of upper-class villas. There are many other districts that will be dedicated to residences and workplaces. Perhaps the best district, for those looking for some fun, would be the appropriately named Entertainment City. It will be home to almost a dozen hotels, a few different theme parks, as well as shopping outlets, restaurants, and nightclubs.
While this city will eventually be able to accommodate 450,000 people between its houses, apartments, and office buildings, it's the other attractions and hotspots that bring in curious visitors like myself. I will give an in-depth overview of the top must-see attractions and things to do in Lusail, Qatar.
The Lusail Marina is actually home to many cool things to do. It has a promenade, it has the iconic "I Love Lusail" sign (a selfie must!), and lots of cafes that offer sweet treats and amazing tea and coffee. It's similar to the Corniche in Doha, but has its own offerings that are slightly different.
Along the way you will come across some amazing photo opportunities. One Pro Tip here is to try to go during the Light Me Lusail Festival. They put on some amazing shows during the presentation!
You will be able to see the Katara Towers (it wasn't finished being built just yet when I went), the Marina Twin Towers (don't worry they're not going to fall!), and other colorful architectural beauties, like Lusail's amazing suspension bridges. You will likely also come across many food trucks and carts along the walk of the promenade. There's a wide variety of tastes there, so don't fill yourself up on your first stop. There will be options like burgers, wings, and quite possibly a few dishes that'll surprise you (and your tastebuds).
If you travel with children, Crescent Park should definitely be on your list. It is relatively new, only having been open since early 2019, it is located in the Fox Hills district of Lusail. It offers lots of activities that will wear out even the most rambunctious kid in the party. They have water features, playgrounds, sports courts (including basketball, tennis, football, and more), and plenty of open areas to allow the little ones ample running around space.
One other hotspot is The Place Vendôme Lusail. This project is slated to have a couple of luxurious 5-star hotels and apartments, lots of fine dining options, a movie theater, a luxury mall, and even a canal going through the plaza which allows individuals to enter by sea. This is bound to be the optimal spot for families to spend the weekend, too.
It will feature an amphitheater with water fountains and occasional light shows. There will even be some thrilling rides. Anyone looking to escape the heat, and rack up their credit card, can head straight to Place Vendôme Mall, that is if you will be there after September 2021, when this mall is due to open. The mall will have about 600 stores by the time it is completed.
This large ongoing project began in March of 2014 and is currently still under construction. Needless to say, there is a lot of hype for it. The design is supposed to make you feel like you've been transported to Paris, France. While a lot of the buildings and attractions in this area have been completed, they still have quite a way to go.
One of the biggest attractions that I'm waiting for is the Lusail Water Park. This is part of the Qetaifan Projects. There will be over 35 rides to enjoy and it claims that it is going to be home to the world's tallest water slide (over 260 feet high!). While I will not be going on that, I will watch others do it and enjoy the lazy river. This park is not only going to be huge in size, but it is going to be Huge for Qatar. Thrillseekers and families from all over the world will be coming here to witness this beauty!
So, we've discussed the amazing architecture of Lusail, the great dining, memorable photo spots, and other things to do in the area, but what's the best way to get to Lusail? There are a couple of different options. I (reluctantly) got a rental car for this trip to Doha, so I drove myself there. It took about 30 minutes. If you would prefer not to go through the hassle of renting a car, you could easily take a taxi or Uber there.
Perhaps one of the most adventurous (and inexpensive) ways to get to Lusail from Doha would be by taking the Doha Metro. The ticket would only cost you 2 QAR each way (just over 50 cents) and you will get to see a bunch of the coast and city along the way. The Red Line would take you straight to the Lusail Station, which is conveniently located near the Lusail Stadium.
Visiting Lusail during this trip to Doha had to be one of the highlights of my visit. There was so much to do and see (and it wasn't even completed yet). I have no doubt that it will become one of the top tourist destinations in all of Qatar.