At some point in my life, sometime in my early twenties, I came across an important quote. It's one that I find myself scribbling every now and then and one that I like to remember and live by. It's by Anita Desai (Anita Mazumdar), an Indian novelist. She has won numerous awards and written lots of books and poems. Perhaps her most famous works would be Fasting, Feasting, Journey to Ithaca, and Fire on the Mountain, to name a few. The quote goes like this: "Wherever you go becomes a part of you somehow."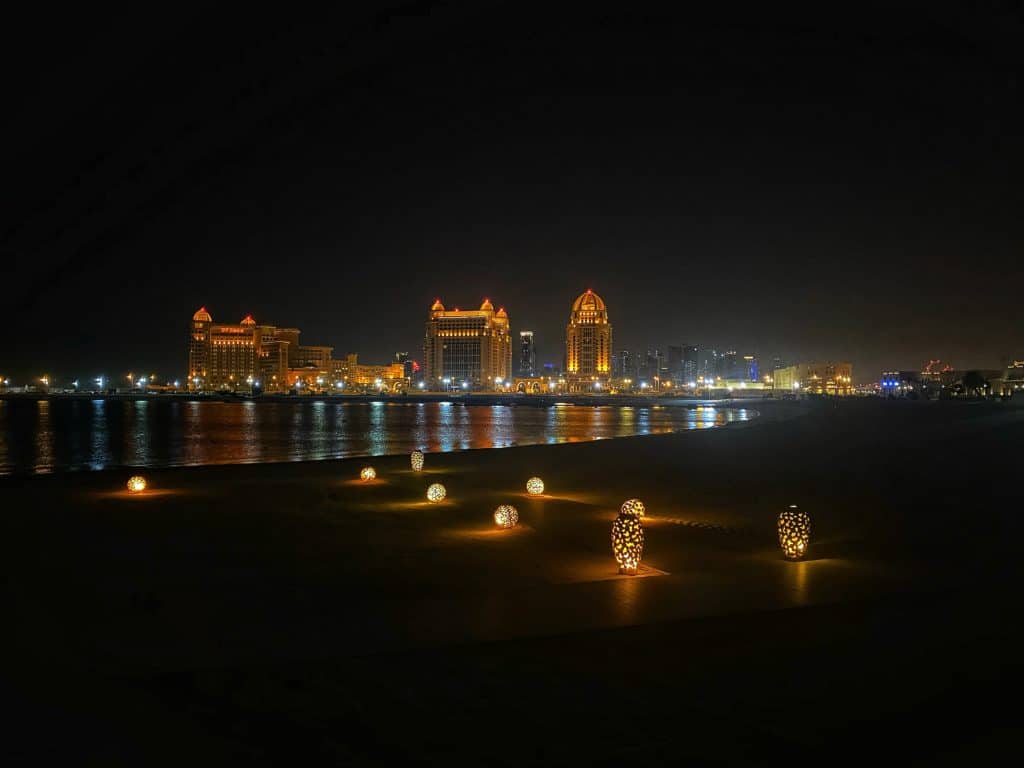 Throughout my life, and with every trip I take, I have learned that traveling is one of those things that changes you. Every place we go, whether it's down the road or across the sea, it has some sort of impact on who you are and who you become. If you're heading to Qatar and are looking for a way to really immerse yourself in the culture, you have to visit the Katara Cultural Village.
The main attraction of the Katara Cultural Village is just walking around. There are lots of things to see in this area. One of the first things you will likely notice is the stunning architecture. The beautiful amphitheater where they host many events, ranging from concerts to movies, throughout the year might make you think you're looking at the Colosseum of Rome, Italy. You are actually able to go into the amphitheater and scope out the scene even if there's no event going on. I recommend heading to the top seats and taking some amazing Doha Skyline and bay photos with the center stage in the middle. It's an awesome photo-op and souvenir.
There's also an opera house, which is home to the QPO (Qatar Philharmonic Orchestra). Each building offers its own unique style and you can tell that a lot of thought and planning went into every aspect of this village. Besides the Katara Amphitheater they also have a book store, cafes, a souq for buying fabrics and other Qatari goods, green areas to lounge in, and they even have their own beach.
There are plenty of restaurants around the entire area, so finding something to keep you well-fed will not be difficult here. Perhaps my favorite spot was Mamig. It had some of the best views of the bay, delicious Armenian/Lebanese cuisine, and great service. They only use fresh ingredients, so there's no set menu, but I can tell you from experience that fresh is better and the food here is amazing.
Animal lovers will also want to take a few moments to hunt down the various pigeon towers spread out around KCV. They are towers with holes in them to house the birds. It's said that between all the pigeon towers in this location a total of up to 14,000 birds can find a reprieve from the desert heat here and rehydrate. The towers look like tall, sand-colored cylinders with spikes coming out of them. Here's a fun fact, besides providing an excellent resting spot for the birds, this also serves another purpose, which is to collect the bird droppings to use at the local farms as fertilizer.
Throughout the village you will also run across lots of different art pieces. There are paintings done all over the buildings, sculptures (the ones in front of the Indian restaurant, Saffron, were definitely worth going out of your way to find), and there are a lot more surprises all around. There are plenty of places to just sit and hang out, some of which even come with a view of the skyline and water (if you know where to go). The Force of Nature sculpture is also a remarkable work of art worth scavenging for.
There are a few shops that you can visit, but one of the coolest (out of this world) attractions might just be the Al Thuraya Planetarium. This is a great attraction for all, whether you're 1 or 100, you're sure to be awestruck by the stars and planets and all the information you can learn here. Whether you go day or night you're bound to enjoy your visit. Astronomy may not seem like an interesting topic, but here they make it fun and entertaining. I happened upon this during the mid-afternoon and spent about an hour wandering around, but if you can go around dusk or after nightfall there may be more to do.
I mentioned the beach earlier, but if you're from the United States, it's important to note that this beach is not like the beaches at home. There are strict rules to follow, especially regarding clothing to be worn, etc. If you have kids then it might be a great way to spend an hour or two letting them get in the water and have fun, but if you're a single woman (like me) used to donning a bathing suit when at the beach, you will likely want to stick the private beaches that are owned by the hotels in Doha. They do offer some boat rides, however, which is likely to be a fun activity. They also charge to use this beach, it's 50 QAR (about $14) for an adult and 25 QAR (about $7) for kids.
If you want to find somewhere in Doha to explore, and have an entire day to spare, head on over to the Katara Cultural Village. There are many sidewalks to traverse, shops to peruse, and things to see. This place truly is a-maze-ing. You could easily get lost in here winding in and out of the various walkways. If you're in the mood to spend some money, you may want to check out 21 High Street. It's a relatively new mall filled with lots of luxury stores, spas, and even a children's shopping mall.
As referenced in the beginning, every destination we make a stop at in life has an impact, and I would have to say that visiting Katara Cultural Village really allowed me to let my hair down and just enjoy roaming about worry free. I love visiting places when I have no real destination to end up at and that's one of the best parts about this spot. It's all about leisure and having fun when it comes to the Katara Cultural Village.