One of my favorite parts of planning a vacation is getting to find and stay at luxury hotels. Most hotels offer at least the basic amenities like cable television, air conditioning, and free wireless internet (wifi). Other more luxurious hotels offer more, like 24-hour room service and daily housekeeping. 
I like the hotels that offer amenities and services that allow you to worry less with almost everything you need being provided or just one call away. I remember one of my first visits to Doha when I found myself at the Dusit Doha Hotel. This trip to Doha was a sort of spur of the moment trip and I really didn't have much planning time.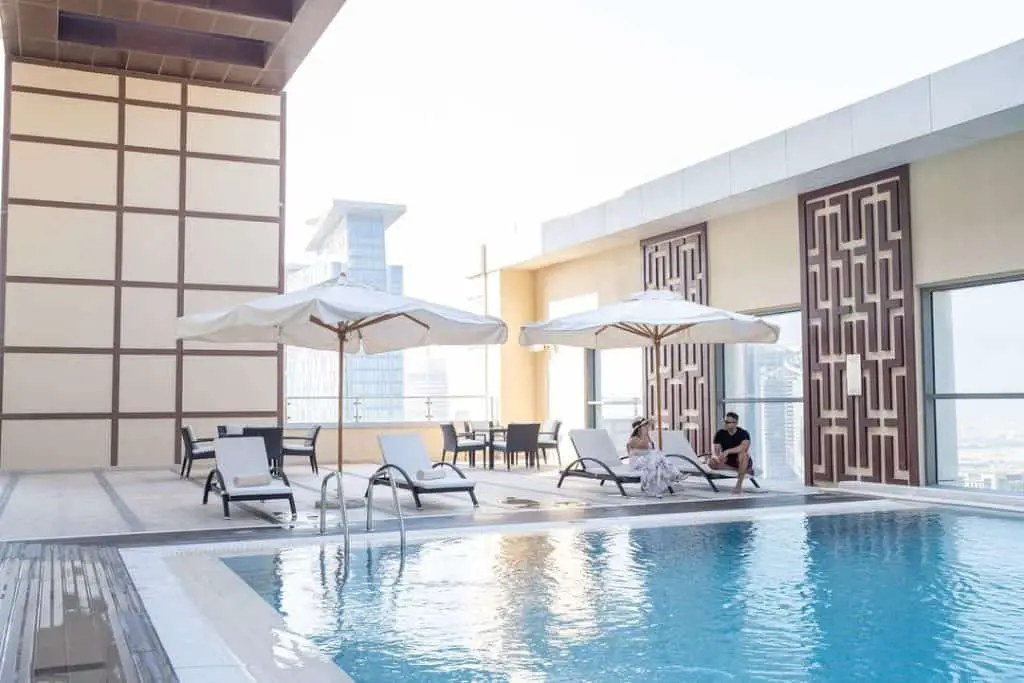 I would have to say that given the circumstances I really didn't have any regrets or bad comments about it. I really had a great time at Dusit and I am pretty sure when I go back to the country, Dusit will still be one of my top picks.
About Dusit Doha Hotel – A Real 5-Star Retreat
This hotel is located in the Diplomatic region of West Bay, among many of the other luxurious hotels. It's a short walk to the world-famous Corniche strip and less than a half hour from the Hamad International Airport. Those that are looking to be right in the middle of Doha with everything at your fingertips and just a short drive away, this is the perfect spot.
There are numerous malls in the area, including City Center Shopping Mall and Doha Festival City, for those that like to go on shopping sprees while on vacation. When researching hotels in this area you will likely notice this one almost always pops up as one of the highest rated hotels in Doha.
Check The Latest Prices on Booking.com
Great Accommodations For Everyone
What's nice is that the Dusit Doha has over 350 guest rooms, so chances are if you really want to stay here you shouldn't have trouble with availability. I was able to get a room with less than a week's notice. The rooms range in size from standard rooms up to three-bedroom apartments, so it's sure to meet the needs of even the largest of families. The prices are very reasonable considering the luxury you get and the location.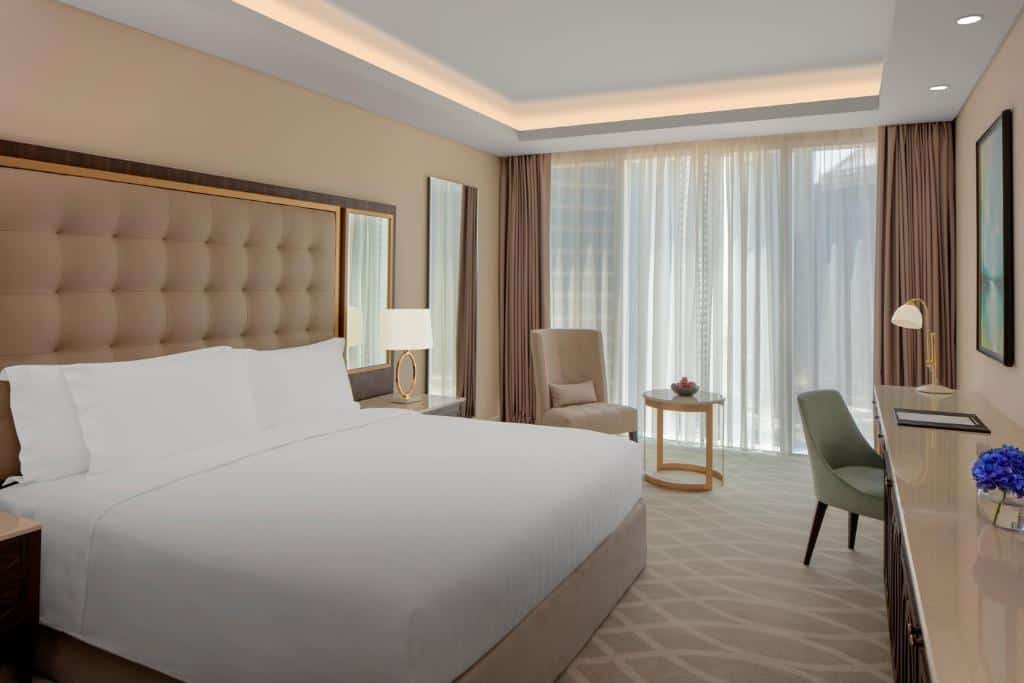 The furnishings, in my opinion, were very modern and sophisticated. When I went and stayed here I got the most basic room they offered since it was just me and I was only going to be in town for four days. It was more than spacious enough and the King size bed I had was so comfy that it was darn near impossible for me to get out of it each morning.
I stayed in a room up high and my favorite part was the view. Every morning I would have coffee by the huge window and just stare at the Doha skyscrapers and the city waking up.
Check The Latest Prices on Booking.com
Dining Experience Is Top Notch
If there is something that Dusit is widely known for it is the dining experience in the hotel. They had four options to choose from (I went to a different restaurant every day!). My first day there, after arriving around 10 PM and starving, I had dinner at "Taste". I took full advantage of their buffet and fresh cooking and made-to-order stations.
The next day I had breakfast at "Antoinette's" and enjoyed a buttered croissant with a fresh Arabica coffee. I visited the bar at "The House" on my second night there, just to grab a small snack and cocktail. It was busier than I had expected and there were lots of couples there ordering steaks and other dishes that all smelled amazing.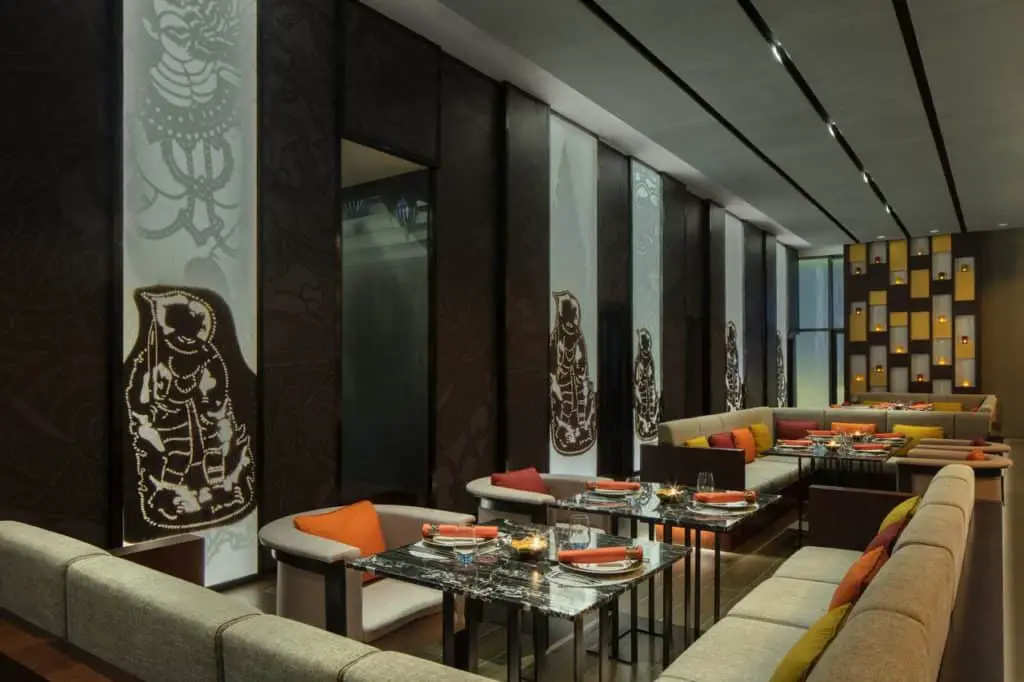 Out of all the onsite eateries I would have to say that "Benjarong" had to have been my favorite. That's where I had lunch on my final day. It offered some of the best Thai food I'd ever experienced (and I've been to Thailand twice). Each restaurant I went to here offered delicious foods paired with interiors that created a truly unforgettable dining experience .
World-Class Spa
One thing I have to mention, even though I didn't get a chance to experience it because they were booked solid, is the Devarana Spa. It's huge and takes up the whole 29th floor. It acts as a haven for those looking for full-body rejuvenation or those that want the ultimate relaxation experience to soothe the senses.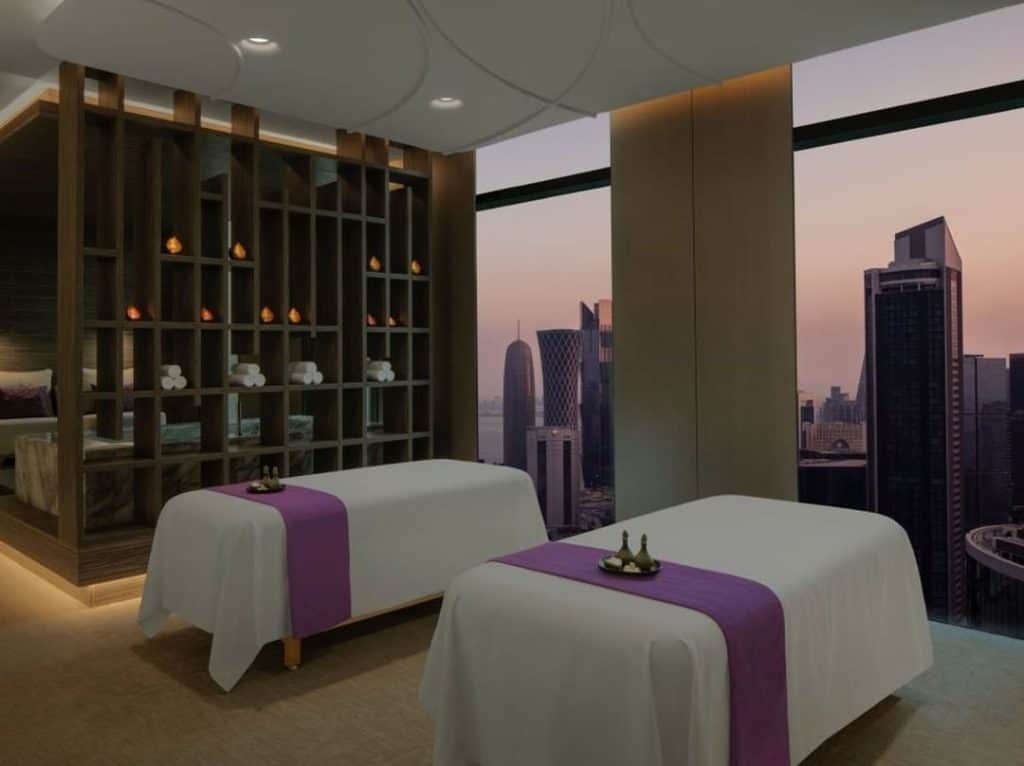 They have a long list of therapies and treatments that are designed to invigorate your mind, body, and soul. It appears that they use a lot of Thai practices and the lotions, oils, and scrubs used are handcrafted from fresh and natural ingredients.
Each session lasts anywhere from 30 minutes to 3.5 hours depending on the type of treatment you choose. Some of the best spa treatments here include body scrubs, hydrothermal experience, Swedish massage, traditional Thai massage, body and face rejuvenation, hydrating facials, oatmeal and honey baths, reflexology, and a lot more. The prices are steep, but you get what you pay for.
Check The Latest Prices on Booking.com
Check Out The Dusit Doha Hotel Offers
One thing to consider if you want to possibly stay here is to look at their special offers. When I went there wasn't any great deal that applied to me, since I was traveling solo. They did however have a deal for couples that included airport pickup, attraction passes, bed and breakfast discounts, and few other perks.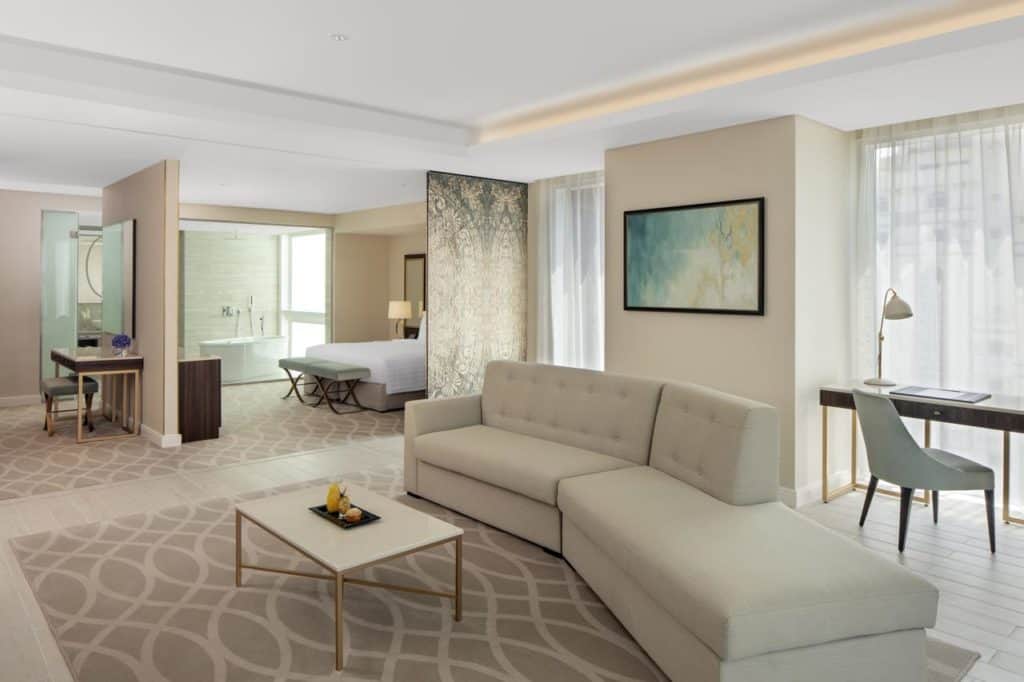 They have all the features and amenities anyone could ask for. The hotel even has a rooftop swimming pool, fitness center, beauty salon, gift shop, a business center, and an amazing concierge service full of friendly staff members that are always willing to help. The Dusit Doha Hotel is by far one of the best hotels I've ever stayed in and it deserves all the praise it gets.
Check The Latest Prices on Booking.com
It literally has everything you could possibly need all in one location. That is certainly what you should look for when booking a hotel for any vacation. This is a great place to call home when you are in Doha for several good reasons mentioned above and definitely will exceed expectations. The Dusit Doha Hotel is a great way to start your vacation in Qatar.