Heading out on a vacation anywhere new should include a thorough search on where's best to go while you're in the area. While some may prefer to "wing it", most like to have at least a semblance of a plan. If you are going to be visiting Doha, Qatar anytime soon, and would like to know what the best rooftops in Doha are, keep reading.
I've personally been to this gorgeous city a handful of times and have located the top 4 best rooftops Doha has to offer. Whether you want to find the perfect selfie location or enjoy a chilled cocktail with a spectacular and unrivaled view, read on and I can guarantee you will not be disappointed.
Infinity Rooftop Lounge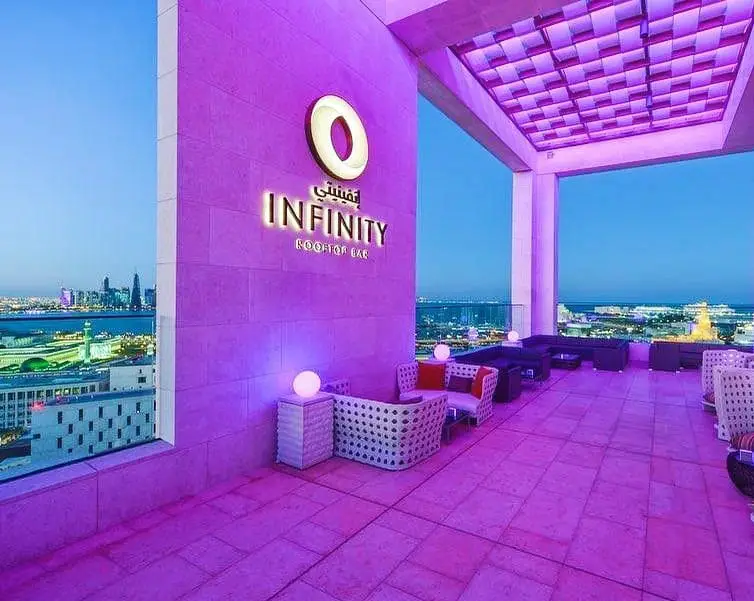 This gem is located on the 20th floor of the Alwadi Hotel and has some of the most unique cocktails you will find in all of Doha. They have gotten their inspiration for the drinks from Around The World In 80 Days and many feature bitter, spicy, and exotic elements. They've included specialty drinks from 28 different countries from all over the world. Of course, if you're looking for something a little more traditional to drink, they have that, too.
They are open from 5PM until midnight every day and usually have good deals throughout the week. Currently they have a Wednesday special for 150 QAR (about $50) that includes 2 glasses of wine and a chocolate or cheese fondue. Thursdays however may be a better deal, at least for the ladies, when they offer what they call "6 hours of free flow" of Pink and Rose cocktails for 150 QAR from 5PM until 11PM.
They fill up quickly, so you may want to call ahead and make sure that you arrive early. You will find 360-degree views of the Doha skyline and the bay. They have plenty of spots for photos, so you will want to ensure that you have a phone or camera with a full battery! This rooftop bar in Doha is perfect for a date night or a fun girl's night out, so take your pick and head on over.
Pure Lounge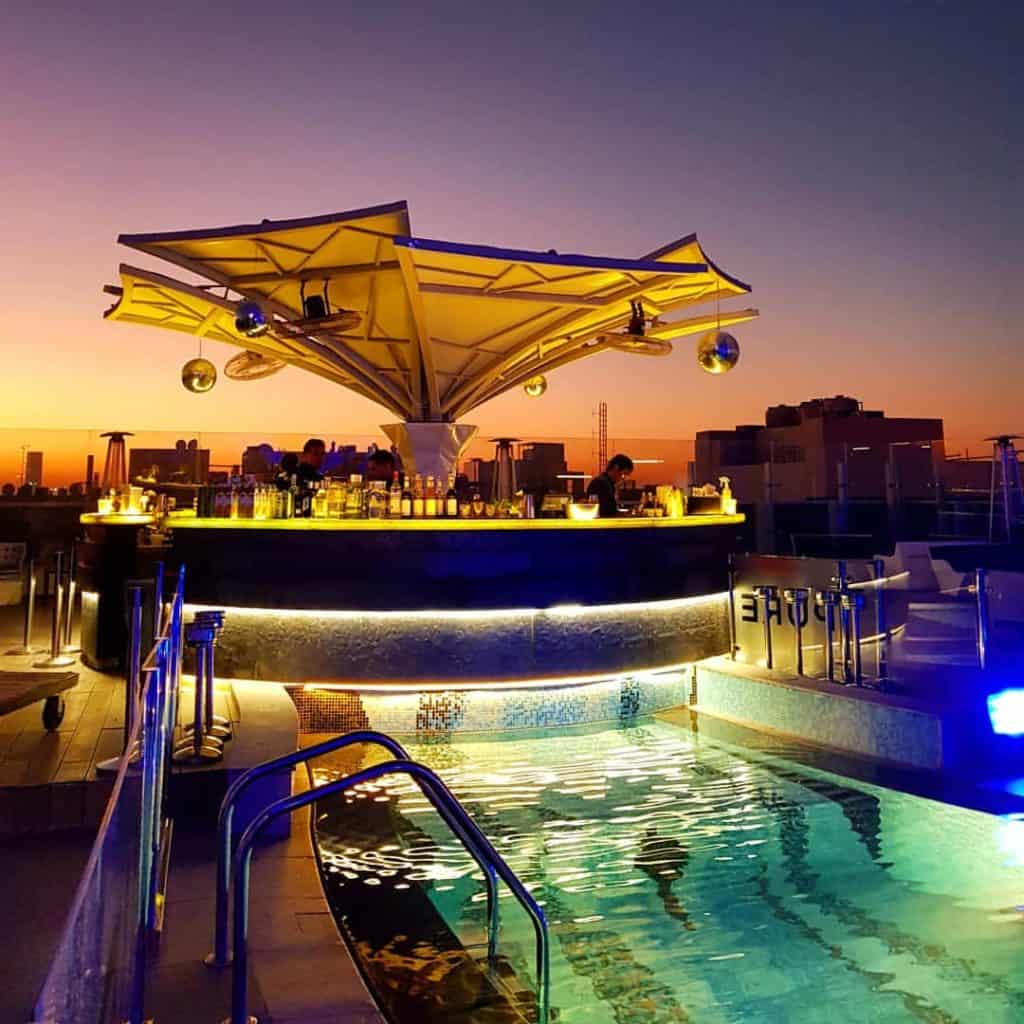 Pure Lounge is located on the top of the DoubleTree by Hilton hotel in the Old Town area of Doha. They are open daily from 6PM to 2AM. You will get to see the West Bay skyline in its entirety and I would recommend that you get there early so you can watch as the sky goes from bright red-orange to dark blue. It's absolutely gorgeous, especially if you're able to have a couple drinks in the meantime!
They do often feature live DJs at Pure Lounge, too. The music is usually very lively and there is plenty of room to dance if the mood strikes you. If you want to enjoy a more chill evening you ought to go during a weeknight. Weekends do tend to get pretty wild here. Should you get hungry while you're enjoying your night out you will have plenty of dishes to choose from.
Their prices are a little high, ranging from 45 QAR (about $15) for a shot up to 6500 QAR (about $2,200) for a 3-liter bottle of Grey Goose. Of course, most people aren't going to buy a whole HUGE bottle, but at least now you know that the option exists and how much it'd set you back! If this place sounds like somewhere you would like to visit, but you're traveling on a budget, make sure to head there between 6PM and 9PM and take advantage of their happy hour. They do offer some pretty great deals on their food and drinks.
Nobu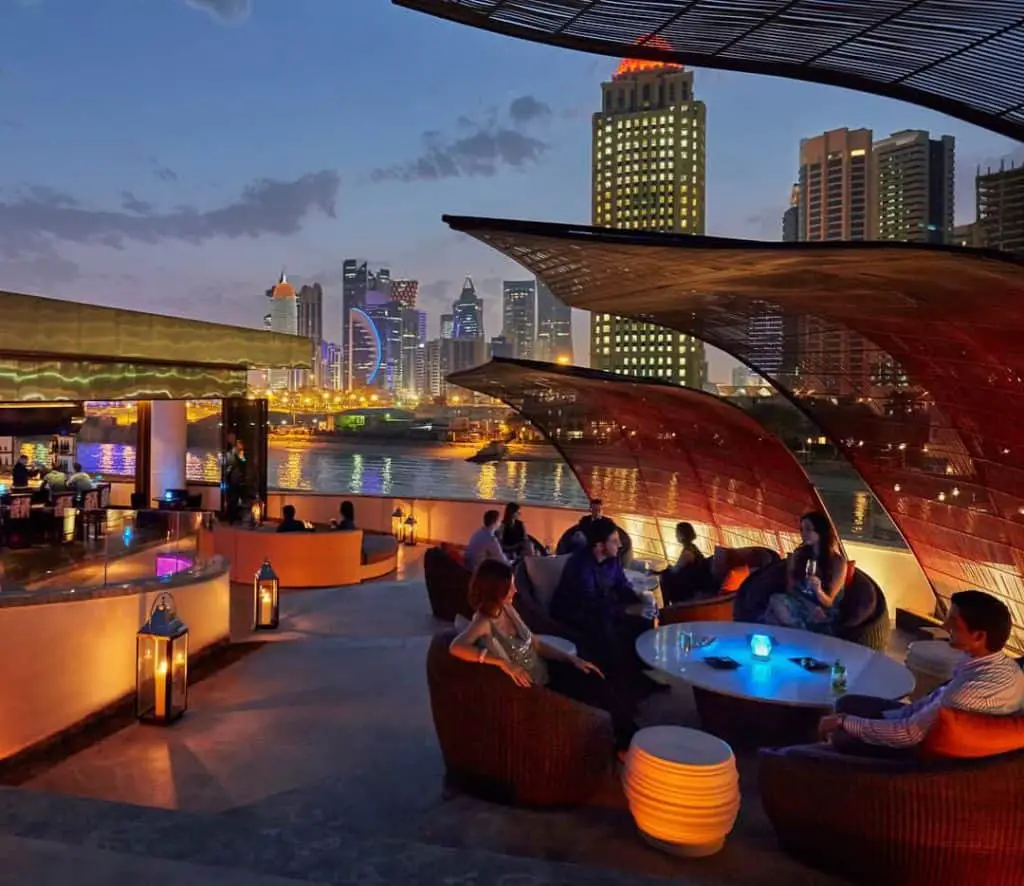 There are many Nobu restaurants all over the world (including Miami, Las Vegas, Dubai, London, Melbourne, etc.), but Doha is home to the world's largest Nobu. It was opened in 2015 and has built quite a reputation for itself since then. This amazing rooftop can be found at the Four Seasons Hotel. This place probably offers the best view of the Arabian Gulf you will find in Doha.
It's exclusive, as in they limit their occupancy to less than 40 people at a time, but if you do get to score entrance here, it'd be totally worth it! You can enjoy cocktails and a wide selection of Japanese delicacies, all with a backdrop that will make all your Instagram/Facebook buddies jealous. No matter the time you go, you can clearly tell that Nobu prides itself on food quality and their overall ambiance, so from start to finish you can expect to have a great time here.
They are currently open with adjusted hours (6PM to 1AM), but if you ask the locals, they will likely recommend that you go for the brunch service and I would have to agree. If you can find them open for brunch, the prices are a little more reasonable (still high, but not as much as dinner) and this is the best time to see the views of the Gulf.
The Secret Garden at Marsa Malaz Kempinski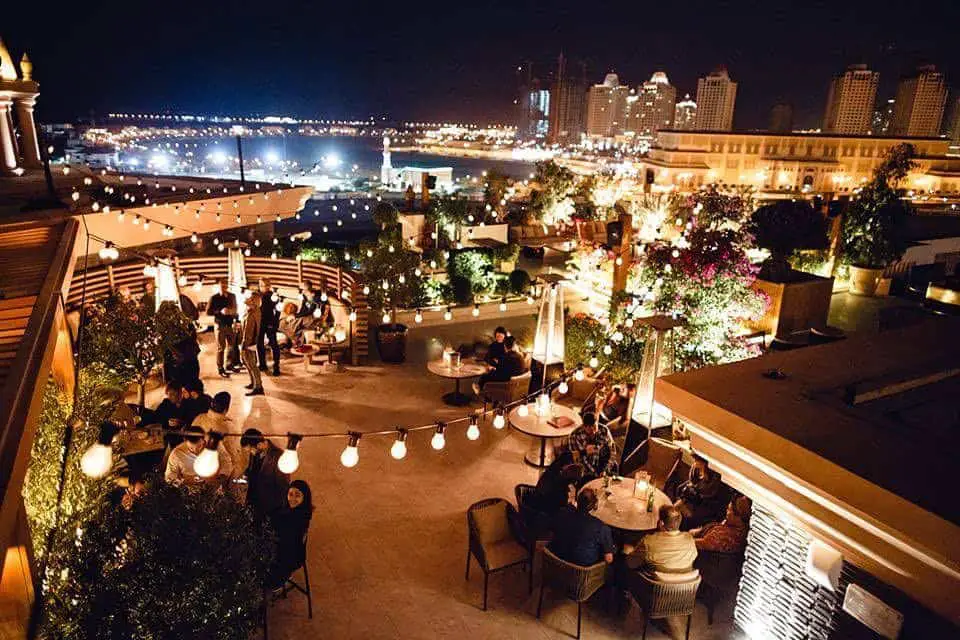 This is one of the most fairy-tale rooftop bars in all of Doha. There are so many exotic plants all around and the views of the water will have you totally forgetting you're even in the Middle East. This rooftop in Doha was, by far, my favorite. It's located in The Pearl and offers the perfect escape if you need to get away.
They offer a night-brunch (on Friday) and Mondays are reserved for the ladies. They are open from 6PM until 11PM and if you get too tired to head back home or to your hotel, I'd recommend that you fork over a couple hundred bucks and enjoy a night of luxury in one of their gorgeous rooms.
There are plenty of places where you can find amazing views of the skyline and the Arabian Gulf in Doha. This is my list of must-sees, but I'm sure there are at least a dozen others that you can easily visit and have a great time at. A couple that I didn't get a chance to fit in (yet) are the Belgian Cafe in the InterContinental (I hear they offer delicious Belgian beers), The Rooftop at the St. Regis, and Sky View at La Cigale Hotel. Here's to enjoying Doha and all the beauty and elegance it has to offer! Cheers!