Celebrating an anniversary as a married couple always means a lot. Every year that passes is an important milestone to commemorate the hardships, and especially the happiness, that you both have experienced together over the past year. It doesn't matter how long you have been together, whether it's 1 year or 50 years (or even more!), it is still a special moment to share and celebrate your love together. 
My husband and I have been married for 6 years now and we have been through our fair share of ups and downs, but we never once thought of letting go of each other for any silly reasons. He means the world to me and I couldn't imagine my life without him. We took the opportunity to go abroad for a few days for our 6th anniversary. We decided to go to a place that is not usually the first place that pops into one's head as a romantic retreat and that was Doha, Qatar.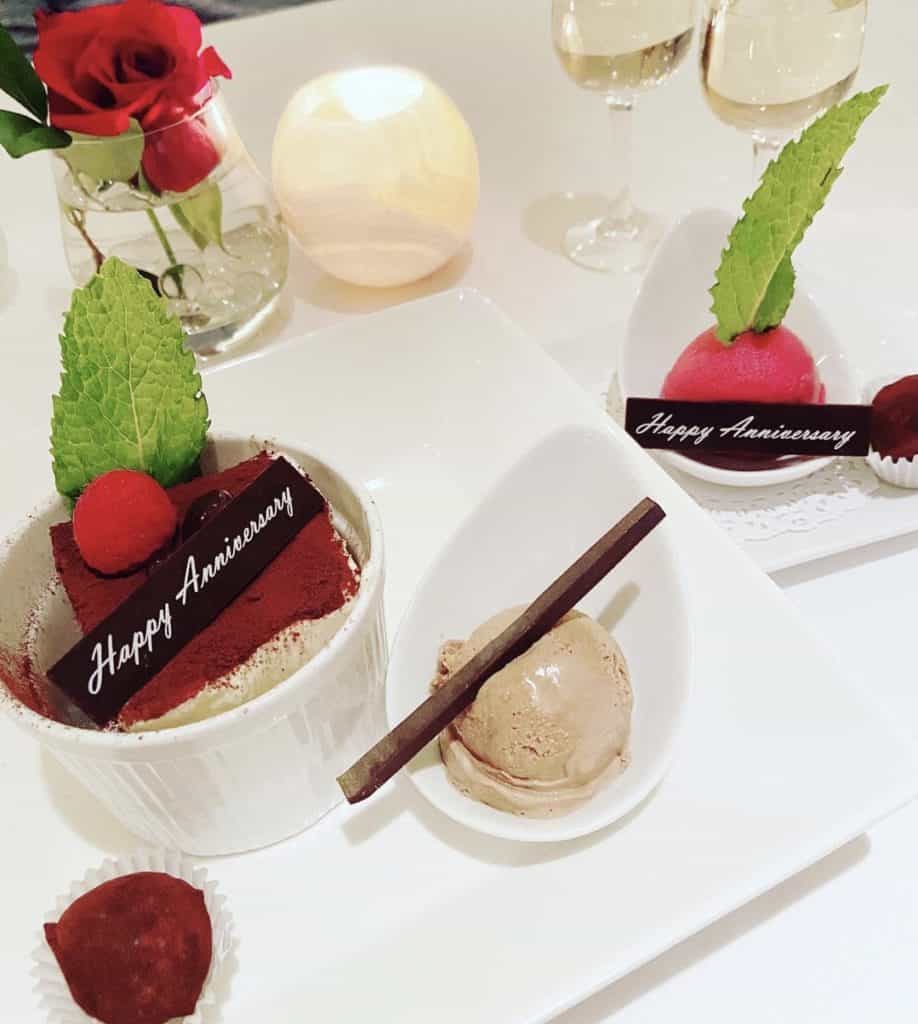 While most couples love a European getaway or a tropical vacation, we chose Qatar for a couple good reasons. First off, we wanted to do something daring, like a desert safari tour. Secondly, we were itching to experience what life is all about in one of the richest countries in the world.
We were there for almost a week and my husband treated us out to a few very romantic restaurants there. My husband really spoiled me and made every night a date night. I have made a list of the top 5 best restaurants in Doha for an anniversary.
La Veranda, Sheraton Hotel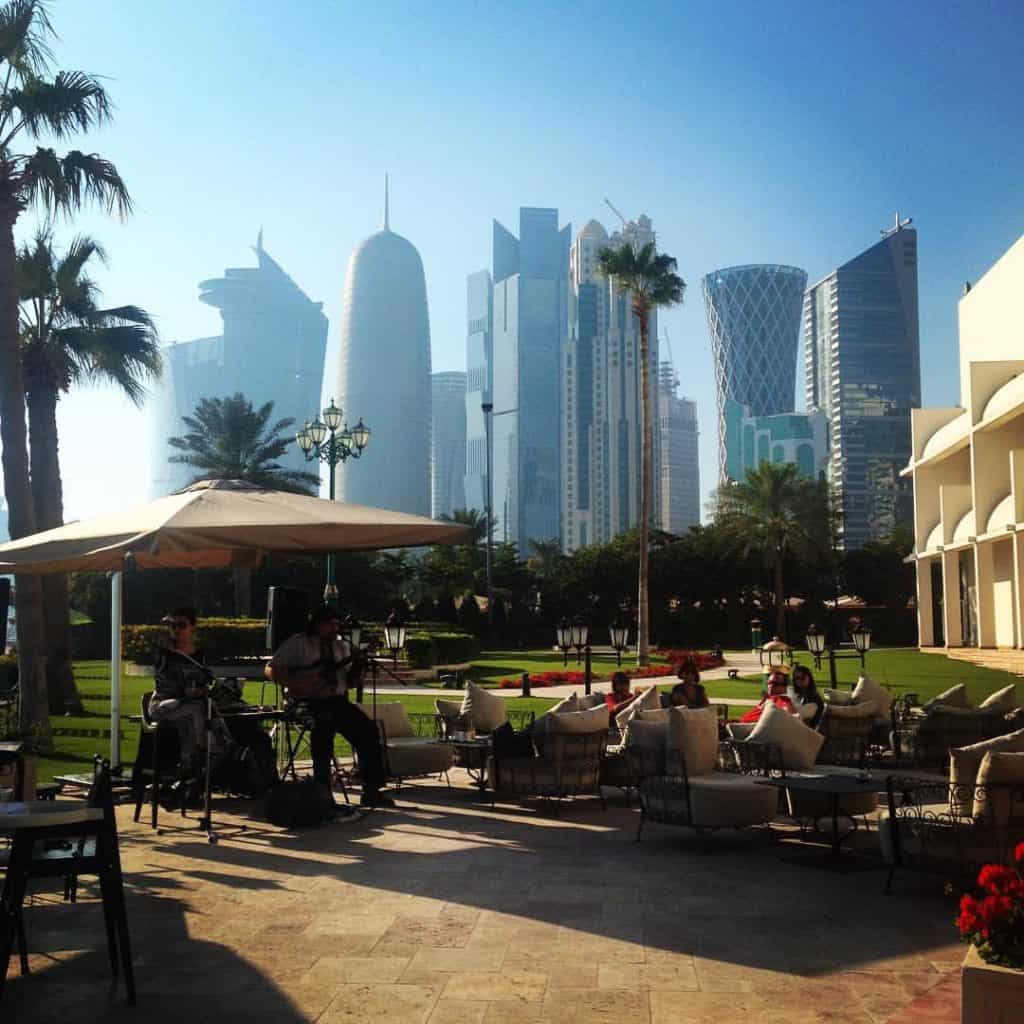 La Veranda offers some of the best panoramic views of the Arabian Gulf and its tranquil blue waters. It offers authentic Italian dishes including pizza, salads, and of course plenty of pasta. You will get the opportunity to dine in one of the most romantic settings in Doha while feeling the breezes of the wind. 
I would recommend getting there just before the sun sets. You will have views of the ocean on one side and the Doha skyline on the other. If you would prefer an atmosphere that's a little more relaxed and cozy, they also have an indoor seating area.
We tried their risotto with the seafood mix, the Pizza Diavola, and a bowl of the seafood soup. All of the food was amazing. We finished with the sorbet of the week (although I was very close to ordering their chocolate lava cake, I just didn't have the room for it). Their prices were just right for the quality of their delicious food, generous service and the overall mood of the venue.
There are two words that would describe La Veranda perfectly and those would be "magical" and "enchanting". If you want to have a real life Lady and the Tramp moment, this is the restaurant for it.
Vine Restaurant, St. Regis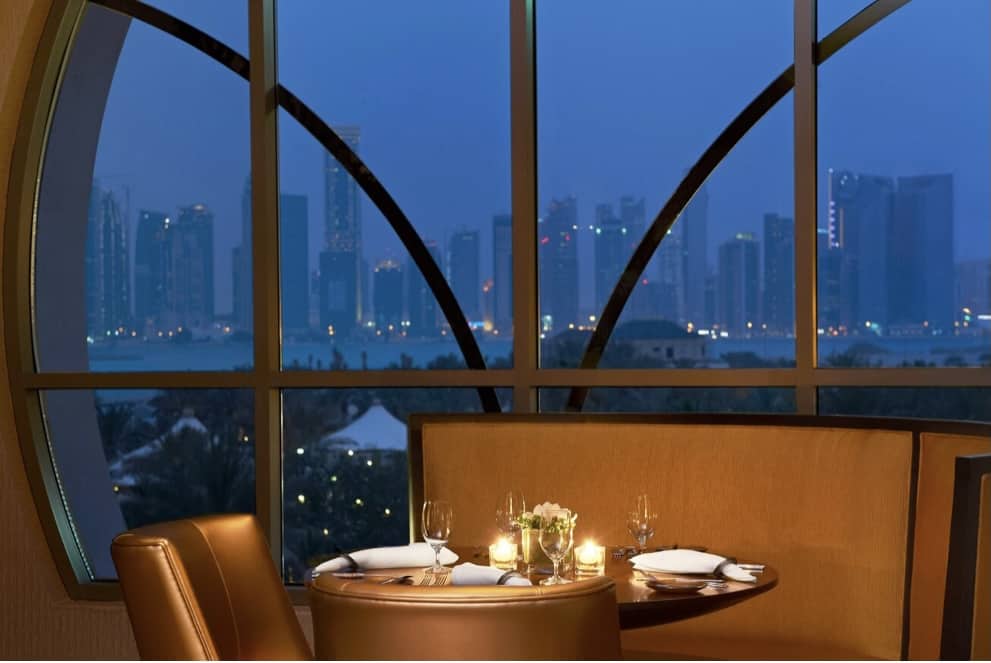 Vine Restaurant is the perfect restaurant to squeeze in a quick brunch date. It has huge windows that let in plenty of light, amazing decor, and views of the Doha skyline. I would have to say that their leather chairs are probably the most comfortable chairs I sat in.
The ambiance is definitely something to mention, too. As soon as you walk in you are met with soft music and a relaxing atmosphere that will instantly put you in a good mood. Our server was friendly and really helped us pick out the best dishes to make our visit special. We took advantage of the buffet there. The omelettes were made to order, so hot and delicious, and the buffet style dining ensures that you get your fill. The patio has some really good views, but we decided to eat inside for this one because it was exceptionally hot outside.
El Faro, Marsa Malaz Kempinski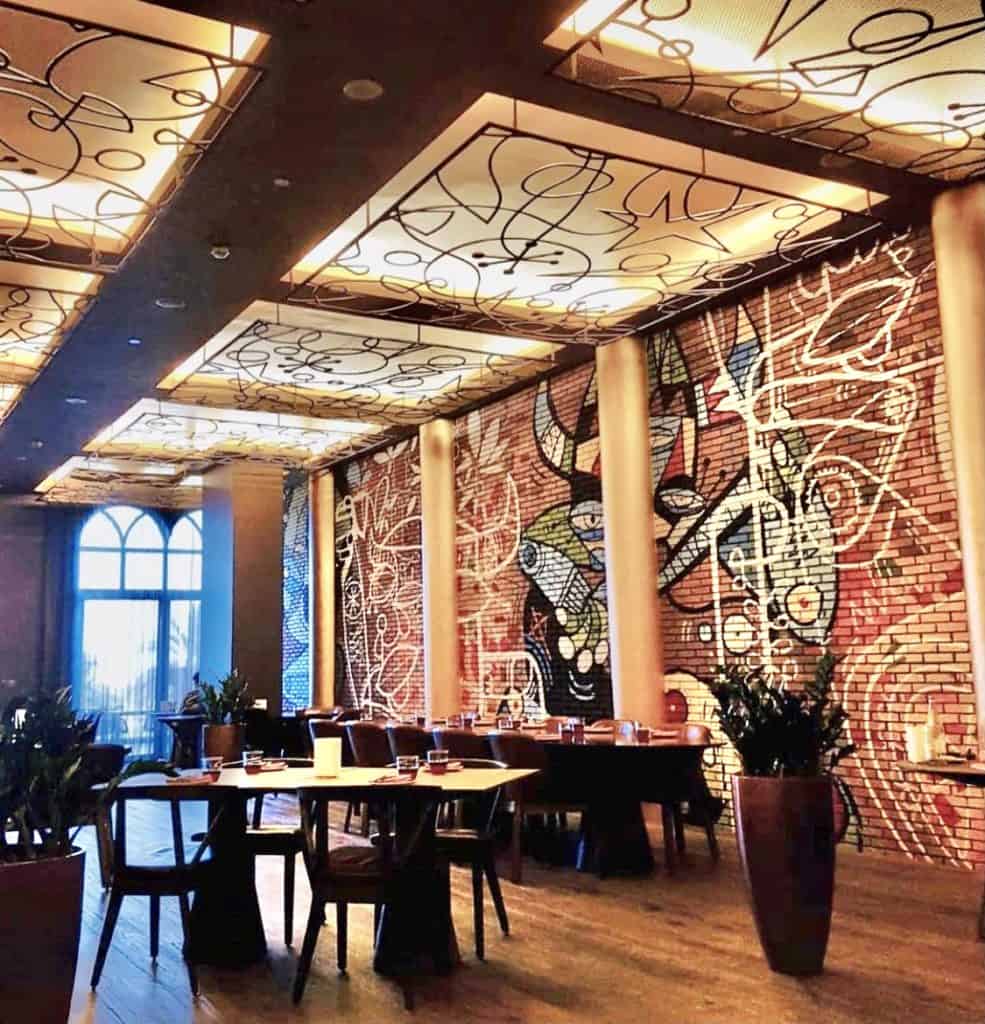 The hotels and restaurants in Qatar will give you the best views and El Faro located in The Pearl region is no exception to that. With the magnificent views of the Persian Gulf's sparkling waters coupled with the relaxed and modern vibe of the place, you will surely be more than happy to pay the price to get to dine here. 
For those that don't know "El Faro" translated from Spanish to English means "The Lighthouse". This is a Spanish restaurant located inside Marsa Malaz Kempinski hotel. They offer traditional Spanish recipes that any Latin food lover's taste buds will surely approve of and appreciate.
This restaurant is not only utterly romantic, but it has also been awarded the "Best Spanish Restaurant" for 3 consecutive years. They serve Spanish favorites like paellas, ceviche, and croquettes. The decor inside the restaurant also adds to the romantic Spanish feel of the whole place.
La Spiga by Paper Moon, W Doha Hotel & Residences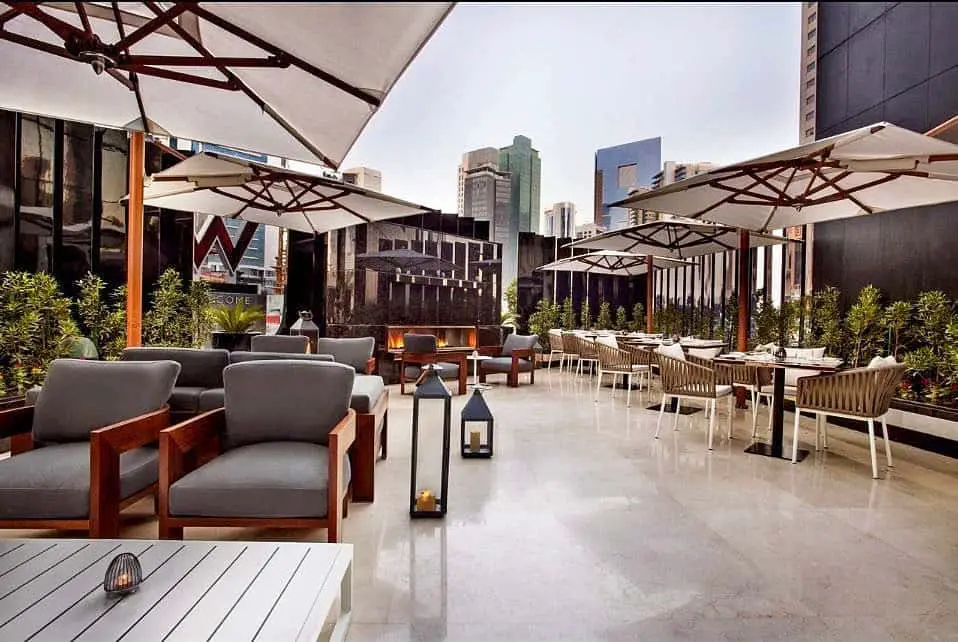 For those that enjoy Italian food La Spiga by Paper Moon may be right up your alley, especially if you're looking for an intimate setting. This is an elegant restaurant, and although it's a little pricey, it was definitely worth it. Having been to Italy twice I can vouch that the food was not only authentic, but delicious, too.
This restaurant fills up quickly, so you will definitely want to call ahead for reservations to secure a seat. No matter what dish you decide on for your main course, I would have to recommend that you finish your meal off with the Tortino Al Cioccolato Gianduia Con Gelato Alla Vaniglia (which is just a fancy Italian way to say hazelnut and chocolate lava cake with ice cream). It will really put the exclamation point on your evening!
Three Sixty, The Torch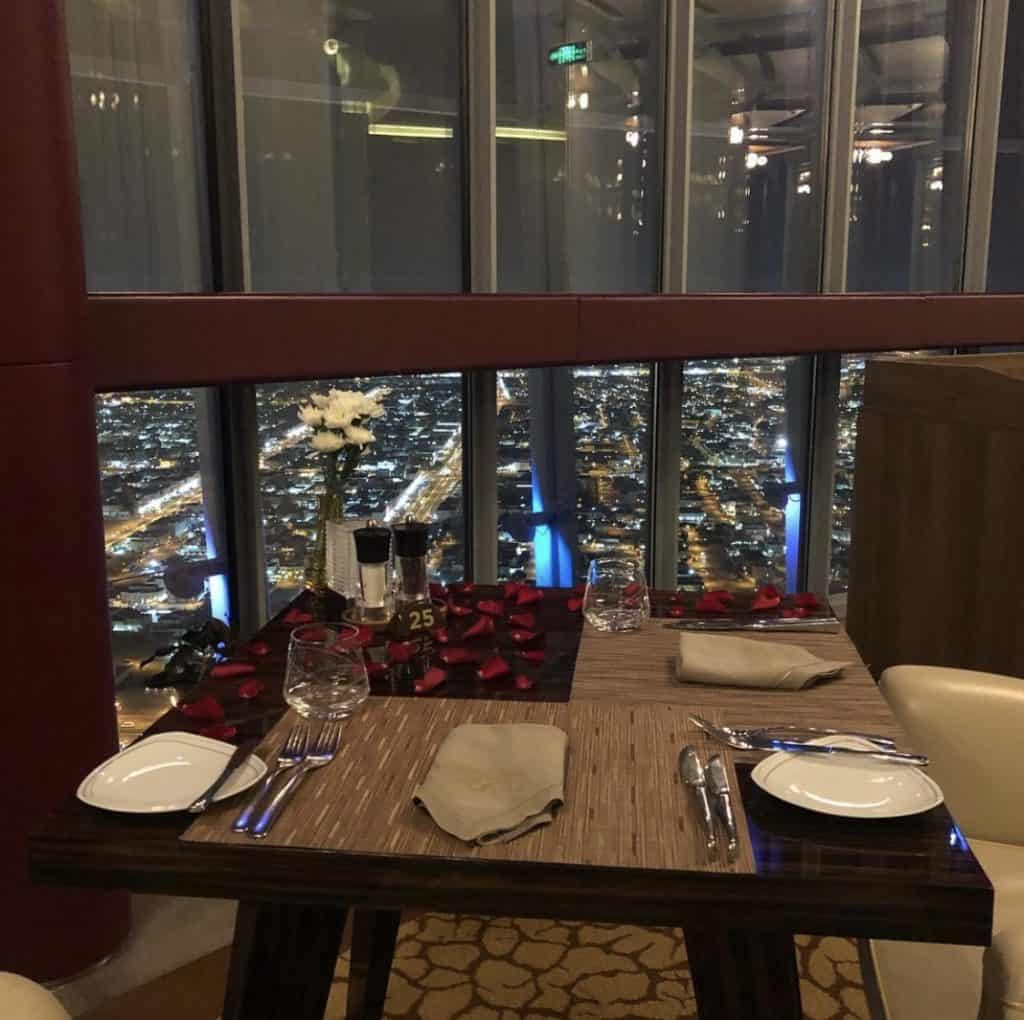 Spending our last night in Qatar was bittersweet as we'd fallen in love with the place. We spent our last dinner here at Three Sixty. This is one of the most exclusive restaurants in all of Doha, and we had to make reservations 2 months in advance to secure a seat. What makes this restaurant such a draw is the fact that it slowly rotates while you dine, so you basically get the bird's eye view of all of Doha.
They have a set menu, including either a "land" or a "sea" main course, and sometimes features live music. The mocktails were delicious and we were thrilled to finish our trip this way. It was really the perfect cherry on top for our romantic getaway to Qatar.
We came to Qatar to rekindle and celebrate our love and we have zero regrets picking this destination for our 11thanniversary. All we brought back home were good memories, shared intimate moments, and a couple of souvenirs for a few close friends that they will surely love.