Going to a foreign country is an experience to be cherished for a lifetime. The sad truth, however, is that not all of us get the chance to travel, especially when it comes to destinations that are abroad. Most of us are stuck sitting at our desk working, while our bills and other obligations continually stack up at a pace that oftentimes seems impossible to catch up with. When we finally get a chance to take a break we're too tired to do anything but sleep.
For those who are fortunate enough to get away, like me, we have the responsibility to share our experience with the world. This makes it so that even if a person can't go there physically, they can still have the chance to know what it's like to go, by reading various blog posts about it and looking at pictures of the area.
One of the best places I visited where I had some of the most enjoyable party nights was in Doha, the capital of Qatar. Writing this for you is not meant to be braggadocious by any means, but it's simply a way for you to join in on the whole travel journey. Here are some of the best Doha bars I was able to find during my brief visit there last year.
Krossroads Club
Located on the top floor of the Best Western Plus in Doha, their tagline is "Where good times and good people meet", so you know there's no place for bad energy here. They feature live music which includes international DJs and bands. They even have their own in-house band called SOUNDSATIONS. They're typically open on a nightly basis from 2 PM to 12 AM.
If you are looking for world-class entertainment and music in the middle of Doha, then this is the place to go. They also have pool tables if you want to play a game. This place is relatively new to the party scene in Doha. Luckily they have reasonable prices on their menu, but one of the best parts that I liked was that their staff was approachable and very friendly. They are also known to have great drink specials. 
Wahm Lounge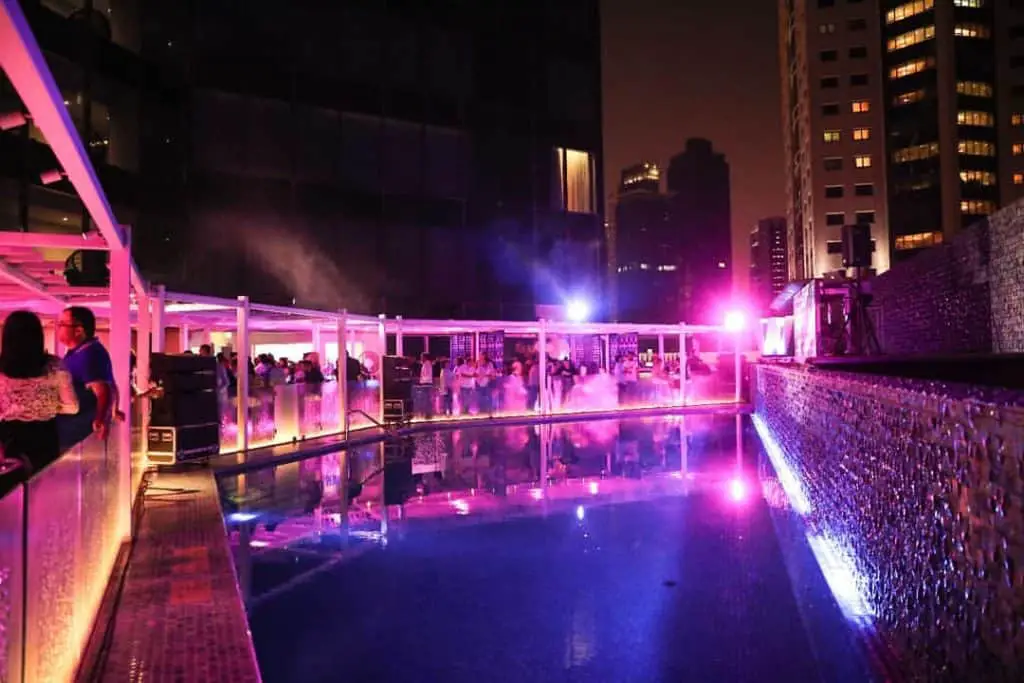 Another highly recommended place to have a drink (or two) and some fun in Doha is Wahm Lounge. This bar and restaurant can be found inside the W Doha Hotel & Residences. The nightlife you will find here is truly a breath of fresh air.
This bar is typically open from noon until 2 AM and not only do they serve up some wild alcoholic concoctions, but the food is great, too. This bar is only open for Non-Qatari women and you will need to show your passport to enter. You can enjoy the cool music and choose to sit out in the cabanas or take the party inside to the lounge.
The prices are a bit steep here, but if you're looking to get dressed to the nines and spend a sophisticated night out on the town, this bar is the perfect place. This place was packed when I went, so you may want to call ahead and make reservations.
Monkey Tale Doha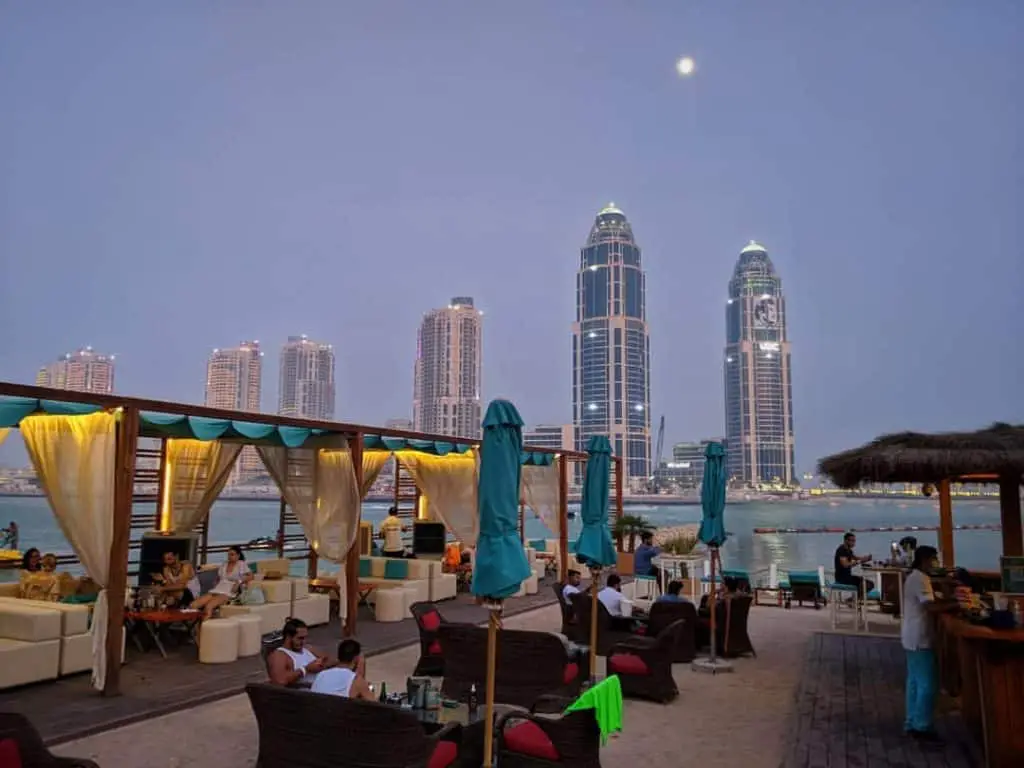 One of the most popular beach clubs in Doha is Monkey Tale. If you enjoy partying from day and well into the night, this is the place you need to be. It's located at the Grand Hyatt Doha Hotel and Villas. During the daytime you are free to enjoy laying out in their air-conditioned cabanas while taking in the gorgeous panoramic views of the Doha skyline. The real party begins once the sun sets.
One of the best parts things about Monkey Tale is that they are constantly offering specials on their drinks and food, but it's the live entertainment that really sets this bar apart from others in this region. DJs come from all over the world to showcase their talents on the Monkey Tale stage. It's all about the cool atmosphere here even in the middle of a desert.
There aren't too many places where you can lounge by the beach with a real alcoholic beverage in your hands, but this is one of them. Make sure to kiss the monkey for good luck on the way in.
The Den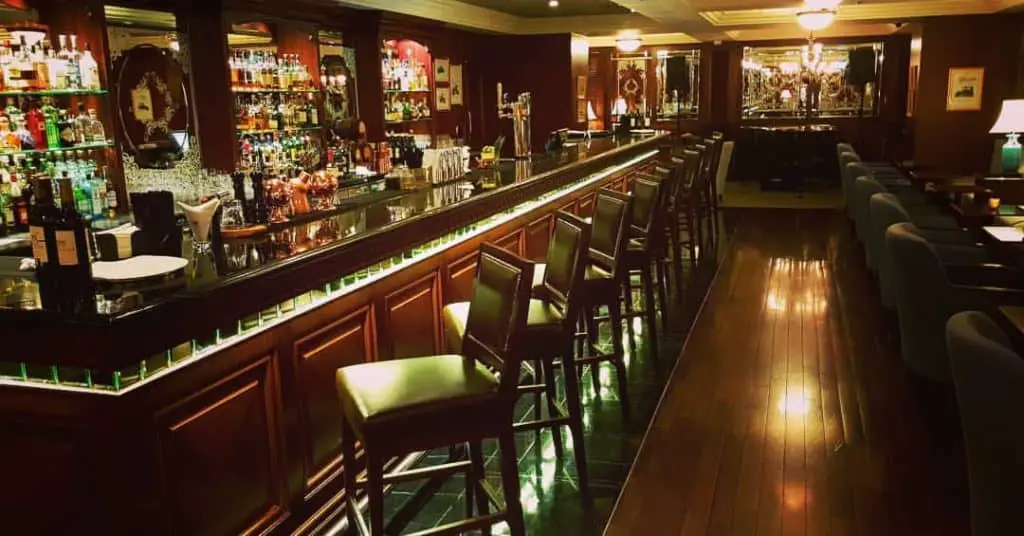 I had to meet up with a friend while I was in Doha and we found ourselves at The Den. This bar is located inside the JW Marriott Marquis in West Bay, Doha. This is truly the best place for catching up with friends while indulging in a good selection of wine, spirits, and signature cocktails. 
The food menu offered a wide variety of dishes including wagyu beef sliders, quesadillas, and some more traditional Arabic snacks and dishes. Also, the drinks were interesting for those that enjoy unique cocktails (I recommend the Arabic Colada). This is also an ideal venue for an after dinner get-together and the atmosphere at this bar is calm and classy.
What was great when I went was that they played old-school 90's music to jam to. They even offer some live entertainment from time to time, including a popular Cuban band. Keep an eye out for their happy hour specials as they're sure to save you a pretty penny.
Champions Sports Bar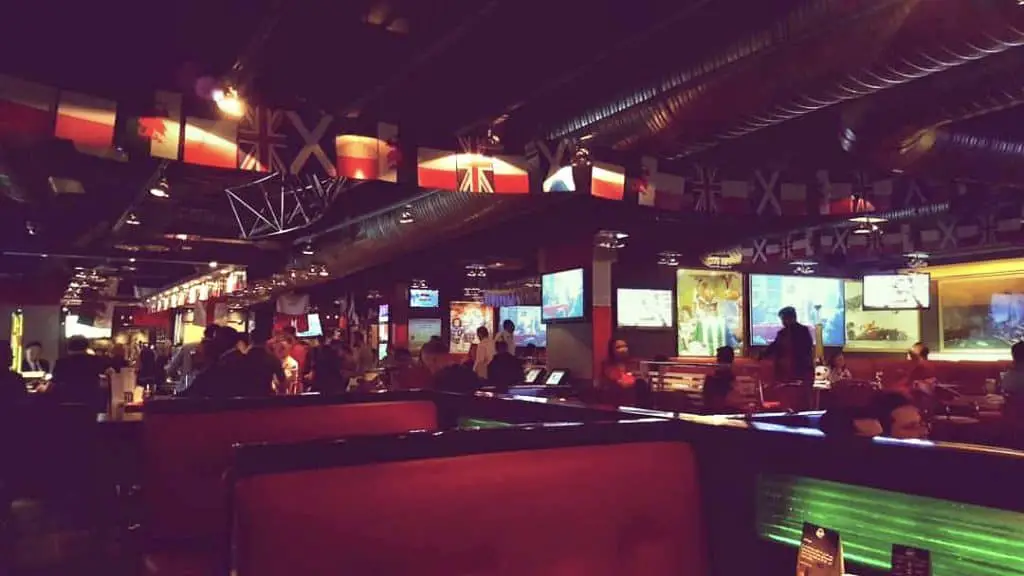 Champions Sports Bar in Doha is another ideal place to unwind or spend a night out on the town. It's also located inside the JW Marriott Marquis, so maybe you could pop in here after you try The Den. They have a bunch of TVs all around, so this is the place to go if you're in the mood to watch some sporting events. The locals come here regularly, which is always a good sign.
I had the sliders to eat when I went and I would have to say that they were pretty awesome. One of the servers there recommended the wings, but I am not a wing person. I did see a table nearby order them and they actually looked pretty good. They were crispy with just enough sauce. This Doha bar is open from 5 PM to 2 AM every day, so it's also a great spot for an afternoon meet up or a late night drink with friends.
These are just a handful of some of the best Doha bars I had the pleasure of visiting during my short stay in Qatar. There's a bar to meet any taste here, you just have to know where to look. I will leave you with one word of caution here however and that is that Qatar doesn't completely approve of drinking, but they do tolerate it (except during the month of Ramadan).
Make sure to never get too wasted because public intoxication is not allowed here and that will land you in jail. If a server cuts you off, it's for your own good. Also, when they offer to call you a cab, take them up on it. Never drink and drive in this country (or anywhere really) and always make sure to have a plan to get from one place to another safely.