It's hard to travel to a new place and dive right into a different culture. For me, I have to warm up to it first. What I am referring to is my first trip to Doha, Qatar. Once I'd selected this Middle Eastern gem as my next travel destination I spent weeks researching and planning for it. I made itineraries, bookmarked sites on my phone for reference later, discovered a few must-do activities, etc. However, when I finally arrived I felt that awkward "unfamiliar" feeling. I was a little lost and overwhelmed.
The Qatari food all looked and sounded delicious, but upon arriving in the country, I lost my confidence and decided to find a comforting burger to ease me into it. Burgers, thankfully, are one of those foods that help to bring people together. You can pretty much go to any country in the world and find a classic burger.
Eventually, around day 2 of my 8 day retreat in Qatar, I was able to begin eating some of the more authentic dishes, but I wanted to let you in on my adventure of finding the best burger in Doha. I actually found 2 burger joints during my time there. I thoroughly enjoyed both and I'd say these two spots are just about tied for #1 in my book.
Duke Burger House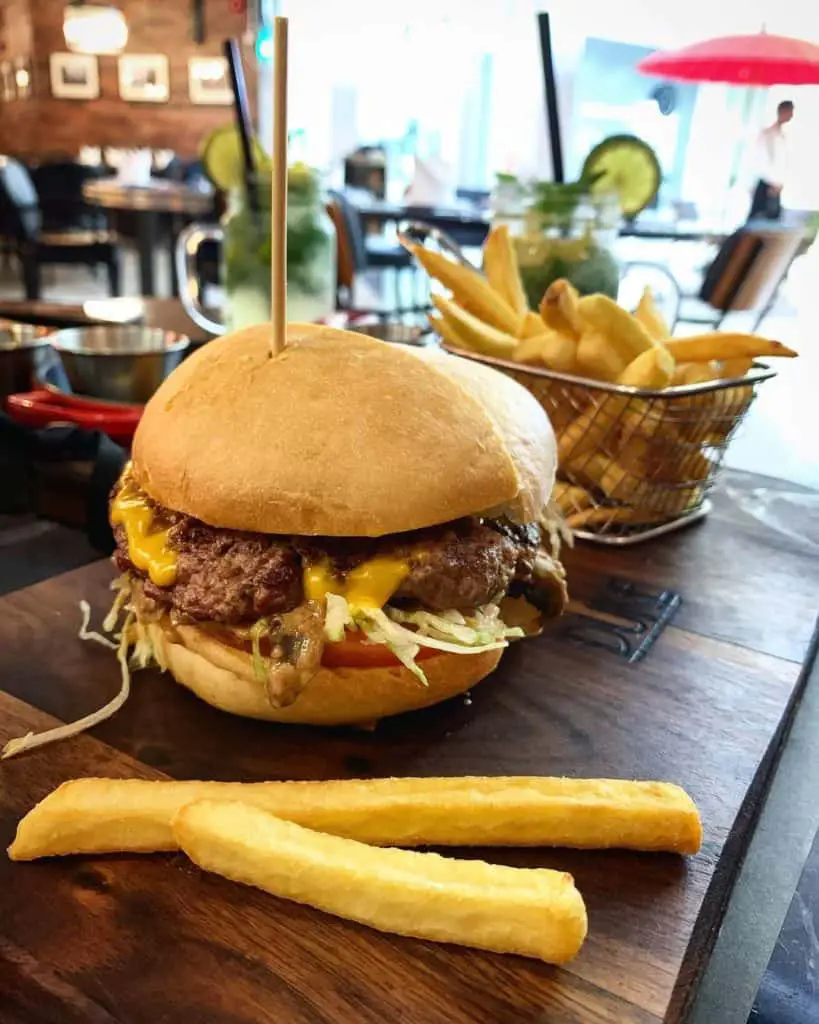 The first place I went when I got into the country was Duke Burger House. I found it online and saw some drool-inducing photos. Their menu was extensive to say the least. They not only have delicious burgers, but there are many other options including tons of chicken dishes (wings, tenders, grilled breast, etc.), soups, steak, hot dogs, and lots of other appetizers.
My burger came out hot and fresh. I like to stay boring with my burger toppings, opting only for cheese, tomato, and onions, but they had a long list of items you could add. This included guacamole, lettuce, pickles, eggplant, red peppers, bacon, mushrooms, caramelized onions, onion rings, and so much more. The french fries were hot and crispy, just like I ordered them.
One thing that really made this place stand out was their dessert offerings. They have lots of milkshakes on their menu (I had the brownie/kit kat mixed milkshake and was not disappointed). I also ordered one of their churros fiesta desserts. It came out with chocolate, fruit, and marshmallows.
The ambiance here was great. Even the dining room made me feel like I was back in the US. There were people occupying almost every seat in there enjoying their meal as much as I was (maybe even more). They are open for breakfast, lunch, and dinner and I would highly recommend checking this place out if you're in the area. I would have to say that my experience at Duke Burger was quite possibly the best welcoming I've ever had in a new country.  10 out of 10, for sure!
Market By Jean-George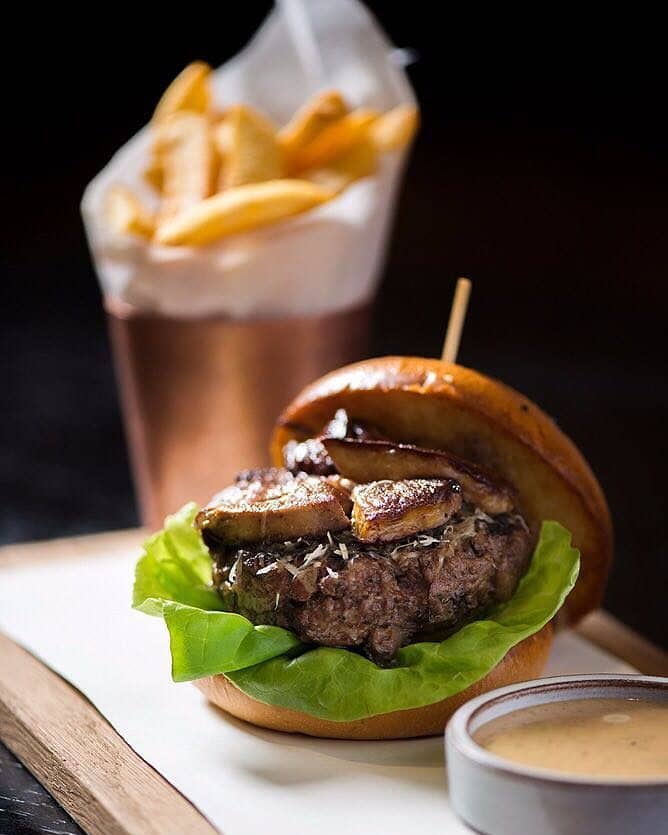 The other burger I had was at a place I discovered on my last evening in Doha. It was actually right under my nose the whole time. It was at a restaurant called Market by Jean-George, which happened to be in the hotel I was staying at, the W Doha Hotel. In my defense, I spent my entire trip running all over Doha, doing different desert safaris, going to the beach, enjoying the many malls and souqs, that I didn't really spend too much time at the restaurants at my hotel. 
On my last night in Doha I was too tired to go out into the city after packing up all my things, so I looked through the different eateries inside the hotel and found Market. Initially I thought this restaurant looked a little upscale for my liking, but I was starving so decided to just pop in and get something. I was leaning toward the Corn-Crusted Sea Bass, but then I saw they had a Market Cheeseburger (for about half the price) and I decided on that.
It had an Angus beef patty and brie cheese. The bun was fluffy and warm and super easy to bite into. I ordered it medium-rare, and although it came out a smidge overcooked, I would have to say the seasoning on the burger was simply perfect. Even though this dish cost around $30, I would have to say that it was money well-spent. For good measure I also had a side of charred broccoli and couldn't have been more pleased with my side choice. I would have to give this burger a 9.5 out of 10 stars. I think if it had been medium-rare, it quite possibly could have been a full 10 in my book.
Runner Up And Honorable Mention – Burgeri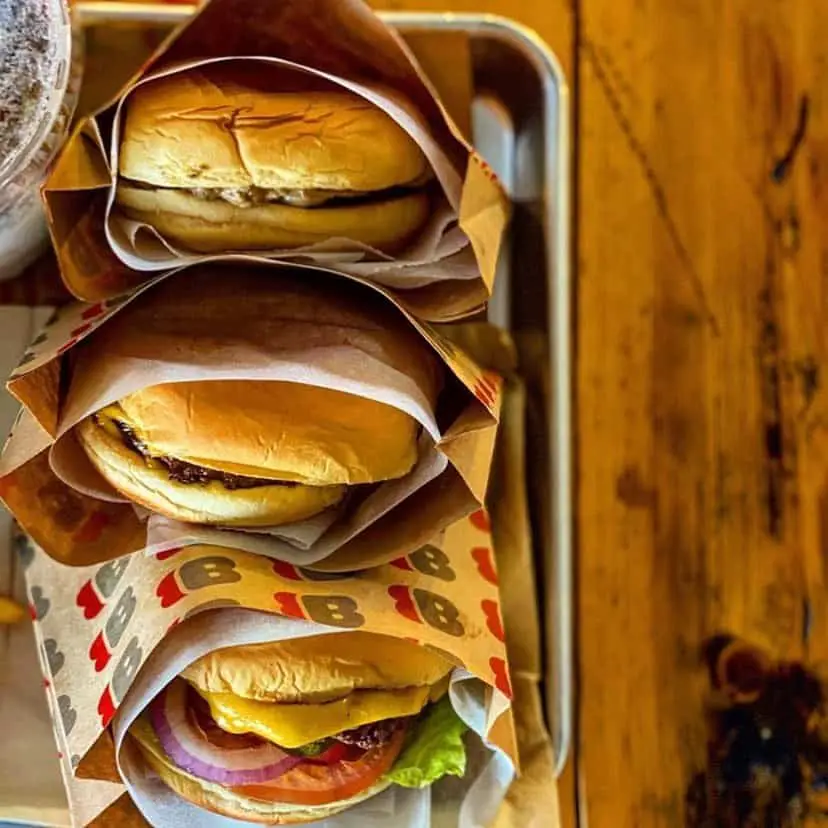 One place I found online, but did not get to actually experience, was Burgeri. It's a Qatari chain that has a branch in London, and apparently offers great burgers and toppings. They also have chicken sandwiches and hot dogs. What intrigued me about this place is that they offered fries as sides, but not just any fries. They do have the classic french fries and even cheese fries, but I'm talking about Sweet Fries, made from sweet potatoes. That sounds like a great accompaniment to any burger.
While I thoroughly enjoyed all the food I tried while in Doha, these two burger joints will forever hold a special place in my heart. Between the flavor, the atmosphere, and the locations I would have to say these two burger spots have got to be home to the best burgers in Doha. If you are like me and find yourself a little lost while visiting a new country, don't fret. Chances are you can easily find a nearby burger joint full of locals that can help you get acquainted with the area.
That's what happened to me and I will have to admit that coming to Qatar was one of the best decisions that I have ever made. The food was all amazing, the people were humble and hospitable, and the activities they offered were some of the best in the world.