I don't know about you, but I get a little apprehensive when I fly, and by a little, I mean a lot. Arriving in a new city, or country, causes irrational stress for me. It's gotten so bad in the past that it actually made me cancel a trip I had fully booked to Egypt.
My first trip to Doha had me reconsidering about 3 weeks from when I was due to go. I was getting nervous about it. It's not so much the travel destination, but more the hassle of going through security checks, gathering bags from the never-ending conveyor belt that is baggage claim, etc., it just gives me the willies.
I went to Qatar Airways site to review their cancellation policy, but I really didn't want to miss another traveling opportunity. That's when I stumbled across Al Maha Services. Upon reviewing the services offered I decided that this was exactly what I needed. I couldn't have made a better decision and it was literally a trip-saver for me.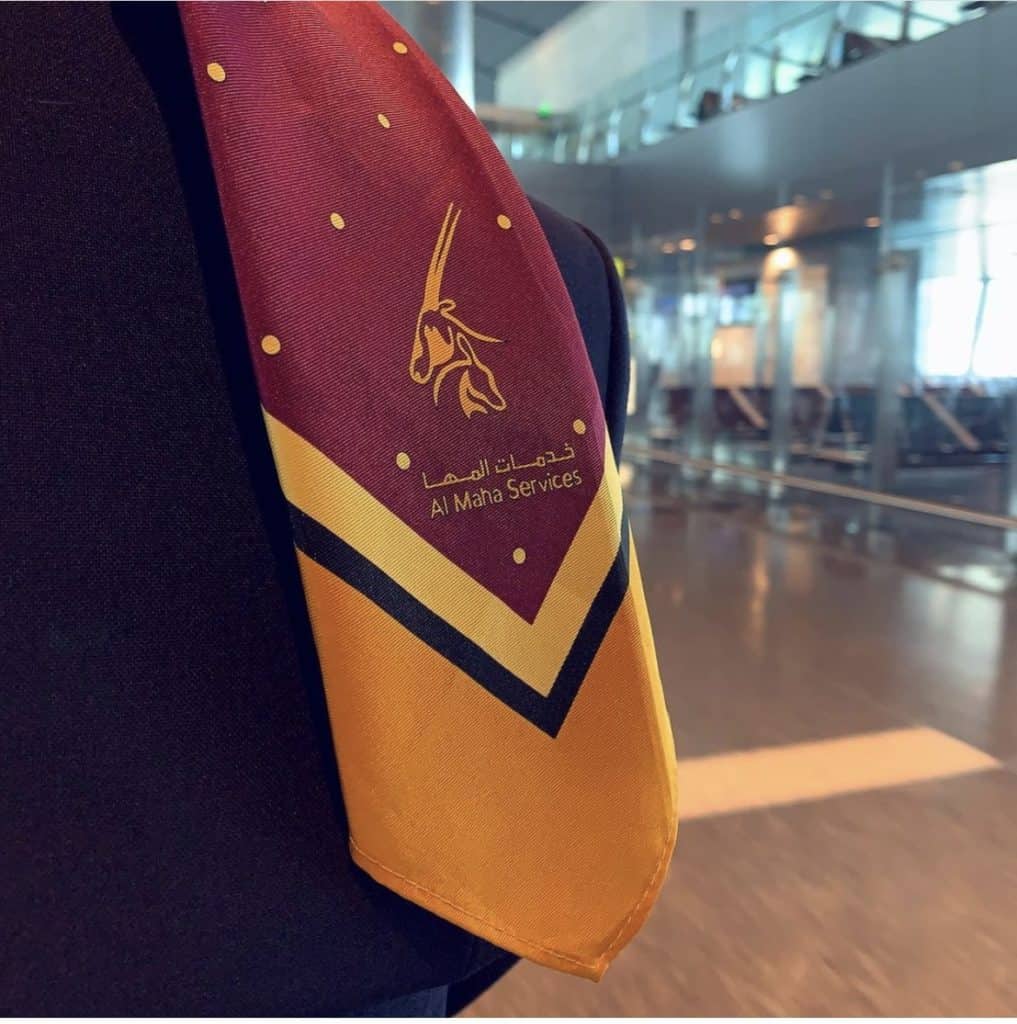 I was visiting Doha for a 5 day stay and actually booked the arrival and the departure service. I was traveling with a friend and she chipped in on the extra charge. She's traveled with me before and knows how anxious I get. I forget exactly how much it was, I want to say it was close to $80 each, but just know that it wasn't too much to spend considering the amount of peace of mind it provided me.
This service, like many of the services and people in the hospitality industry of Doha, really goes above and beyond. First, it's important to note that I did spring for the Platinum package, rather than the Gold. Upon arrival we were met by a professional hostess as we disembarked the plane. She was holding a board with my name on it (literally like you see in the movies!). I felt like a star. Yes, that's me, thank you.
She led us to a lounge, which I can tell you with all the little twists and turns, would have had me stressed beyond belief if I had to navigate it solo. This also happened to be the immigration/customs that we had to pass through. While we were waiting our turn I took advantage of some coffee and leafed through one of the complimentary newspapers they had laid out for travelers. There were also a few little items readily available, like a mini-buffet, that afforded us something light to eat for free.
After we passed through the immigration gates, we were led by the hostess to the baggage claim. She helped us easily locate our bags and even helped us hail a cab to take us to our hotel. Talk about Easy Peasy. This made my arrival in Doha 100% stress-free, which if you ask me, is the best way you can start a vacation.
The Platinum departure service works just about the same way. We were met by a hostess with the name board, she led us to the Al Maha Departure Lounge. We arrived a bit early for our flight and it was mostly empty except for one other family with an adorable toddler. We moved past this stop very quickly, back through customs, and to our departure terminal. Since we had a bit of time before our flight was due to start boarding, we spent a little time in the Oryx Lounge.
This is included with the Al Maha Services Platinum Package (up to 4 hours), so if you go with the Gold Package you won't be able to access this lounge unless you pay for entrance. It provides fast wi-fi, plenty of meal and beverage options, televisions, showers, and lots of other luxuries that will help you relax before you're due to hop on a plane for a long flight.
All-in-all my trip to Doha was one for the books. Qatar is a wonderful country. The culture, food, and beautiful landscapes will forever be etched in my memory. Using the Al Maha Services really helped to kick my trip off right and they even put the cherry on top at the end.
Since the Al Maha Services hostess took care of the most stressful parts of arrival and departure, it allowed me to focus on putting together an excellent itinerary for our visit, which ultimately made our trip even better. My friend even noticed how much less stressed I was.
I would have to say that this service is perfect for anyone that loves traveling, but hates having to navigate through a foreign airport. It's not only worth the cost, but I would consider it an absolute must for those traveling to Doha. I'm proof that using Al Maha Services can literally take your trip to the next level by eliminating some of the unnecessary stress.